After the success of the movie Finding Nemo released in 2003, Pixar is now back with a similar movie with another title, Finding Dory. There's a bit of gloom about having to disappear like that between Nemo and Dory, it confuses everyone. Although there is a 13-year age difference, the story in this movie is as good as the previous one.
Director Andrew Stanton will take us into the story from the side of blue tang fish Dory wants to see his parents again due to separation since Dory was young. He did this recklessly, even though Dory knew he suffered from short-term memory loss.
Finding Dory . movie synopsis
Release year 2016
Genres Adventure , Animation , Comedy , Coming of Age , Drama , Family , Children , Medical
Director Andrew Stanton
Cast Ellen DeGeneres Albert Brooks Hayden Rolence Ed O'Neill Kaitlin Olson
The film opens with the appearance of a boy named Dory with his father and mother named Charlie (Eugene Levy) and Jenny (Diane Keaton). The three played hide-and-seek until Dory was almost swept out of her home at the Jewel of Morro Bay, California marine biology research center. Dory's father and mother constantly remind their children to be careful.
The final story begins when little Dory is suddenly alone. He was confused and scared not knowing where to go. He asked for help from many fishes but he himself forgot and did not know where he lived. Little Dory has finally grown up, she often asks many fishes about where she lives.
Once, Dory was swimming when he was suddenly hit by a clown fish named Marlin who was looking for his son. (This story is a story from the movie Finding Nemo.) After a year with Marlin and Nemo, Dory begins a new life, she is no longer alone. He feels he has a family.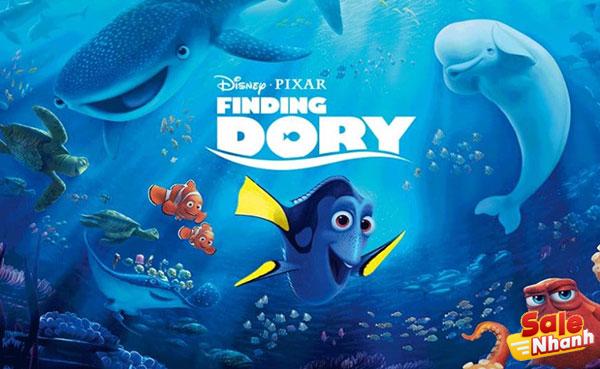 Dory has begun to forget about her family, but when she is asked to be Mr. Ray, Nemo's teacher at the fish school, Nemo's friends start asking where Dory's mom and dad are. That question could not be answered, so Dory could only vaguely recall the fleeting images of his parents and the sayings related to Dory's family.
Dory, who was contemplating seeing the stream of migrating rays, was pulled in by the current and passed out. Thanks to that, he even remembered something. It's the Pearl of Morro Bay, California. He remembers that's where he came from and that's where his family was. Filled with enthusiasm, Dory even invited Marlin and Nemo to find his family.
Knowing Dory was asking for help to get to California, Marlin flatly refused at first. That was because the distance between where they lived at that time in Queensland, Australia and San Louis Obispo, California was very long and they had to cross the ocean. Despite this, Dory still invites and begs Marlin.
Marlin agrees to go with Marlin's old friend, the turtle Crush (Andrew Stanton). The three of them hitchhiked on the backs of turtles and entered the California Current so they could quickly reach San Louis. Many turtles pray that Dory can come back and reunite with her family.
Arriving in California waters, Dory was too excited to call and scream for her parents. But Dory's scream even provoked a large squid to eat them. Quickly, Dory, Marlin and Nemo swim to save themselves. Fortunately, they were able to escape the clutches of the cuttlefish even though Nemo was almost killed.
Marlin is annoyed that he doesn't play with Dory, who has been warned many times but is still annoyed. Marlin asks Dory to keep quiet, which surprises Dory and wants to help even though her body is covered in plastic waste making it difficult for her to move. Unfortunately, as soon as he came to the surface, two officers from the marine reserve saw Dory.
In the end, Dory was arrested for treatment because he thought he was contaminated and injured by plastic waste. This sets Marlin and Nemo apart. Dory is brought into captivity to be released into tanks where other fish are rescued before being released back into the sea. In captivity, Dory meets an octopus named Hank (Ed O'Neil).
Hank, who was going to Cleveland, a large aquarium where sick sea creatures were treated forever, asked Dory, who was not sick, to provide identification as a sick marine animal. This is done by Hank because he doesn't want to go back to the sea because he has bad memories. Instead, he wants to help Dory find her parents.
They set off on an adventure around The Marine Life Institute to find Dory's parents. Hank was separated from Dory when the blue tang fell into a bucket where the fish was being fed by a large whale shark. Dory has finally entered the whale shark aquarium. Turns out whales are Dory's buddies
A whale named Destiny (Kaitlin Olson) lives next to a Beluga whale named Bailey (Ty Burrell). With the help of Destiny and Bailey, Dory is able to reunite with Marlin and Nemo, who were able to enter the aquarium thanks to a donkey named Becky (Torbin Xan Bullock).
Dory, Marlin and Nemo are saddened to learn that Dory's parents are no longer at the aquarium, they are presumed dead. Due to shock, Dory was accidentally thrown into the sea. There, Dory is scared but she sees a lot of seashells; like Dory's parents did it. Sure enough, as soon as they got close to the shells, Dory met her parents.
Dory is not having fun, but on the other hand, she has to save Marlin, Nemo and Hank who are trapped in a truck to Cleveland. As a result, Dory called for help from Destiny and Bailey, who eventually jumped into the sea of ​​freedom. Together, they stop the truck and make the fish in it return to the ocean.
Finding Dory movie review
Full of adventure
Satisfied with the adventures in the movie Finding Nemo? You must see adventures in the movie Finding Dory. Here Andrew Stanton makes the story even more crowded and complicated. If Nemo in the previous film struggled for help, then the smaller Dory Nemo had to desperately survive.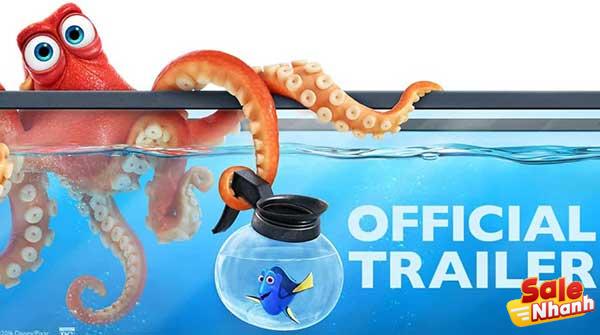 Especially when she is released into the ocean, a strange place for little Dory, who has always lived a comfortable and quiet life at The Marine Life Institute. Dory had many adventures while in the ocean, and her adventures only increased after meeting Marlin and Nemo.
Family is First!
In Finding Dory this time, we will learn a lot about family being first among other things. Although she knows that she can't afford to meet her parents, Dory still wants to try her best to be able to see her father and mother who have been separated for a long time.
Sweet memories bring Dory back to Charlie and Jenny. Many times, Dory also always said that her family includes not only her parents but also Marlin, Nemo and their new friends.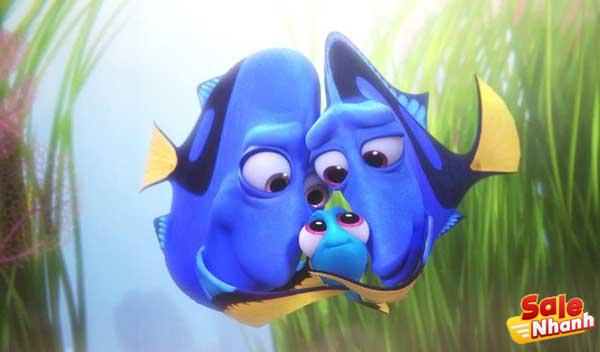 Dory is very happy because she is no longer alone in the ocean. Besides, Dory also teaches about friendship, unconditional love, teamwork and perseverance.
It was right for Ellen DeGeneres to voice Dory. The cheerful, free-spirited Dory who isn't afraid to meet a lot of people, is very brave played by Ellen, whose personality we know closely resembles Dory, except for a temporary memory loss.
Not only Ellen, other famous actors and artists also began to voice the characters in this movie. Call it Idris Elba, Ty Burrell, Diane Keaton, Kate McKinnon, Willem Dafoe and many others. Either way, you won't regret watching the movie Finding Dory. Salenhanh gave this movie a score of 4/5. How about you?