In January, Everything Everywhere All At Once earned 11 2023 Oscar nominations — including major categories including Best Picture, Best Director (Daniel Kwan and Daniel Scheinert, awarded collectively known as The Daniels), Best Actress (Yang Tu Quynh), Best Supporting Actress (Tu Hy Vien). and Jamie Lee Curtis ), and Best Supporting Actor ( Ke Huy Quan ). This film's nominations are the most among the films nominated this year.
Everything Everywhere All At Once is a sci-fi comedy that explores the existence of other universes or multiverses, much like in the recent MCU films, Spider-Man: No Way Home and Dr. The strange multiverse of madness.
This character-focused film stars veteran actress Michelle Yeoh and is directed by Daniel Kwan and Daniel Scheneirt aka the duo 'The Daniels'.
They began their careers as music video directors and became known for making the music video for DJ Snake on the single "Turn Down for What" (2013). They then discovered their talents and abilities by making the surreal comedy-drama Swiss Army Man (2016), starring Paul Dano, Daniel Radcliffe and Mary Elizabeth Winstead.
Synopsis of the movie The Multiverse War
Evelyn Wang is a Chinese-American woman who has reached middle age and is facing exhaustion in running her laundromat. She lives with her husband Waymond, who is described as a friendly person and has a weak personality.
One day, a strange thing happened. Waymond suddenly transforms into Alpha Waymond, a character with top-notch martial arts abilities and knowledge of the multiverse. He had already begun telling Evelyn about another world where evil people were trying to destroy everything. And from there, Evelyn was caught up in an adventure across many different universes.
During this challenging journey, Evelyn has faced many challenges and experienced different lives. She has become a famous kung fu actress, a person with 10 sausage fingers, and confronts a huge villain who is about to destroy everything. However, she did not expect that the person she had to confront was…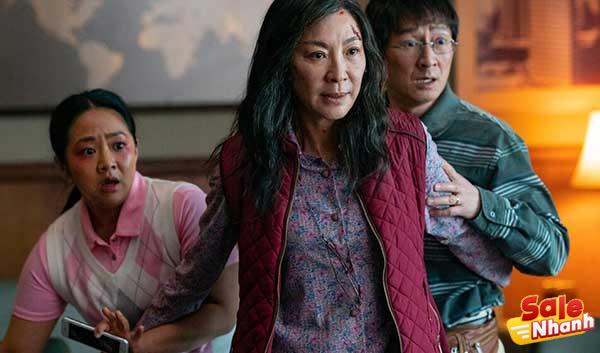 Reviews of the movie The War of the Multiverse
Endless universe
Evelyn Wang's life is filled with many disappointments and she seems to have the world on her shoulders, from her father who opposes marriage and forbids her to immigrate to the United States, her relationship with her husband seems to be harmonious. . but is in fact on the verge of divorce as well as the same with her ruined business.
Plus the relationship with the daughter seems irreparable. This leads him to an existential crisis.
In all this chaos, Evelyn finds herself capable of saving this infinite universe. Leads him to many alternate versions of himself who also live alternate lives very different from who he is now.
Throughout the film, Evelyn goes in and out of various universes, which helps her find her existence or true existence in these universes. And it helps him understand himself, his family, his past and his future.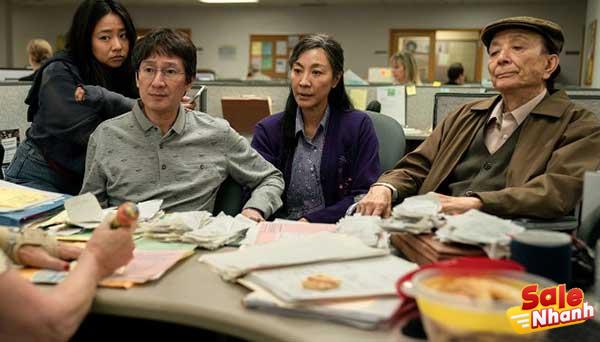 Wild and daring exploration
Written and directed by Daniel Kwan and Daniel Schenert, this film seamlessly blends a complex family drama into a breathtaking sci-fi adventure filled with imagination and action. eye-catching.
Everything Everywhere All At Once is completely original, wild and at times silly, The Daniels' exploration of the film makes this a series of emotional drama and creative and hilarious fight sequences.
The Daniels, like what the film's title suggests, sets up the story of a family that is connected by the relationship between mother and daughter, husband and wife, daughter and father.
The past is brought together with rivalry, hate, love, regret and depression through a daring execution, knowing when to step up the action and when to pause to breathe for a moment. . Daniels knows very well how to encapsulate the details of a scene from moment to moment.
Duong Tu Quynh with multiple roles
Michelle Yeoh, the center of this film, gives a great performance Michelle Yeoh, who originally went by the stage name Michelle Kwan, has appeared in various genres of films and is still fit to perform. martial arts choreography at the age of 60. Duong Tu Quynh has performed excellently in a role that has all the elements of comedy and action.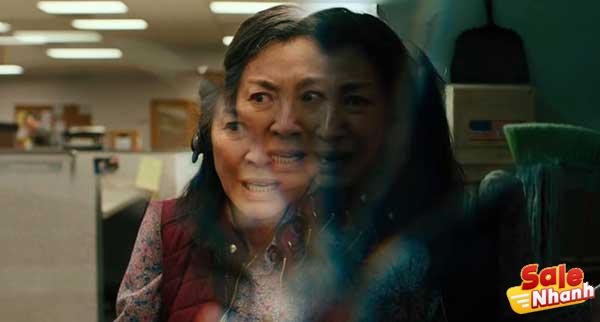 With co-star Ho Chinh Quan, the 80s man became known as a famous child star thanks to his role as Short Round in the movie Indiana Jones and the Temple of Doom. Ho Chinh Quan plays the role of a friendly but boring husband, they coordinate sweetly whether as a husband and wife or a pair of interstellar agents.
Spectacular action and costumes
The martial arts action in this film is inspired by the Wachowski Sisters (formerly Brothers-ed) film, The Matrix Trilogy, in which Evelyn is able to absorb each individual's abilities into herself. herself like when Neo downloads his kung fu match skills into her. Besides, the fighting action scenes are similar to Jackie Chan's 80s action movies.
And especially in terms of costume design, they are also intricately designed and luxurious because the costumes here are not just clothes because most of the characters are usually in different universes, the costumes they wear are the key to conveys different iterations of each character and places the audience in various universes throughout the film.
The film is also aided by virtuoso montage, which uses fast montage and collage techniques to represent the concept of a multiverse to present an ever-moving cutout throughout the film that is neat and clean. smooth.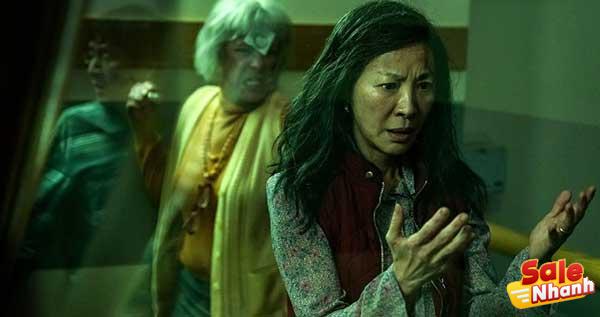 Conclusion of the movie The Multiverse War
Everything Everywhere All At Once can brilliantly explore the themes of existence, cosmic balance, love, family. Become a unified story with the concept of the multiverse as the basis of the story. The movie can still be viewed on the Apple TV+ streaming service, which is easily accessible to users in Indonesia.
Salenhanh – Product review blog
Address: 115 Nguyen Van Qua, Tan Hung Thuan Ward, District 12, Ho Chi Minh City
Website: https://salenhanh.com/en
Mail: Salenhanh.com@gmail.com
#salenhanh #Reviewsalenhanh