In late March 1996, Robert Edwin Hall aka Rob Hall, owner of the Everest climbing company, Adventure Consultants, brought several clients together to the top of Everest on May 10, 1996. The story of his departure came as a surprise because there were 20 other climbing agents there, with the same agenda.
The density of hiking trails bothered him and Scott Fischer, owners of Mountain Madness, a rival climbing company. The reason is that it can make the climb time longer, which means it is quite risky for climbers. Can Rob Hall and Scott Fischer get their clients to the top and back down safely?
Everest (2015) fairly accurately portrays the tragic events that took place in 1996. Starring Jason Clarke and Jake Gyllenhaal, both manage to bring Rob Hall and Scott Fischer back to life in this film. . Intrigued by the whole plot? Here is the information for you.
Summary of the movie Everest
Release date/year: June 23, 2015
Genre: Adventure Movie
Production: Cross Creek Pictures, Walden Media, Working Title Films
Director: Baltasar Kormákur
Actors: Jason Clarke, Jake Gyllenhaal, Josh Brolin, John Hawkes
In 1992, Rob Hall (Jason Clarke) founded a commercial guide company to the top of Everest called Adventure Consultants. The agent guided 19 climbers without any casualties.
In 1996, at least 20 scouting agencies competed against each other to reach the top of Everest, including Scott Fischer's (Jake Gyllenhaal) Mountain Madness. Rob Hall and his client are already about 2000 feet high and are heading towards camp 4.
They began to climb in the midst of a very strong wind. The flow returned six weeks before going up. There, Rob and the group are ready because they know the climb will be quite hectic as there are 20 other agents climbing the mountain together.
A journalist named Jon Krakauer (Michael Kelly) will come along and write about his agent's journey and display their photo on the magazine's cover. It was precisely Rob's pregnant wife named Jan Arnold (Keira Knightley) who let her husband go on that day, March 30, 1996.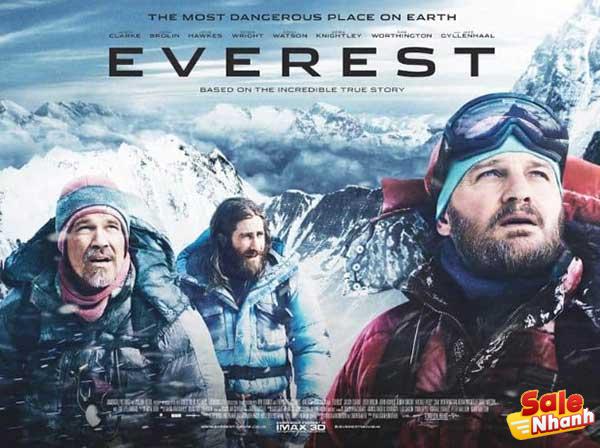 Rob and several clients and team went to Nepal. They are Beck Weathers (Josh Brolin), Doug Hansen (John Hawkes) and the journalist Jon before that. At the lodge, Rob gives his guests a bit of information about the death zone on Mount Everest; as they passed the South Pass the bodies would begin to die from the extreme heat.
Rob plans to reach the summit on May 10, and on those days the weather is expected to be stable. From Nepal, the group departs and arrives at a small town called Lukla located at an altitude of 2,860m above sea level.
After crossing the long suspension bridge, Rob's group arrived at Namche Bazaar located at an altitude of 3,750m above sea level. On the way Rob had the opportunity to talk to one of his customers, Dough, and said that this time would take him to the top. The reason is that the powder has never been to the top before due to unfavorable weather.
Rob's group finally reached the Everest camp located 5,367 meters above sea level. Helen Wilton (Emily Watson) as Camp Manager Adventure Consultants welcomed the group and introduced Ang Dorjee, a local guide.
There, Rob came across one of the 20 mountaineers who had just introduced his client to shoe fitting. He also meets Scott Fischer, owner of the Mountain Madness agency, who looks comfortable shirtless.
The story continued when the team of doctors from Adventure Consulting, represented by Caroline, briefed all clients on the importance of oxygen to reach Everest because the air there is very thin. Over the next month, customers will be faced with three stages of climbing to acclimate to the weather before actually climbing to the top.
The three stages mentioned are camp 1, camp 2 and camp 3. In the first leg of the climb, Rob and the others have to go through an area called the ice falls. The terrain is no joke as 19 climbers have been killed in this area.
The climbers arrived at camp 1 at 5,944 meters above sea level and had to continue their journey while remaining alert for symptoms of hypothermia, a potentially fatal brain swelling. On April 23, the climbers finally reached Camp 2 at 6,492 meters above sea level. Here, Rob is concerned about the condition of Dough, who is seen coughing.
Rob then asks him to check on Caroline; The man also received the drug. Meanwhile, Beck, who looks arrogant, turns melancholy after calling his wife on Rob's toll-free satellite phone.
At night, climbers spend time partying before starting their climb tomorrow. Elsewhere, Scott thinks it will be harder to reach the summit this year because there are so many climbers.
His colleague Anatoli (Ingvar Eggert Sigurðsson) says that the real competition is not between the climbing groups, but all of them and Everest itself. In the end, Everest decides who is worthy.
The climb continued and climbers already on the Lhotse Face, at 7,132 meters above sea level, had to return to the campsite due to bad weather. To return, they had to go through a very deep ravine by climbing a bridge of many steps.
The situation of climbers who were already very cold was aggravated by long queues because there were quite a few people there. After about 45 minutes of waiting, it was finally Rob's turn and the first to pass was Beck.
Unfortunately in the middle of the road, suddenly a huge pile of ice near them fell down. Beck was exhausted and freezing cold in a hanging upside down position. Rob immediately went to him and tried to save the man. Will Rob succeed? Can Beck survive in such a condition?
Review movie Everest
Imagine it seems real
Using the support of high-tech visual effects, the shaping ability of the images shown in the movie Everest (2015) looks very realistic.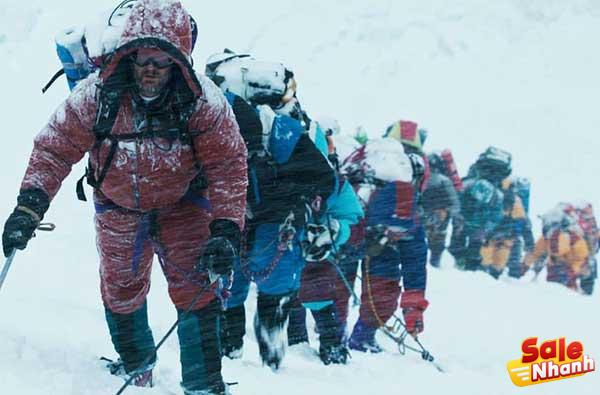 Thick snow and towering cliffs become a visual presentation that feels magical. You can imagine how cold the temperature was there, how difficult and extreme the journey Rob Hall and his friends had to go through while climbing the mountain just by watching it.
Impressive cinematography is also shown in this film. Salvatore Totino showed off his skill in assembling pictures that could tell about the struggles of Rob Hall and other climbers.
Many times the scene is also taken from above and from a distance so the tall piles of ice and rocks look very dashing, while the people are very small. This kind of dramatic effect played a key role in the success of Everest (2015).
Neat grooves and grading bring the story to life
You should have no trouble absorbing the plot of the movie Everest (2015) as the plot is neatly packed. The story of each key stage in the journey of Rob Hall and other climbers to Everest is simple; everything feels fast for a 121-minute movie.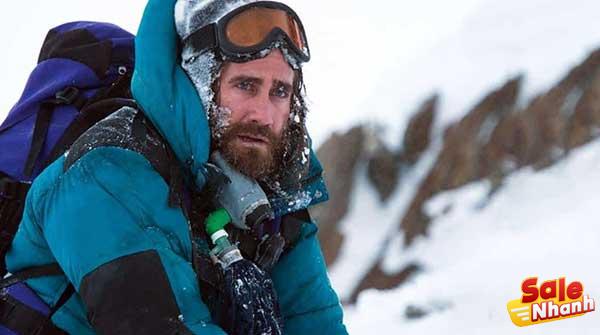 You will be moved as you follow the story of Rob's struggle to take down Doug until he ends up alone and dies after his last call with his wife.
In this part, you will also be moved by the scenes revolving around anxiety, suspense and sadness between Jan, Rob's wife, Helen, Guy and Caroline who are at basecamp as they imagine their fate. Rob on it. All of that can be felt through good storytelling techniques.
The journey to conquer the ego
Everest (2015) is like a must-see movie for mountaineers. It's not just a movie filled with realistic imagery, but also self-reflection on self-conquest.
In a scene where Scott is worried about climbing because there are too many people there, a character named Anatoli says that the real competition is between humans and Mount Everest itself. If there's anything to worry about, it's you and your ego.
Also, if you watch the whole movie, Rob Hall and Harold's characters can actually survive because right after reaching the top, he and several others plunge before the storm hits. However, Doug Hansen, who had fallen behind, insisted on moving forward while time was running out and things weren't going so well either.
Rob Hall, who doesn't want to leave his client, is forced to obey Doug's wishes. Sure enough, on the way down after reaching the top, the two of them didn't survive. Doug's character is supposed to fall first while Rob survives for the next few hours before dying.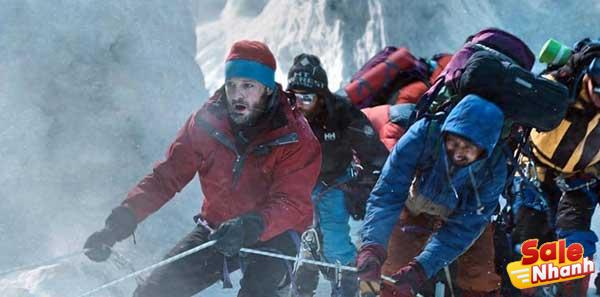 As someone who has repeatedly failed to reach the top, Doug is determined. However, according to the manual, for Rob, the safety of his customers is of the utmost importance. In one scene, he says that his goal is to get the client to the top, but the most important thing is to get his client down safely.
Ultimately, through these two characters, the lesson of conquering one's own ego applies not only to climbers, but also to us humans. No matter how strong the desire to conquer something, your own safety is the most important thing.
Everest (2015) is one of a number of films with the theme of climbing Mount Everest. What distinguishes it most from similar films is that it is based on the true story of the struggles of a professional mountaineer named Rob Hall and Scott Fischer, who lost their lives on Mount Everest.
Watching this movie was like following his journey and his final struggle in the world. If you are curious about the whole plot, you can watch Everest (2015) on Netflix.
Salenhanh – Product review blog
Address: 115 Nguyen Van Qua, Tan Hung Thuan Ward, District 12, Ho Chi Minh City
Website: https://salenhanh.com
Mail: Salenhanh.com@gmail.com
#salenhanh #Reviewsalenhanh