Dynasty Legends 2 is an amazing step forward in the ARPG genre. When entering this game world, you will experience more dramatic and thrilling battles than ever before. Not only killing thousands of enemies, you also have the opportunity to become a talented lord, conquering the Three Kingdoms with your bravery and talent.
One of the highlights of Dynasty Legends 2 is the stunning graphics that take you back to the bloody battles in the chaotic ancient times. The shimmering and detailed landscapes are faithfully reproduced, giving you the feeling of standing directly on the battlefield. From the vibrant colors of the sunset over the grasslands, to the large fires of wildfires, all are presented in a vivid and engaging way.
The interesting thing is that you don't have to fight alone in Dynasty Legends 2. You can invite your friends to join the battle and build a strong empire together. By teaming up and utilizing the talents of each, you can create a powerful army and defeat ferocious enemies. Cohesion and good coordination will be the key to conquering the Three Kingdoms and becoming a great lord.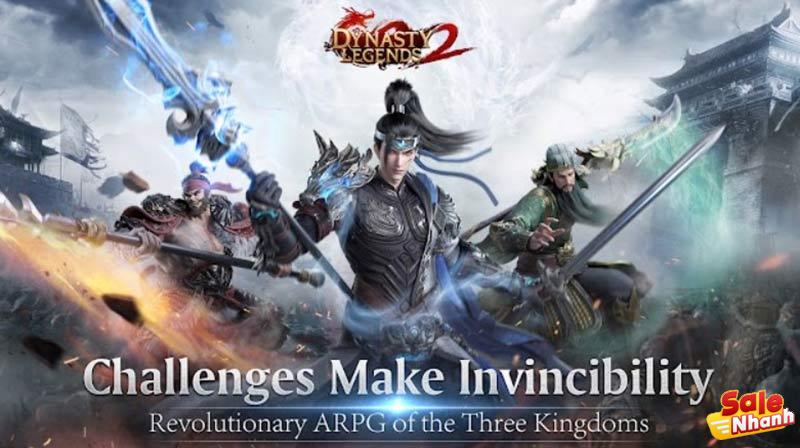 In addition, Dynasty Legends 2 also brings players many new and diverse features. You can customize the character according to your preferences, from equipment to skills and attributes. Choosing and building a character that suits your strategy is very important. Moreover, the system of quests and events in the game is also very rich, ensuring that you will never get bored and always have new challenges to overcome.
In short, Dynasty Legends 2 is a high-class hack-and-slash ARPG game, giving players exciting and dramatic battles. With beautiful graphics, the ability to play with friends and diverse features, the game promises to bring you hours of exciting and unforgettable experience. Join now and build your own Three Kingdoms empire!
Salenhanh has searched and collected a list of Dynasty Legends 2 giftcodes from reputable sources and wants to share with you. If you are looking for attractive giftcodes to experience the Dynasty Legends 2 game, this is an opportunity not to be missed!
Don't miss these giftcodes! Salenhanh believes that they will help you to experience the Dynasty Legends 2 game better and also help you to achieve many excellent achievements.
Take this opportunity to satisfy your passion for gaming. Wish you success and happiness when participating in the game Dynasty Legends 2!
The latest Dynasty Legends 2 Giftcode
| | |
| --- | --- |
| List of giftcodes | Reward |
| SNIdadfa7f | 1000 free diamonds |
| SVIde36ae9 | Get free diamonds |
| VVI1b465c54 | Random |
| EVI796b8c50 | Random |
| TAIb1e3227 | Receive gift code for fanpage events |
| FRI189f71b6 | Event code fanpage events |
| BHI3d43c6da | Coins, Spins and Gems |
The latest Dynasty Legends 2 Fanpage Giftcode
| | |
| --- | --- |
| List of giftcodes | Reward |
| SNI7bc7f58b | 1000 free diamonds |
| SVI2126538c | Get free characters |
| VVI63e0084 | Get Free JBN |
| EVI716c9f27 | Random |
| TAI695234f4 | Receive gift code for fanpage events |
| FRI7d42b2c9 | Event code fanpage events |
| BHI245c85d5 | Coins, Spins and Gems |
Instructions on how to enter Dynasty Legends 2 code
Step 1: Login to Dynasty Legends 2 website homepage
Step 2: Select Dynasty Legends 2 giftcode box on the left hand side
Step 3: Enter code Dynasty Legends 2 to receive gifts
How to get Dynasty Legends 2 fanpage event code
Step 1: Access Dynasty Legends 2 fanpage
Step 2: Choose the hashtag Dynasty Legends 2 code
Step 3: Follow the instructions to get the latest Dynasty Legends 2 code
Legendary Dynasty 2
DYNASTY LEGENDS 2 is a complete evolution of the ARPG Hack & Slash game. Thrilling combat experience allows you to wipe out thousands of enemies on your own, becoming the lord of the Three Kingdoms. Stunning graphics, take you back to the ancient battlefield full of chaos. Join the battle with your friends now and build your empire!
▶Breaking Limits◀
Designed with Next-Gen technology, it will give you the best experience on your phone!
Ultra-high quality 3D models and special effects give you a stunning visual experience!
▶Great Battlefield◀
Rebuild a vast ancient battlefield that can accommodate hundreds of soldiers on a single screen. You can slaughter thousands of enemies in one level. One versus thousands! You are unstoppable!
▶Real-time PVP◀
Multiple PVP modes, 1v1, 3v3, 60v60, each will thrill you!
Only skills matter! Each hero has been tuned to ensure that you can have a fair fight. Everyone stands on the same starting line, do you have the strength and courage to strive for the throne?
▶Family comes first◀
There are various ways of social play, you will never have to fight alone. Forge deep bonds with others and build your clan. You will win together and lose together, as a family! Now fight for the same goal with your brotherhood!
▶Immersive Story Experience◀
In addition to the exciting levels, we curated numerous real-time render CGs spanning over 20 hours to ensure that you're not just a player, but a part of the game. Epic Three Kingdoms. You can stand beside those legendary heroes and create your own legend!
Facebook Fanpage:https://www.facebook.com/dl2game/
Customer Service:DL2@newtypegames.com
Salenhanh – Product review blog
Address: 115 Nguyen Van Qua, Tan Hung Thuan Ward, District 12, Ho Chi Minh City
Website: https://salenhanh.com/en
Mail: Salenhanh.com@gmail.com
#salenhanh #Reviewsalenhanh