After the success of the first movie Enchanted in 2007, the Disney producer returned to work on the story of the beautiful Giselle, a girl from the fairy kingdom of Andalasia trapped in the real world and finally Fall in love with someone from wonderland. that world so she lives there too.
The new film is as beautifully packaged and engaging as the first film, which is titled Disenchanted. This time, screenwriters J. David Stem, David N. Weiss and Richard LaGravenese present the story of Giselle, who is married to Robert and lives together in the Big City.
Disenchanted movie synopsis
Release year 2022
Genre Adventure , Animation , Comedy
Director Adam Shankman
Cast Amy Adams James Marsden Patrick Dempsey Gabriella Baldacchino Jayma Mays
Giselle (Amy Adams) has the life she wants, after she managed to adapt to the real world and married Robert (Patrick Dempsey), she now also has a child together named Morgan ( Gabriella Baldacchino) from Robert's first marriage to his deceased wife.
Giselle's happiness does not stop there, she is also blessed with a beautiful daughter named Sofia from her marriage to Robert. However, the uproar of New York City made Giselle gradually uncomfortable so she decided to move to the suburbs, to a small town called Monroeville to be exact.
This didn't like Morgan, who spent her entire teenage life in New York, but since this was what her mother had dreamed of, Morgan finally agreed and started a new life in Monroeville. As soon as they arrived in the small town, the Giselle family were warmly welcomed by their new neighbors.
A pink house with ivy leaves greets them. Upon entering, some parts of the house appear to be still under renovation. Robert and Giselle then escort Morgan back to his room, to Morgan's amazement but only for a moment because when he tried to turn on the light, his room immediately caught fire.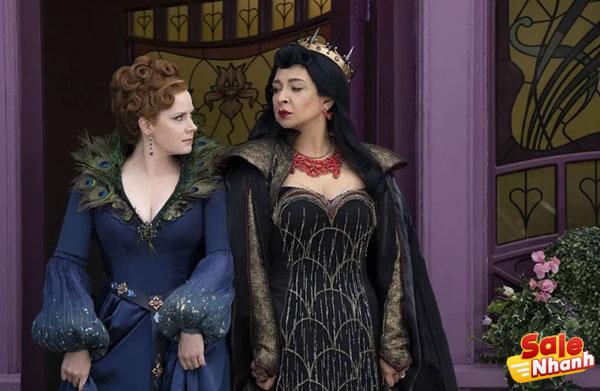 Things start to get uncomfortable, and Morgan has to sleep with Robert, Giselle and Sofia. Then, the next morning, the real deal began. Giselle had to prepare breakfast for everyone in the family, get ready for Morgan's first transfer, take care of Sofia and everything.
Giselle failed. Everything was messed up and made her heart sad. He tried but his efforts were in vain. She begins to miss her hometown in Andalasia, where everything is easy because Giselle has many friends and everything she needs is available, especially miracles.
Not long after, Nancy (Idina Menzel) and her ex now living happily with Nancy, Prince Edward (James Marsden) come from the well opposite the house. Giselle is happy that she can at least see her old friends in Andalasia.
Nancy and Prince Edward also give a magic wand that can give anything Giselle wants as a housewarming gift. As soon as Nancy and Prince Edward returned to Andalasia, Giselle wanted to ask if it was as easy in the real world as it was in Andalasia.
Despite saying it, Giselle made up her mind and returned to the house with her old friend Pip (Jeff Bennett), a cute little squirrel from Andalasia. Unfortunately, Giselle's request was heard by the magic wand and immediately made Giselle's life as easy and normal as it was in Andalasia.
The next morning, between surprise, confusion and joy, Giselle's life was like a fairy tale world. Everything is now according to his will. Her husband, Robert, became a sword prince, and her son, Morgan, became extremely funny and sang all day long to everyone in Monroeville, now Monrolasia.
While everyone was having fun, the right-hand man of Malvina Monroe (Maya Rudolph) the owner of the evil Monroville, Rosaleen (Yvette Nicole Brown) and Ruby (Jayma Mays) managed to steal Giselle's magic wand and immediately hand it over to Malvina. Malvina happily accepted the cane.
She does this because Malvina feels there is something suspicious about Giselle. He later learns that Giselle has a magic wand that can grant her any wish. The effect of the stick is that Giselle becomes the stepmother we often see in fairy tales, cruel and heartless.
At midnight, all of Giselle's dreams will come true, along with her becoming a villain. Pip has now turned into a naughty cat. Morgan is locked in the attic by Giselle but manages to escape. He is eventually thrown into a well to cross Andalasia when Giselle 'realises' again.
The goal is to get help from Nancy and Edward so that they can cancel all requests from the magic wand given to them. When in Andalasia, things are not as good as in Monrolasia. The fairy world and the real world are gradually merging, making everything become fragmented.
On the other hand, Malvina and Giselle, who feel superior, compete with each other for power and leadership in Monrolasia. Giselle attacked Malvina with all her might. Giselle once again requests to become the Queen of Monrolasia after successfully retrieving her wand.
But Nancy, Robert and Morgan stopped him. Morgan carried a piece of paper with his genealogy and fond memories he had with Giselle. Eventually, Giselle's curse weakens, but this doesn't change anything if, after midnight, all Giselle requests are cancelled.
As Giselle and the others try to change things back to the way they were, Malvina acts by taking Morgan hostage, Malvina demanding that she continue to rule in the world Giselle is currently creating. For Morgan's safety, Giselle surrenders but she and everything in Andalasia will be destroyed.
As Malvina's plan is about to succeed, Morgan, who already has the power of being Giselle's daughter, can also grant a wish. He asks for everything to be back to the way it was, and wishing it to be exactly 12 o'clock at night makes everything all right. The movie has a happy ending.
Disenchanted movie review
If we compare this Disenchanted movie to the previous one titled Enchanted, the magical vibes seen throughout this 118-minute film are less of a pain in the ass. No more singing with the animals, no more Giselle's melodious call for help.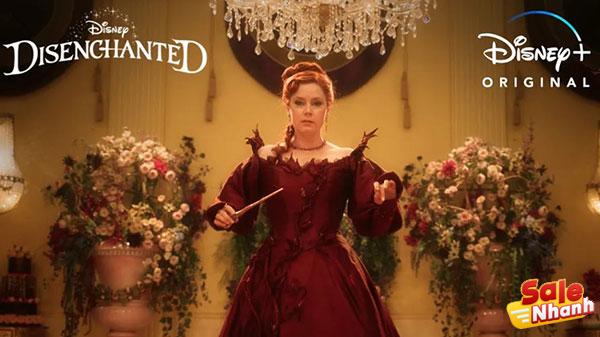 Some things are said to repeat only when Giselle manages to change Monroville to Monrolasia and get the entire population there to sing and dance together. Then in a carnival party where people from all walks of life dance exactly like the end of the movie Enchanted.
Mandatory application
It seems that in most fairy tales, a curse or a wish disappears or stays awake after 12 o'clock at night; and in general no one can break spells. But in the movie Disenchanted, that's not the case. This was proven when Morgan made a wish.
Andalasia should be extinct and the curse will last forever due to the spell beyond 12 midnight. But to make the clock stop ticking 12 times, Robert tries to break the clock. Even though the clock doesn't tick, it's still more than 12 o'clock, right?
Maya Rudolph is full of fun
Who doesn't know Maya Rudolph? He is known for his comedic acting talent in several films such as Bridesmaids (2011) and Sisters (2015). Not only acting, he also participated in voicing famous cartoons such as Big Hero 6 (2014) to Luca (2021); thanks to which Maya is known for her comedic roles.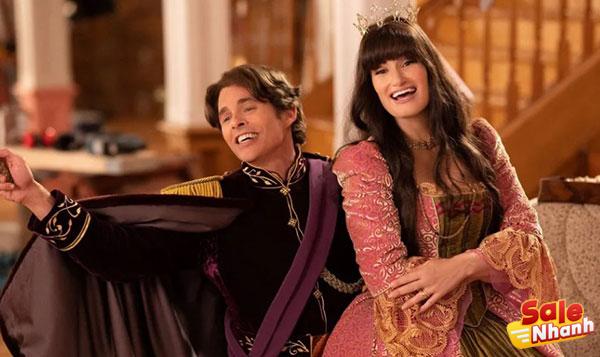 But he has proven that he can also take on a villain role like in this Disenchanted movie. Although at first glance there are still humorous scenes that are inseparable from Maya Rudolph. She can play the cunning Malvina character well and deserves praise.
Although there are not many attractions like the 2007 film Enchanted, the audience can still enjoy the fairy tale of the beautiful Giselle without having to yawn much; because there are quite a few scenes that can be watched without blinking and all of them are near the end of the movie.
Salenhanh – Product review blog
Address: 115 Nguyen Van Qua, Tan Hung Thuan Ward, District 12, Ho Chi Minh City
Website: https://salenhanh.com/en
Mail: Salenhanh.com@gmail.com
#salenhanh #Reviewsalenhanh