Before the launch of this laptop, I just learned about 25 years ago that there was a series of ASUS laptops carried by astronauts during space travel. To celebrate this special occasion, ASUS Zenbook 14X OLED Space Edition was launched. A premium ultrabook that looks exceptional but is also very versatile.
The Zenbook 14X OLED Space Edition is more than simply adding a certain space-themed logo to the body—all in all, ASUS offers customization starting with special phrases embedded at the bottom of the body. machine, "puzzles" through Morse code, to a secondary accessory. the screen represents an outer plane window. Not only that, performance can be relied upon.
With all the features and quality it offers, the Zenbook 14X OLED Space Edition's relatively high price tag can be justified by its quality. In fact, I think this laptop will also be able to appeal to people who may not have any interest in the outside world. This is the full review.
Specifications of ASUS Zenbook 14X OLED Space Edition (UX5401)
| | |
| --- | --- |
| Microprocessor | Intel® Core™ i7-12700H/i9-12900H processor (6P+8E core) |
| VGA (Graphic Card) | Intel Iris Xe |
| RAM (Memory) | 16GB/32GB LPDDR5 onboard |
| Warehouse | 1TB M.2 NVMe™ PCIe® 4.0 . Performance SSD |
| Operating system | Windows 11 Home 64-bit Single Language |
Review review ASUS Zenbook 14X OLED Space Edition
Design
Attracts attention, but in a good way. You can see that the Zenbook 14X OLED Space Edition has a very different design, with all the patterns scattered throughout the body and a soft golden brown color (or ASUS calls it Zero-G Titanium). Not to mention the P-OLED screen on the top cover is its own unique feature and attraction.
This laptop has a thickness of about 15.9 mm and weighs 1.4 kg. It's not the lightest, but if Gizmo's friends continue reading this Zenbook 14X OLED Space Edition review, they'll gradually know the reason behind each hardware feature it brings. Still relatively light and compact enough to carry around. And indeed, it is suitable for external use anyway. Because it looks cool.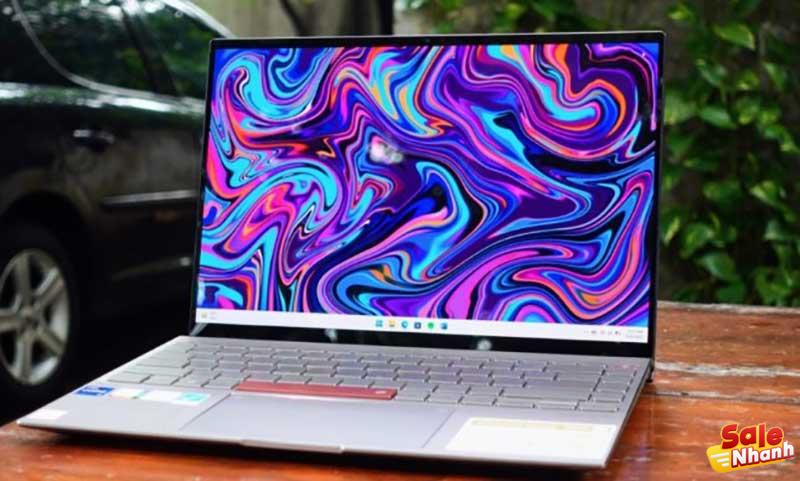 The side is finished neatly and premium. Even in the lower body, there are some ASUS features that make it feel quite special. Include the words "ad astra per aspera" at the top. What I also like about the outer surface of the body, it doesn't leave fingerprints easily. So it keeps clean.
Don't worry about being weak, because Zenbook 14X OLED Space Edition has excellently passed MIL-STD 810H military certification, a special standard that makes it safe for space travel. Shows that ASUS isn't kidding when it comes to releasing this laptop. Truly custom designed inside and out, including a special sale package with a special themed box and stand.
ASUS Zenbook 14X Monitor
Compared to the version released overseas, the screen specifications of the official Indonesia version of the Zenbook 14X OLED Space Edition are a little different. Yes, both are 14-inch OLEDs, 100% DCI-P3 standard, VESA HDR TrueBlack 500 & Pantone Validated, plus they have a 16:10 aspect ratio and can light up to 550 nits—at least. is from ASUS' claim.
What's different is the refresh rate and screen resolution, simpler at 60Hz but up to 4K resolution! Due to overkill for my personal daily use, I downgraded it to 1920 x 1200 which was more than enough. But if you Gizmo guys want the sharpest and best display with consequences such as more battery drain, then maximize the 4K resolution.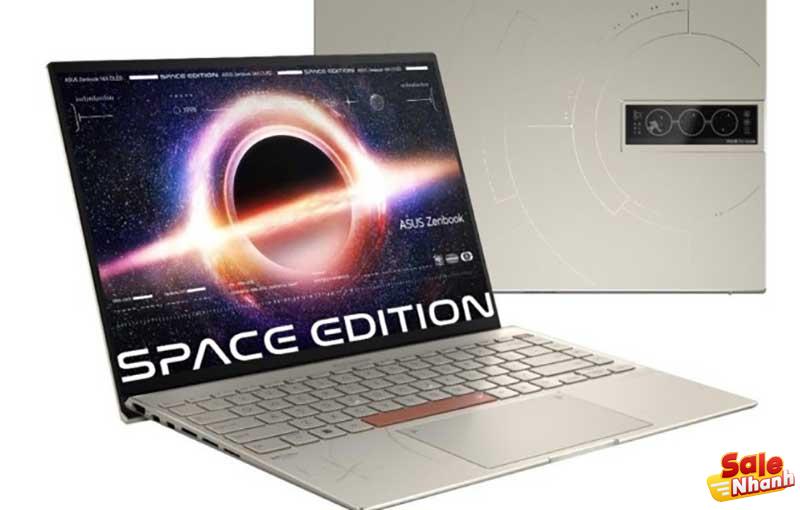 With glossy panels, it is easier to get dirty, but when clean, the display colors are more pleasant. Oh yes, the Zenbook 14X OLED Space Edition display also supports touch input, and ASUS offers an extra stylus in the sales package. It can glow brightly in outdoor conditions and has ASUS OLED Care to prevent image retention and loss of quality.
Overall, the screen quality of the Zenbook 14X OLED Space Edition is among the best at the moment. Not stopping there, on the back body there is also a 3.5-inch black and white P-OLED screen that can be customized according to preferences. Always managed to attract attention and not consume significant energy. So one of the compelling selling points of this laptop.
What I like is that when I close the laptop to put it to sleep, the ZenBook 14X OLED Space Edition's ZenVision screen will change orientation according to the view and show the date and remaining battery capacity, before it does. shutdown or go to sleep mode. sleep. Small details that again need to be appreciated.
Connector
With a fairly comfortable size, the full extent of the ports on the Zenbook 14X OLED Space Edition can be said to be quite complete. On the left edge, I can still find the rare full-size HDMI port, along with two Thunderbolt 4 USB-C ports. Now, on the other side, it's a bit confusing for new users.
There's a USB-A port, a 3.5mm audio jack, plus a microSD card slot that isn't exactly next to it — yes, this laptop has ventilation holes on the left and right sides and the shape of the holes. This is quite similar to the slot. How about the keyboard? Very, very comfortable with key travel that exceeds expectations.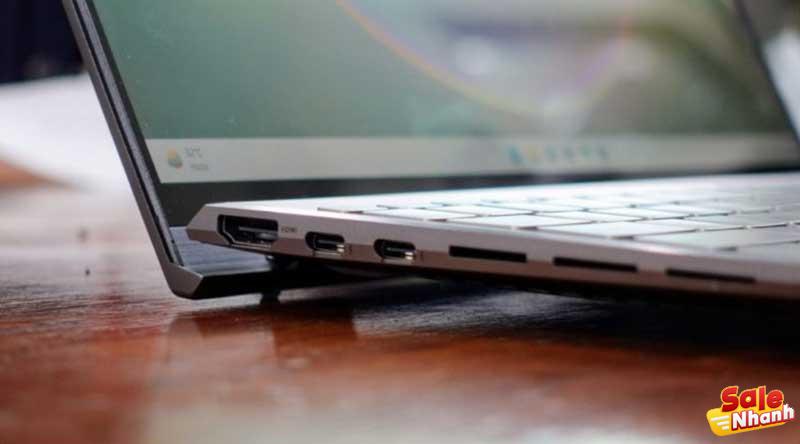 The keyboard is designed to match the color of the body and, combined with the white backlighting, can be difficult to see in certain lighting conditions. Similar to the keyboard, the touchpad is also very comfortable with its large size and can be turned into a virtual numeric keypad with just one touch.
The power button on the Zenbook 14X OLED Space Edition also functions as a fingerprint sensor, with a different surface that is not mistakenly pressed. This laptop with Wi-Fi 6E plus Bluetooth 5 supports Microsoft Swift Pair—a pairing message will appear automatically when a TWS headset is ready to be connected.
Also, for those of you who need LAN connectivity, a gigabit USB-A to RJ45 ethernet converter is available in the Zenbook 14X OLED Space Edition sales package.
Other features
Although it's classified as a new laptop, I'm a bit disappointed that the webcam still has 720p resolution, while other laptops in the same price range have 1080p plus wide viewing angles and features. Additional features such as noise reduction. The plus is that there is a physical shutter that can be activated by pressing the F10 button.
As for the microphone, it is powered by AI noise cancellation so you can make clearer voice calls in the crowd. Well, as for the speakers… in my opinion, they are one of the few Windows laptops that can match the Macbook. Through the two speakers below, Zenbook 14X OLED Space Edition can provide quality and very loud sound output. With notes, first enable the animations through the Dolby Access app.
The default MyASUS app provides quick access to control most specific features. Such as the level of noise cancellation on the microphone, fan speed, sound effects, ZenVision screen display, to battery saving mode for long-term use for years to come.
Performance ASUS Zenbook 14X
It seems that one of the reasons why the price of the Zenbook 14X OLED Space Edition can go so high has to do with performance. The variant that I use is the "lowest" version, running Intel Core i7-12700H with 12 CPU cores, maximum clock speed of 4.7 GHz. Paired with an Intel Iris Xe GPU, 16GB of soldered LPDDR5 RAM and 1TB of M.2 NVMe PCIe 4.0 storage. Less tight? Optional i9-12900H up to 5GHz!
From the above specifications, what feels lacking is only the GPU, while the rest is classed as powerful and up-to-date. No matter how much my multitasking needs are to run heavy office applications, the Zenbook 14X OLED Space Edition can provide optimal performance with two sustaining fans. It almost never spins fast and we can also adjust the intensity of the rotation.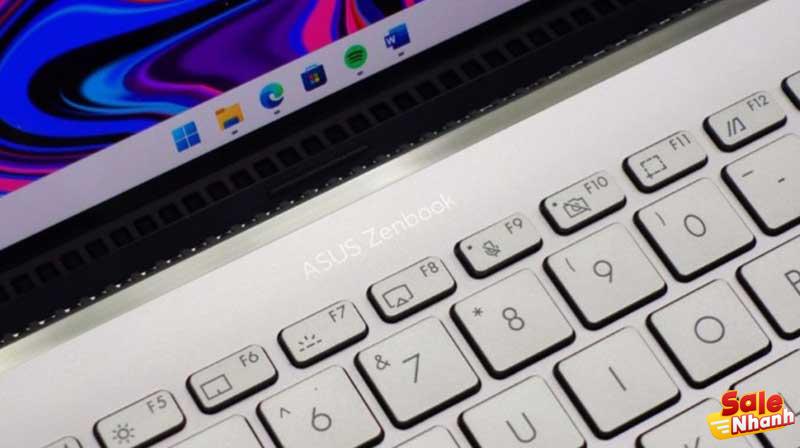 Possibly due to optimal air vents, both left and right. That way, we won't feel hot parts, whether we're resting the Zenbook 14X OLED Space Edition on our lap when relaxing or around the touchpad—preferably just around the top of the F7 button, aka. is the standard.
It makes sense that this laptop doesn't have a powerful third-party GPU—for that, of course, it's "part" of the ROG Flow line. At least the combination of a powerful and efficient CPU, a superior cooling system, and a fast SSD gives this ultrabook a lot of potential, which seems only available to a hobbyist.
The battery
In terms of performance parameters and the cooling system is classified as super, ASUS can still equip Zenbook 14X OLED Space Edition with a large enough battery, namely 3-cell 63WHr. For standard usability with office applications, always connected to Wi-Fi, 60-70% screen brightness and 1200p resolution, the average usage time is up to 6-7 hours. I say just right, no savings and no waste.
It may be more wasteful if you stick with 4K resolution, it can also save more if you enable power saving mode and reduce screen brightness, and switch the fan mode to silent mode. . But there are two things I want to appreciate about the battery feature on the Zenbook 14X OLED Space Edition. First, the sleep mode is optimal. Although I did not turn it off, the power consumption during sleep is really small.
Second, the battery of the Zenbook 14X OLED Space Edition can be filled with a standard Power Delivery charger even under 65W. That is, you can use a smartphone charger. While it is possible that if the current is too low the battery percentage will not increase, but at least it can be used in an emergency situation when the only power source is from the power bank. If you want fast charging, you can of course use the default 100W adapter, which is quite compact in size.
Conclusion about ASUS Zenbook 14X OLED Space Edition
So with a price from IDR 26 million, what is missing in Zenbook 14X OLED Space Edition? Standard integrated GPU, slightly worse than webcam quality of its kind and a bit heavy for a high-end ultrabook. And some of these shortcomings can be offset by the potential it offers.
Very comfortable keyboard, 4K OLED display, options up to Core-i9 for easy charging via USB PD charger are some of them that I find interesting. Aside from the design and additional personalization capabilities it offers, of course. If that suits your needs, the Zenbook 14X OLED Space Edition will be the coolest laptop in any room Gizmo friends are using.
Salenhanh – Product review blog
Address: 115 Nguyen Van Qua, Tan Hung Thuan Ward, District 12, Ho Chi Minh City
Website:  https://salenhanh.com/en
Mail: Salenhanh.com@gmail.com
#salenhanh #Reviewsalenhanh