Out of all the movie themes, disaster is one of the most loved by the audience. The image of the earth being destroyed by a disaster brings its own tension to watching it. In this movie, directors Kim Byung Seo and Lee Hae Jun are set in the catastrophic eruption of Mount Baekdu.
The story revolves around trying to prevent a larger eruption that wipes out the countries of the Korean Peninsula. However, this effort has been opposed by many parties because it has the potential to cause bilateral conflict.
For more details, we'll describe the story of Ashfall as a summary and brief review below of the Salenhanh movie review !
Trailer for the movie Great Disaster of Mount Baekdu (Ashfall)
Synopsis of the movie Ashfall (Great Disaster of Mount Baekdu)
Release year 2019

Genre Action , Adventure , Horror

Produce CJ E&M , Dexter Studios

Director Kim Byung Seo , Lee Hae Jun

Cast Lee Byung Hun Ha Jung Woo Ma Dong Seok Jeon Hye Jin Bae Suzy
Korea is in the midst of a disaster. On that sunny day, Baekdu Volcano located on the border of South Korea, China and North Korea spewed hot lava.
The volcanic eruption was preceded by a powerful earthquake capable of even collapsing high-rise buildings in North Korea. The catastrophic eruption of Mount Baekdu caused Seoul and other cities around it to be nearly leveled.
The government has held an emergency meeting to deal with aftershocks that are expected to be much larger than before. If that happens, South Korea and other neighboring countries will disappear.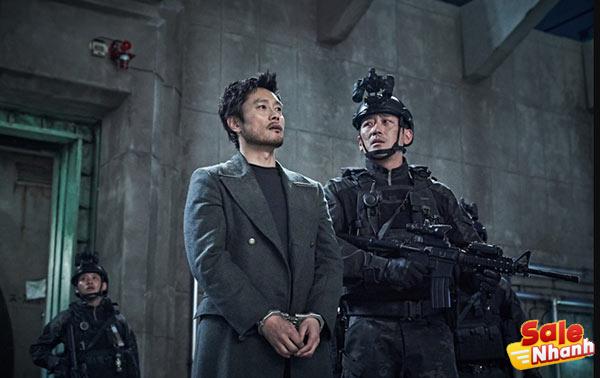 Jeon Yoo Kyung (Jeon Hye Jin), Secretary of the President, then meets a geologist, Professor Kang Bong Rae (Ma Dong Seok), who has been predicting volcanic eruption disasters for some time. long.
According to Professor Kang's hypothesis, the eruption could be prevented by punching holes at the foot of Mount Baekdu so that the magma inside does not erupt. However, to puncture the mountain requires a large nuclear bomb. Unfortunately, only North Korea has a nuclear bomb suitable for such a deterrent.
So the government sent two teams to North Korea on a mission to bring their nuclear bombs. Captain Jo In Chang (Ha Jung Woo) is forced to leave Choi Ji Young (Bae Suzy), his pregnant wife, to carry out a mission.
He and his team must find Lee Joon Pyeong (Lee Byung Hoon), a spy held by North Korea. He is the only person who knows where North Korea's nuclear bombs are kept.
After obtaining the nuclear bomb, Captain Jo and his team must bring the nuclear bomb to the minefield to detonate. The mine is the most suitable point to puncture Mount Baekdu and prevent magma from erupting.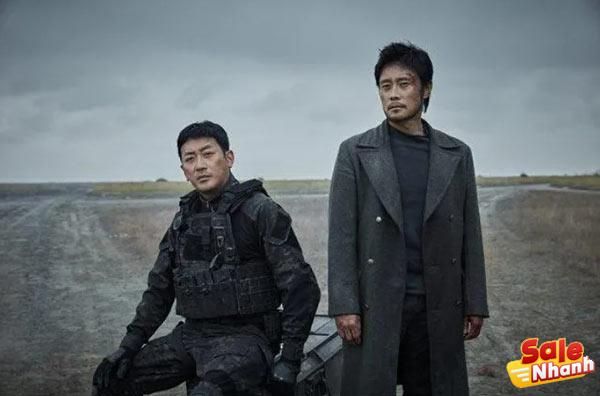 Source: Salenhanh.com
Unfortunately, the mission was known to the Americans. During the search for a nuclear bomb, Captain Jo and his teammates were attacked by American troops. Most of the team members died leaving only Captain Jo, Sergeant Min and Lee Joon Pyeong.
Apparently the US didn't agree with South Korea's plan to use nuclear weapons to stop an eruption so they tried to stop it.
On the other hand, Lee Joon Pyeong also has a special agenda with nuclear bombs. He will steal it and give it to the Chinese mafia as an atonement for his daughter who is being held hostage by them.
Reviews of the movie Ashfall (Great Disaster of Mount Baekdu)
Disaster movie with excellent CGI quality
Ashfall is not the first movie to have a disaster theme as its background. Years ago, there were movies with similar themes that were popular. Call it the movie The Day After Tomorrow (2004), 2012 (2009), Deep Impact (1998), Armageddon (1998), or the Indonesian film, Bangkit (2016).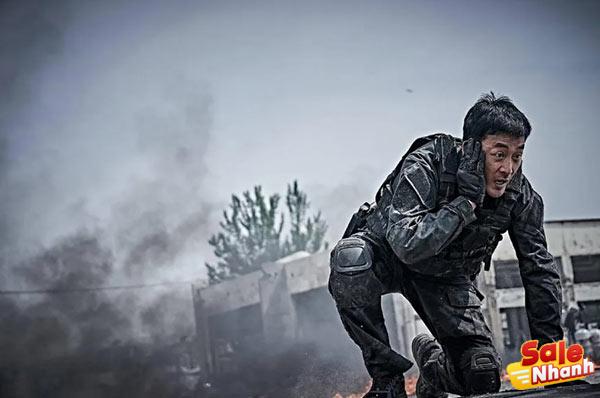 These films show the chaos caused by disasters and put people in extreme fear. However, in this case, Ashfall appeared with a completely different story.
The director duo Kim Byung Seo and Lee Hae Jun created an extremely pathetic atmosphere. You can see how intense the scene where Jiyoung (Bae Suzy) is stuck in a car when a very high tsunami pulls her along.
See more scenes of Captain Jo In Chang speeding up the car to get out of the sunken beach.
There are many other scenes depicting the horror of earthquakes and landslides in this movie. All pictures look real and smooth. It would be inconceivable if the CGI effects showing these disasters were done sloppily. Ashfall may just be the subject of ridicule on online forums.
The visual elements shown in this CGI are part of the consensus. Dexter Studios is really good at making this part look unreal on screen.
We can see the beauty of this producer's CGI in the movie Along with The Gods in which Ha Jung Woo is one of the actors.
There is comedy in tragedy
I can't help but think that Lee Hae Jun and Kim Byung Seo wrote a script with humorous content with the right part. This is the fun part of Ashfall. Sometimes, the player's lines sound sarcastic, but sometimes they sound ridiculous and make us want to laugh.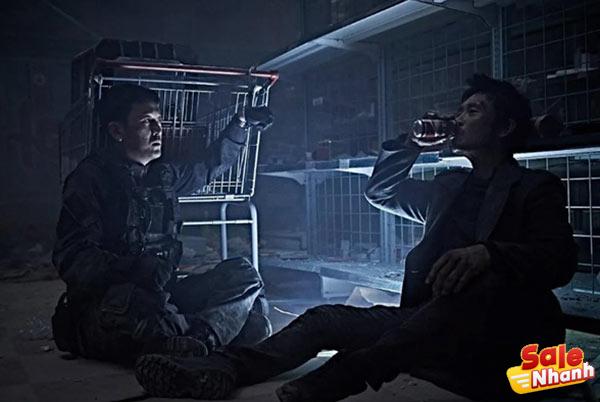 We can find this in the interaction between Ha Jung Woo and Lee Byung Hoon. Our protagonist presents bromance in a unique way.
The two seem to hate each other but on the other hand show emotional closeness. It's not uncommon for them to fight, shoot, and corner each other. But in the end, they got along in their own way.
The interactive comedy of these two actors makes the Ashfall movie even more interesting. Tension was felt during the 128 minutes of the broadcast. However, during that time, we often come across jokes from Lee Byung Hoon's dialogue or Ha Jung Woo's innocent and naive behavior that makes us laugh.
Drama at the end of the story
Ashfall is classified as a disaster movie with a level of horror and suspense that is no joke. Directors Lee Hae Jun and Kim Byung Seo take their hats off! They present a spectacle with satisfying elements.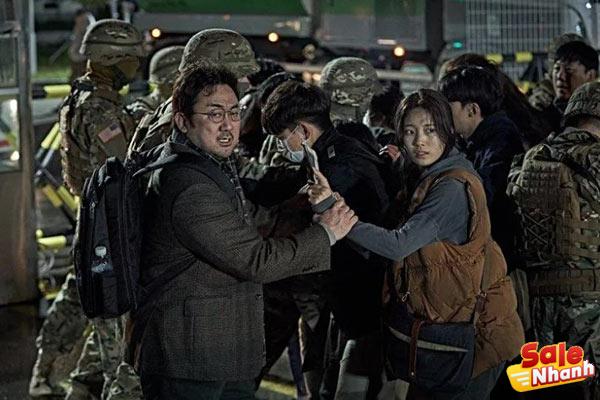 Moreover, in terms of the story, the two directors were also directly involved in writing the script that included tear-jerking scenes.
This can be seen through the story of Lee Joon Pyeon with his daughter Soon Ok (Kim Si A). Apparently secret, the North Korean-trained spy agency devised a strategy to save his daughter he had never met in person.
A more emotional scene occurs when Lee Joon Pyeong dies while carrying a nuclear bomb to the bottom of the mine. That was not the original plan. The nuclear bomb was supposed to be carried by a freight elevator. However, the elevator was stuck and could not be moved. The only way is to be carried by one of them.
Lee Joon Pyeong decided he would be the one to go to the bottom of the mine with a working nucleus ready to explode. But in return, he wants his daughter Soon Ok to be taken care of by Captain Jo. This scene is short but makes people's eyes wet. Lee Joon Pyeong's heroic actions can save countries on the Korean peninsula.
So is Ashfall worth watching? In my personal opinion, this movie offers many interesting aspects that can be enjoyed. Indeed, there is a lot of tension, emotion and emotion in this movie, but they are all presented in the right part. Watch it so you don't feel lost.
Judging by the cast participating in this movie, cult names like Ha Jung Woo, Lee Byung Hoon, Ma Dong Seok, Suzy to child actress Kim Si A will surely make you excited. These names have a strong influence in every movie he is involved in.
Salenhanh – Product review blog

Address: 115 Nguyen Van Qua, Tan Hung Thuan Ward, District 12, Ho Chi Minh City

Website:  

https://salenhanh.com

Mail: Salenhanh.com@gmail.com

#salenhanh #Reviewsalenhanh