The 2007 film Lions for Lambs became the first milestone in Andrew Garfield's career on the big screen. Three years later, the man then received positive attention from critics for his role in the film The Social Network.
His name became even more familiar when he played the character Peter Parker in two films The Amazing Spiderman released in 2012 and 2014. After the role of Spider-Man, he received many offers to play in big movies. other.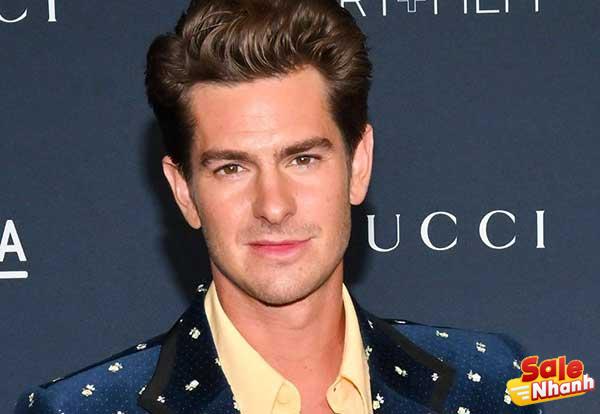 One of them is his successful acting in the 2016 movie called Hacksaw Ridge. For his phenomenal performance, Andrew was awarded best actor in a leading role at the Australian Academy of Film and Television Arts (AACTA) Awards and the Critics' Choice Film Awards.
To better understand this man who is dating Emma Stone, Salenhanh will give suggestions about the movies he has starred in. Here are the reviews below.
Never Let Me Go (2010)
The film Never Let Me Go is titled and the story is adapted from the novel by British writer Kazuo Ishiguro. At the time of its release in 2005, the novel was immediately included in the list of the 100 best English-language novels from 1923 to 2005 published by TIME magazine.
Five years later in 2010, director Mark Romanek succeeded in adapting the story to the big screen. Andrew Garfield was then cast as the friendly Tommy with two women, Kathy and Ruth.
The three of them had known each other since they were at Hailsham boarding school. As teenagers, they were later transferred to a plantation called The Cottages to prepare to donate their limbs. The love triangle drama turns into a love conflict in this movie.
The Amazing Spiderman 1 & 2 (2012-2014)
After getting stuck in Sam Raimi's third Spider-Man movie, the role of Peter Parker's character changed from Tobey Maguire to Andrew Garfield. While Andrew has only been in two films, he should be appreciated for portraying a supposedly "playful" image of Peter Parker.
The movie Amazing Spiderman received a score of 73% from film review site Rotten Tomatoes. This film then introduces the character Gwen Stacy (Emma Stone) as Peter Parker's love interest.
In the first movie, Peter had to deal with a pretty big problem fighting Dr. Connors transforms into a Lizard reptile. The sequel to the second film is equally compelling, he is reunited with his best friend Harry Osbon, while also having to fight another enemy named Electro.
Lions for Lambs (2004)
Lions for Lamb is a movie that brings drama, war and political intrigue. All the stories described have three different points of view, but all lead to the same common theme.
These stories are then connected through the relationship between a US military force in Afghanistan and a West Coast University senator, reporter and professor.
In this film, Andrew Garfield plays a college student named Todd Hayes. He is a genius student, but fed up with his country's policies, sacrificing many lives to fight in conflict zones.
Meanwhile, Tom Cruise becomes senator Jasper Irving, who is seeking fame for his anti-terrorism policies as an effort to create world peace.
Hacksaw Ridge (2016)
Release year : 2016
Genre: Biography, Drama, History
Directed by: Mel Gibson
Actors: Andrew Garfield, Sam Worthington, Luke Bracey
Production company: Summit Entertainment, Cross Creek Pictures, Demarest Films
In addition to the shadow of the character Spider-Man, Andrew Garfield later appeared in this film and successfully made his name successful as an actor. Hacksaw Ridge itself is a film based on the true story of an American paramedic named Desmond Doss.
Andrew then plays the character and must act in a conflict situation during the Second World War. It is said that Desmond Doss joined the 77th Infantry Battalion assigned to Okinawa, Japan.
He and other armies had to capture a hill called Hacksaw Ridge. To get there, they had to deal with bomb attacks from the Japanese army. But during the war, Doss refused to kill people, including enemies.
Breathe (2017)
Breathe is a biographical drama film based on the true story of Robin Cavendish. He was a polio man who later invented the wheelchair. His inspirational life story prompted his son, Jonathan Cavendsih, to produce this film.
The son then gave Andrew Garfield the role of his father in the movie he was producing. This movie is set in the 50s according to the original story.
The story of this movie begins when Robin, who is playing cricket, sees a woman named Diana. He fell in love immediately, then they dated and got married. Then a complicated problem arose when Robin became ill and could not move his body. This is where the conflict in the film becomes dramatic and touching.
Silence (2016)
The now 36-year-old man looks quite impressive in this movie. In addition to his own participation, the film Silent also features Kylo Ren in the Star Wars trilogy, Adam Driver and veteran actor Liam Neeson.
The story goes that Francisco Garupe (Adam Driver) and Sebastian Rodrigues (Andrew Garfield) are two Catholic missionaries from Portugal. The two then travel to Japan on a mission to find their mentor, Cristovao Ferreira (Liam Neeson).
Being abroad makes it very difficult for them to survive. Long before their arrival, the Japanese Government strictly forbade the introduction of Christianity into their country. They are faced with various problems that have never been imagined before.
The Social Network (2010)
Although he doesn't star in this movie, his presence doesn't just heat up the plot. He appeared neatly in a role with Jesse Einsenberg, who plays the character Mark Zuckerberg, the creator of Facebook.
Andrew himself continues to show his best qualities in acting. Here he played Mark's best friend, Eduardo Saverin.
The story begins when Mark asks Eduardo for help to create a website called Facemash. He then breaks into the university database where the two study to steal photos of female students.
Because of his actions, he was suspended from school for 6 months. However, this is the starting point for Mark Zuckerberg's journey to build Facebook's social network.
99 Homes (2014)
This film portrays hardworking father Andrew Garfield in his character Dennis Nash. He lives with his mother and only child.
One day, the house they were living in had to be foreclosed on because they were owed three months. As a result, Nash and his family must be prepared to be evicted from their home by a realtor named Rick Craver.
Nash, a construction worker, has to work hard to feed his family. Then he received a job offer to repair the house from the realtor.
Then Rick asks Nash to work with him. In order to help the mother and daughter's life, he also agrees and becomes a running boy for Rick to evict people who are owed rent.
Boy A (2007)
Eric Wilson was a child from a poor family. He befriends a naughty boy named Phillip. One day, they did a terrible thing.
Feeling annoyed and angry at the words of a girl named Angela, they consciously killed her. Both were later sent to prison despite being underage.
Phillip, who regretted his actions, chose the path of suicide. Meanwhile, Eric can breathe free air after serving his prison term. He also changes his name and becomes a man named Jack Burridge (Andrew Garfield). He tries to forget his past and live a normal life. However, an unexpected event happened to him when his true identity was once again revealed.
Under The Silver Lake (2018)
Under the Silver Lake offers noir-style stories with a hint of the crime thriller genre. In this movie, a young man named Sam (Andrew Garfield) has no goals in life.
His outlook on life begins to change a bit when he likes his neighbor, Sarah. However, the woman he loved suddenly disappeared without a trace.
He searches every corner of the city for clues about Sarah's whereabouts. His efforts to find the girl he loves plunge him into an evil conspiracy involving public figures, popular culture, and even mythology.
Who is Sarah really and why did she mysteriously disappear? Just watch this movie to find out the truth of the answer.
Although there is no news about the actor's latest movie project, he is still active in the theater industry. In 2018, he won a Tony Award as Best Actor in a Play for his role in the theatrical drama Angels in America.
So, for those of you who idolize this guy, don't forget to check out the movie recommendations given!
Salenhanh – Product review blog
Address: 115 Nguyen Van Qua, Tan Hung Thuan Ward, District 12, Ho Chi Minh City
Website: https://salenhanh.com/en
Mail: Salenhanh.com@gmail.com
#salenhanh #Reviewsalenhanh