Two friends witness a murder, but are accused of being the culprit. Together with an old friend, they try to unravel the mystery behind a political conspiracy.
The conspiracy is seen as threatening the stability of a country undergoing economic shocks. This investigation leads them to find a previously known mysterious figure.
Amsterdam is a comedy horror film by David O.Russell released by 20th Century Studios on October 7, 2022. Starring Christian Bale, Margot Robbie and John David Washington in the lead roles, the film also featuring dozens of top actors.
Inspired by the political intrigues that occurred in the United States in the 1930s, this film promises to be an interesting investigation with a complicated plot. Does it have the Oscar quality of David O. Russell's previous films? Check out the following review to find the full review of this movie.
Summary of Amsterdam – The mysterious murder
Release year 2022
Genre Drama, History
Produce Corazon Hayagriva , Keep Your Head Productions , New Regency , Regency Enterprises
Director David O. Russell
Cast of Christian Bale Margot Robbie John David Washington
In 1918, during World War I, Burt Berendsen led an army of black soldiers, including Harold Woodsman. They were friends and were all wounded on the battlefield. They are then cared for by Valerie, who promised each other as friends.
After the war ended, they moved to Amsterdam and lived together as three people. Until then Burt decided to return to America to live again with his wife.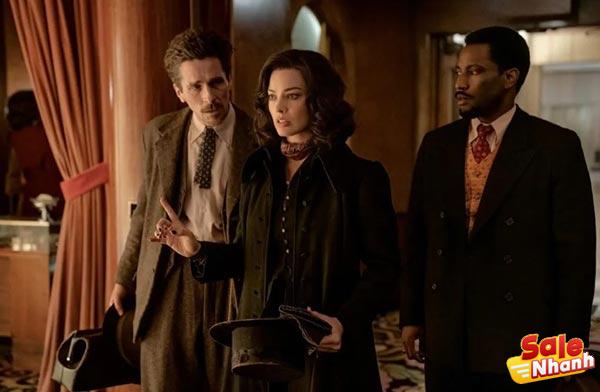 Harold and Valerie fall in love but then Valerie disappears without a trace, causing Harold to decide to return to America. He successfully completed his law school and became a lawyer.
Fifteen years later, Burt opens a medical facility to treat wounded veterans and remains Harold's best friend.
One day, they have to examine the body of Bill Meekins, a senator who served as their commander at the request of Bill's daughter Elizabeth. Elizabeth suspects that someone killed her father, which is proven by the presence of poison in the father's intestines.
While conversing with Elizabeth, Burt and Harold witness a horrifying incident. Someone pushed Elizabeth into the street until she was hit by a car and ran over. The man then accused Burt and Harold of being the culprits, prompting them both to run away from the police.
Later, Burt visits his wife, Beatrice. When Harold opened Elizabeth's bag, he mentioned the name Beatrice assumed was Tom Voze, a wealthy textile businessman.
Detectives Lem and Hiltz are watching them and preparing to arrest Burt and Harold. But they agreed to end Burt and Harold's investigation first.
Burt and Harold then go to Tom's house and meet his wife, Libby. Unexpectedly, they actually met Valerie, who turned out to be Tom's sister. He is being treated at home for suspected neurological disease.
Tom arrives and chats with them, where he offers to meet Gil Dillenbeck, a famous war veteran.
Burt made several promises to Gil but failed each time. Meanwhile, Harold and Valerie unleash their true desire that leads them to track Elizabeth's killer to a secret facility.
They then meet Burt, who is treating Irma because he has just been attacked by a stranger who stole Bill's autopsy results.
Valerie takes Burt and Harold to the Waldorf Astoria hotel to meet Paul Canterbury, Valerie's partner in Amsterdam, who is now working in intelligence. Paul and Henry explain the plot to organize a coup against the legitimate government. And Gil is the one who can thwart the plan.
The three then meet Gil at his house. After explaining everything they knew, Gil agreed to accept an invitation to speak at a veterans event on behalf of a secret organization.
At the climax of the event, Gil gave a speech to veterans after meeting key people in the organization known as the Council of Five.
Did Gil speak at the direction of the organization, or did he tell the truth and expose all these corrupt political intrigues? Find the answer by watching this movie until the end.
Reviews, comments Amsterdam (Mysterious Murder)
Lots of stars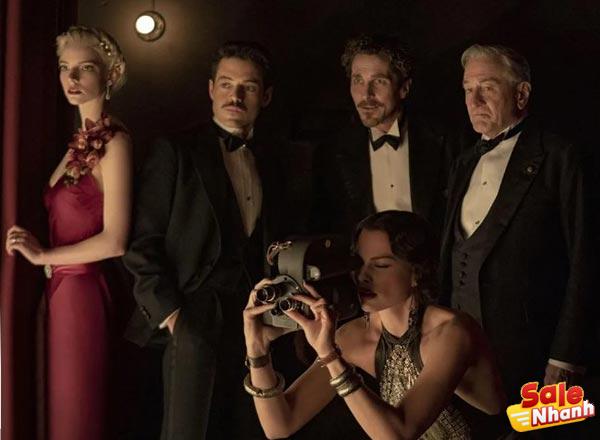 Since the success of the movie The Fighter (2010), David O. Russell's name has become a magnet for Hollywood stars who can appear in the film he directed.
When he came up with the idea for the film Amsterdam, the producers and his cast team were excited to fill the film with a lineup of Hollywood's top actors and actresses.
In addition to Christian Bale, Margot Robbie and John David Washington, there are still many other top actors such as Chris Rock, Zoe Saldana, Anya Taylor-Joy and Rami Malek.
There are also Mike Myers and Michael Shannon as two intelligence agents, as well as Matthias Schoenaerts and Alessandro Nivola as detectives hunting Burt and Howard.
Also don't forget the brief appearances of Taylor Swift, Timothy Olyphant, and Andrea Riseborough, who have their own time to bring to their characters. And don't miss the veteran actor Robert De Niro, who exudes the charisma of a powerful veteran with the character Gil Dillenbeck.
Most of these actors appear in slick performances, as well as showing David O.Russell's confidence in directing the performances of the players. The chemistry of the three main characters is really good, although a bit disappointed by the messy appearance of the script.
The background of their friendship is described only briefly and lacks depth, making it less memorable. That way, there are some actual characters without their presence, the series will continue to run, or in other words, the characters don't matter.
One of them is two detectives played by Matthias Schoenaerts and Alessandro Nivola. They appear in only four scenes and seem to complement a story that is not well connected.
Allegations that their hunt would appear interesting, did not happen. Was meant to be funny, but failed to make us laugh. Without their characters, perhaps the long length of the film, 2 hours and 14 minutes, could have been cut a bit to make it appear more proportionate.
But among these stars, the most disappointing is Taylor Swift. Indeed he is just trying to dive into the world of acting, and this movie proves that he still has a lot to learn.
Acting looks stiff and expressionless. Although it shows a nervous acting, it seems like it's forced.
The complicated plot appears empty
The premise of the film Amsterdam alludes to the suspense of unraveling the mystery of a senator's murder and the plot behind it.
The first third of this series is quite entertaining, especially with the story of their initial meeting being created as vividly as possible after the shocking events of the opening.
Then, in the second third of the series, the story is complicated by the appearance of many new characters, who are shrouded in the mystery of who they really are.
Some of them are eye-catching, like Tom and Libby, but a few are more important and obvious, like detectives Lem and Hiltz.
Our hopes for the excitement of Burt and Harold's investigation but a little disappointment with the film's tension appear to be unchanged, not rising. Although the arrangement of the story structure is unexpected, with the intention of presenting a surprise impression, after the reveal, it cannot surprise us.
In fact, we can already guess who the mastermind behind this plot is, as the one who pushed Elizabeth to the brink has given a clear clue.
He made gestures and commented on the existence of the Council of Five. This organization that we considered secret was known to many parties, especially from the upper classes.
Burt and Howard were easily led to meet the leaders of the organization, who actually used their closeness to Gil to introduce the fascist movement.
From here, the script, also written by David O.Russell, seems to want to accuse Gil of being the mastermind behind the plot.
But before the accusations had accumulated much, it was immediately dismissed when Gil declared his patriotism to the country and his allegiance to the government.
But from here we are not immediately confused, because the answer is right in front of our eyes. And, you will find out who the mastermind is at the end of the show for veterans towards the end of the movie.
Visually beautiful and almost flawless
True to the position of an Oscar-class director, David O. Russell has successfully shown beautiful, detailed and realistic images. The feel of the 1930s era is very rich, complete with unique items that existed at the time from the costumes, vehicles, atmosphere to the style of speech.
Camera placement tends to be normal, and in some scenes it renders images from a first-person perspective too often, making it a bit boring.
The color of the entire film is wrapped in a flat tone so it looks classic. And for flashbacks, the use of sepia looks cliché even though it looks very polished.
In fact, Amsterdam has performed well overall. The support of the star cast with fairly polished acting is only disappointed by the complicated script without leaving a meaningful impression.
The different characters are presented giving their own uniqueness, only then making this movie more like Wes Anderson movies.
Moments of excitement that we had hoped for were not reciprocated well, and the somewhat low tension almost caused boredom. Fortunately, we are still curious about who the mastermind behind this conspiracy is and what he wants to bring out.
Don't be surprised if when the credit title appears, an original speech by a senior veteran is displayed similar to Gil's speech in the movie.
It is true that there was this political conspiracy, known as the Business Conspiracy, which plotted to turn the United States into an authoritarian state like Germany and Italy at the time.
If you like plot movies, let alone historical setting, then this movie is your top pick. It comes in a comedy that's not easy to understand, but at least the atmosphere of the 1930s era feels very real, so that it attaches an impression of history that becomes quite thick.
However, it seems that David O.Russell was not able to take his work further at later film awards events, especially his own name. But maybe it could be nominated for the performances of the two main characters, Christian Bale and Margot Robbie.
For loyal fans of both, this is a must watch as these two top actors appear in very good form.
While there are many flaws that keep this movie from reaching its optimum, Amsterdam is still well worth enjoying, especially thanks to its star element. See this movie soon, yes!
Salenhanh – Product review blog
Address: 115 Nguyen Van Qua, Tan Hung Thuan Ward, District 12, Ho Chi Minh City
Website:  https://salenhanh.com/en
Mail: Salenhanh.com@gmail.com
#salenhanh #Reviewsalenhanh