Jantje Friese and Baran bo Odar return to Netflix with an ambitious new project '1899'. In 2018, the two signed an agreement with Netflix to create many compelling titles in the first 5 year period. The first product of the partnership was the sci-fi horror TV series 'Dark', which ran for three seasons running from 2017 to 2020.
After successfully developing the 'Dark' series – which received a warm response from fans, this creative duo will deliver a historical drama mixed with thriller.
The 1899 series will be released in multiple languages, with each actor speaking their native language. There were passengers from all over Europe; Polish, French, German, Spanish and English will have difficulty communicating with each other.
Not only that, this series also offers a wide range of world-class characters. Which makes sense, since '1899' will be about a group of migrants sailing to America on a steamer.
Summary of 1899 Season 1 (2022)
Set in 1899, a steamship carrying migrants sails west to leave the old continent. The passengers, who came from different parts of Europe, were united by their hopes and dreams to usher in a new century and a future in a foreign land.
The story begins with Maura Henriette Franklin/Singleton (Emily Beecham), who has a nightmare when she meets her father, Henry Singleton (Anton Lesser) and declares that he is not a psychopath. After waking up from a nightmare, Maura saw a newspaper about the disappearance of a steamship named Prometheus that had been missing for four months.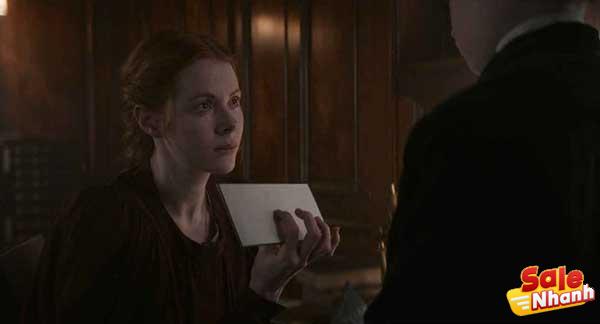 Maura is traveling from London on a ship to the Americas to meet her siblings, after receiving a letter she believes to be hers. The letter contained a message about the father's actions that his brother already knew.
On board, you'll see a variety of passenger classes from low to high, as well as ship workers, crew members, and Maura Henriette's meeting with the captain, Eyk Larsen (Andreas Pietschmann).
However, their journey takes an unexpected turn when they find the ship Prometheus floating at sea for four months. What they find on the ship will turn their journey to the land of hope into a terrifying nightmare.
1899 Season 1 Movie Reviews
Interesting plot
In the first few episodes, this series will provide a mystery drama that continues to evolve, even audiences can feel a different feeling when watching starting in the middle of the episode.
The genius of Jantje Friese and Baran bo Odar in presenting this burgeoning plot deserves to be appreciated, because the audience feels like they are included in the story. All the details that remain unrevealed in the upcoming episodes create more confusion and make the audience wonder who is the culprit behind every event happening in this series.
While it feels odd, the fun side of this series can finally be revealed and made clear enough for audiences to understand why the tragic events of the '1899' series happened and how no way to save the passengers in '1899' if we enjoy the series to the end.
Movie recording using Volume technology for VFX
Volume technology, which replaced the chroma blue screen, is now widely used by Production House to ease the shooting process. This technology is mainly for obtaining background projections used in the filmmaking process.
The difference is that this setting is replaceable and can be set at the same time. Taking advantage of the real-time engine, it reacts to camera movement on the spot by adjusting perspective, lighting, and other elements in the panel.
At first, Baran bo Odar was skeptical of this technology, as the results could not be maximally achieved. After much trial & error before shooting started, Baran bo Odar finally managed to capture a pretty satisfactory shot of the lighting and essentials in '1899'.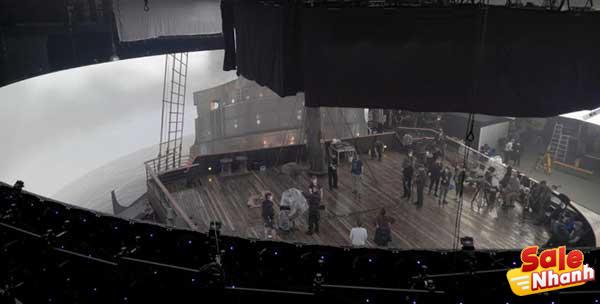 The filming of '1899' carried out during this pandemic has finally found a solution by using Volume technology to present the visuals needed for the '1899' series.
And certainly, the audience had a real feeling when this series started from the first episode. The waves, the atmosphere of the background story of each character is shown, everything is very realistic.
The movement of each scene, as well as the elements rendered for a series that requires objects like very large ships to feel real, we enjoyed watching the series.
Some of the characters' backgrounds are still unclear
Exploring all the existing characters, especially with so many introduced in a series, is a challenge in itself at times. In fact, with 8 episodes airing, exploring the characters still doesn't feel enough.
Set in 1899 in Europe, where many immigrants from that continent want to change their destiny to a new continent, America, all the characters have their own reasons and circumstances for leaving. leave the homeland. This is '1899' trying to convey through some flashed flashbacks.
Some of the context given is quite understandable for those who watch it, such as the tragic experience of the Tove family (Clara Rosager) that makes them want to leave and forget their sad story, Lucien (Jonas Bloquet) ) come back. turned out to be a traitor who wanted to escape from where he came from so that his true identity would not be revealed, and several others.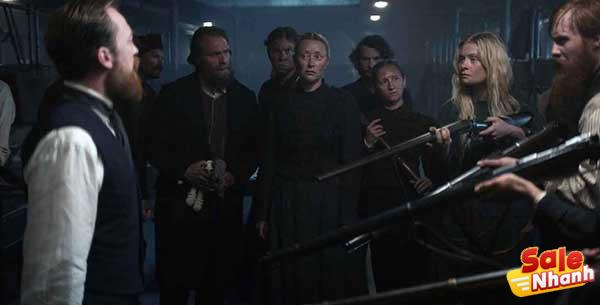 However, there are others that still make us wonder, such as Angel (Miguel Bernardeau) and Pastor Ramiro (José Pimentão) who still have gray backgrounds. If Ramiro wasn't even Spaniard as Angel said, how did they meet? What happened between the two of them? What made them want to leave their homeland? The same question applies to Virginia Wilson (Rosalie Craig).
If we look through the previous series, 'Dark' also took a long time for us to get a clear picture of the characters and their backgrounds. So with a complicated plot, maybe we can get a better understanding of the characters and why they were chosen to be part of the affair in the next season.
An action that requires the player to continue speaking their native language
The lineup of players from diverse backgrounds is another interesting point in '1899'. In particular, the director seems to want players not to lose their originality when expressing their characters. In each scene, we will hear pronunciation of English, Spanish, French, Polish, German, Danish, Portuguese, Cantonese, Norwegian to Swedish many times .
This linguistic element turns out to be a red thread on the human side if we take it back. The language barrier found a solution and made us realize that people can adapt and thrive with emotional ties without having to understand their language.
The return of Andreas Pietschmann as captain in this series turns out to be able to deliver a very compelling performance. Previously, in the 'Dark' series, Andreas appeared as 'Adam' who can foresee every event, he has to change completely into a character who knows nothing about what is happening. out with himself and the events he is going through.
Emily Beecham as the main player is also able to convey a range of mysterious, vulnerable, and powerful emotions as Maura Henriette Franklin.
Conclusion of the movie 1899 Season 1
This series might be one of the favorite shows of Cilers who enjoy mystery and sci-fi genres. Therefore, this series will really give us an overview of the answers to quite complex human thoughts. While the story presented can be said to be quite heavy, we can still enjoy some scenes that will answer the previous episode.
Although the scene visualization is presented using volume technology, this does not reduce the resulting scene capture that we can see. Almost everything feels real, and we can enjoy the natural beauty of the ocean and the beauty of some scenes in European countries.
Audiences will enjoy the genre of stories that continue to evolve from horror to science fiction, so that viewers will experience the dynamic story of the '1899' series.
Salenhanh – Product review blog

Address: 115 Nguyen Van Qua, Tan Hung Thuan Ward, District 12, Ho Chi Minh City

Website: 

https://salenhanh.com/en

Mail: Salenhanh.com@gmail.com

#salenhanh #Reviewsalenhanh