The Red Sleeve (2021) tells the love story between Yi San and Duk Im, different from the true story of King Jeongjo and Queen Uibin shown full of struggle but also full of love and warmth.
The players involved in this series put on their best, so it's no wonder the ratings continue to rise from episode to episode. The-Red-Sleeve  (2021) with the participation of professional and trusted players. They include senior actresses and actors as well as veterans and newbies.
Quality assured names like Lee Se Young, Lee Joon Ho to Jang Hee Jin all competed for charming roles. Want more information about the players who are the Red Sleeve (2021) and his character in this movie? Read on in full below!
Yi San – Lee Joon Ho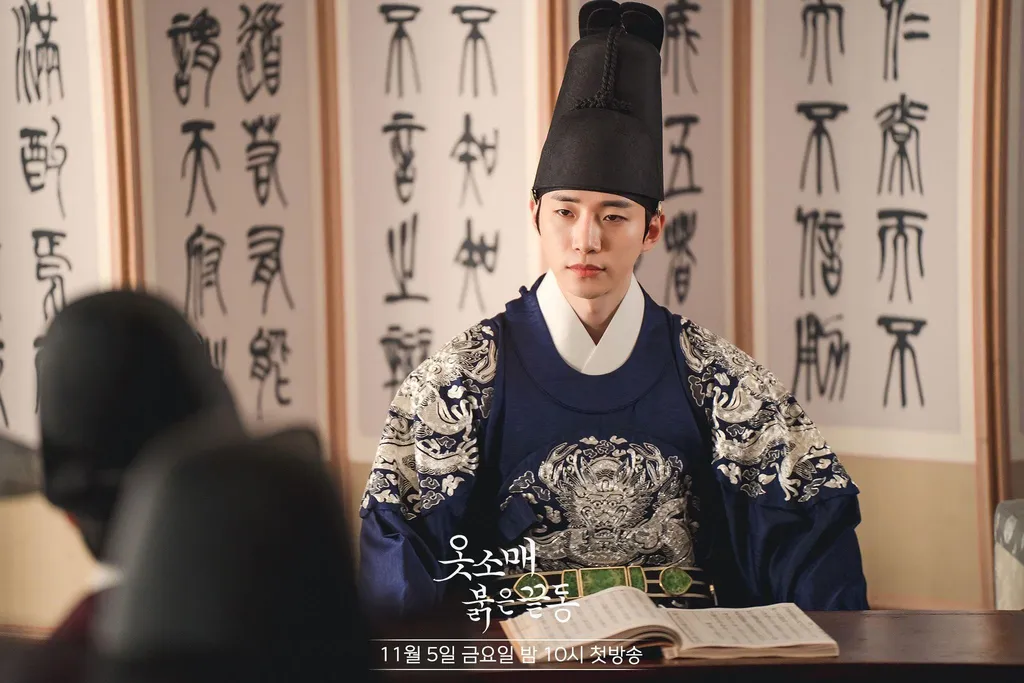 Lee Joon Ho's appearance as Yi San made his fans fall in love even more. Joon Ho also gained a lot of new fans for his role as a successful heart-melting crown prince. Yi San is Crown Prince, son of Prince Sado and grandson of King Yeongjo.
Being the son of Prince Sado was labeled as crazy and cruel, causing Yi San to bear the grudges of many people. Many people did not like his nomination to be king, especially Chief Dayang Cho. So Yi San formed a secret group to restore his father's fame and fortune.
Yi San is a determined and serious person. He is a leader who dares to act but still has compassion. Yi San has no ambition to immediately dethrone his grandfather from the top of the throne. However, when his grandfather finally died and he ascended the throne, Yi San used his power firmly, bravely, and wisely.
His heart fell into a palace maiden named Duk Im. Until he was crowned King Jeongjo and had a queen, his love for Duk Im remained. Yi San fights for Duk Im to be his concubine tirelessly. Until Duk Im's death, Yi San continued to feel guilty for his selfish love.
Sung Duk Im – Lee Se Young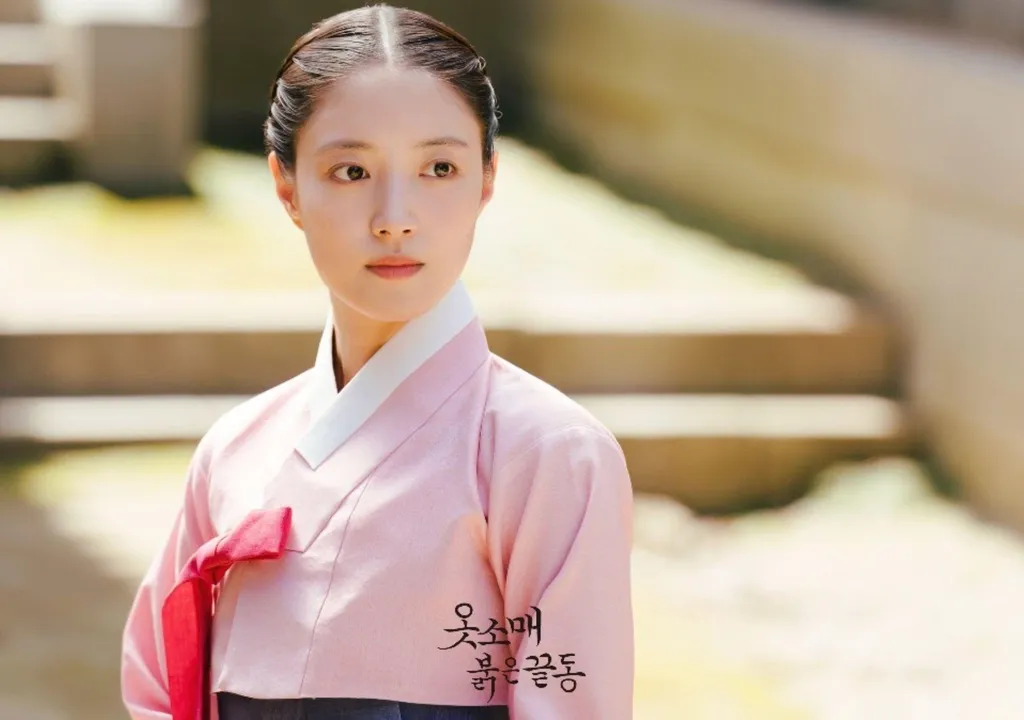 The next player The Red Sleeve  (2021) is Lee Se Young. He played the role of Sung Duk Im; The palace maid that Yi San loves. Duk Im is a woman with beautiful handwriting. Thanks to his beautiful handwriting, Duk Im was often asked to copy some books in the palace.
She also enjoys reading fairy tales to other women who are waiting to make money. Duk Im is an honest, brave and intelligent girl.
He shares his feelings with Yi San but keeps it a secret because for him it can be debilitating. Duk Im repeatedly refused Yi San's request to become a concubine because he did not want to live by the rules.
Duk Im also just wants to be the only woman for Yi San; something impossible considering Yi San as a king. However, at every opportunity, Duk Im always tries to protect Yi San from danger. Duk Im's love for Yi San is not in words but in actions.
Duk Im finally agreed to become a concubine and live happily with Yi San. Unfortunately, his happiness did not last as Duk Im passed away shortly after the death of his son with Yi San. In his lifetime, Duk Im falls in love with his three best friends, women who are waiting.
Hong Duk Ro – Kang Hoon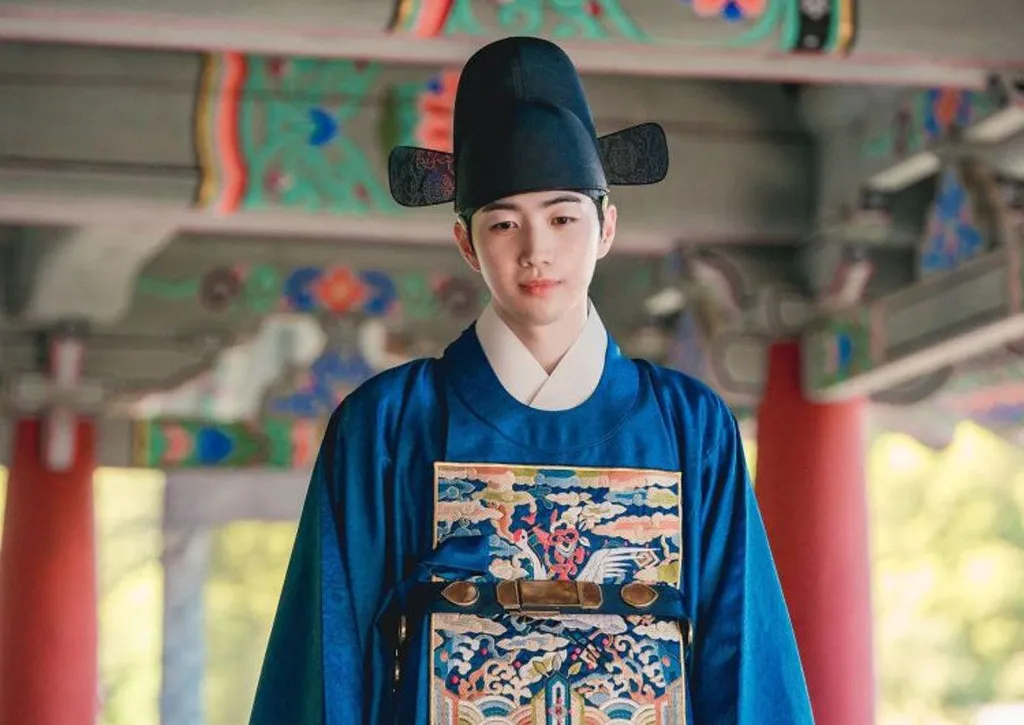 The character Hong Duk Ro played by Kang Hoon is equally interesting. He is Yi San's teacher and best friend since childhood. Duk Ro is well known among scouts for his good looks and gentle demeanor, although behind all of that he is an opportunistic and ambitious character.
Hong Duk Ro became one of the people who really wanted to bring Yi San to the top. Everything is done for personal gain because Hong Duk Ro secretly has a plan to marry Yi San to his sister, which means he wants to take control of the palace.
Along with some of Yi San's confidants, he joins a secret society. Hong Duk Ro considers Duk Im an obstacle because he knows Yi San loves him very much.
On the other hand, Hong Duk Ro loves his little sister very much. When Yi San's sister who eventually became his wife passed away, Duk Ro was devastated and began to act rashly and beyond Yi San's control.
Head of Dayang Cho – Park Ji Young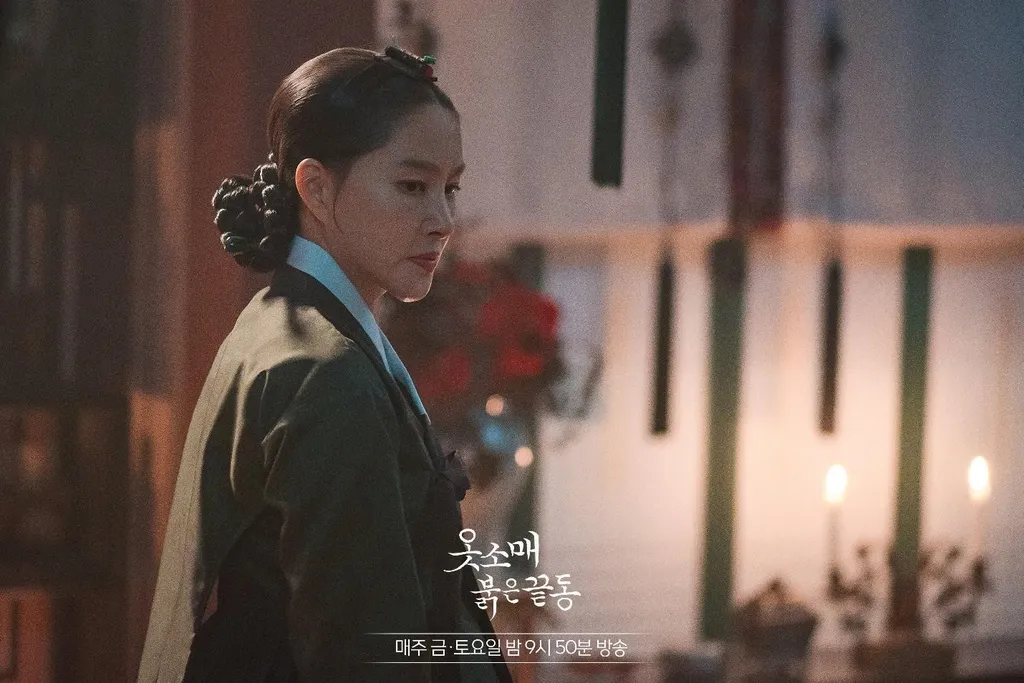 Veteran actress Park Ji Young with a very special facial expression, is very suitable to play a bad character in the movie Red Sleeve (Year 2021). Here Park Ji Young plays Chief Dayang Cho.
He is the leader of the Gwanghan Palace, a hidden palace built to thwart or fight Yi San in various situations.
Sheriff Dayang Cho is so charismatic that it can make dozens of ladies riot. Everything is based on a personal grudge against Yi San's grandmother, a woman waiting to be chosen as King Yeongjo's concubine.
In the past, Dayang Cho had a special relationship with King Yeongjo. He was disappointed when the king chose another lady to be his concubine.
However, he used another excuse to sound less pathetic. Dayang Cho argued that she could not allow the descendants of the evil and mad Prince Sado to rule. Dayang Cho is a calm woman but full of cunning and danger. To the end of his life, he still yearned for King Yeongjo, Yi San's grandfather.
Dayang Seo – Jang Hye Jin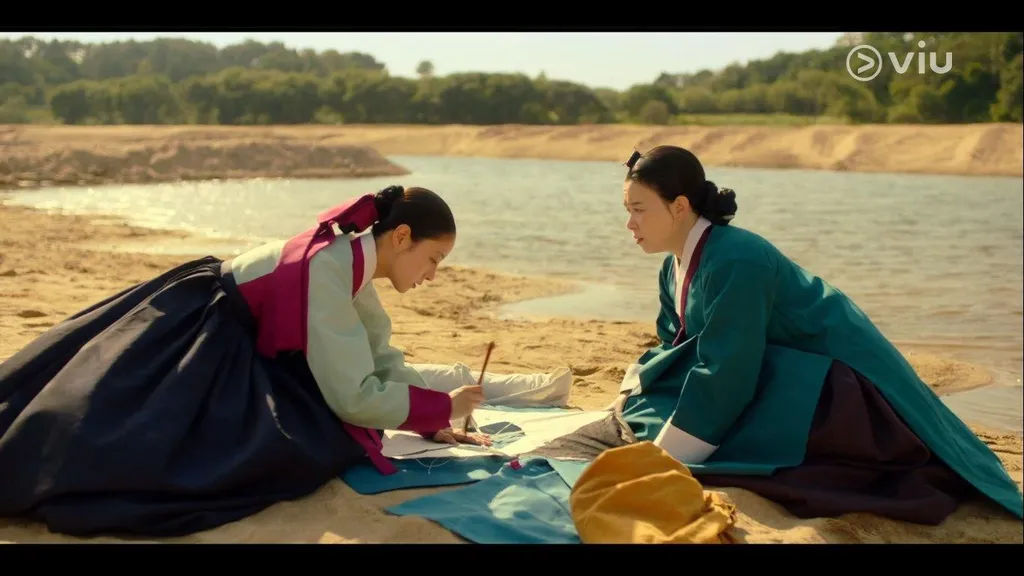 Dayang Seo hosted by Jang Hye Jin has an important role in this drama. She is a high-class maid who has been teaching Duk Im since she was a young servant. Dayang Seo believes in and admires Duk Im's potential so much that despite her worries, she continues to support him in making various decisions.
Dayang Seo is like a mother to Duk Im. They love and protect each other. Dayang Seo often shows concern when Duk Im dares to do something dangerous. She was a few of the palace maids who were not part of Chief Lady Choi's group or were influenced by his doctrine.
Queen Hong – Kang Mal Geum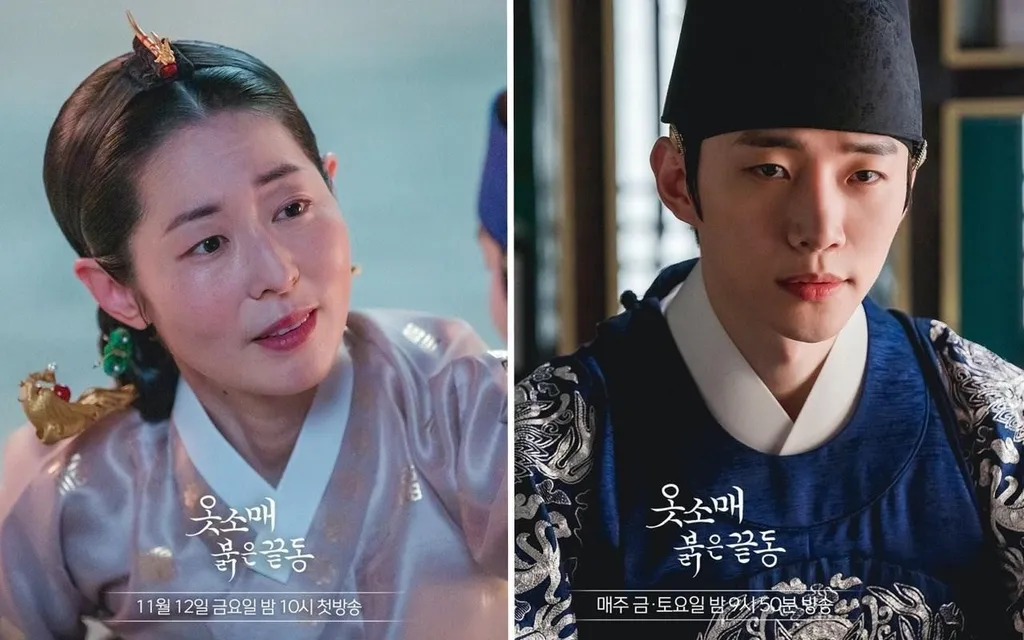 The next high-profile actress to liven up the story of The Red Sleeve  (2021) is Kang Mal Geum. Winner of the Best New Actress category in the previous Baeksang Arts Awards 2020 event for his performance in Lucky Chan-sil (2020) as Empress Hong.
She is the biological mother of Yi San, the wife of Prince Sado, whom Yi San often consults and considers. Queen Hong is quite confusing because on the one hand she doesn't like Duk Im but on the other hand, she shows support. Queen Hong has a past associated with Duk Im.
Duk Im's father, a loyal bodyguard of Prince Sado, was killed. As a form of responsibility, Queen Hong brought Duk Im back to the palace and made her a palace maid.
Queen Kim – Jang Hee Jin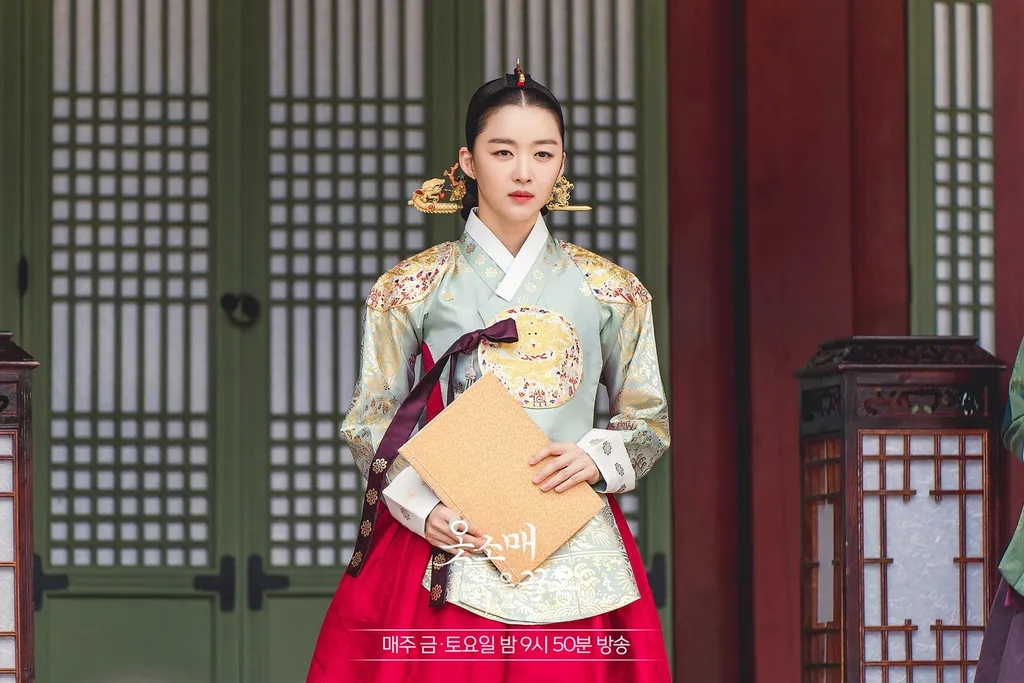 Jang Hee Jin's beauty is even more elegant when she plays Empress Kim in this movie. wearing a hanbok Beauty with the right hairstyle, Jang Hee Jin's appearance gives her own impression. Empress Kim that he plays is the wife of his grandfather Yi San or King Yeongjo.
She is a fairly calm queen and has no ambitious plans. All his decisions are very important to the palace and Yi San. Empress Kim admires Duk Im's intelligence and bravery, and has repeatedly asked her to be a servant in her palace. Queen Kim is quite easily provoked but also quite easily persuaded.
Bae Kyung Hee – Ha Yul Ri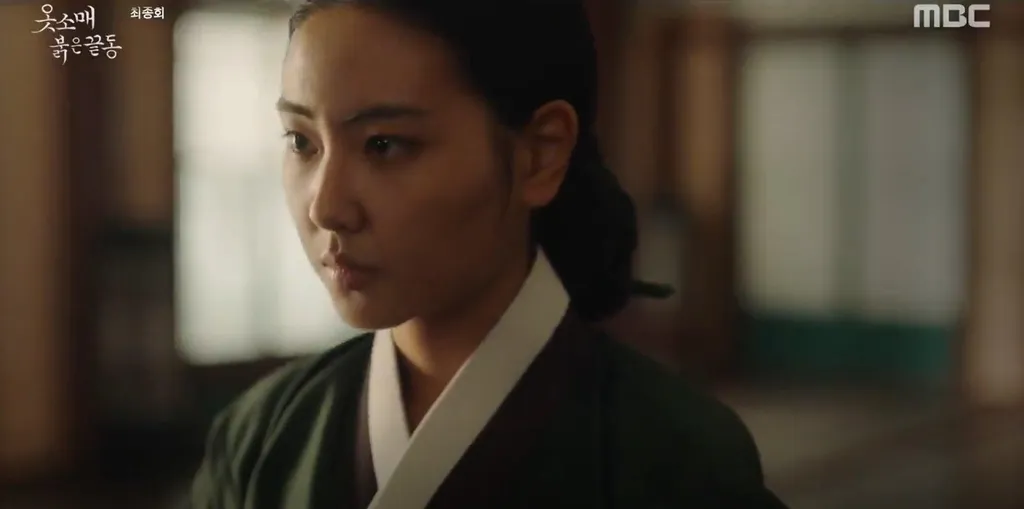 The Red Sleeve  (2021) player is followed by Ha Yul Ri who plays Bae Kyung Hee. This beautiful actress born in 1999 very flexibly portrays a brave and courageous lady. Kyung Hee tends to be curt but really cares about Duk Im and the other friends.
Kyung Hee is a friend who always reminds Duk Im not to fall in love with Yi San, because if that happens, he worries Duk Im will lose his 'power' as a woman.
Ha Yul Ri, who has also starred in the sageuk drama The Red Sky's Lovers (2021), is Duk Im's only friend who has lived a long life and continues to work as a palace maid into old age.
Son Young Hee – Lee Eun Saem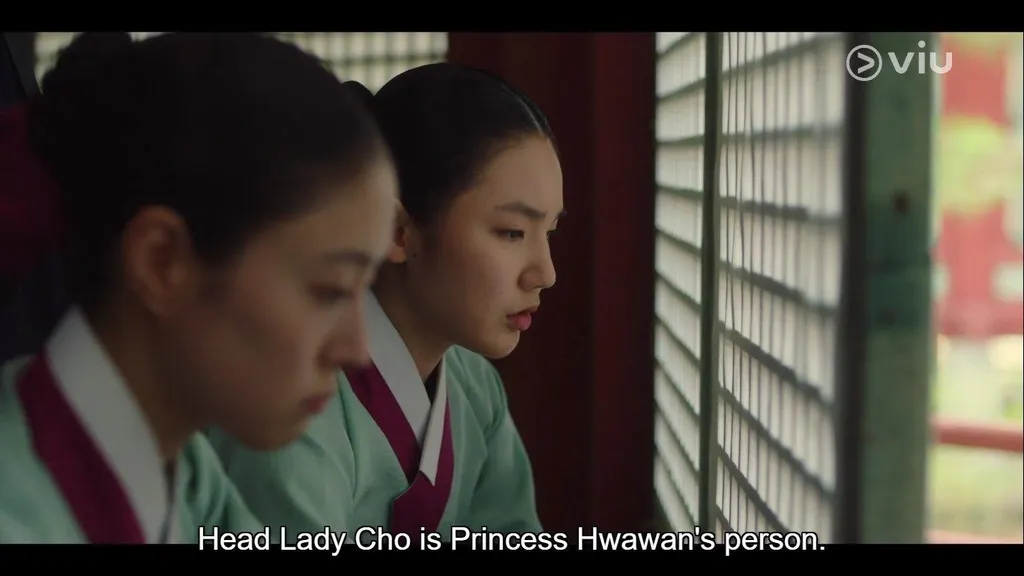 If you've ever watched the drama Black Dog (2020) starring Ra Mi Ran and Ha Joon, you're certainly no stranger to his face. Right! Lee Eun Saem once participated in the drama when she was a student named Jin Yoo Ra. This time, his acting skills are put to the test in the drama sageuk as a palace maid named Son Young Hee.
Son Young Hee is also one of Duk Im's best friends. Unlike Kyung Hee, Young Hee is relatively calm, not passionate, mature and wise. He rarely cornered Duk Im if his friends were careless.
Unfortunately, her fate ended tragically because Young Hee was secretly pregnant and miscarried. His actions were seen as betraying the palace so he was sentenced to death.
Kang Tae Ho – Oh Dae Hwan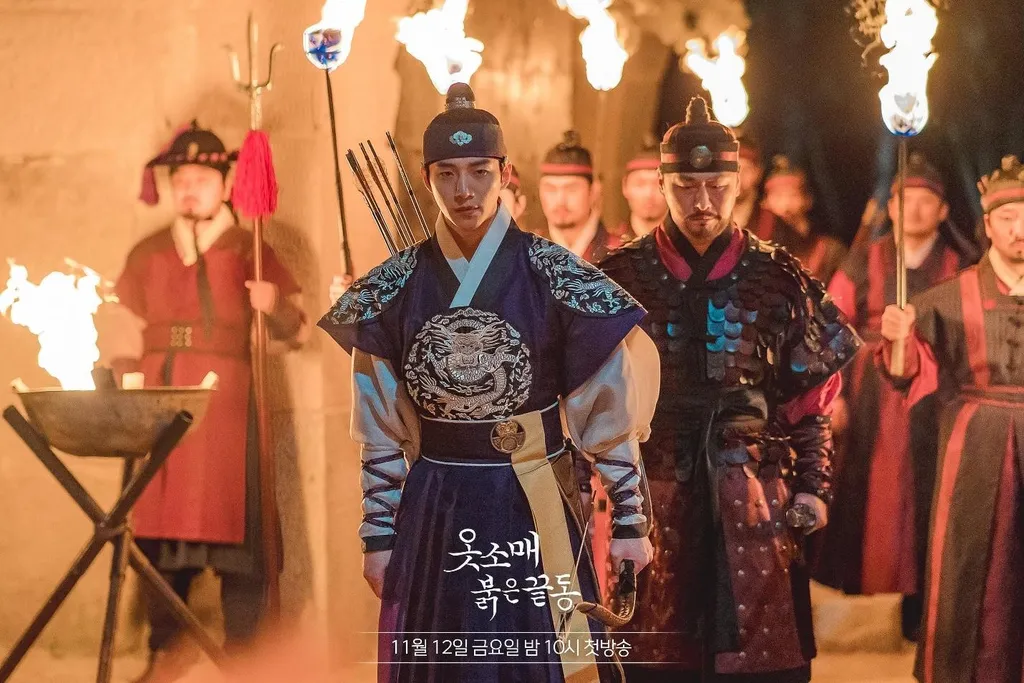 Oh Dae Hwan as Kang Tae Ho has been Yi San's loyal bodyguard since he was a Crown Prince. He is a general with high combat strength but often acts silly. Kang Tae Ho is the funniest character in this drama. His presence can melt a tense atmosphere.
Kang Tae Ho is a loyal bodyguard. His relationship with Yi San and Hong Duk Ro is quite deep. He had time to apologize to Duk Ro to Yi San. Although he doesn't seem serious, Kang Tae Ho quite understands Yi San's intentions. He also protects and respects Duk Im like the woman his master loves.
Out of the ten players The Red Sleeve (2021) above, which one do you like the most? Are you mesmerized by the tough yet gentle Yi San around Duk Im?
Salenhanh – Product review blog
Address: 115 Nguyen Van Qua, Tan Hung Thuan Ward, District 12, Ho Chi Minh
Website: https://salenhanh.com/en
Mail: Salenhanh.com@gmail.com
#salenhanh #Reviewsalenhanh