Not long ago, The Medium was named one of the best horror films of the Land of White Elephants. This documentary-style film is about the practice of shamanism in Northern Thailand.
The story is based on a true story and was recorded by a journalist named Isan. This movie contains the perfect tension that almost makes the heart stop beating.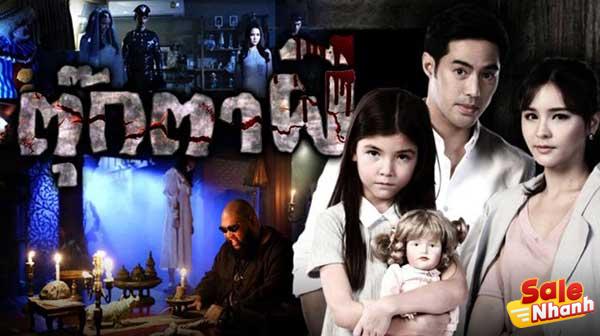 The appearance of The Medium confirms that Thailand is really good at making horror movies, which can be considered very good. In addition to movies in theaters, Thai horror dramas are equally good.
Many stories in Thai TV series are based on folk tales so that they feel solid in the audience's mind. What are the best Thai horror dramas? Let's find out with Salenhanh right through the article below
Tukta Phee
Release year: 2019
Episodes: 15
Genre: Mystery, Horror, Romance, Supernatural
Produce: Kantana
Director: Bunjong Sinthanamongkolkul
Actors: Jakjaan Akhamsiri Suwanasuk, Top Jaron Sorat, Aom Sushar Manaying
This movie tells the story of Pangrum (Maria Tiprada Maier), a 7-year-old girl who just wants to talk to her dolls. The doll, named Wawa, was a gift from her father.
However, the father committed suicide in front of Pangrum and Nuangtip (Jakjaan Akhamsiri Suwanasuk), after which his mother married another man.
The Pangrum family owned the jade which was the property of the family. However, there were others who wanted the gem so Nuangtip was killed. Pangrum was later adopted by relatives because his mother did not want to take care of him.
Before the girl leaves, he places the jade doll near Wawa, Pangrum's favorite doll, so that no one can get it. It is Nuangtip's soul and the power of the jewel that protects the doll.
After Dark
Release year 2020
Genres Adult , Anthology , Crime , Gore , Horror , Mystery , Supernatural , Suspense , Thriller
Director Chatichai Worapiankul , Chayan Laoyodtrakool , Nuchie Anucha Boonyawatana
Cast Jane Ramida Jiranorraphat Sakul Kanyapak Pongsak Piglet Charada Imraporn Ben Benjamin Varney Nat Kitcharit
This is the movie many Lakorn fans have been waiting for. After Dark features four different stories, namely Blind Date, Death Channel, Requiem of Adolescent, and Into The Hole.
In the story of Blinda Date, Pink (Sakul Kanyapak Pongsak) meets a handsome but mysterious guy.
They feel well together and decide to go through with a more serious relationship. However, Pink experiences a strange pregnancy that makes her miserable and makes her life unstable.
In the second story of Requiem of Adolescent, there is Lada (Piglet Charada Imraporn), a nurse who is well paid to care for Prince Srisaang.
However, his work carries great dangers. The patient wakes up abnormally and terrorizes Lada, putting his life in jeopardy.
In the third story, Death Channel, features Off and Boat (Ben Benjamin Varney), a popular idol member and YouTuber who runs a paranormal channel.
He is sponsored by someone who does not want to be identified. Off is unaware of the dangers that await him and paranormal activity on his YouTube channel.
And finally In To Hole tells the story of Chai (Nat Kitcharit), a charismatic man and one-night stand expert. He travels at night and hunts for women to hang out with him.
Chai recorded his sexual activity with his date for money. Then she meets Dao (Jane Ramida Jiranorraphat). A beautiful woman doesn't seem to be just any woman. Chai also gets into trouble with Dao and ends up tragically.
A Gift to People You Hate
Release year 2019
Genres Mystery , Supernatural , Horror
Director Sarot Nuamsamran
Cast Tony Rakkaen Theerachai Wimolchaireuk Aye Sarunchana Apisamaimongkol Puimek Napasorn Weerayuttvilai Mek Jirakit Thawornwong Namtan Tipnaree Weerawatnodom
The premise of this movie is very interesting, about a shop that delivers gifts to the hated people. The shop in this horror movie is guarded by a mysterious person who always wears a mask.
Here, customers will be provided with 4 gift options, that is, level 1 is an embarrassing gift, level 2 is a scary gift, and level 3 is an injury gift.
If not satisfied with level 3, choose level 4, where the bonus is lethal. Level 4 prizes cannot be purchased with money but with the age of the buyer. This transaction is similar to the exchange of lives with the devil.
Raak Boon
Release year: 2021
Episodes: 11
Genre: Horror, Mystery, Supernatural, Romance
Manufacturing: –
Director: Eklikit (screenplay)
Actors: Mike Angelo, Margie Rasri Balenciaga
This is followed by a horror film that tells the story of Jay (Margie Rasri Balenciaga), a woman who works as a mummy. One day, Jay found an antique box named Raak Boon.
Raak Boon is shaped like the teapot in the movie Aladdin. It can grant any wish from its owner. Seeing the power of the teapot, Jay wanted to send a request to Raak Boon's box. However, Jay must meet one condition if he wants his request approved.
The condition is that Jay must help the three ghosts complete the last wish within the allotted time. If Jay is late, Jay's life will be taken as a substitute for this condition.
ThirTEEN Terrors
Release year 2014
Genres Drama , Horror , School , Supernatural
Directors Jim Sopon Sukdapsit , Now Nuttapon Timmueng , Ping Kriangkrai Vachiratamporn , Pued Chaiyapreuk Chalermpornpanich
Cast Fon Sananthachat Thanapatpisal Panisara Montharat Punpun Sutatta Udomsilp Kaopun Teetatch Ratanasritai Fame Chawinroj Likitchareonsakul Belle Kemisara Paladesh Bank Thiti Mahayotaruk Toptap Napat Chokejindachai Nakunteepakorn Um Apas March Chutavuth Pattarakhumphol ∙ Natty Thanyanan Pipatchaisiri ∙ Michael Sirachuch Chienthaworn ∙Fluke Sikarin Satesuraprecha ∙ Rolex Jirayus Khaobaimai ∙ Gunn Junhavat ∙ Babymild Saruda Kiatwarawut ∙ Pearwah Nichaphat Chatchaipholrat ∙ Cookkai Pavadee Komchokpaisan ∙ Yada Narilya Gulmongkolpech ∙ Thanaerng Kanyawee Songmuang ∙ Ud Awat Ratanapintha ∙ Claudine Atitaya Craig ∙ Pea Sarit Trilertvichien James Teeradon Supapunpinyo Praew Narupornkamol Chaisang Gun Atthaphan Phunsawat Oab OabnithiWiwattanawarang Kade Pakamass Kanchanaburangkul
Set in a school, ThirTEEN Terror brings a different story from the usual TV series. The story in this movie is divided into many categories but each has its own connection. And everything centers on a school with a tragic past.
Not many people know about the secret even those who know how to keep quiet. But inside that secret, there are students with tragic endings and a past waiting to be discovered. Everything is waiting for their turn to be exposed to the public and resolved.
Bangkok Naruemit
Release year: 2018
Episodes: 24
Genre: Horror, Romance, Drama, Supernatural
Manufacturing: –
Directed by: Sataporn Nakwilairoj
Actors: Poo Praiya Suandokmai, Pae Arak Amornsupasiri, Vill Wannarot Sonthichai
The story in this movie follows the journey of Malaiwan (Poo Praiya Suandokmai), a woman famous for her beauty. He is a celebrity who is good at acting, singing and a great performer.
His stage action has always been a fan favorite. However, many people hate Malaiwan because of his arrogant and cruel attitude.
One day, a girl named Ward (Vill Wannarot Sonthichai) appears from the countryside. He threatens to make Malaiwan lose everything he has.
However, Malaysia does not just sit there. He did everything he could to stop Ward's threat. Then, a fire accidentally broke out at the theater where Malaiwan was performing. The fire swallowed him and killed the artist. The Malaysian spirit lingers and haunts the theater.
Long Khong Series
Release year: 2020
Episodes: 8
Genre: Thriller, Horror, Supernatural
Production: –
Director: Tum Putipong Saisikaew
Cast: Ticha Wongtipkanon,Pure Purewarin Kosiriwalanon,Mark Siwat Jumlongkul
The plot in Long Khong focuses on a cheerleader competing for the center position. In that team was a girl named Praewa, played by Ticha Wongtipkanon. He changed the competitive landscape. Nobody liked Praewa on that team.
The girl was even accused of having a secret relationship with a man at school. Because that guy is the most popular guy in the school, Praewa is then threatened and bullied by his friends. Every day is hell for him as different horrors have been unleashed upon him.
In the midst of being bullied, one of the bullies accidentally broke Praewa's magic pot. Praewa promises that they will pay for what they did to her.
Praewa then summons spirits and demons. With blood, the girl wrote the names of those who bothered her so that they would die.
Those are the 7 best Thai horror movies with compelling plots. The above dramas not only offer horror, but also many puzzles that the protagonist has to solve.
Besides the interesting stories, the quality of filming and the scores make these dramas even more intense. Don't watch it at night, especially alone.
Salenhanh – Product review blog
Address: 115 Nguyen Van Qua, Tan Hung Thuan Ward, District 12, Ho Chi Minh City
Website: https://salenhanh.com/en
Mail: Salenhanh.com@gmail.com
#salenhanh #Reviewsalenhanh