Action is one of the most loved genres among anime lovers. Often the characters in it use swords as weapons against enemies. The main character with this sword looks very cool and brave. Anime with sword-wielding protagonists often have different chronological settings.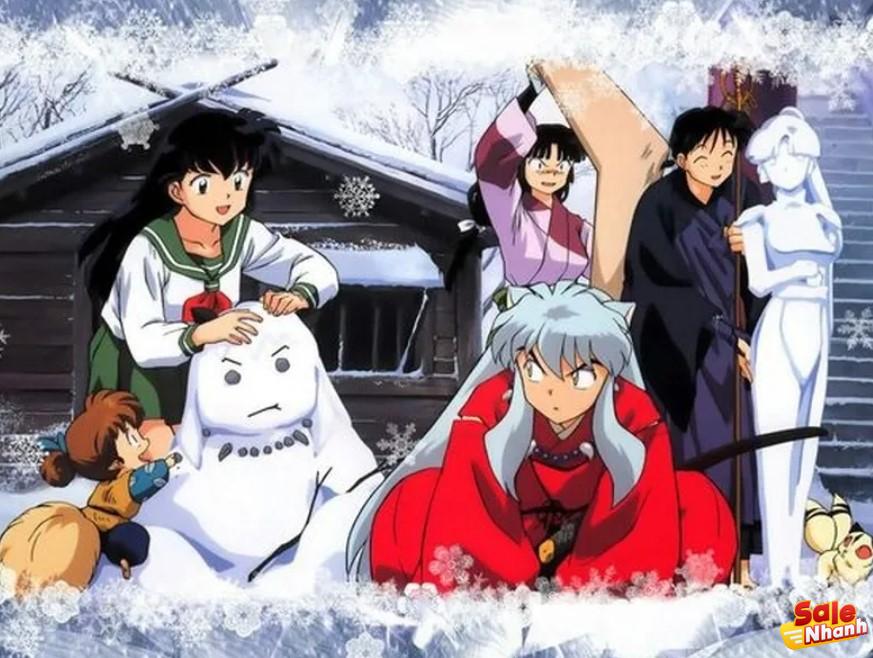 There are anime series that are set in the past, some are set in modern times with a sword possessing modern technology with incredible power. Those advanced swords usually have magical power due to equipment modifications. Here are the 10 best swordplay anime recommendations that you should definitely watch if you're a fan of the genre.
Rurouni Kenshin
Release year: 1996

Genre: Action, Adventure, Comedy, History, Shounen

Produce: Aniplex

Directed by: Furuhasi Kazuhiro, Yoshida Shunji

Voiced by: Suzukaze Mayo, Ueda Yuuji, Fujitani Miki, Tominaga Miina

Episodes: 94
Talking about the best anime sword, Samurai X anime always deserves this title. Although it has been many years since it first debuted, this anime series is always remembered by fans.
Children of the 90th generation must feel nostalgic when watching anime about Hitokiri Batosai. He is the most feared former assassin because of his extraordinary swordsmanship, who became a wanderer and changed his identity to Kenshin Himura.
Kenshin and his reverse sword, Sakabato, roam and protect the weak until they meet Kaoru.
Samurai X or Rurouni Kenshin is widely broadcast by a number of world TV channels, Indonesia is one of them. This anime is selling very well in the market and is one of the best anime.
The popularity of this anime is not over yet. In 2012, Warner Bros released the live action version of Rurouni Kenshin and received many positive reviews from film critics as well as fans. Last April 2021, a sequel to Rurouni Kenshin was announced. premiered in Japan despite being a year behind schedule due to the pandemic. You can watch this movie on Netflix.
Hanyou No Yashahime
Release year: 2020

Genre: Action, Comedy, Spooky, Supernatural, Magic, Fantasy, History, Adventure

Produce: Sunrise

Directed by: Satou Tero

Voiced by: Tadokoro Auza, Matsumoto Sara, Komatsu Mikako

Episodes: 24
The anime premieres in October 2020, set in two places, feudal Japan and modern Japan.
Set in feudal Japan, Hanyou No Yasahime begins with half-demon twins, Towa and Setsuna, separated in a forest fire. Setsuna tries to find Towa but her search is fruitless.
Desperate, Towa searches for a mysterious tunnel that leads to present-day Japan, where he is raised by Kagome Higurashi and Sota's family.
10 years later, the tunnel connecting the two eras opens again and the chance for Towa to find Setsuna who has become a murderous demon opens up once again.
However, Towa is saddened to learn that Setsuna has lost her memory and does not recognize her older sister.
This anime series is a sequel to Inuyasha, who has a super-powered sword. The main character in this anime is Moroha, a skilled swordsman and archer, inherited from his parents.
He has supernatural powers that can make his arrows have superpowers obtained from his mother. This girl eventually becomes a treasure hunter who pursues the sword demon Kurikaramaru.
Demon Slayer: Kimetsu No Yaiba
Release year: 2019

Genre: Action, History, Supernatural, Demon, Shounen

Produce: Aniplex

Directed by: Kondouhikaru. Sotozaki

Voiced by: Hane Natsuki, Shissono Hiro, Kitou Akari, Matsuo Yoshitsugu

Episodes: 26
Demon Slayer: Kimetsu No Yaiba is one of those phenomenal anime that shouldn't be missed if you're looking for the best anime sword suggestions. For more satisfaction, you must check out the newly released cinematic version of Demon Slayer: Kimetsu No Yaiba.
This anime series takes place in a supernatural world where a demonic organization called the Demon Slayer Corps is formed to protect Japan from demons that roam the night.
Each member of the Demon Slayer is equipped with a special sword named Nichirin. The sword is made from a special iron ore that can absorb sunlight, something that can be used to subdue demons.
The blade on Nichirin's sword is a different color when it is removed by its owner. This makes Nichirin's sword truly extraordinary. There are several colors that will appear and each color gives different attributes to the sword.
One of the Nichirins with tremendous strength is Tajiro Kamado, who has a black blade. The sword is a rare sword.
Inuyasha
Release year: 2000

Genre: Action, Comedy, History, Demon, Adventure, Fantasy, Shounen, Magic, Romance

Produce: Sunrise

Directed by: Ikeda Masahi

Voiced by: Yamaguchi Kappei, Yujino Satsuki, Kuwashima Houko, Takagi Motoki, Watanabe Kumiko

Episodes: 167
Inuyasha's sword, which expands as he unleashes his power, is made from the fangs of his father, Tessaiga.
Under normal circumstances, the sword is shaped like a normal katana. However, when Inuyasha is forced to use her power, the size of the sword increases.
Another advantage of this sword is that it has extraordinary power that can knock down an opponent in a single slash. It is because of the uniqueness and power of this sword that the Inuyasha anime series deserves to be one of the best sword anime series.
The plot of this anime tells the story of a 15-year-old teenager, Kagome Higurashi, whose life is completely changed when he is dragged by a demon to a cursed well at his family's Shinto shrine. older brother.
The Well brought Kagome to the Sengoku era known for its cruelty. When Kagome was dragged away, Shikon's orb, the wish jewel within her, was reborn.
The Shikon Gem is later destroyed in battle with an unwittingly resurrected demon. Later, Kagome enlists the help of Inuyasha, a half-human, half-demon, and dog mixture to collect the gem shards so they don't fall into the devil's hands.
Assault Lily: Bouquet
Release year: 2020

Genre: Action, Fantasy, Magic

Manufacture: Shaft

Directed by: Saeki Shouji

Voiced by: Izawa Mikako, Akao Hikaru, Natsuyoshi Yuuko, Takahashi Karin, Tsumugi Risa

Episodes: 12
Assault Lily: Bouquet is an animated series adapted from a Japanese mixed media project. Studio Shaft has partnered with Shoji Saeki to produce the anime. Shoji Saeki is the director, while Mieko Hosoi is in charge of character design.
The 24-minute film takes place in a world in which everything is broken. The culprit of all the damage was a monster that terrorized the people who lived in it.
Mankind's only hope is a woman with a unique weapon called CHARM. CHARM stands for Counter Huge Arms, weapons in the form of disposable swords, pistols, and pistols.
CHARM has powers controlled through a gem called the Magic Crystal Core. The power of CHARM can be changed according to desire and experience conditions.
Interestingly, CHARM can only be used by girls. Therefore all the main characters in this anime are female.
Magatsu Wahrheit: Zuerst
Release year: 2020

Genre: Action, Fantasy, Magic

Production: NBC Universal Entertainment Japan,

Directed by: Hosoda Naoto

Voiced by: Abe Atsushi, Ono Yuuki

Episodes: 12
The anime series, made from a mobile game by KLAB's Magatsu Wahreit, was released this past October 2020.
Told in the Wahrheit empire, humanity is still divided by past disasters that have claimed many victims by the actions of bloodthirsty demons.
However, the fate of the Wahrheit Empire changes after one of the shy and rigid transport workers, Inumael, and the soldier of the Wahrheit Empire, Leocadio are caught in a smuggling operation.
Leocadio has a magical sword of extraordinary strength. This enlisted soldier is a serious, polite and gentle man. Despite his low rank, Leocadio was a soldier with a high level of swordsmanship.
He with his magic sword is a complete package that will defeat the demon with magical power that threatens the security of the city in the Wahrheit empire.
Akame Ga Kill
Release year: 2014

Genre: Action, Adventure, Fantasy, Shounen, Drama

Produce: Square Enix

Directed by: Kobayashi Tomoki

Voiced by: Amamiya Sora, Tamura Yukari, Saito Souma, Asakawa Yuu

Episodes: 24
In this anime series, the protagonist Akame Ga Kill, Akame has a magical sword that can kill opponents in a single swing of his arm. Even more terrible, inside this sword also hides a terrible curse.
The focus of the story in Akame Ga Kill focuses on Akame and Tatsumi, who join a secret assassination organization formed by the revolutionary army to overthrow the greedy and power-hungry prime minister.
To fulfill his wish, the Prime Minister took advantage of the son of an emperor who was still naive and inexperienced.
Tatsumi joins the secret organization as the newest member. He is a kid from a far away village who wants to bring change to his poor village.
Guilty Crown
Release year: 2011

Genre: Action, Superpower, Science Fiction, Mechanical, Romance, Drama

Produce: Aniplex

Directed by: Araki Tesuro

Voiced by: Kayano Ai, Kaji Yuki, Nakamura Yuuichi

Episodes: 22
Next is the story of Shuu with his super large sword and special powers. This sword is capable of cutting any object including robots. Other objects that are hit by the slash will instantly turn into small pieces.
With this sword, Shuu tried to stop the chaos in Japan that had lasted for decades.
The story in Guilty Crown begins when in the year 2029, an Apocalypse virus spreads and disrupts Japan. 10 years after GHQ, a special organization was formed to destroy viruses in various ways.
This particular organization is authorized by the government to treat people infected with the virus including allowing it to kill them.
Amidst the precarious situation, emerges a high school student, Shuu Ouma, who is destined to bring change to the chaotic situation in Japan at the time.
Soon after, Shuu becomes involved in a terrorist network and is forced to join the group to save Inori Yuzuriha.
Bleach
Release year: 2004

Genre: Action, Supernatural, Shounen, Comedy, Adventure, Superpowers

Produce: Aniplex

Directed by: Abe Noriyuki, Tachikawa Yuzuru

Characters: Kurosaki Ichigo, Kuchiki Rukia, Renji Abarai, Inoue Orihime, Ishida Uryuu

Voiced by: Matsuoka Yuki, Orikasa Fumiko, Itou Kentarou, Matsuoka Yuki, Sugiyama Nariaki

Episodes: 366
Ah, in the anime series Bleach, there is a sword with extraordinary power named Zanpakuto. All of the Shinigami in this anime are equipped with swords whose power depends on the soul of the owner.
The focus of the story in Bleach revolves around a high school teenager, Kurosaki Ichigo, who is attacked by an evil spirit, a Hollow that specializes in hunting human souls. He then meets an injured Shinigami named Rukia Kuchiki. He was injured while trying to protect the Ichigo family.
To avenge his family and save his remaining family, Ichigo agrees to accept Rukia's power and become a Shinigami. He then joins his classmates to hunt down the Hollows, the city's peacemakers.
No Exorcist
Release year: 2011

Genre: Action, Fantasy, Shounen, Supernatural, Demon

Produce: Aniplex

Directed by: Okamura Tensai

Voiced by: Watanabe Akeno, Fukuyama Jun

Episodes: 25
This magic sword is named Kurikara which is the reason this anime has an amazingly fierce battle scene. Okumura Rin's sword is even able to seal the demons that disrupt the security of Assiah city.
The fight between the two main characters of the anime and the demons trying to control Assiah is something Ao No Exorcist fans have been waiting for.
The story in this anime focuses on 15-year-old teenagers Okumura Rin and Okumura Yukio being raised by an exorcist, Shirou Fujimoto.
One day Rin finds out the truth that he is the son of the demon king. The father then comes to pick him up and wants Rin to participate in realizing the demon king's dream.
However, Rin refused. He enjoys becoming an exorcist and defeating his father, who sacrificed the lives of many innocent people.
Well, those are the 10 best anime swords with extraordinary sword power. In the action animated series, the main characters' swords become symbolic objects that become part of the character's identity.
The sword is also the source of the protagonist's strength to face his enemies. Wrapped in a unique and unusual plot, this anime series is truly a recommendation that will not let you down. If you're curious, check out the show for yourself, OK?