Movies have truly become a mecca for movie buffs who love to tell stories. The reason is that through the film we can see how all the stories can be beautifully mixed. Starting from action, horror, comedy, thriller, romance or even a mix of horror-comedy, action-comedy, comedy-romance, etc.
But what if thriller, drama, action and romance were combined into one? Wow, it's definitely fine, isn't it? So we often find these mixed genre films in disaster movies where there are tense situations (horror movies), action scenes are everywhere, then added dramatic and romantic.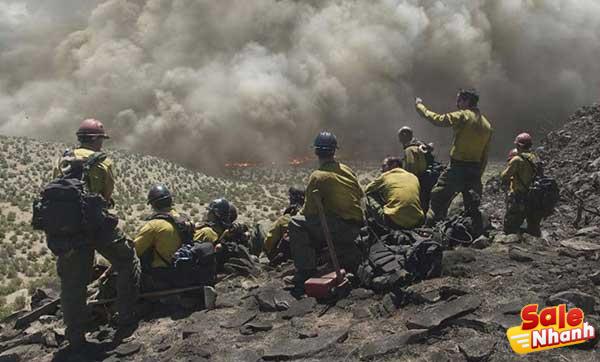 Why so? Because disaster movies always show that the people involved in them are not immune to situations that cover all of the above genres. So you have to put 'disaster movie' as one of the movie genres that you must watch!
The reason is, besides some genres as mentioned above, disaster movies often give important lessons that we should follow, for example, how to survive, how to maintain emotions, etc.
Curious about which 'disaster movies' are loved by moviegoers? Salenhanh.com has summarized the following 20 best natural disaster movies in the world.
Only the Brave
Release year 2017
Genre Action , Biography , Drama
Produce Black Label Media , Condé Nast Entertainment , Di Bonaventura Pictures[
Director Joseph Kosinski
Cast Josh Brolin Miles Teller Jeff Bridges Jennifer Connelly Andie MacDowell
In 2013, the United States was devastated by massive wildfires. 200 firefighters were deployed to put out the fire in the vast forest. The fire claimed the lives of 19 people, all of them firefighters.
In this film, you will be invited to witness the struggle of firefighters in extinguishing fires in a large forest from the perspective of Brendan McDonough (Miles Teller). Brendan himself was a young man who received a call by applying for a job as a firefighter.
The Impossible
Release year 2012
Genre Disaster , Drama , Family
Production Apaches Entertainment , Cinema Telecinco
Director JA Bayona
Cast Naomi Watts Ewan McGregor Tom Holland Samuel Joslin Oaklee Pendergast
The Impossible is a natural disaster film based on a true story. This movie is about the Belon family struggling to survive when the devastating tsunami hit the Indian Ocean in 2004. At that time, this family was in the Land of White Elephants, Thailand for a vacation.
Naomi Watts, Ewan McGregor to Tom Holland have been lined up to play the main characters in this JA Bayona-made film. Their acting is definitely unquestionable.
Moviegoers can even feel the terrible atmosphere at that time through the acting they show. This film earned a box office receipt of $198.1 million.
Contagion
Release year 2011
Genres Action , Drama , Medical , Science Fiction , Horror
Double Feature Film Production , Imagenation Abu Dhabi , Participant Media
Director Steven Soderbergh
Cast Matt Damon Laurence Fishburne Jude Law Gwyneth Paltrow Kate Winslet
The outbreak of the Corona virus (Covid-19) has led to a number of films containing stories of disaster in the form of a resurgence of the disease. In addition to The Flu (2013), the film Contagion directed by Steven Soderbergh is also gaining attention from the audience again.
This movie is about the spread of a deadly virus that can kill people in a matter of hours. One of the victims is Bett Emhoff (Gwyneth Paltrow), the wife of Mitch Emhoff (Matt Damon).
Beth died horribly from a viral infection, believed to have originated in China. Not only in the US, this virus has spread to several other parts of the world.
China itself has the highest number of victims of this virus. Will the characters manage to survive a pandemic of viruses that are believed to have originated in pigs and bats?
Oh yes, in addition to Matt Damon and Gwyneth Paltrow, several other famous actresses and actors are also in this movie. Among them are Jude Law (The Grand Budapest Hotel), Marion Cotillard (Allied) to Kate Winslet (Titanic).
The Wave
Release year 2015
Genres Action , Disaster , Horror
Massive film production
Director Uthaug gầm Roar
Cast Kristoffer Joner Ane Dahl Torp Jonas Hoff Oftebro Edith Haagenrud-Sande Thomas Bo Larsen
This natural disaster film from director Roar Uthaug (Tomb Raider) is also really worth watching. The Wave is about a geologist named Kristian Eikjord (Kristofer Joner) on duty in a tourist village called Geiranger, precisely at the Arkenset Monitoring Station on Mount Arkenset.
He found the water detection sensor missing in several locations. Suddenly, a tsunami approximately 80 meters high hit Geiranger.
Kristian and daughter Julia (Edith Haagenrud-Sande) are at their home, separated from his wife Idun (Ane Dahl Torp) and son Sondre (Jonas Hoff Oftebro) who are staying at a hotel in Geiranger.
Kristian and Julia go back there to save Idun and Sondre. Will they meet again? See firsthand the story in the movie The Wave.
This film won the awards for Best Sound Design, Best Visual Effects and Best Norwegian Film in the Theatrical Release category at the Amanda Awards held in 2016.
Greenland
Release year : 2020
Genre: Action, Thriller, Disaster
Director : Ric Roman Waugh
Actors: Gerard Butler, Morena Baccarin, Roger Dale Floyd
Produce : Thunder Road
John Garrity (Gerard Butler) is a civil engineer known for large projects. Once when returning home from his ex-wife Allison Garrity (Morena Baccarin) after work, John received news that the earth would have a 'guest' to visit, which is the Clarke meteorite.
John, Allison and their son Nathan received evacuation 'tickets' while other relatives did not panic. Although they had tickets, the process of evacuating John and his family was difficult after Allison and Nathan were not allowed to board the plane because Nathan was ill.
Not to mention John separated his wife and children, causing the family to split. Luckily, they were able to meet again and go through the entire doomsday scenario together and survive.
Twister
Release year 1996
Genres Action , Adventure , Disaster , Drama , Romance , Science Fiction , Horror , Tragedy
Produced by Amblin Entertainment , Universal Pictures , Warner Bros. Pictures
Director Jan De Bont
Cast Helen Hunt Bill Paxton Cary Elwes Jami Gertz Lois Smith
Bill Harding (Bill Paxton) is a former hurricane and weather researcher who turned to be a weather reporter. Bill visits his wife, a meteorologist, Jo (Helen Hunt), because she wants her to sign the divorce papers so she can marry her new boyfriend.
On the day they met, it turned out that there was a storm that caused them to prepare a plan that had been designed since they were husband and wife. Instead of being apart, Bill and Jo's relationship grows closer as they have to work together.
The Perfect Storm
Release year 2000
Genres Action , Disaster , Science Fiction
Production Baltimore Pictures , Radiant Productions
Director Wolfgang Petersen
Cast ∙ George Clooney ∙ Mark Wahlberg ∙ John C. Reilly ∙ Diane Lane ∙ William Fichtner
In 1991, there was an incident where a fisherman was fighting a big wave at sea. The story was so popular that it was made into the movie The Perfect Storm in 2000. The story goes that a fisherman had a hard time because he couldn't catch too many fish. He feels humiliated by his master.
Therefore, he decided to invite his crewmen to go out to sea to fish again, even though they had just gone out fishing. Of course there were pros and cons, but in the end they agreed to the promise of a satisfying catch.
Unfortunately, their catches are still the same and even less. Because of the ambition of the captain, they still fished in the middle of the ocean, until the big wave came. It's hard to survive in the ocean with big waves. What's the next story? Watch the movie now, friends!
earthquake
Released : 1974
Genre: Action, Drama, Horror
Produce : Universal Pictures
Director : Mark Robson
Actors: Charlton Heston, Ava Gardner, George Kennedy
As one of the natural disaster movies that aired in the 70s, Earthquake is a film that received a lot of praise. Although the special effects in this film are not as sophisticated as in today's disaster movies, audiences will get their own excitement when watching Earthquake .
This film gives an overview as Los Angeles is rocked by a terrible earthquake. Set in the 70s, this film lacks effects, so the result is not as flashy as the current film, possibly overused with effects.
Volcano
Release year 1997
Genres Action , Adventure , Disaster , Drama , Horror , Science Fiction , Thriller , Tragedy
Produced by Donner/Shuler-Donner Productions , Fox 2000 Pictures , Moritz Original , Twentieth Century Fox
Director Mick Jackson
Cast Tommy Lee Jones Anne Heche Gaby Hoffmann Don Cheadle Keith David
As a result of a small earthquake that struck Los Angeles, a volcano was born. The surprising thing is that this volcano does not stand on land but lies underground. This situation is very dangerous because hot lava from the volcano can erupt at any time and destroy Los Angeles.
The government, which had been reluctant to make a decision, finally realized that all Los Angeles residents were in danger. Evacuation was immediately carried out as earthquakes continued to occur and could trigger an eruption of a subterranean volcano.
The Day After Tomorrow
Release year 2004
Genres Action , Disaster , Science Fiction
Produces Centropolis Entertainment , Lions Gate Films , The Mark Gordon Company
Director Roland Emmerich
Cast Dennis Quaid Jake Gyllenhaal Sela Ward Emmy Rossum Ian Holm
Honestly, when I saw the movie's tagline, I got goosebumps myself. Roland Emmerich posted words that I find terrifying 'Where will you be? (Where are you going to stay?).
This movie really depicts the wrath of nature. It is not surprising that we like to treat them arbitrarily and end up causing global warming to spiral out of control, causing floods, wildfires, etc.
Do you know? During the making of this film, Roland and the entire crew were involved in a mission to reduce carbon emissions. They promised to keep the place they used for filming clean.
The film opens with an iceberg in Antarctica splitting. This was followed by a meeting of all meteorologists and geophysicists in New Delhi to discuss the problem of melting Antarctic ice caused by global warming.
As the conference ended, a climate research station in Scotland encountered a strange sight. A tool with the function of capturing the sea water temperature to drop 13 degrees Celsius very quickly.
This is immediately reported to Jack Hall (Dennis Quaid), a paleoclimatologist who predicted the event. Soon, Jack responded and matched the existing data. How surprised he was when he saw the results of his research, a major storm would shut down most of the world's states.
One of them is Manhattan, where his son Sam (Jake Gyllenhaal) along with his two friends, Laura Chapman (Emmy Rossum) and Brian Pakrs (Arjay Smith) are competing in all-around pentathlons. selected school in the US.
Panicked, Jack also intends to help Sam, who is stranded in Manhattan, which is now frozen after being hit chest-deep by a tsunami into the Statue of Liberty. Starring Jason Evans (Dash Mihok) and Frank Harris (Jay O. Sanders), Jack braved the storm to save Sam.
A series of horrifying but meaningful details have successfully moved the audience's emotions! Especially when Sam has to deal with wolves and the eye of the storm as he tries to give medicine to Laura, whose life is threatened by a blood infection. Bang-digging-digging guaranteed!
San Andreas
Release year 2015
Genres Action , Disaster , Science Fiction
Produce New Line Cinema , RatPac-Dune Entertainment , Village Roadshow Pictures
Director Brad Peyton
Cast Dwayne Johnson Carla Gugino Alexandra Daddario Hugo Johnstone-Burt Art Parkinson
This 2015 natural disaster movie is fun to watch. The reason is, the CGI (Computer Graphics Visualization) effect shown by director Brad Peyton really looks so realistic and amazing! So we seem to be part of the movie.
The story begins when an avalanche hits the San Fernando valley, resulting in a driver named Keren getting into an accident when his car overturns and falls into a ravine. Fortunately, Keren's car got stuck between the rocks.
This is where Ray (Dwayne Johnson) first gets into action. He's a rescue helicopter pilot for the Department of Defense. Thanks to Ray's efforts, Keren can be saved.
The story eventually changes, where Blake (Alexandrea Daddario), Mike's daughter after a short marriage to Emma (Carla Gugino) calls him. Blake asks Ray to go to his mother's new lover, Daniel (Ioan Gruffudd), to deliver his bicycle.
When he was done, he received a call immediately to leave his residence for Nevada. A 7.1 magnitude earthquake occurred that destroyed the Hoover Dam and caused a scientist, Dr. Kim Park (Will Yun Lee) dies.
Meanwhile, another scientist, Lawrence (Paul Giamatti) is surprised by this. The reason is that the Nevada earthquake is the starting point for other earthquakes that will head to Los Angeles and San Francisco.
Unaware of the threat everyone in California will face, Daniel and Blake travel to San Francisco to visit Blake's campus. However, because of work problems, Blake has to first go with Daniel to his office and then they will go together.
At Daniel's office, Blake meets a man named Ben (Hugo Johnstone-Burt) and his younger brother, Ollie (Art Parkinson). Meanwhile, Blake's mother, Emma, ​​is meeting Daniel's ex-wife, Susan (Kylie Minogue) at a restaurant on the top floor of a building.
Not long after, an earthquake occurred. A magnitude 9 earthquake devastated the entire Los Angeles and San Francisco area. Ray, who was traveling by helicopter at the time, knew that his wife was in danger at that time, so he immediately went to find her.
Ray's problems grow bigger when he learns that the safety of his daughter, Blake, is also at stake. The earthquake that shook Los Angeles was just the beginning, because it created a domino effect, where every disaster would come one after another; starting from tsunamis, landslides, flash floods.
This movie is perfect to watch with the family. In addition to entertainment purposes, San Andreas films often offer valuable lessons about family as well as hope.
Deep Impact
Release year 1998
Genres Action , Disaster , Science Fiction
Produce DreamWorks Pictures , Paramount Pictures , The Manhattan Project , Zanuck/Brown Productions
Director Mimi Leder
Cast Robert Duvall Tea Leoni Elijah Wood Vanessa Redgrave Maximilian Schell
The story of this movie is really close to the story in the movie Armageddon, where everyone in the world is threatened with extinction due to the fall of a meteorite. But if in the movie Armageddon, the city was destroyed and devastated by an explosion, then Deep Impact was destroyed by the weight of the tsunami.
But these two movies are equally busy to watch! Both Michael Bay and Mimi Leder put together their respective films in a unique and well-rounded way.
The film itself begins with the boy Leo Biederman (Elijah Wood) discovering a new object while participating in a star search in Richmond, Virginia. All data was eventually sent for research to his astronomy teacher.
The teacher was surprised to see the data submitted by Leo. It turned out that the object was a meteorite. The teacher eventually rushed to notify NASA. Unfortunately, in the middle of the trip, he died of an accident, so it was not until a year later that the news about the meteorite came.
The government, who eventually discovered this, called the discovery of the meteorite an ELE (Extinction Level Event). However, an MSNBC reporter named Jenny Lerner (Téa Leoni) mistook it for Ellie.
This leads Jenny to think that one of the governments has something to do with someone named Ellie. After being investigated, Jenny eventually discovers that Ellie is actually ELE, causing a stir at many parties.
The government eventually launched a space shuttle called Messiah aimed at destroying the meteorite. Unfortunately, there are 2 meteors heading towards Earth so Messiah will only destroy the large meteors.
But unfortunately, when large meteorites can be destroyed, other meteorites will come to earth. Hit the Atlantic Ocean to throw millions of blocks of seawater into the land. When you watch the water flooding into the city, we're sure you'll be amazed at how high the water level has risen!
Armageddon
Released: 2012
Genre: Action, Adventure, Science Fiction
Production : Touchstone Pictures, Jerry Bruckheimer Films, Valhalla Motion Pictures
Directed by: Michael Bay
Actors: Bruce Willis, Billy Bob Thornton, Ben Affleck
Michael Bay is a master at making disaster movies full of fireballs, strewn corpses, gruesome scenes that destroy entire nations. He really has a well-thought-out concept when making a movie he's working on.
One of the results was Armageddon, the most successful film by virtue of its era's capable visual effects. This movie opens with a NASA plane landing on a satellite to repair a damaged NASA system that was destroyed. Suddenly, hundreds of meteors the size of basketballs poured onto the space shuttle into powder.
This view was seen by meteor observers at the NASA office and immediately studied. While they were busy observing why the meteorite was traveling on a path that was not in its orbit, everyone at NASA was surprised by another meteor storm that will visit along the east coast of the United States. .
As a result, New York, Boston, and Manhattan were all hit by meteorites. Investigated in a calibrated way, the meteor shower is a greeting from the original meteorite with an area of ​​696,200 square kilometers (the size of Texas, USA) that will pass by the earth in 18 days.
Too crazy, the superpower's top officials then find a way to destroy the giant meteorite.
In partnership with NASA, we finally have professional drillers; Harry Stamper (Bruce Willis), AJ Frost (Ben Affleck), Charles Chapple (Will Patton), Rockhound (Steve Buscemi), J. Otis Kurleen (Michael Clarke Duncan), Oscar Choice (Owen Wilson), Fred Noonan (Clark Brolly) and Lev Andropov (Peter Stormare).
They were tasked with drilling into the meteorite and placing a bomb in it so that the meteorite could shatter and split on earth without hitting it. Their efforts were successful although not all of them were able to return to earth.
The emotions of movie fanatics will melt when Harry sacrifices for both humanity as well as for AJ to be able to care for his beloved daughter Grace Stampler (Liv Tyler).
Paired and matched with the soundtrack from Aerosmith's Armageddon 'I Don't Wanna Miss A Thing' soundtrack, this movie will make the tears fall and the emotions of those who watch it run out! Dear Michael Bay, you are the best!
The Core
Release year 2003
Genres Action , Adventure , Science Fiction
Produce David Foster Productions
Director Jon Amiel
Cast Aaron Eckhart Hilary Swank Delroy Lindo Bruce Greenwood Christopher Shyer
When the earth was hit by a thunderstorm, scientists confirmed that the earth's core stopped rotating. They had to send a drilling vehicle into the bowels of the earth and detonate it with nuclear so that the earth's core could return.
This must be done as soon as possible before the earth suffers greater damage. But this task is not easy, because no one has ever been there. And this mission is also very dangerous with the possibility that no one will survive this expedition.
The Core is one of those natural disaster movies that has received a lot of criticism, especially from scientists, who claim that there are many scientific inaccuracies presented.
Unfortunately, this interesting premise is only half-implemented making this movie almost a B-movie, especially because of its visual effects.
Poseidon
Release year 2006
Genres Action , Disaster , Science Fiction
Produced by Irwin Allen Productions , Next Entertainment , Radiant Productions , Synthesis Entertainment , Virtual Studios
Director Wolfgang Petersen
Cast Josh Lucas Kurt Russell Richard Dreyfuss Emmy Rossum Jacinda Barrett
This natural disaster movie based on Paul Gallico's novel titled 'The Adventures of Poseidon' reminds us of the disaster on the Titanic. Although the story is different, both films are about a major incident that happened to a luxury cruise ship in the middle of the sea.
It's Robert Ramsey (Kurt Russel), the former mayor of New York, with his daughter Jennifer Ramsey (Emmy Rossum) and her lover Christian (Mike Vogel). The three of them boarded the Posedion on their way back from London to New York by crossing the North Atlantic.
Their journey coincides with an epic New Year's celebration on board. Unexpectedly, the sailing that was supposed to be going smoothly turned into a terrible accident when a tidal wave suddenly appeared and crashed into the ship, sending Poseidon upside down.
Faced with a choice between life and death, Robert, Jennifer, and Christian join the other passengers, Elena (Mía Maestro), a Posedion cruiser to visit her sick sister in New York for help. with the help of Valentin (Freddy Rodriguez), a maid who works in Poseidon. .
Dylan Johns (Josh Lucas) is a professional gambler, Maggie James (Jacinda Barrett) is a single mother with only child Connor James (Jimmy Bennett) and Richard Nelson (Richard Dreyfuss) an ant. The architect always suffered for his father. his girlfriend left him. .
All pass dozens of floors with hundreds of obstacles to get out of the big ship. Their journey to safety was not easy, many of the survivors had to die after being hit by falling bricks, crushed machinery and drowned.
Director Wolfgang Petersen really made the story of Poseidon interesting. In some scenes, we can see the true nature of people when they are depressed; some are willing to make sacrifices and some are concerned for their own safety even though they have to die tragically in the end.
Besides, our emotions will also be disturbed when we witness the scene of thousands of passengers being swept to death in the ballroom. You will also feel the tension when you witness the survivors trapped in the ventilator gate that cannot be opened even though the water starts to pour in. What a thrill!
Daylight
Release : 1996
Genre: Action, Adventure, Drama
Produce : Davis Entertainment
Director : Rob Cohen
Actors: Sylvester Stallone, Amy Brenneman, Viggo Mortensen
Daylight is not actually a disaster movie, but completely caused by nature. This movie is actually geared more towards disasters caused by human negligence. But the effect is no less terrifying than a real natural disaster.
Set in a tunnel that crosses a river, at that time, the traffic in the tunnel was very busy. Starting from buses, family cars, to trucks are in the tunnel.
In the middle of the crowded traffic, a truck turned sideways carrying hazardous waste. A dump truck carrying waste is about to be illegally dumped.
On the other hand, there is a car driven by a diamond thief. The thief's car drove very fast until it collided with the previous waste truck. As a result, a large explosion occurred and almost all vehicles in the tunnel were burned.
Only a few people survive, including Kit Latura (Sylvester Stallone) who is a taxi driver. These survivors could not get out of the tunnel easily.
They were trapped in a tunnel that began to run out of air. Meanwhile, the river water outside can overflow at any time because it has cracked after the explosion.
Dante's Peak
Released: 1997
Genre: Action, Horror, Adventure
Production : Pacific Western Productions
Directed by: Roger Donaldson
Actors: Pierce Brosnan, Linda Hamilton, Jamie Renee Smith
A volcano in the city of Dante's Peak has undergone oscillations, prompting a number of volcanologists to go there to examine and study whether there is an eruption that could endanger the lives of many people. or not. This is done so they can warn residents before the volcano erupts.
Among the many volcanologists, Dr. Harry Dalton (Pierce Brosnan) appears after being treated for his injuries caused by the terrible incident of the volcanic disaster 4 years ago.
For a time on Dante's Peak, Dr. Harry keeps in touch with Rachel (Linda Hamilton), the mayor of Dante's Peak, and they become close. One day, the volcano there was unusually active. This indicates that the mountain is about to explode.
Like it or not, Rachel ordered the evacuation of Dante's Peak as soon as possible. Can they survive the ferocity of the volcanic explosion?
Pompeii
The eruption of Mount Vesuvius in AD 79 was one of the greatest natural disasters in human history.
This disaster film with a romantic twist turns this historical event into the setting for the epic story of a gladiator named Milo. He intends to take revenge on a Roman senator who once massacred his people.
The story of this movie is too cliché and like repeating the story of the previous movies. It became a cross between Gladiator (2000), Dante's Peak (1997) and Titanic (1997).
But when Mount Vesuvius begins to erupt, we will witness the enormity of the explosion and the damage it caused. Everything is displayed with pretty neat visual effects, so that we can enjoy it to our heart's content.
13 Minutes
Release year 2021
Genres Action, Drama, Horror
Advanced Film Production (II), Related Images
Director Lindsay Gossling
Cast Amy Smart Thora Birch Anne Heche Paz Vega Peter Facinelli
Four families in a small town were hit hard by a giant tornado. They have different issues that are quite complex, such as immigration, sexual orientation and abortion.
Meanwhile, the disaster management leader tries to deal with this natural disaster rescue while searching for his deaf daughter.
13 Minutes is a disaster movie with the participation of a series of famous actresses such as Thora Birch, Anne Heche, Amy Smart and Paz Vega.
This film tries to deeply incorporate family issues into a natural disaster-themed movie, the results are less than impressive. Even so, this film has a tense scene when a tornado destroys the residences of these residents.
2012
Release year 2009
Genres Action , Disaster , Science Fiction
Produced by Centropolis Entertainment , Columbia Pictures
Director Roland Emmerich
Cast John Cusack Chiwetel Ejiofor Amanda Peet Oliver Platt Thandiwe Newton
Remember the Mayan prophecies that their calendar was the standard for the age of the earth? This caused a stir around the world. Because many people say that in 2012, human civilization will be destroyed.
Not to mention coincidentally that same year, NASA released news of a solar eruption, also known as Coronal Mass Ejection (CME) – the most powerful coronal mass eruption in the past 150 years, making news about ' doomsday' is more widely spread.
From here, the famous director Rolland Emmerich raised the story of the 'death' of the world into an epic film titled 2012.
Tells about the shaking of the world's tectonic plates due to the increase in temperature in the earth's core. This happened after a solar storm caused the cement to keep the world's plates brittle so they were stable.
The government, who had known about this for a long time, immediately implemented a strategy to predict the extinction of all people on earth. The government has built a boat that can only hold about 100,000 'selected' people; scientists, doctors, architects and people who are considered capable of creating a new world.
At first glance, this movie reminds us of the story of Noah. But in fact, there are people who sell box tickets to billionaires for 1 billion euros. Immediately after the shipbuilding project was almost completed, terrible events followed one after another.
Starting from the destruction of the entire American continent due to the crushing of the tectonic plates there. Entire cities from Los Angeles to Washington were crushed to the ground.
This was followed by the destruction of Japan due to a large-scale earthquake and a super tsunami up to 2000 meters high that wiped out the entire surface of the earth as the tectonic plates stopped moving.
Worse still, the earth's magnetic field malfunctioned causing all the tectonic plates to change positions. At the end of the story it is said that the highest plain on earth is no longer the Himalayas but the Drakensberg Mountains at the Cape of Good Hope, South Africa.
In this natural disaster film, we can see how families take care of each other (visualized by John Cusack et al), people become selfish and take advantage of circumstances (Oliver Platt) , as well as all survivors to live equally. even at the cost of his life.
Those are the 20 best movies about natural disasters, according to Bacaterus. Make sure there is no boring movie to watch! It's all in Box Office! So what are you waiting for? Grab a bowl of popcorn, watch a movie and feel the thrill of the whole genre!
Salenhanh – Product review blog
Address: 115 Nguyen Van Qua, Tan Hung Thuan Ward, District 12, Ho Chi Minh City
Website: https://salenhanh.com
Mail: Salenhanh.com@gmail.com
#salenhanh #Reviewsalenhanh