Zoey Francis Thompson Deutch is an actress from Los Angeles, California, United States, born on November 10, 1994. She comes from a family of artistic talents.
Her parents, Howard Deutch and Lea Thompson, are producers, directors, and actors. Meanwhile, her younger sister, Madelyn Deutch, is a writer and musician.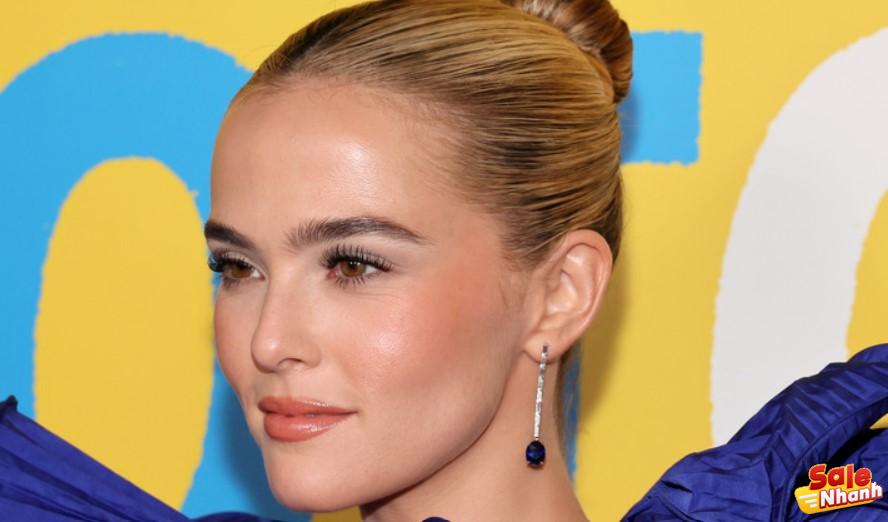 This beauty began her acting career at the age of 15 with a role in Disney's The Suite Life on Deck series as Maya. Then she made her way to the big screen as a supporting actress in the movie Beautiful Creatures released in 2013.
This woman has a pretty brilliant career in the field of Hollywood movies. For those of you curious to see a list of the films she has acted in, Salenhanh will provide a summary below.
Before I Fall (2017)
Release year : 2017

Genre: Drama, Fantasy, Mystery

Directed by: Ry Russo-Young

Actors: Zoey Deutch, Halston Sage, Cynthy Wu

Production company : Awesomeness Films, Jon Shestack Productions
Sam (Zoey Deutch) finds himself in a bad situation. Every night, he always has bad dreams and wakes up with the same condition. His dream has come true, and now he's stuck in a time loop that keeps repeating itself after he's been in a car accident.
Before I Fall is a film based on the novel of the same name by Lauren Oliver. The 90-minute film premiered at the Sundance Film Festival on January 21, 2017. Then Before I Fall was officially released in theaters by Open Road Film on March 3, 2017.
Film review site IndieWire rated Before I Fall as the highest-grossing independent film of 2017. The film received mixed reviews from critics and ultimately grossed $18 million worldwide on a budget. production is only 5 million USD.
Why Him? (2016)
Release year : 2016

Genre: Comedy

Directed by: John Hamburg

Actors: Zoey Deutch, James Franco, Tangie Ambrose

Production company: Twentieth Century Fox, Red Hour Films, 21 Laps Entertainment
Why Him? is a comedy-drama film written and directed by John Hamburg. The film stars Zoey Deutch as Stephanie Fleming, Bryan Cranston as his father Ned Fleming and handsome actor James Franco as Laird Mayhew.
Say Stephanie is a student from Stanford University who is dating Laird Mayhew. His girlfriend is the CEO of a famous video game company. Their relationship did not go well and Stephanie's father tried to dissuade Laird from wanting to marry his daughter.
The film premiered on December 17, 2016 in Los Angeles. On the first day of opening, Why Him? grossed $3.9 million, and a week later it peaked at number four at the box office, hitting $11 million.
Everybody Wants Some!! (2016)
Release year : 2016

Genre: Comedy

Directed by: Richard Linklater

Actors: Blake Jenner, Tyler Hoechlin, Ryan Guzman

Production company : Annapurna Pictures, Detour Filmproduction, Sean Daniel Company
This movie follows the lives of young people who follow another baseball team in Texas in 1980. They are Jake, Plummer, Beuter, Brumley, Jay and Willoughby. In this comedy, Zoey plays a student named Beverly who is Jake's lover.
On the website Rotten Tomatoes, Everybody Wants Some!! received positive reviews based on 186 reviews with a rating of 7.6/10. While on Metacritic, this movie has a score of 83/100 based on 50 reviews.
Everyone wants some!! was nominated for three different awards at two different awards. At the Gotham Awards , the film was nominated for Best Audience Film , while at the Detroit Film Critics Society , it was nominated for Best Staging .
Zombieland: Double Tap (2019)
Release year : 2019

Genre: Action, Adventure, Comedy

Directed by: Ruben Fleischer

Actors: Woody Harrelson, Jesse Eisenberg, Emma Stone

Production company : 2.0 Entertainment, Columbia Pictures
Zombieland: Double Tap continues the story of Tallahassee, Columbus, Wichita and Little Rock, survivors of the zombie pandemic in the first movie. Now they are a group of people who are experts at defeating these cannibals.
In this film, Zoey Deutch plays a blonde woman named Madison. He became one of the survivors of the chaos of Zombieland. Then he met Columbus and was invited to join to live in the White House.
The movie itself offers the same humorous story as the previous one, but packed with a gripping feel to the zombie outbreak that has swept the world. Zombieland: Double Tap has grossed $122 million worldwide.
Dirty Grandpa (2016)
Release year : 2016

Genre: Comedy

Directed by: Dan Mazer

Actors: Robert De Niro, Zac Efron, Zoey Deutch

Production company : Lionsgate, BillBlock Media, QED International
Jason Kelly is a young man who wants to marry his girlfriend, Meredith. Before that particular moment, he tries to mend his relationship with his grandfather, Dick Kelly.
His grandfather was a veteran general who had recently divorced his wife. Dick then took his nephew out for spring break.
Jason knew that his grandfather was a flirt with women. On the way to the entertainment venue, the two meet up with Jason's old friend Shadia (Zoey Deutch). Then Jason and Dick invite Shadia and her friends over to have some fun together.
Dirty Grandpa is a comedy film directed by John Phillips. The film stars Robert De Niro, Zac Efron, Aubrey Plaza, and Zoey Deutch.
Set It Up (2018)
Release year : 2018

Genre: Comedy, Romance

Directed by: Claire Scanlon

Actors: Zoey Deutch, Glen Powell, Lucy Liu

Production company : Treehouse Pictures
Harper (Zoey Deutch) works as an assistant to a sports media editor named Kirsten. Meanwhile, Charlie is also a financial assistant working for Rick's boss. The two offices turned out to be in the same building, and they didn't know each other at all.
One night, the two meet at a restaurant and become close friends. Harper and Charlie talk about their respective jobs, especially their demanding bosses. Then they came up with the idea of ​​setting up a match with their boss so that the two could go on a date.
In February 2016, British actress Emilia Clarke was actually cast in this film. However, in 2017, the studio cast Zoey Deutch to replace Clarke as Harper.
Vampire Academy (2014)
Release year : 2014

Genre: Action, Comedy, Drama

Directed by: Mark Waters

Actors: Zoey Deutch, Lucy Fry, Danila Kozlovsky

Production company: Angry Films, Kintop Pictures, Preger Entertainment
Vampire Academy is his second feature film after a supporting role in Beautiful Creatures. In this film, Zoey plays a 17-year-old dhampir (half-vampire) named Rose Hathaway.
It is said that he and his best friend, Lissa Dragomir, managed to go into hiding after escaping from the St. Vladimir. However, the two are found and brought back to an academy in Montana.
They are then drawn into a complex conspiracy happening at the school. While there, Rose is attracted to a dhampir, her own mentor, Dimitri Belikov.
At the 2014 Teen Choice Awards, the film was nominated for Choice Comedy: Comedy. Meanwhile, Zoey Deutch herself also earned a nomination in the category of Best Actress in a Movie: Comedy.
The Year of Spectacular Men (2017)
Release year : 2017

Genre: Comedy, Drama, Romance

Directed by: Lea Thompson

Actors: Madelyn Deutch, Jesse Bradford, Cameron Monaghan

Production company : Parkside Pictures, Tadross Media Group
This film is said to be the work of Zoey Deutch and his family. His mother, Lea Thompson, directed the film, while his father, Howard Deutch, was a producer.
Zoey in The Year of Spectacular Men competed in acting with her own sister, Madelyn Deutch, who also wrote the screenplay and arranged the soundtrack for the 102-minute film.
Men That Year is a warm family drama worth watching. This film tells the story of Izzy Klein, who quit his job and he just ruined his relationship with the man he was close to.
Izzy then struggles to change her failure and plans to start a new life again. During those difficult times, he turns to his sister, Sabrina Klein (Zoey Deutch), and his mother for support and motivation.
Rebel in the Rye (2017)
Release year : 2017

Genre: Biography, Drama, Romance

Directed by: Danny Strong

Actors: Nicholas Hoult, Kevin Spacey, Victor Garber

Production company: Black Label Media, West Madison Entertainment, Jason Shuman Productions
Rebel in the Rye is a biographical drama film written and directed by Danny Strong. The story in this film is based on the life of young writer J.D. Salinger during the Second World War until the end of the war.
In addition to recounting these tense moments, it also follows his personal life when he was with Oona O'Neill and the publication of his debut novel The Catcher in the Rye.
Actor Nicholas Hoult plays JD Salinger, while Zoey Deutch plays his girlfriend, Oona O'Neill. The film also stars Kevin Spacey, Sarah Paulson, Brian d'Arcy James, Victor Garber, Hope Davis and Lucy Boynton.
The Professor (2018)
Release year : 2018

Genre: Comedy, Drama

Directed by: Wayne Roberts

Actors: Johnny Depp, Rosemarie DeWitt, Odessa Young

Production company: Global Road Entertainment, Automatic Entertainment, Leeding Media
The Professor plays Johnny Depp as a college professor named Richard Brown. Meanwhile, Zoey Deutch plays one of her students named Claire.
It is said that Richard received the news that he had stage 4 lung cancer. Even so, he still chose to continue giving lectures to his students.
The remaining time of his life is not much, he is still entangled in a bad relationship with his wife and children. But with the support of his close friend Peter, he begins to accept the conditions of his life. Richard also tries to understand and tolerate those he loves, even those who hate him.
Possessing a beautiful face and backed by good acting talent, Zoey can be one of the idolized actresses in the world cinema. If you are curious about the acting quality of this long-legged beauty, don't forget to check out the list of nominations above.