What woman is not fascinated by this handsome actor. In addition to his good looks, Zac Efron also has a muscular body that makes him almost perfect of a strong, mature man. What makes women's hearts melt the most is his eyes filled with sadness and love. Those are just some of the physical factors that aided his acting career in Hollywood.
The acting career of a Jewish man born in California on October 18, 1987, began with the TV series High School Musical [2006] in which he played the main character named Troy Bolton. Success when shown on Disney Channel, this film continued to have two more sequels, High School Musical 2 [2007] and High School Musical 3: Senior Year [2008], which were released in theaters.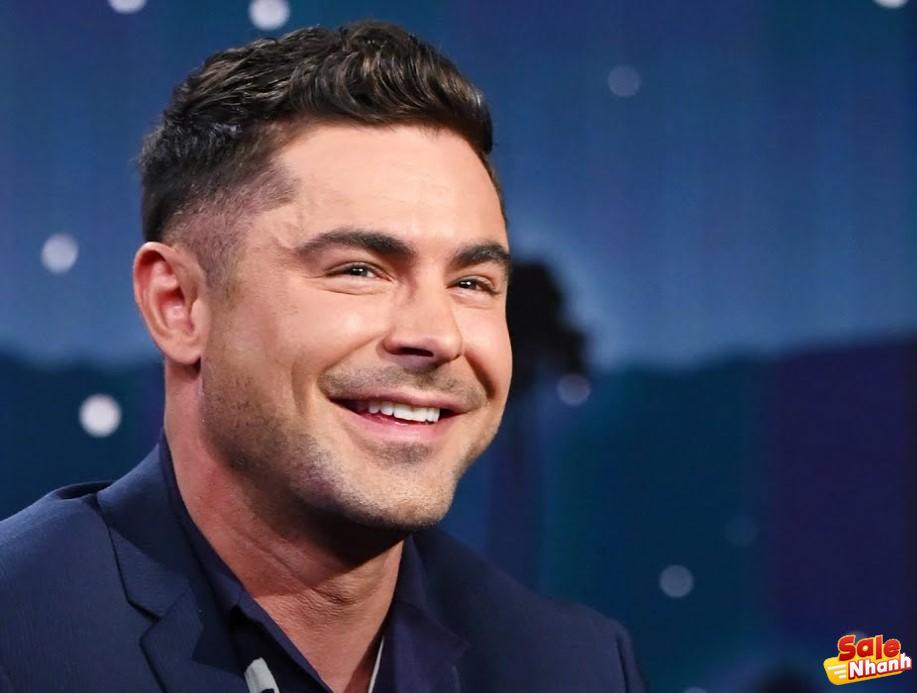 Efron then acted in a number of other films and tried to break out of the "Disney kid" image associated with him. Although so far there have been no movies that really drained his acting talent, he mainly acted in comedies, but let's try to summarize his 10 best films below.
Hairspray [2007]
Released : 2007

Genre: Music, Romantic Comedy

Directed by: Adam Shankman

Actors: John Travolta, Michelle Pfeiffer, Christopher Walken

Công ty sản xuất : Ingenious Media, Zadan / Meron Productions, Storyline Entertainment, Offspring Entertainment
The film, adapted from the Broadway musical, was Zac Efron's first film on the big screen. His portrayal of Link Larkin, the lead dancer on The Corny Collins Show, was easy. Maybe because the character isn't much different from his role in High School Musical, which also required him to dance and sing.
Me and Orson Welles [2008]
Released : 2008

Genre: Drama, History

Directed by: Richard Linklater

Actors: Zac Efron, Christian McKay, Claire Danes, Ben Chaplin

Production company : CinemaNX, Hart / Lunsford Pictures
This Toronto International Film Festival indie is perhaps the best feature film to feature Zac Efron in a drama. Much praise is given to this movie, especially in terms of the actors' acting. Until now, this film by Richard Linklater is still on the list of 10 best independent films according to the National Board of Review.
17 Again [2009]
Released : 2009

Genre: Comedy

Directed by: Burr Steers

Actors: Zac Efron, Leslie Mann, Thomas Lennon

Production company : New Line Cinema, Offspring Entertainment
This commercially successful film features the charismatic Zac Efron as a 37-year-old man who turns 17 again after experiencing a unique event. Despite receiving a mediocre response, most critics praised the performance of Zac Efron, who was able to become a "male lead" for the first time.
Charlie St. Cloud [2010]
Released : 2010

Genre: Romance, Drama

Directed by: Burr Steers

Actors: Zac Efron, Charlie Hold, Amanda Crew

Production company: Relativity Media, Marc Platt Productions, Charlie Film Productions
In this supernatural romance, Zac Efron plays the main character named Charlie St. Cloud is faced with a dilemma between fulfilling his dream or keeping his dead brother's last promise.
Although the film received a lot of harsh criticism, mainly because of its slow tempo, Efron's performance received little praise and is considered worthy of being the protagonist who becomes the center of the story.
The Lucky One [2012]
Released : 2012

Genre: Romance, Drama

Directed by: Scott Hicks

Actors: Zac Efron, Taylor Schilling, Jay R. Ferguson

Production company : Village Roadshow Pictures, Di Novi Pictures
In this adaptation of the Nicholas Sparks romance novel, Efron plays a marine who survives the war and returns to his country to find the woman in a photograph of one of his comrades who died. his death, who had been his lucky charm.
The film was a success at the box office, although many criticized the mellow pacing and lack of chemistry between Efron and Taylor Schilling.
Parkland [2013]
Released : 2013

Genre: Drama, History

Directed by: Peter Landesman

Actors: James Badge Dale, Zac Efron, Jackie Earle Haley

Production company : American Film Company, Playtone
Vincent Bugliosi's book Four Days in 11: The Assassination of President John F. Kennedy became the basis for a screenplay focusing on the minutes after the US president was shot. Efron as Dr. Charles James Carrico, the doctor who treated the president in a critical period in the hospital.
Among the many leading actors and actresses to portray the role in Peter Landesman's film, Efron shines despite having to share footage with other actors.
Dirty Grandpa [2016]
Released : 2016

Genre: Sex Comedy

Directed by: Dan Mazer

Actors: Robert De Niro, Zac Efron, Aubrey Plaza

Production company: BillBlock Media, Josephson Entertainment, QED International
There's no need to doubt Zac Efron's qualities as a talented young actor. In addition to being familiar with musicals, in 2016 he also acted in comedies and played the role of Jason Kelly.
The film tells the story of Jason who must marry his boss's daughter to get a good job position in a law firm. However, Jason's marriage is delayed due to the presence of Dick (Robert De Niro), his grandfather, who takes him on vacation.
Jason and Grandpa's vacation in Daytona is filled with nightlife, fighting and booze. Many things happened during the vacation, from Jason meeting his old lover, chubby grandfather and flirting with girls, to the trouble that led to his grandfather's trouble.
This movie offers an adult light comedy with a bit of dramatic conflict between Jason and Shadia thwarted by Meredith, the daughter of Jason's boss and his fiancé.
Neighbors [2014]
Released : 2014

Genre: Comedy

Directed by: Nicholas Stoller

Actors: Seth Rogen, Zac Efron, Rose Byrne

Production company : Point Gray Pictures, Good Universe
If you've been talking about comedies that have Seth Rogen in them, we're of course introduced to a lot of comedies with a sexual undertone. Without exception, this movie also stars Efron and Dave Franco.
The quarrel between a small family and the boys' dormitory next door is sure to bring a lot of laughter, especially the way they repay each other for what their neighbors have done to them.
Due to its success, a sequel was released, Neighbours 2: Sorority Rising [2016], with all the actors from the first season coming back together to bring their respective characters into the fray. living. But this time, the characters Efron and Rogen are not competing with each other but working together to take down the female dormitory that has occupied their former male dormitory house.
Baywatch [2017]
Released : 2017

Genre: Comedy, Action

Directed by: Seth Gordon

Actors: Dwayne Johnson, Zac Efron, Alexandra Daddario

Production company : Paramount Pictures, Contrafilm
In this movie, Zac Efron competes with a talented actor who has a new movie every year, that is Dwayne "The Rock" Johnson. Baywatch is an action-comedy film inspired by the TV series of the same name.
Baywatch tells the story of Mitch (Dwayne Johnson), who must train a reckless athlete, Matt (Zac Efron), to become a lifeguard. Mitch is often annoyed by Matt's behavior which is really annoying. However, they must work together to face the threat of a beautiful businesswoman, Victoria Leeds (Priyanka Chopra), who wants to take over the Bay to use as a drug business.
The Greatest Showman [2017]
Released : 2017

Genre: Musical, Drama

Directed by: Michael Gracey

Actors: Hugh Jackman, Zac Efron, Michelle Williams

Production company: Laurence Mark Productions, Chernin Entertainment, TSG Entertainment
Closing out 2017, we have a sweet surprise from Hugh Jackman, who has been known as Wolverine or Logan. Through The Greatest Showman we can see "mutant" dancing and singing. What makes this movie all the more interesting is the inclusion of Zac Efron (Philip Carlyle) and Zendaya (Anne Wheeler).
For those of you who missed Zac Efron's appearance in High School Musical, The Greatest Showman is a movie that will cure your cravings. Moreover, here you will be baper with the love story of Philip, a playwright, and Anne, an acrobat.
As an actor who tends to be productive, Efron is expected to go on to have a steady career, although at this point he's more inclined to play the safer comedy genre. With the current popularity, Efron has entered the list of 100 richest celebrities in the world voted by two prestigious magazines Forbes and People.
It is certain that there will be many more film projects for him in the future and we hope that Efron will be able to bring out his full potential by acting in a high-class drama that will bring him great success. he won an Oscar. It is not impossible. Hope so.