So far, Korean young actor Yeo Jin Goo has acted in 14 movies and 22 dramas. He is nicknamed 'Nation's little brother' because he debuted at a very young age.
Yeo Jin Goo started his acting career through the 2005 movie Sad Movie. Then, he returned to star in the historical drama A Frozen Flower in 2008 and Giant two years later. His name as an actor skyrocketed when he participated in the drama The Moon Embracing the Sun in 2012.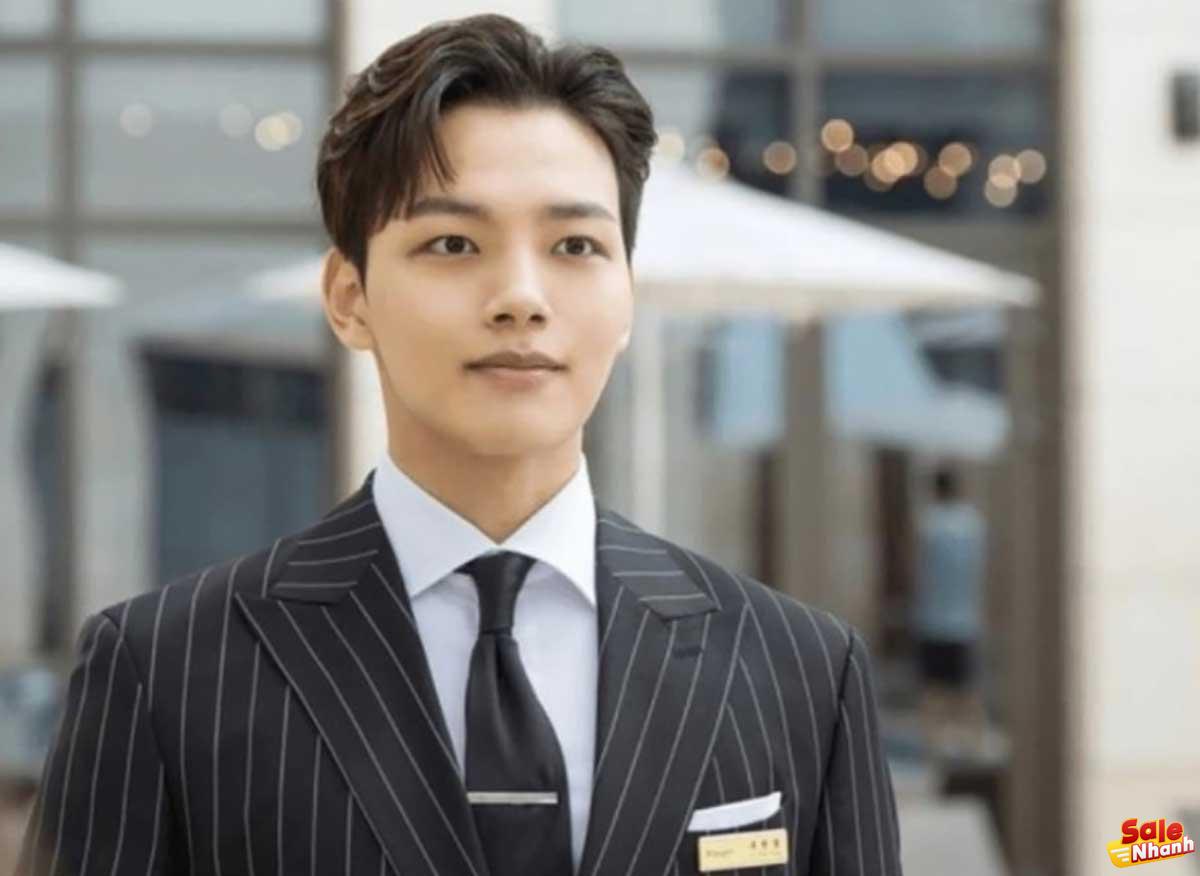 Yeo Jin Goo, the eldest, is known for serving as a successful ambassador in several agencies, including 2010 Youth Education Ambassador, Youth Reputation Ambassador for the Korea Youth Thought Federation 2011, Ambassador for Public Child Protection 2012, Ambassador to Prevent School Violence 2013, Ambassador of the 16th Seoul International Youth Film Festival 2014. Very inspiring, right?
The guy featured in K. Will's MV "I Need You" really has a lot of fans. Are you one of them? Salenhanh.com has compiled some of the movies with the participation of Yeo Jin Goo for you to most easily follow.
Beyond Evil
Release year 2021
Genres Drama , Mystery , Psychological , Horror
Director Shim Nayeon
Cast Shin Ha Kyun Yeo Jin Goo Choi Dae Hoon Choi Sung Eun Kim Shin Rok
Aired on JTBC, this drama is about two detectives working in a small town in Gyeonggi Province, namely Lee Dong Sik (Shin Ha Kyung) and Han Jo Woon (Yeo Jin Goo).
It is known that there is a heinous murder in the city which is similar to the serial murder case that happened 20 years ago.
The two of them work together to find the culprit of this brutal murder. In fact, in an effort to catch the culprit, both Dong Sik and Jo Woon did not hesitate to break the law.
The investigation continued, and the longer they studied the case, the more they began to worry that their actions might contribute to being part of the case. Horror movie fans should not miss this movie.
Hotel Del Luna
Release year 2019
Genre Comedy , Fantasy , Romance
Director Oh Choong Hwang
Cast IU Yeo Jin Goo
Hotel Del Luna is a drama broadcast on tvN with horror, comedy, romance and fantasy genres. Tells the story of Jang Man Wol, a CEO of a hotel located in downtown Seoul called Hotel Del Luna. This character is played by Lee Ji Eun aka IU.
So Jang Man Wol was trapped in his hotel for 1,300 years! All because he regularly makes the same mistakes over and over again over the years.
One day, the youngest assistant manager of a famous multinational hotel company is hired at the hotel as a manager. That is Goo Chan Sung played by Yeo Jin Goo.
Psst, Hotel Del Luna is an ancient hotel known to have many mysterious cases! And, after Goo Chan Sung walks in there, he eventually discovers that the hotel's customers are not humans but ghosts.
Because, it turns out that Hotel Del Luna is really the resting place of ghosts. The drama that holds the number one spot for 5 consecutive weeks also features IU, Shin Jung Keun, Bae Hae Seon, Pyo Ji Hoon and Kang Mi Na.
Circle
Release year: 2017
Genre: Science Fiction, Dark Fiction, Mystery, Horror
Produce: tvN, Studio Dragon
Director: Min Jin-ki
Actors: Yeo Jin-goo, Kim Kang-woo, Gong Seung-yeon, Lee Gi-kwang
This movie with a unique plot tells about life in 2017 and in the future, specifically 2037. It is said that the earth will be split in two.
The first is the 'Smart Earth', which contains humans who can control their emotions, even eliminate crime and disease, and contain all kinds of advanced technology.
While the second is the 'Common Earth' consisting of humans, on the contrary, where many law violations are rampant, the murder cases persist until they suffer from disease outbreaks. incurable.
Yeo Jin Goo plays Kim Woo Jin, a student majoring in neuroscience at Handam University of Science and Technology. He encounters a murder case at his university that he finds strange. In addition, the case is related to the twins and also his father.
The Crowned Clowns
Release year: 2019
Genre: Historical, Romance, Romance
Produce: GT:st
Directed by: Kim Hee-won
Actors: Yeo Jin-goo, Kim Sang-kyung, Lee Se-young
The film is a remake of the movie titled "Masquerade" released in 2012, set in the Joseon Dynasty. Elevate the story as the kingdom is filled with turmoil and power struggles. Yeo Jin Goo as Yi Heon, a king of Joseon
One day, King Yi Heon named a clown who looked exactly like him named Ha Seon. Ha Seon's purpose in the kingdom is to temporarily take his place as a form of effort to protect his true identity as a king who is being targeted by enemy assassinations.
Although very similar, the two have opposite personalities. Raya Yi Seon is known to have bad manners, while Ha Seon is a kind person who can even make changes in the kingdom so that Queen Yoo So Woon falls in love with him.
The Moon Embracing the Sun
Release year: 2012
Genre: Fantasy, Drama, Romance
Produce: Pan Entertainment
Directed by: Kim Do-hoon, Lee Seong-Jun
Actors: Kim Soo-hyun, Han Ga-in, Jung Il-woo, Kim Min-seo
This historical and fantasy drama is based on the novel of the same name by Jung Eun Gwol. The drama version of "The Moon Embracing the Sun" has successfully surpassed the rating of 42.2% to gain the title of 'National Drama'.
This film was also the peak of Yeo Jin Goo's success, helping him become the big actor he is today at a young age.
Elevate the story of Heo Yeon Woo, who is only thirteen years old but has been chosen as the crown princess of Joseon. One day, the Empress Dowager of the kingdom intends to secretly kill Heo Yeon Woo with magic. His evil intentions failed because Heo Yeon Woo escaped.
Even so, the princess died because she didn't exist. This news is believed by the man who will marry her, namely Crown Prince Lee Hwon.
Meanwhile, Heo Yeon Woo, who escaped the assassination attempt, ends up suffering from amnesia. Although there is information that he has passed away, there are still many people who sincerely love him and have never forgotten the figure of Heo Yeon Woo.
Eight years have passed, and Heo Yeon Woo returns to the kingdom. At that time, Crown Prince Lee Hwon became the king of Joseon, where he should have been the queen of Joseon.
Heo Yeon Woo also made an effort to reclaim his position. In the drama, Yeo Jin Goo plays Lee Hwon when he is young, then Kim Soo Hyun as an adult.
Thanks to his role in this drama, Yeo Jin Goo won the Best Child Actor award at the 2012 MBC Drama Awards. Meanwhile, the drama starring Han Ga In won the Drama Award. the best.
Link: Eat, Love, Kill
Release year 2022
Genres Comedy , Drama , Fantasy , Romance , Mystery , Police Procedural , Romance
Director No Sang Hoon
Cast Yeo Jin Goo Moon Ga Young Park Bo Kyung Kwon Hyuk
Link: Eat, Love, Kill (2022) brings together two adult child stars: Yeo JIn Goo and Moon Ga Young. Here Yeo Jin Goo plays Gye Hoon, a young chef who has the ability to sense the emotions of a girl named Da Hyun.
Gye Hoon was surprised because since his sister disappeared 18 years ago, he has never felt the same way again.
However, with Da Hyun, the strange feeling returned. Gye Hoon and his family have lost a lot because of what happened to their younger brother. Since then, the father rarely comes home because he wanders around looking for his daughter. Gye Hoon's mother also suffered from depression.
The young man then decided to return to his hometown. Who would have thought that he actually found so many bright spots.
Tree with Deep Root
Release year: October 2011
Genre: History, Mystery, Drama, Romance
Produce: iHQ
Directed by: Jang Tae Yoo
Actors: Han Suk Kyu, Jang Hyuk, Shin Se Kyung, Yeo Jin Go
Episodes: 24
As an active actor since childhood, Yeo Jin Goo often plays the main character's childhood role. One of them was in the TV series Tree With Deep Root (2011). Yeo plays the teenage version of Ddol Bok. Ddol Bok, played by Jang Hyuk, is the main character in this drama.
He is a former slave turned royal bodyguard and detective of King Sejong. Ddol Bok had a very painful childhood when he witnessed his mentally disabled father being arrested and beaten to death in front of his childhood friend So Yi. Since then he vowed to take revenge on King Sejong.
Iljimae
Released year: May 2008
Genre: History, Action, Drama, Romance
Produce: Chorokbaem Media
Director: Lee Yong Suk
Actors: Lee Joon Gi, Han Hyo Joo, Lee Young Ah, Yeo Jin Goo
Episodes: 20
Still the childhood version of the main character, Yeo Jin Goo this time is the childhood version of actor Lee Joon Gi as Lee Gyeom. Set in 1633, Lee Gyeom is the son of a virtuous nobleman, Lee Won Ho. His father was a trusted supporter and brother of the king.
One day, a blind fortune teller looked into Lee Won Ho's house and said that he had seen a person as bright as the sun who would be loved by everyone.
The king, who didn't want to be a rival, later killed Lee Won Ho. Little girl Lee Gyeom was lucky to survive the tragic incident. He was later adopted by a thief who decided to quit his job.
giant
Release year: May 2010
Genre: Historical Drama
Produce: JS Pictures
Director: Yoo In ShikLee Chang Min
Actors: Lee Beom Soo, Park Jin Hee, Joo Sang Wook, Yeo Jin Goo
Episodes: 60
In 2010, Yeo Jin Goo was also the teenage version of actor Lee Beom Soo with his role in the drama called Giant (2010). His character's name is Lee Kang Moo. He is one of three children whose father was killed by Hwang Tae Seob and Jo Pil Yeon, and his mother died in an accident.
Kang Mo and his younger brother Sung Mo were raised separately by Hwang Tae Seob and Jo Pil Yeon. Kang Mo, who was adopted by Hwang Tae Seob, helped him out of bankruptcy, while Sung Mo was adopted by Jo Pil Yeon, a KCIA official.
Their relationship becomes complicated when older sister Mi Joo falls in love with Jo Pil Yeon's son.
Warrior Baek Dong So
Release year: October 2011
Genre: History, Action, Romance, Era
Produce: K-PAX
Director: Lee Hyun JikKim Hong Sun
Actors: Ji Chang Wook, Yoo Seung Ho, Yoon So Yi, Yeo Jin Goo
Episodes: 29
Yeo Jin Goo and Ji Chang Wook turned out to be in a drama project. They both play the same character, named Baek Dong Soo. The difference is, Yeo Jin Goo plays the teenage version of Baek Dong Soo.
Dong Soo is a swordsman with a pleasant personality. He changed the nation's destiny as a member of the royal guard.
Politics in the Josen Kingdom are heating up due to a feud between King Jeongjo of Joseon and a Qing emissary led by a swordsman from Japan and the assassination guild Heuksa Chorong. Baek Dong Soo went down as a legend who created martial arts in Joseon. Thanks to him, the king's enemies can be defeated.
Missing You
Released year: November 2012
Genre: Romance, Psychological, Crime, Horror, Suspense
Production: Victory Productions
Directed by: Lee Jae Dong, Park Jae Beom
Actors: Yoon Eun Hye, Park Yoochun, Yoo Seung Ho, Yeo Jin Goo
Episodes: 21
In this hit melodrama, Yeo Jin Goo plays the younger version of Park Yoochun who plays Han Jung Woo. Jung Woo was born into a wealthy family.
He is the son of Han Tae Joon. He meets Lee Soo Yeon and becomes friends. That day, when the two made an appointment to meet Soo Yeon, they found Jung Woo kidnapped again.
Fourteen years have passed, and Jung Woo has grown up to be a detective. He meets Zoey Lou, who reminds him of Soo Yeon. He also meets Harry Blossom, Zoey's current boyfriend.
As a detective, Jung Woo knows that Soo Yeon is still alive. The father faked the girl's death. Is Zoey really Soo Yeon?
The Royal Gambler
Release year: 2016
Genre: History
Produce: TheKEntertainment, ONDA Entertainment
Director: Nam Geon
Actors: Jang Keun-suk, Yeo Jin-goo, Jun Kwang-ryul, Choi Min-soo
The drama also known as "Daebak" tells the story of a prince named Yeong Soo played by Yeo Jin Goo. He is said to have been born as a nobleman, but lived as a farmer.
Until one day, Prince Yeong Soo meets Dae Gil, who challenges him to gamble. Thanks to his role in the drama, Yeo Jin Goo won the Best Actor award at the 2016 SBS Drama Awards.
Reunited Worlds
Release year: 2017
Genre: Fantasy, Romance
Produce: ImTV
Directed by: Baek Soo-chan
Actor: Yeo Jin Goo. Lee Yeon-hee, Ahn Jae-hyun
The fantasy, romantic drama starring Ahn Jae Hyun, Lee Yeon Hee and Yeo Jin Goo was broadcast by SBS and successfully passed 40 episodes.
This drama is about Sung Hae Sung, played by Yeo Jin Goo, a high school student who dies after being hit by a car on his birthday. In fact, Jung Jung Woon as his best friend prepared a surprise for him.
Time travel to 12 years after Sung Hae Sung's death, when his younger brother was an adult. Sung Hae Sung suddenly appeared on the roof of his school. This happened because a shooting star fell to earth on the day he died.
Sung Hae Sung met his girlfriend Jung Jung Woon when Jung Jung Woon was 31 years old, while Sung Hae Sung was still 19 years old.
My Absolute Boyfriend
Release year: 2019
Genre: Romantic Comedy, Science Fiction
Production: Apollo Pictures, iHQ
Director: Jung Jung-hwa
Actors: Yeo Jin-goo, Bang Min-ah, Hong Jong-hyun
My Absolute Boyfriend released in 2019 is about Um Da Da, a special makeup artist who has never had any luck in love. One day, Um Da Da finds Yeo Jin Goo, who plays a humanoid robot named Zero Nine. By chance, the two kiss, leading to Zero Nine's cyborg coming to life.
Later, Um Da Da also changed Zero Nine's name to Young Goo in the hope that he could become her perfect lover. And indeed, Young Goo has been quite successful in making women's lives more colorful since his presence. Robot Young Goo and human Um Da Da fall in love.
Orange Marmalade
Release year: 2015
Genre: Romance, Fantasy, Teen
Produce: A Song For You
Director: Lee Hyung-minChoi Sung-bum
Actors: Yeo Jin-goo, Kim Seolhyun, Lee Jong-hyun, Gil Eun-hye
The drama is based on the popular webtoon of the same name, broadcast on KBS2. This is the first drama Yeo Jin Goo takes on the lead role.
In the drama Orange Marmalade, he plays Jung Jae Min, a high school student whose strange body odor attracts a vampire named Baek Ma Ri.
Because of Jung Jae Min's stork body, Baek Ma Ri almost sucked Jung Jae Min's blood when biting his neck, when they were both sitting on the train. (Baek Ma Ri is sleeping so she doesn't know).
That awkward first meeting actually brought the two closer together. Jung Jae Min, who initially hated vampires, eventually fell in love. But, it was because he didn't know Baek Ma Ri was a vampire.
Baek Ma Ri continued to hide her true identity for fear of being shunned by people, especially Jung Jae Min. The character Baek Ma Ri is played by Seolhyun AOA, you know!
Starting her acting career in 2005, it is not surprising that Yeo Jin Goo now possesses excellent acting talent through many roles in a number of dramas. So, which movie do you prefer to see Yeo Jin Goo in?
Salenhanh – Product review blog
Address: 115 Nguyen Van Qua, Tan Hung Thuan Ward, District 12, Ho Chi Minh City
Website:  https://salenhanh.com/en
Mail: Salenhanh.com@gmail.com
#salenhanh #Reviewsalenhanh