The name Uhm Ki Joon is often known for his supporting roles in Korean dramas. Even so, he always attracts attention thanks to his skillful acting skills. Several roles have brought him to win awards from prestigious movie events in Korea. This year, Uhm Ki Joon skyrocketed again after taking on the villain role in the drama "The Penthouse".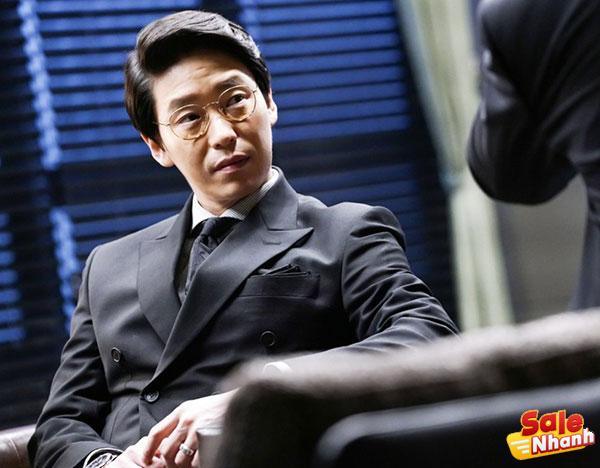 His portrayal of Joon Dan Tae further cemented his name as a critically acclaimed actor. The Penthouse is not his first TV series. Uhm Ki Joon joined the Korean film industry in 1995 through the musical Richard III. Some of the following TV series were also instrumental in making his name. Whatever? Let's see the explanation!
The Penthouse: War in Life 1
Release year: 2021
Genre: Suspense, Drama
Produce: Studio S (SBS)
Directed by: Joo Dong Min
Actors: Lee Ji Ah, Kim So Yeon, Eugene, Uhm Ki Joon, Bong Tae Gyu
Episodes: 21
It's warm. The TV series The Penthouse presents the battle for the prestige of the residents of high-end apartments in the middle of the city. They are born into upper-class families and are very ambitious to be the best in terms of social status, wealth, education of their children and others.
In The Pentouse season 1, Uhm Ki Joon plays Joo Dan Tae. He is a wealthy businessman who has developed a successful business in the real estate sector.
The Penthouse Season 2
Release year: 2021
Genre: Suspense, Drama
Produce: Studio S (SBS)
Directed by: Joo Dong Min
Actors: Eugene, Kim So Yeon, Uhm Ki Joon, Yoon Jong Hoon, Shin Eun Kyeong, Bong Tae Gyu
Episodes: 13
After the success of this series in the first season, in season 2, the conflict is still ongoing. In season 2, the focus of the story is on the life of Joon Dan Tae (uhm Ki Joon). Dan Tae and Cheon Seo Jin (Kim So Yeon) believe things will calm down once he gets rid of his love rival.
Two couples are getting married and they are planning to merge their company. However, they do not realize that Yoon Hee (Eugene) will become a roadblock going against their wishes.
Meanwhile, the situation at Hera Palace was heating up. The conflict that was still lingering in the first season seemed to escalate in the second season. However, that is not the end. Penthouse still has one more season slated to air mid-year.
Dream High
Release year: 2012
Genre: Music, Teen, Romantic Comedy
Produce: Cj Media
Directed by: Lee Eung Bok
Actors: Kim Soo Hyun, Bae Suzy, Ok Taecyeon, Jang Wooyoung, Ham Eunjung, IU
Episodes : 16 + 1 Special Episode
In 2012, the drama "Dream High" became famous as a musical drama with the participation of many idols. There are former Miss A members Bae Suzy, boy band members Ok Taecyeon and Wooyoung, solo singer IU, T-Ara's Ham Eun Jung, and many more.
By that time, Dream High had become a TV series loved by teen audiences. The film also stars JYP Entertainment boss Park Jin Young, telling the story of a group of Kirin high school students pursuing their dream of becoming a K-pop idol.
The curriculum at Kirin High School is dance, songwriting, singing and acting practice. This group of high school students help each other and strengthen each other when one of them is in trouble.
Uhm Ki Joon plays Kang Oh Hyuk, one of the teachers at Kirin High School, who is famous as a teacher who can make his students stars. He was close to the students and became a great supporter of their dreams.
I'm Not Robot
Release year: 2017
Genre: Romance, Comedy, Science Fiction
Produce: Sewing Queen Picture
Directed by: Jung Dae Yoon
Actors: Yoo Seung Ho, Chae Soo Bin, Uhm Ki Joon
Episodes: 16
Living with allergies certainly makes it difficult for us to lead a normal life. It makes us feel jealous of others who are free to do whatever they want without fear of harm. This is what happened to Kim Min Kyu (Yoo Seung Ho).
Min kyu is the CEO of a company operating in the financial sector. He suffers from a type of allergy to human contact. If he was touched, he would suffer and almost die from the effects he felt. Therefore, Min Kyu limited communication with people.
Min Kyu is then interested in investing in a development team to create a human robot that will later be named Aji 3. The team is headed by Hong Baek Gyun (Uhm Ki Joon).
The human robot, Aji 3, developed by Hong Baek Gyun and associates is very similar to Jo Ji ah (Chae Soobin). The development of the robot is complete and the development team only has to hand over the robot to Kim Mim Kyu.
The error occurred on the day the robot was to be delivered. The robot is broken so it doesn't work properly. Hong Baek Gyun asked Jo Ji Ah to pretend to be Aji 3.
This pretense turned out to be to get close to Min Kyu. Jo Ji Ah, who pretends to be the root of Aji 3 then becomes a good friend to help Min Kyu get rid of his allergies.
Heart Surgeons
Release year: 2018
Genre: Medical Drama
Produce: The Story Works
Directed by: Jo Young Kwang
Actors: Uhm Ki Joon, Go Soo, Seo Ji Hye
Episodes: 32
Heart Surgeons, also known as Thoracic Surgery: The Doctor Who Stole Your Heart, airs on SBS every Wednesday-Thursday drama. This medical drama follows the journey of a team of thoracic surgeons at a hospital.
Choi Suk Han (Uhm Ki Joon) works as a thoracic surgeon at the hospital. He is a doctor with skillful skill and insight. However, due to his background from a small university, his extraordinary talent is often underestimated by the elite university graduate doctors in the hospital.
But the choi suk han didn't flinch. He continues to struggle to prove that he is a competent doctor. This drama focuses heavily on Choi Suk Han's sales to showcase his ability in the medical world to doctors who are more senior than him.
The Man in Mask
Release year: 2015
Genre: Action, Romantic Comedy
Produce: Kim Jong Hak Production
Directed by: Jeon San
Actors: Joo Sang Wook, Kim Sun A, Uhm Ki Joon
Episodes: 16
The Man in Mask makes us think that truth and evil are both biased when something perceived as a crime is done to preserve justice.
This happened to Ha Dae Cheol's (Jang Sang Wook) character. He is a money-hungry prosecutor who will wear a mask at night and act as a judge rewarding those guilty above the law.
This illegal act was caused by his frustration with the legal system in Korea, which can be interfered with for the benefit of the rich.
Action movies are not too stressful. There is a spice of humor and romance between the masked prosecutor and detective Yoo Mih He (Kim Sun Ah), who turns out to be Ha Dae Chul's lover from his high school days.
Uhm Ki Joon in this drama plays Kang Hyun Woong, participating in the drama story featuring the adventures of the masked prosecutor.
World Within
Release year: 2008
Genre: Romantic Comedy
Produce: YEG Film Book
Directed by: Pyo Min Soo
Actors: Song Hey Kyo, Hyun Bin
Episodes: 16
This 60-minute drama tells the romantic story between professional actresses behind a drama. Song Hyeo Kyo and Hyun Bin have been asked to star in this drama. Uhm Ki Joon himself will play the role of Song Gyu Hon, a drama director.
World Within presents a realistic picture of the Korean television industry. There, the audience seems to be shown how the process of a drama is made.
In addition to the film's context, which feels very real, the audience also witnessed the conflict between Joo Joon Youn (Song Hye Kyo) and Jung Ji Oh (Hyun Bin). Many conflicts arise between the two main characters.
Innocent Defendant
Release year: 2017
Genre: Legal Drama, Thriller
Produce: Signal Entertainment Group
Directed by: Jo Young Kwang
Actors: Jisung, Uhm Ki Joon, Kwon Yuri
Episodes: 18
Ah, this time Uhm Ki Joon plays a movie with a legal theme. Drama Innocent Defendant is a drama that tells the story of Korean law enforcement.
This dramatic conflict begins when the prosecutor is falsely accused until he is sent to prison. Park Jung Woo (Jisung) is an honest and firm prosecutor who is accused of murder. During his career as a prosecutor, Park Jung Woo is known as someone who is not afraid of anyone.
Misfortune befalls him when he receives a murder case involving twin brothers Cha Suno and Cha Min Ho. Uhm Ki Joon plays twins Cha Suno and Cha Min Ho.
Cha Min Ho killed his brother and fled with a new identity to evade the law for the crime he committed.
One day, Park Jung Woo woke up from his sleep and found him in prison without remembering how he got into the cell.
The drama then focuses on Park Jung Woo's attempt to escape from prison and Cha Suno's cunning tricks to evade the law.
Many conspiracies and unusual events happened to him. Unfortunately, the amnesia he experienced made the situation worse, so he spent longer in prison.
Ghost
Release year: 2012
Genre: Mystery, Thriller, Detective
Directed by: Kim Hyun Sik, Park Shin Woo
Actors: So Sji Sub, Yoo Kang Min, Daniel Choi, Uhm Ki Joon
Episodes: 20
Despite the title of ghost, this drama does not have the horror genre that makes viewers get goosebumps. Ghost is about a cyber investigation regarding the discovery of the Hades virus.
Ghost airs on SBS and fills dramas Wednesday through Thursday. Kim Woo Hyun (So Ji Sub) is the son of a high-ranking official in the police.
He is the best graduate of the police academy. After graduating, he entered the police investigation department. Woo hyun and the group are tasked with destroying crimes committed by hackers.
It's Park Ki Young (Daniel Choi), the hacker Woo Hyun and his team have been looking for. He hides behind the name HADES. Ki Young and Woo Hyun are old friends. However, Ki Young's frustration with the police's honesty forced him to resign and defect.
He also became the most feared hacker in Korea. What hurts woo hyun the most is that his father is hiding a big secret that makes him unable to decide who to side with.
Due to his father's mistake, he is forced to become an accomplice of the top criminal, Jo Hyun Min (Uhm Ki Joon). This villain is a cold-blooded killer who can kill anyone mercilessly. And he is the mastermind behind the murder of artist Shin Hyo Jung (Esom).
However, he tried to cover it all up. With his cunning brain, he made people in the police force, including Woo Hyun's father, submit to him.
Shin Hyo Jung's death was declared a suicide. It's not so though. he is a victim of Jo Hyun Min's disgust. This is the secret that Woo Hyun and the group must reveal. Unfortunately, HADES was charged. Because he was in the position where the artist fell.
The key piece of evidence that could unlock the secret of the artist's death is a file on the artist's laptop. The pursuit of the killer continues. Technology has been deployed to find the mastermind behind all these tragic events.
This 1 hour and 5 minute film presents a lot of the technological sophistication that Korea has in revealing the real criminals and uncovering the great secrets of high-ranking police officers.
Scent of A Woman
Release year: 2011
Genre: Drama, Romance
Directed by: Park Hyun Ki
Actors: Kim Sun A, Lee Dong Wook, Seo Hyo Rim, Uhm Ki Joon
Episodes: 16
What would you do if you only had a few months to live? Lee Yeon Jae (Kim Sun A) likes to resign and do all the things he wants to do, one of which is to go to Japan.
Scent of Woman is a romantic drama that tells the story of Lee Yeon Jae, who was convicted of bile cancer. He discovered the deadly disease after being rushed to the hospital because of the accident he experienced.
Well, in this movie Uhm Ki Joon doesn't play the villain. But he is a doctor who finds a deadly disease in Yeon Jae's body. Oh yeah, turns out this doctor Cha Eun Seok (Uhm Ki Joon) is his childhood friend.
Hearing the verdict, Yeon Jae decided to enjoy the rest of her life. Arriving in Japan, he meets Kang Ji Wook (Lee Dong Wook). She fell in love with the man who later became Ji Wook's guide while in Japan.
The two later became close. However, that is where the misunderstanding originates. Ji Wook's fiance, Im Se Kyeong (Seo Hye Rim) arrives and reveals that Yeon Jae is an employee at her father's company who was fired for stealing a client's ring.
After returning to Korea, Ji Wook finds Yeon Jae and wants to resolve the misunderstanding in Japan at that time. Ji Wook doesn't know anything about Yeon Jae's illness, so he feels frustrated with her closed attitude. Their relationship eventually becomes strained.
Another factor that makes their relationship not so smooth is that Ji Wook's father doesn't like Yeon Jae. And surprisingly, it turned out that the day before Cha Eun Seok's doctor had put his heart on Yeon Jae.
This love triangle is even more interesting because the ending of this movie is not as funny as the beginning. Regarding the final episodes, there are many sad stories that move the audience.
Good Job
Release year: 2009
Genre: Family, Romance
Directed by: Song Hyeon Seok,
Actors: Chae Rim, Uhm Ki Joon, Kim Eung Soo, Kim Jung Hwa
Episodes: 40
The 40-episode drama tells the journey of Choi Seung Hyun (Uhm Ki Joon) to get love from Lee Kang Joo (Chae Rim). Full of twists and turns facing a man who sincerely accepts Kang Joo's past is revealed one after another.
The story begins with a sad love journey between Lee Kang Joo and Yoo Ho Nam (Kim Seung Soo). Both are lovers. However, Kang Joo had to leave Ho Nam because he was studying abroad.
Ho Nam did not know that Kang Joo was pregnant with her child. After many years have passed, Ho Nam returns to Korea and decides to find Kang Joon to mend their broken relationship while he is abroad.
Of course Kang Joo refused. And he hid the fact that they had a child together from a previous relationship. Kang Joo, who claims to be Byul's brother, tries to cover up the identity of Byul (Jung Min Seo), Ho Nam's son. However, the truth is revealed when Byul has an accident.
On the one hand, Choi Seung Hyun likes Kang Joo and intends to marry him. He doesn't even know who Byul really is. Seung Hyun is the son of Jung Soo Hee (Jung Ae Ri), the director where Kang Joo works.
Jung Soo Hee doesn't like her son's relationship with his staff. he was staunchly against it. But Seung Hyun is adamant with his love for Kang Joo, damaging the mother-daughter relationship.
Sensing the cause of the quarrel between mother and son, Kang Joo resigned from the place where he worked.
Over time, Seung Hyun discovers that Byul is Kang Joo's son with Ho Nam. he is very angry. The good thing is that his love has not faded because of the secret that Kang Joo has kept for many years. he still loves Kang Joo very much.
The problem is that the appearance of Ho Nam brings a new challenge on Seung Hyun and Kang Joo's love journey. He wants to take Byul. Things become even more complicated when Hunan's fiancé finds out the secret. The situation is getting worse and worse with many plots to get Byul.
I Can Hear Your Voice
Release year: 2013
Genre: Legal Drama, Romance, Fantasy, Comedy
Directed by: Jo Soo Won
Actors: Lee Boyoung, Lee Jong Suk, Yoon Sang Hyeon, Lee Da Hee, Uhm Ki Joon ( Cameo )
Episodes: 18
Although it was only a guest appearance in this drama starring Lee Jong Suk and Lee Boyoung, the appearance of Uhm Ki Joon, who plays Uhm's lawyer at the company where Hye Seong works.
He is very excited, when there is remuneration for his work. However, after learning that no service charges would be reimbursed, his enthusiasm immediately vanished. he even resigned from the law firm.
I Hear Your Voice is a fantasy drama that focuses on a person who has the ability to read other people's minds. The main characters in this drama are Park Soo Ha (Lee Jong Suk) and Jang Hye Seong (Lee Bo Young).
Park Soo Ha is a high school boy who can read minds just by looking into the eyes of others. Meanwhile, Jang Hye Seong is an aspiring lawyer who loves money.
Soo Ha and Hye Seong met as children at a courthouse where the most ruthless criminal Miin Joon Kook (Jung Woong In) became the defendant for the accident that happened to Soo Ha's parents.
Hye Seong is a witness who witnessed the accident that claimed the lives of Soo Ha's parents, which was caused by Min Joon Kook. In the end, he was sentenced to 26 years in prison.
The sentence he received made Hye Seong even more averse. Because of his teenage years, the plan to avenge the death of Min Joon Gook's wife failed. Min Jon Gook's grudge against Hye Seong puts his life in danger.
After getting out of prison, Min Joon Gook chased Hye Seong and spread terror. Soo Ha, who knows the story, volunteers to live with him so that he can take care of him.
Although there is a big age gap, the chemistry between these two actors and actresses is very strong. Characters Soo Ha and Hye Seong can balance each other.
Is it stressful? Those are some of Uhm Ki Joon's dramas that are fun to watch. The seasoned actor who is often annoying with the villain role is also starring in the TV series Penthouse season 3 which will soon air in the middle of this year.
What is the role? For those of you who've watched the conflict-ridden film, you can certainly guess which character will be played by the actor who started out as a musical actor. So are you ready to see this actor's amazing acting? Looking forward to broadcasting.
Salenhanh – Product review blog
Address: 115 Nguyen Van Qua, Tan Hung Thuan Ward, District 12, Ho Chi Minh City
Website: https://salenhanh.com/en
Mail: Salenhanh.com@gmail.com
#salenhanh #Reviewsalenhanh