Uhm Ji Won started her acting career in 1996. Starting from small roles, Uhm Ji Won's career further flourished in the following years. Uhm Ji Won's performance as an actress began to receive prestigious recognition after being nominated as Best Supporting Actress at the 2004 Blue Dragon Film Awards.
Some of Uhm Ji Won's films and dramas began to entertain the audience. Uhm Ji Won recently garnered admiration for her acting in the drama Little Women (2022). So what is the best movie of this beautiful actress born in 1977? We've picked ten titles for you!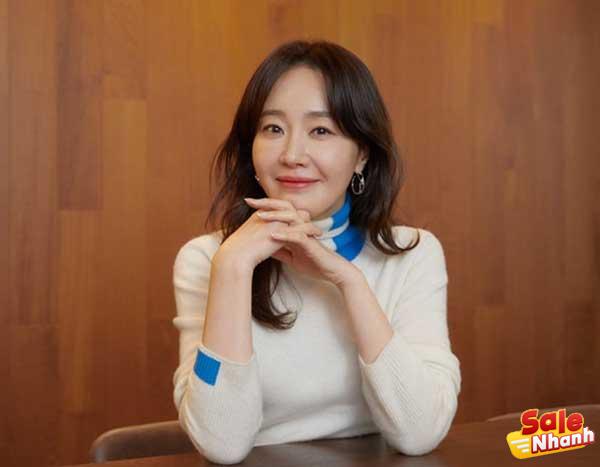 Little Women
Release year 2022
Genres Action , Crime , Drama , Family , Mystery , Teen , Thriller , Workplace , Youth
Director Kim Heewon
Cast Kim Go Eun Nam Ji Hyun Park Ji Hoo Wi Ha Joon Uhm Ji Won Uhm Ki Joon
Uhm Ji Won's drama Little Women (2022) is a loose adaptation of the novel by Louisa May Alcott. Written by Jeong Seo Kyung, it tells the story of three siblings struggling with financial difficulties.
Their already difficult lives are further complicated when they are indirectly involved with a lawyer and his money. Oh In Ju as the eldest brother is surprised to discover that his only friend at the office has died and left behind a lot of money.
The money turned out to belong to Park Jae Sang, a lawyer and politician with a positive image but with a terrible secret. Park Jae Sang's wife Won Sang Ah played by Uhm Ji Won is equally terrifying. Both put the brothers' lives in danger.
Birthcare Center
Release year 2020
Genres Comedy, Drama, Life
Director Park Soo Won
Cast Uhm Ji Won Park Ha Sun Choi Ri Jang Hye Jin Yoon Park
Uhm Ji Won's drama Birthcare Center (2020) asks the actress to play a woman with an illustrious career. Named Oh Hyun Jin, Uhm Ji Won here is the youngest member of the executive ranks in his office.
She was used to doing things well and was very good at it, but when she gave birth to her first child, Hyun Jin had a hard time. To her surprise, the birth was much more difficult than she had imagined.
Too busy working, he doesn't have any clue about it. After being discharged from the hospital, Hyun Jin decided to go to a postpartum care center. Hyun Jin was even more surprised because it turned out that she was the oldest mother there. He is also insecure because everyone seems to know how to take care of a baby.
Movie Golden Wagon
Release year 2002
Genre Drama, Family
Director Lee Hyung Sun
Cast Im Ji Eun Uhm Ji Won Lee In Hye Lee Joo Hyun
Golden Wagon (2002), a retro drama starring Uhm Ji Won, has an equally interesting story. Here she plays Soon Jung, Yoo Jung's half-sister. Conflict begins when Yoo Jung meets and falls in love with a rich man.
From that relationship, Yoo Jung became pregnant. Unfortunately his girlfriend's family is against it. They offered to compensate Yoo Jung if she wanted to have her uterus removed. Yoo Jung refused and decided to still give birth to a son for him.
However, when the son was born, he was very cold so Soon Jung had to take care of him. Yoo Jung falls in love with a rich man, and so does Soon Jung, but then something unexpected happens between them.
Movie Spring Turn to Spring
Release year 2019
Genre Drama, Fantasy
Director Kim Sang Ho , Park Seung Woo
Cast Lee Yoo Ri Uhm Ji Won Choi Byung Mo Lee Jong Hyuk
Spring Turn to Spring (2019) is Uhm Ji Won's drama with the theme of body swapping or body swapping between two different people. In this drama, Uhm Ji Won plays Lee Bom, a famous actress who is now the wife of a lawmaker. Since then, Lee Bom has only focused on taking care of her family.
Mysteriously, he is in a confusing situation because he swaps bodies with a TV news announcer named Kim Bo Mi.
Although confused, the two decided to enjoy the time of body swap. Strangely, their bodies never returned to their original position even though they took the secret potion.
The Cursed Season 1
Release year 2020
Genre Drama , Fantasy , Mystery , Horror
Director Kim Yong-wan
Cast Uhm Ji Won Jung Ji So Sung Dong Il Jo Min Soo
Uhm Ji Won used to play the role of a reporter in the drama "Curse Part 1" (2020). Playing the role of Im Jin Hee, she is a reporter passionate about her job. One of the cases where he is passionate about reporting involves the largest IT company in Korea, Forest.
Jin Jong Hyun as the leader of Forest turns out to actually rely on and believe in magicians. During the investigation, Im Jin Hee discovered that there was a spiritual consulting company connected with Forest.
The head of the consulting company is named Jin Kyung. While exploring the roots of the Forest, Im Jin Hee met So Jin, a person possessed by a spirit.
Falsify
Release year 2017
Genre Drama, Horror
Director Lee Jung Heum
Cast Namkoong Min Yoo Joon Sang Uhm Ji Won Jeon Hye Bin Moon Sung Geun
Falsify (2017) is a political and journalistic drama starring Uhm Ji Won with actor Nam Goongmin. In this drama written by Kim Hyun Jung, actress Ji Won plays Kwon Sora, he is a prosecutor specializing in cases of human exploitation.
To solve the case, Sora teams up with Han Moo Young. Han Moo Young is a former gold medalist judo athlete who switched careers to become a journalist.
Moo Young is interested in human trafficking cases under the guise of a motorcycle gang crime. He then cooperates with a policeman named Chan Woo. After conducting a search, Moo Young suspects someone related to his brother's death.
Sign
Release year 2011
Genres Crime , Mystery , Horror
Director Jang Hang Jun
Cast Kim Ah Joong Jung Gyu Woon Park Shin Yang Uhm Ji Won Jeon Kwang Ryul
Go Da Kyung is a passionate rookie investigator. He is paired with famous forensic doctor Yoon Ji Hoon. Initially, the two conflicted because of different investigative styles.
In addition, their personalities are also different. Da Kyung is so excited that stubborn Ji Hoon feels tired.
However, the two still have to work together to uncover the truth through the lens of science. Sign (2011) is a drama chronicling the life and hardships of a forensic doctor at the National Institute of Scientific Investigation. In this movie, Uhm Ji Won plays Jung Woo Jin.
The Women Who Still Wants to Mary
Release year 2010
Genre Comedy, Drama, Romance
Director Kim Min Shik
Cast Park Jin Hee Uhm Ji Won Wang Bit Na Kim Bum Choi Chul Ho Lee Pil Mo
Shin Young, a 34-year-old journalist wants to find love but it's hard to keep a positive attitude amid high work pressure. No wonder the relationships he lives in often fail.
When she feels she has no chance to have a relationship with someone anymore, Shin Young meets a musician ten years her junior.
Uhm Ji Won as Da Jung, is a Korean-English translation who desperately wants to get married in a year's time. Unfortunately, Da Jung is easily disgruntled with men who approach her. The film, directed by Kim Min Shik, also stars Kim Bum, Choi Chul Ho and Lee Pil Mo.
Childless Comfort
Release year 2012
Genre Drama, Family
Director Jung Eulyoung
Cast Uhm Ji Won Yoo Dong Geun Kim Hae Sook
Uhm Ji Won's Childless Comfort (2012) offers a touching story. He tells the story of a large family living in a beautiful village.
There was So Yeong, Hee Jae's eldest daughter and Ho Shik and Keum Shil's granddaughter. So Yeong hides her pregnancy secret from her extended family.
When it came time to give birth, the whole family panicked. The problems in the extended family are not only So Yeong's pregnancy and birth, but also Dae Gi's.
He is So Yeong's cousin, who has to stand in the middle of a conflict between his mother and his wife. This movie shows the sincerity of parents' love for their children.
Can Love Become Money
Release year 2012
Genre Comedy, Romance
Director Han Cheol-soo
Cast Uhm Ji Won Yeon Jung Hoon Wang Bit Na Jo Yeon Woo
Can Love Become Money (2012) has a typical story in old Korean dramas about the relationship between a rich man and a girl who struggles to make ends meet.
Here, Uhm Ji Won plays the girl; a girl named Yoon Da Ran. Yoon Da Ran's life changes when the heir to the family fortune, Ma In Tak, makes a strange proposal to him.
Ma In Tak manages his family's hotel. He is a rich kid who values ​​everything with money. His grandmother gave him an inheritance, but on the condition that Ma In Tak get married first.
Ma In Tak has no plans to get married, but his uncle, who wants to inherit the property, finds him a girl. The choice fell on Yoon Da Ran. Will Da Ran accept it?
Uhm Ji Won and her long career have produced many quality dramas. It is interesting that Uhm Ji Won's films have many different genres and stories. You can choose between investigative dramas or touching life dramas. Out of the ten dramas above, which one do you like the most?
Salenhanh – Product review blog
Address: 115 Nguyen Van Qua, Tan Hung Thuan Ward, District 12, Ho Chi Minh City
Website:  https://salenhanh.com/en
Mail: Salenhanh.com@gmail.com
#salenhanh #Reviewsalenhanh