Tobey Maguire is an American actor and producer with 20 years in the acting world. He made his acting debut in the 1989 film The Wizard, then went on to star in several television series until his career peaked in the 2000s.
Many Vietnamese people who like to watch movies know his face, but don't know his name. If you are not familiar with the name Tobey Maguire, you probably know him when he played the character Spiderman in 2002. Also, he has acted in many other movies as well, you know! Let's discuss, 10 movies of Tobey Maguire, the actor who was once Spider-Man!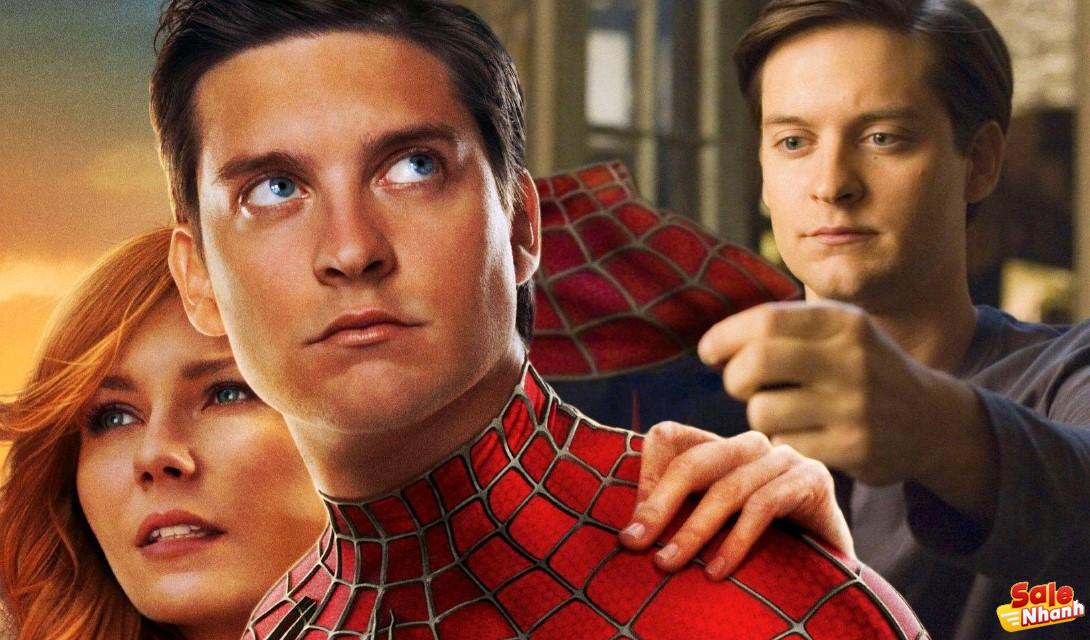 Spider-Man [2002]
Release year : 2002

Genre: Action, Adventure, Science Fiction

Directed by: Sam Raimi

Actors: Tobey Maguire, Kirsten Dunst, Willem Dafoe

Production company: Columbia Pictures, Marvel Enterprises, Laura Ziskin Productions
Peter Parker is an abandoned orphan in the community. One day, he was bitten by a spider that was being used as a test subject. He didn't think the bite gave him the ability to turn him into a superhero. An extraordinary power suddenly appeared within him.
Tobey plays Peter Parker in Superman. Rami actually targeted Tobey for the role from the start, although he eventually auditioned to convince himself. Because his physique is far from becoming a superhero character, Tobey has practiced martial arts, yoga, climbing, posing to learn things about spiders.
The Good German [2006]
Release year : 2006

Genre: Drama, Mystery, Romance

Directed by: Steven Soderbergh

Actors: George Clooney, Cate Blanchett, Tobey Maguire

Production company: Sunset Gower Studios, Warner Bros., Section Eight
After World War II, Jake Geismar was sent to Berlin to cover the Potsdam Conference. An important event for post-World War II Germany Here Jake secretly reunites with his long-lost ex-girlfriend, Lena Brandt. The mission turns into another overarching mission as Jake gets dragged into a murder mystery.
Tobey plays Tully, Jake's driver who knows the German black market. The film is adapted from the novel of the same name by Joseph Kannon. The film stars George Clooney and Cate Blanchett as the main characters. Although Tully's character is the driver, this character has a great influence on the plot of this movie.
Brothers [2009]
Release year : 2009

Genre: Action, Drama, Horror

Directed by: Jim Sheridan

Actors: Jake Gyllenhaal, Natalie Portman, Tobey Maguire

Production company: Lionsgate, Relativity Media, Sighvatsson Films
Sam and Tommy Cahill are two brothers with two different characteristics. Sam is a US Navy officer while Tommy's life is chaotic and even jailed.
Sam on duty in Afghanistan was declared missing. His wife and two children were in mourning after the incident. Tommy arrives to take the place of his brother. Tobey plays Captain Sam Cahill.
He was not killed but was taken prisoner by the Afghan insurgents. After returning to work, Sam's character changed dramatically because of the trauma he went through. His performance in the film earned Tobey a Best Actor nomination at the 2010 Golden Globe Awards.
The Great Gatsby [2013]
Release year : 2013

Genre: Drama, Romance

Directed by: Baz Luhrmann

Actors: Leonardo DiCaprio, Carey Mulligan, Joel Edgerton

Production company : Warner Bros., Village Roadshow Pictures, A + E Networks
Nick Carraway, a veteran with depression and alcoholism. The only thing that impressed him was the silhouette of Gatsby, a pompous man who loved to party. This movie tells the story of Gatsby from Nick's point of view as he is the only one who knows what really happened to Gatsby.
Tobey plays the innocent but kind Nick Carraway. He collided with his childhood friend, Leonardo DiCaprio. If you like movies with vintage visuals, extravagant clothes, and lavish parties from the upper classes, then The Great Gatsby is a definite must-see.
Pleasantville [1998]
Release year : 1998

Genre: Comedy, Drama, Fantasy

Directed by: Gary Ross

Actors: Tobey Maguire, Jeff Daniels, Joan Allen

Production company : New Line Cinema, Larger Than Life Productions
Jennifer and David are siblings who both love the TV show Pleasantville. When their TV remote breaks, the repairman says they can fulfill David's wish, who wants to live in Pleasantville. After pressing a button on the remote, they did indeed enter Pleasantville.
Tobey plays David while Jennifer is played by Reece Whiterspoon. David feels comfortable in Pleasantville while his brother struggles to adjust to his new life in black and white. David's innocence changes when he realizes that life on his favorite series isn't as pretty as real life.
Wonder Boys [2000]
Release year : 2000

Genre: Comedy, Drama

Directed by: Curtis Hanson

Actors: Michael Douglas, Tobey Maguire, Frances McDormand

Production company: British Broadcasting Corporation (BBC), H2L Media Group, MFF Feature Film Productions
Grady Tripp is a professor of creative writing. He has just failed in a romantic relationship and is repeating the success of his first novel. He had two students, James and Hannah, who were also gifted in the world of writing. The three of them go on a dangerous adventure at a party.
Tobey plays James Leer, a quiet, dark-looking young man who loves to write novels. In his adventures with Grady, James tells about his unhappy life that Grady sympathizes with, even though he always harbors doubts. A comedy that shows how each character has their own problems
Ride with The Devil [1999]
Release year: 1999

Genre: Drama, Romance, War

Directed by: Ang Lee

Actors: Tobey Maguire, Skeet Ulrich, Jewel Kilcher

Production company : Universal Pictures, Good Machine
During the American Civil War, Jake Roedel and Jack Bull Chiles joined The Jayhawkers. They then befriend Daniel Holt, a former slave who wants to fight on the same path as Jake and Chiles. Unfortunately, Chiles had to die in the struggle to leave his pregnant girlfriend, Shelley.
Tobey plays Jake Roedel. This film, which tells the story of American history, is nicely combined with the emotions and tensions of the Civil War. Among other films, Tobey takes on a very serious role in the series that features a lot of guests with big names.
Joyride [1997]
Release year : 1997

Genre: Comedy, Crime, Drama

Directed by: Quinton Peeples

Actors: Tobey Maguire, Amy Hathaway, Wilson Cruz

Production company : Trillion Entertainment
JT is the son of a motel owner. He flirts with Tanya, a guest at the motel. JT takes James, his best friend, and Tanya for a walk around town. The selected car belonged to a hotel guest named Ms. Blacksmith. It turned out that in the trunk was the body of a man and they were in an accident.
In the movie Joyride, Tobey plays JT, a boy who always wants to have fun, Tobey has no trouble playing him. About the story, Joyride contains many interesting things when the characters in it trap each other to save themselves until something unexpected happens at the end.
The Cider House Rules [1999]
Release year: 1999

Genre: Drama, Romance

Directed by: Lasse Hallstrom

Actors: Tobey Maguire, Charlize Theron, Michael Caine

Production company: FilmColony, Miramax, Nina Saxon Film Design
Homer is a child in an orphanage cared for by Dr. Wilbur Rach. Homer was unlucky as he always wasn't adopted, but thanks to Wilbur he was able to study medicine without going through formal school. Homer chooses to run away from the orphanage while Wilbur plans to pass it on to Homer.
Tobey plays Homer, a young man with high curiosity. Besides, he was an idealistic young man, although in the end his heart was moved to return to the orphanage and help Wilbur. Set in an orphanage, this film attempts to highlight how the problems and circumstances of that place shape a person's character.
Pawn Sacrifice [2014]
Release year : 2014

Genre: Biography, Drama, Sports

Directed by: Edward Zwick

Actors: Tobey Maguire, Liev Schreiber, Peter Sarsgaard

Production company : Gail Katz Productions, MICA Entertainment, Material Pictures
In 1951, Bobby Fischer's mother said he was being watched by the FBI for supporting the Marxist revolution in America. Bobby turned to chess and even became the youngest champion in the grandmaster tournament. As he grew older, Bobby's abilities became more and more honed and he had to participate in a tournament that brought him together with the Soviet Union.
Tobby plays Bobby Fischer. Despite his excellent chess skills, he is paranoid and often delusional. In addition, the thing that bothered him the most during the match was the noise in the form of background noise. Bobby fought it all and fought the most iconic chess match against Boris Spassky.
If you haven't seen any of Tobey Maguire's movies, you should start watching the Spider-Man movie that was released in 2002. His appearance in that movie will have you on the hunt for other films by Spider-Man. Tobey Maguire. Don't forget to share your opinion in the comment section after watching, OK!