Motokare Retry season two has officially aired in May 2022. Suzuki Jin is once again trusted to play the role of Hirako Kaede. The story in this movie focuses on Kaede's friendship with Kazuha Yamashita (Yoshida Jinto). They have a special way of maintaining friendships.
In this movie, Suzuki Jin stands out even more. His acting skills are even more convincing. However, this is not Suzuki Jin's only 'stage' that makes him stand out even more. There are still many other successful TV series in which he starred. Here are some of them.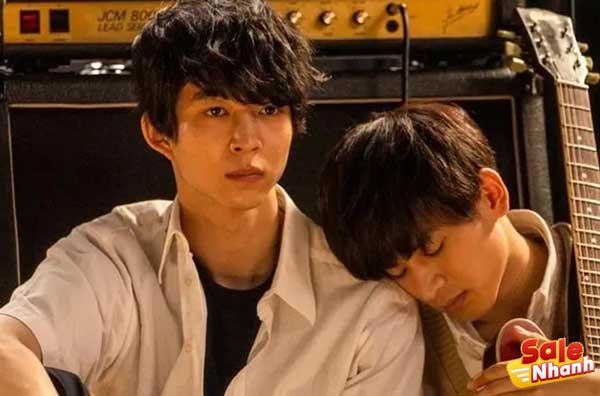 Motokare Retry
Release year: 2022
Episodes: 8
Genre: Romance, Drama
Produce: Mbs
Director: Ikeda Chihiro
Actors: Suzuki Jin, Kawazu Asuka
Mitsu (Kawazu Asuka) is a schoolgirl who is hurt in love. His messy relationship with his ex-girlfriend from high school was still on his mind.
After entering college, he thought about finding a new love. However, he is the neighbor of his ex-girlfriend Hirako Kaede.
It's been 5 years since Mitsu saw the man who was now even more handsome. He wants to forget about his old love and enjoy his college years well. Instead, however, she is trapped between her now more mature ex-boyfriend and her best friend, Jinto Yoshida.
Bokura Ga Koroshita Saiai No Kimi
Release year: 2021
Episodes: 6
Genre: Horror, Romance
Quantity: –
Director: Shibata Keisuke
Actor: Takahashi FumiyaSuzuki Jin
The reunion of seven elementary school friends turns into a brutal massacre. Seven friends met after a long time not seeing each other.
However, seven people, including Ozaki Hajime (Suzuki Jin) and Kkobayashi Rei (Takahashi Fumiya), are locked in a room. They are also suspicious of each other.
The suspicion was exacerbated by the betrayal of the people in the room. Not to mention the feeling of euphoria makes the condition more dramatic and terrible. Will they get out safely?
Given
Release year: 2021
Episodes: 6
Genre: Music, Romance, Youth, Drama
Produce: Fuji TV
Director: Miki Koichiro
Actors: Suzuki Jin, Sanari, Inowaki Kai, Yanagi Shuntaro
Mafuyu Satou (Sanari) is finally determined to learn guitar from Ritsuka Uenoyama (Suzuki Jin). His meeting with Ritsuka convinced him that he would pursue music.
On that day, he was scolded by Ritsuka for letting his Gibson guitar strings break and rust. Realizing that Ritsuka understands musical instruments, Mafuyu asks him to play with her.
Ritsuka agreed and he brought Mafuyu to join his bandmates, Haruki Nakayama (Yanagi Shuntaro) and Akihiko Kaji (Inowaki Kai). Apparently Mafuyu has a melodious voice. Then he became a singer.
At first, Mafuyu refused, but he was convinced by his friend that vocals were the right position for him. However, it seems Mafuyu doesn't just have to deal with playing guitar and vocals. He also encounters unexpected circumstances that lead him to the owner of the original guitar he had.
Omimi Ni Aimashitara
Release year: 2021
Episodes: 12
Genre: Food, Drama
Produce: Tv Tokyo
Director: Matsumoto Soushi
Actors: Itou Marika, Igeta Hiroe, Suzuki Jin
This film follows the journey of Takamura Misono (Itou Marika), an employee at a company that produces tsukemono (preserved vegetables). He has a habit of listening to podcasts while eating bento boxes bought at fast food restaurants.
The girl is not good at getting along with others. However, he has a warm personality and always shows enthusiasm when it comes to the things he likes. One day, Sudo Arisa (Igeta Hiroe) gives him a suggestion to create his own podcast.
Misono also followed the advice. He started recording a podcast he called Omimi ni aimashitara. His colleague Sasaki Ryohei (Suzuki Jin) joins Misono. This is where the girl's unique personality is seen.
30 Kin Sore Wa 30-Sai Miman Okotawari No Koi
Release year: 2020
Episodes: 8
Genre: Drama, Romance
Produce: Fuji TV
Director: Miyawaki Ryo
Actor: Matsui RenaSuzuki Jin
Moriyama Shino (Matsui Rena) is a 30-year-old woman with a stable job. His life is fine, but he doesn't have a happy love life.
Shino was thinking about dating and marrying a man her age. However, he instead meets Mayuki Sato (Suzuki Jin), a man 9 years younger than him.
Mayuki frankly expressed her feelings, and that surprised Shino. However, he couldn't hide his impression of her straightforward attitude. Though reluctant, Shino agrees to have a relationship with him until he finds his true other half.
3 Nen A Gumi: Ima kara Mina-san wa, Hitojichi Desu
Release year: 2019
Episodes: 10
Genre: Action, Horror, Mystery, Psychological
Produce: NTV
Directed by: Komuro Naoko Suzuki Yuma
Actors: Suda Masaki, Nagano Mei
Hiiragi Ibuki (Suda Masaki) is busy preparing for her graduation. However, he gathered all the students in class 3-A and held them hostage. He wants to investigate the death of a student who died a few months after graduation.
If no one wants to admit who killed the students, Hiiragi threatens not to graduate all of his students. In this Japanese drama, Suzuki Jin appears as Satomi Kaito. He appeared briefly to complete this enigmatic tale.
Kieta Hatsukoi
Release year: 2021
Episodes: 10
Genre: Comedy, Romance, Life, Youth
Produce: Tv Asahi
Directed by: Kusano ShogoHorai Tadaaki
Actor: Michieda Shunsuke Meguro Ren
This movie is based on the manga of the same name by Aruko. The story in this movie begins with the misunderstanding of Aoki Sota (Michieda Shunsuke), who falls in love with Hashimoto Mio (Fukumoto Riko). His heart fluttered when he saw Mio's eraser with Ida Kousuke (Meguro Ren)'s name written on it.
Writing your idol's name on an eraser is said to melt their heart. Aoki is also sure that Mio likes Ida. However, Ida sees the eraser in Aoki's hand and she sees her name written on it. He even thought Aoki liked him.
The misunderstanding between the three makes Aida Hayato (Suzuki Jin) who is Aoki's friend also stunned. He doesn't know how to explain the real problem to all parties.
Horimiya
Release year: 2021
Episodes: 7
Genre: Comedy, Romance, School, Youth
Produce: MBS TBS
Directed by: Matsumoto HanaYoshino Mamoru
Actors: Suzuka Ouji, Kubota Sayu
Hori Kyoko (Kubota Sayu) is a popular female student at school. He is sociable and friendly. What most people don't know is that Hori rarely has time to spend with friends other than school.
I have to replace my mother to take care of the house and take care of you. Besides studying, Hori's daily activity is doing housework.
Meanwhile, Izumi Miyamura is a gloomy otaku. He never socialized with anyone in his class. Others consider Izumi to be a difficult person to approach. Nine earrings and tattoos make him more respected.
However, this child really has a soft and warm heart. Coincidentally, the two of them were brought together until each saw a different side that no one around them had ever known. Izumi finally has a close friend named Ishikawa Toru (Suzuki Jin).
Keishichou Sousa Ikka Chou Season 5
Release year: 2021
Episodes: 10
Genre: Mystery
Produce: TV Asahi
Director: Ikezawa Tatsuya
Actor: Naito Takashi
The Tokyo Metropolitan Government has established the first Investigative Division to deal with special cases. The division has 400 elite detectives headed by Oiwa Junichi (Naito Takashi). He is in charge of handling cases of brutal crimes that occurred in Tokyo.
In addition, he is also the person in charge of deciding on investigative measures for cases at a critical stage. However, he is clearly not a superman. He still needs his other colleagues to help him.
Oiwa realizes that no matter how brilliantly she works, she is only human and the ideal boss for her subordinates who still need teamwork.
In this mystery genre movie, we can see the appearance of Suzuki Jin, even if only briefly. He only appeared in episode one as Katsumata Katsuki.
Reverse
Release year: 2017
Episodes: 10
Genre: Horror, Mystery, Psychological
Produce: FFB
Directed by: Tsukahara Ayuko, Yamamoto Takeyoshi, Murao Yoshiaki
Actors: Fujiwara Tatsuya, Toda Erika
Fukase Kazuhisa (Fujiwara Tatsuya) is a university graduate worker. The man is famous for his mediocrity and quiet life. His only hobby is drinking coffee. however, coffee leads him to Mihoko Ochi (Erika Toda), who later becomes his lover.
One day, Ochi receives an anonymous letter that reads: "Fukase Kazuhisa is a murderer." Ochi thinks it's time for her to face what happened 10 years ago.
The always-forgotten incident is related to the death of his friend, Hirosawa Yuki (Koike Teppei). He died in a skiing accident along with other college friends.
Fukase was also involved in the incident. After those 10 years, Fukase is finally ready to reveal the truth so that no one around him gets hurt anymore.
In this story based on the novel titled Reverse by Minato Kanae, Suzuki Jin is given a small role as Sagara Ryohei.
So, those are the 10 best dramas by young Japanese actor Suzuki Jin. The actor is a model, and it was the modeling world that began his journey in the Japanese entertainment industry.
Before deciding to try his luck as an actor, he auditioned for a magazine. In 2017, he even became an exclusive model for Men's Non-no magazine. Out of the ten movies above, which one have you seen?
Salenhanh – Product review blog
Address: 115 Nguyen Van Qua, Tan Hung Thuan Ward, District 12, Ho Chi Minh City
Website:  https://salenhanh.com/en
Mail: Salenhanh.com@gmail.com
#salenhanh #Reviewsalenhanh