Who would have thought that this man with a straight, well-proportioned body, a butterfly swimmer, a member of the Korean national team would be successful in the entertainment industry?
After falling in love with sports since 2006, Sung Hoon tried his luck as an actor due to a spinal injury, this is also the reason why Sung Hoon underwent bone transplant surgery and performed his duty. short-term military.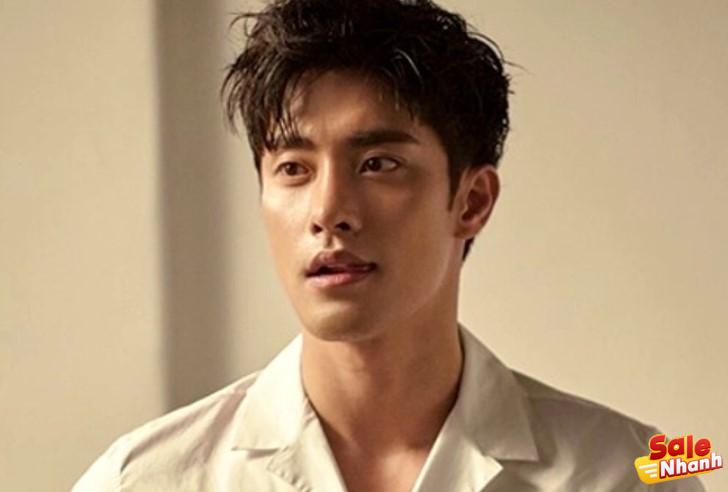 Moreover, despite having no experience in the acting or modeling world, Sung Hoon immediately took on the lead role in the drama "New Tales of Gisaeng" in 2011.
Sung Hoon's debut as a successful actor earned him his first award, which was Best New Actor in the SBS Acting Awards. So far, Bang In Kyu, also known as Sung Hoon, has appeared in 15 dramas, 2 movies as well as 6 music videos.
Love (ft. Marriage and Divorce) (2021)
Release year: 2021

Genre: Drama

Produce: Jidam Inc., Chorokbaem Media

Directed by: Yoo Jung-joon, Lee Seung-hoon

Actors: Sung Hoon, Lee Tae-gon, Park Joo-mi, Lee Ga-ryeong, Lee Min-young, Jeon Soo-kyeong, Jeon No-min
The film's theme, which showcases family conflicts and infidelity, always seems to succeed in capturing the audience's interest. This is evidenced by the movie Love (ft. Marriage and Divorce), which has achieved a positive rating.
This drama tells the family story of three different couples, namely Lee Si Eun & Park Hae Ryun, then Sa Pi Young & Shin Yoo Shin, and also Pan Sa Hyeon & Boo Hye Ryung. These three husbands and wives describe many family problems that occur in the daily lives of couples in their 30s, 40s, and 50s.
Sung Hoon himself plays Pan Sa Hyeon, a man who cheats because his wife doesn't care enough and doesn't want to have children. Then what about the conflict of the other two couples? Watch the excitement of the movie live!
Level Up (2019)
Release year : 2019

Genre: Romantic Comedy

Produce : iHQ, ANEW

Director : Kim Sang Woo

Actors: Sung Hoon, Han Bo-reum

Episodes : 12 episodes
Aired on MBN, the drama "Level Up" has 12 episodes. This romantic and comedy genre drama tells the story of Ahn Dan Te, played by Sung Hoon. Ahn Dan Te is a perfectionist director of a restructuring company.
Ahn Dan Te is also a cold guy, always appearing with a cold face. While Shin Yeon Hwa, the woman Dan Te met, has an inversely proportional personality.
Shin Yeon Hwa is a leader whose life is full of enthusiasm and joy. The character Yeon Hwa is played by Han Bo Reum. This drama is animated by several other artists such as Cha Sun Woo and Kang Byul.
Trouble arose when Ahn Dan Te was asked to team up with Yeon Hwa, played by Lee Byung Joon, to save his game company Joybuster. Things get complicated because the two never agree on anything.
Secret Romance (2017)
Release year : 2017

Genre: Romantic Comedy

Produce : Godin Media, DramaFever

Director : Kang Cheol-woo

Actors: Sung Hoon, Song Ji-eun, Kim Jae-young, Jung Da-sol

Episodes : 14 episodes
Sung Hoon is back with the lead role in the drama "Secret Romance". Here, he plays Cha Jin Wook, the heir to the largest company in Korea. Cha Jin Wook is known for having a bad attitude such as perfectionism, not caring about people around him, and often acting childish.
In addition, Cha Jin Wook has never been serious about love, often changing women and living a long life from one nightclub to another.
Until he meets Lee Yoo Mi played by Song Ji Eun, an innocent and pure woman who is hired as a nutritionist at Cha Jin Wook's company while on the bus. Apparently, Cha Jin Wook was secretly in love with Lee Yoo Mi and they fell in love. The series aired by OCN has a length of 13 episodes.
Five Enough (2016)
Release year : 2016

Genre: Drama, Family, Comedy

Produce : Story

Director : Kim Jung-gyu

Actors: Ahn Jae-wook, So Yoo-jin, Shim Hyung-tak

Episodes : 54 episodes
The drama "Five Enough" broadcast by KBS has the participation of artists such as So Yoo Jin, Im Soo Hyang. This movie has both family and comedy genres.
Sung Hoon faces Shin Hye Sun, they compete in acting to become a couple with cute and lovely manners. Although the two characters played by both have very different personalities, the love story they play seems interesting to follow.
In fact, thanks to the chemistry in this drama successfully built by Sung Hoon and Shin Hye Sun, the two won the best couple award. Meanwhile, Sung Hoon won an individual award as Best New Actor at the KBS Drama Awards.
Oh My Venus (2015)
Release year : 2015

Genre: Drama, Comedy, Romance, Bodybuilding

Produce : Mong-jak-so Company, ONDA Entertainment, KBS Media

Director : Kim Hyung Suk

Actors: So Ji-sub, Shin Min-a

Episodes : 16 episodes
The movie "Oh My Venus" belongs to the romantic and humorous genre. Aired by KBS2, "Oh My Venus" has gone through 16 episodes. Sung Hoon also stars in the film despite not being the main character, because this drama focuses on the stories of the characters played by the first couple, So Ji Sub and Shin Min Ah.
Sung Hoon plays Jang Joon Sung, the second couple in the drama whose love story is equally interesting and romantic.
Jang Joon Sung plays a professional boxer trained by So Ji Sub, and seems to be searching for his mother. This comedic man meets Jang Yi Jin, played by Jung Hye Seong, and the two begin a relationship, showing each other their romantic and cute sides as a couple.
Noble, My Love (2015)
Release year : 2015

Genre: Romantic Comedy

Produce : Godin Media

Director : Kim Yang Hee

Actors: Sung Hoon, Kim Jae-kyung, Park Eun Suk, Kim Dong Suk

Episodes : 20 episodes
The series is broadcast by Naver TV and has 20 episodes, in the genre of romance and comedy. Indeed, the combination of comedy and romance is the most suitable, deh ! Sung Hoon in the drama plays Lee Kang Hoon, the director of one of the largest companies in Korea, handsome but has a cold, arrogant and selfish attitude towards those around him.
Until one day, Lee Kang Hoon's beloved dog disappeared and was found by a woman named Cha Yoon Seo played by Kim Jae Kyung. He is a veterinarian who also seems to work at one of Lee Kang Hoon's hospitals.
At first, their relationship did not go well when they first met, until a feeling of love gradually developed between them. In this drama, Sung Hoon also fills the soundtrack of the movie with his beautiful voice, you know! Sports, good acting, can sing. Very complete package, huh?
Passionate Love (2013)
Release year : 2013

Genre: Romance, Drama, Family

Produce : Pan Entertainment

Directed by: Bae Tae Sub

Actors: Sung Hoon, Choi Yoon Young

Episodes : 47 episodes
The drama tells the love triangle between Kang Moo Yeol, Han Yoo Rim, and Han Yoo Joung, starring Sung Hoon, who appears as two characters, a bad boy and a good guy. Sung Hoon plays the character Kang Moo Yeol who is abandoned by his girlfriend Han Yoo Rim.
At first, Kang Moo Yeol couldn't move on from his first love. However, he also has a crush on Han Yoo Joung, who turns out to be his ex-girlfriend's younger sister. Trouble arose when Han Yoo Rim and Han Yoo Joung's parents intervened when Kang Moo Yeol began to develop feelings for Han Yoo Joung.
Faith: The Great Doctor
Release year : 2012

Genre: Fantasy, History, Medical, Drama, Romance

Produce : Faith SPC

Directed by: Kim Jong-hak, Shin Yong-hwi

Actors: Lee Min Ho, Kim Hee Sun

Episodes : 24 episodes
To co-star in the movie Faith: The Great Doctor, Sung Hoon is said to have lost up to 5 kg, while taking classes in daegeum (Korean big bamboo flute) to support his role. Because, here he uses bamboo flute to make magic.
This romantic, historical, and fantasy drama depicts the story of a cold-blooded killer named Chun Eum Ja, played by Sung Hoon. The story becomes even more interesting when he falls in love with someone from a different era.
Overall, this drama is about a modern day plastic surgeon named Yoo Eun Soo who is kidnapped by general Choi Young to travel to the past, specifically to the Goryeo Dynasty about seven hundred years ago. , to save Queen Noguk's life.
Since arriving there, Yoo Eun Soo meets and instantly falls in love with a soldier who is the leader of the royal guard played by Lee Min Ho.
New Tales of Gisaeng
Release year : 2011

Genre: Romance, Romance

Produce : Golden Pine

Directed by: Lee Young-heeSon Moon-kwon

Actors: Im Soo-hyang, Sung Hoon, Han Hye-rin

Episodes : 52 episodes
In this drama, Sung Hoon started his career as an actor. To get a role in the movie, Sung Hoon had to beat 1,000 men for casting, you know! He plays Ah Da Mo, a rich but famous man who is arrogant and looks down on women.
Until Ah Da Mo also met Dan Sa Ran, a prostitute, the term for women hired to entertain kings and nobles since the Goryeo and Joseon dynasties.
Thanks to the movie New Tales of Gisaeng, Sung Hoon won the Best New Actor award at the SBS Acting Award the same year. Of course, because here he does quite difficult scenes, such as kissing underwater.
So from those movies, we can see how Sung Hoon has developed over time with more quality acting. If you're a fan of Sung Hoon, you should definitely watch all of the movies we recommend and let us know what you think about Sung Hoon in the comments!
Salenhanh – Product review blog

Address: 115 Nguyen Van Qua, Tan Hung Thuan Ward, District 12, Ho Chi Minh City

Website: 

https://salenhanh.com/en

Mail: Salenhanh.com@gmail.com

#salenhanh #Reviewsalenhanh