What Drake fan doesn't know a famous name like Song Hye Kyo. Song Hye Kyo was first known to Vietnamese audiences who love Korean dramas through the TV series Autumn Story or Autumn Heart. She then returned with a more humorous and upbeat movie, Happy House.
Several dramas with the participation of Song Hye Kyo have succeeded in conquering the hearts of Drakor audiences. After the phenomenon of the drama starring her current husband, Song Joong Ki, titled Descendants of the Sun, Song Hye Kyo now appears on the TV screen to greet the audience with the latest TV series called Encounter/Boyfriend. with Park Bo Geum.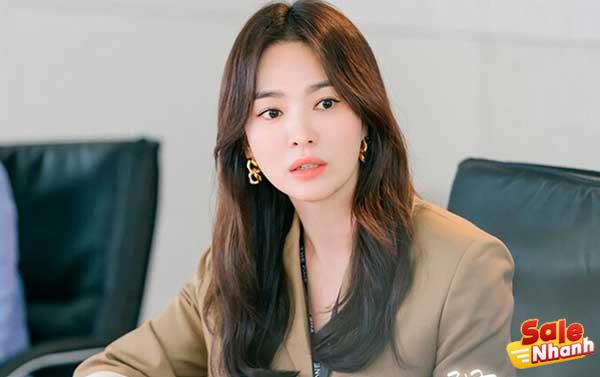 Do you remember any movies that Song Hye Kyo acted in? For those who have forgotten, Salenhanh.com will review 8 dramas starring Song Hye Kyo.
Encounter/Boyfriend
Release year: 2018
Genre: Romance
Produce: Bon Factory Worldwide
Directed by: Park Shin Woo
Actors: Song Hye-kyo, Park Bo-gum
Encounter is Song Hye Kyo's latest drama after she appeared with Song Joong Ki, who eventually became her husband. In his latest drama, he is paired with Park Bo Geum, who is also a friend of Song Joong Ki because they are also under the same company.
Prior to the broadcast of this drama, a number of criticisms and doubts arose. This is due to Park Bo Geum's closeness with Song Joong Ki. They doubted whether the two of them could act freely. There are also people who think that the age difference between the two is quite far, Park Bo Geum is 25 years old and Song Hye Kyo is 37 years old.
In the first two episodes (according to the old version number distribution), the audience reaction was quite good. Even the second episode received double-digit ratings. Incredibly, the broadcasting rights of this drama have been acquired by 100 countries, beating out the movie Lady Dae Jang Geum. It turned out that both Park Bo Geum and Song Hye Kyo were able to show their professionalism as players.
Encuter or Boyfriend is a romantic drama series. Usually the flow of melodrama seems slow and boring. However, Encounter erased that stain. Each episode always shows surprises from each character. Right in episode 6, the audience was stunned by the main character's jump.
The film tells the story of a boy and a girl who live in two different worlds but unexpectedly meet in Cuba because of an incident. Cha Soo Hyun (Song Hye Kyo) is a hotel CEO named Donghwa. His father was a politician. Since his father entered politics, Soo Hyun's life has become full of rules and he is no longer as free as before.
After graduating from university, Soo Hyun became engaged and married to Jung Woo Seok (Jang Seung Jo), the son of a rich corporation. Woo Seok's family competes for Soo Hyun's father's career. With the excuse of liking another woman, Soo Hyun eventually filed for divorce from Woo Seok. The drama comes with her divorce and ex-husbands who are not willing to let her go.
Kim Jin Hyuk (Park Bo Geum), a free spirit. His life is not burdened by anything even though he has no job. His parents both opened a fruit shop. Jin Hyuk is a smart kid, he graduated early with good grades but didn't have much luck at work. Finally, with the money earned, Jin Hyuk went to Cuba.
Life brought them together in Cuba. Starting from the incident where Jin Hyuk's camera was damaged due to the car that Soo Hyun and his secretary were traveling in, followed by Soo Hyun's wallet being stolen, then they met at Morro Cabana. Starting from there, their relationship began until they returned to Korea.
Descendant of the Sun
Release year : 2016
Genre: Action, Military, Comedy, Romance, Medical, Psychological
Produce : KBS, Next Entertainment World
Directed by: Lee Eung-bok, Baek Sang-hoon
Actors: Song Joong-ki, Song Hye-kyo, Jin Goo, Kim Ji-won
Thanks to this movie, Song Hye Kyo and Song Joong Ki finally became a real couple in real life, they got married in 2017. The craze of this drama has spread outside of Korea, including whole Indonesia. In addition to the success in connecting the two main characters, this drama also won the highest TV drama rating and a number of other awards.
Like Encounter, the meeting of the two main characters in the movie DOTS is also preceded by an unpleasant incident. Yoo Si Jin (Song Joong Ki) is the captain of the Korean Special Forces. After catching the thief, Si Jin went to the hospital because Seo Dae Young (Jin Goo)'s phone was stolen by the thief and was taken to the hospital.
Dr. Kang Mo Yeon (Song Hye Kyo) was on duty at the emergency room and it was here that the two met. Seeing Mo Yeon, Si Jin immediately fell in love. Then the two finally decided to date. It's a pity that their relationship had to end because they both realized that they had different points of view.
They meet again in a country called Uruk. Si Jin is assigned there to carry out a peaceful mission. Meanwhile, Mo Yeon, not wanting to be promoted to hospital director, is eventually sent to Uruk as a volunteer medical team leader. There, their love story begins again.
Descendants of the Sun is included in one of the most romantic Korean dramas, you know! Read these Korean romantic dramas and movies articles to find out other Drakor titles.
That Winter, the Wind Blows
Release year: 2013
Genre: Romance, Romance
Manufacturer: BaramiBunda Inc.
Director: Kim Kyu Tae
Actors: Jo In-sung, Song Hye-kyo
That Winter, the Winter Blows, which is a remake of the Japanese drama Ai Nante Irane Yo aka Forgot Love, brought Jo In Sung and Song Hye Kyo together in a romantic drama. . Both Jo In Sung and Song Hye Kyo own the title of top Korean drama and movie stars.
That Winter, the Wind Blows is about a man named Oh Soo (Jo In Sung) who is a famous playboy and gambler in the Cheongdam region. His life becomes meaningless after his parents leave him. In order to pay off a gambling debt to a gang of gangsters, he intends to trick a blind woman into being the heir to a large company.
Oh Young (Song Hye Kyo) is the heir of a large company. He lost his sight and that of his parents in a tragic accident. He lives a lonely life after being abandoned by his parents.
After being released from prison, Oh Soo meets a man who turns out to be a lawyer, who is also a friend of the head of a company owned by Oh Young's family. The man said he was looking for Oh Soo because his sister, Oh Young, lives alone. Taking this opportunity, he pretends to be Oh Young's brother but ends up falling in love with Oh Young.
The World That They Live In/The World Within
Release year: 2008
Genre: Romance, Drama
Produce: YEG Film Book
Directed by: Pyo Min-soo, Kim Kyu-tae
Actors: Song Hye Kyo, Hyun Bin
Song Hye Kyo is known for having affairs with her co-stars. Before Song Joong Ki, Song Hye Kyo dated Hyun Bin, her co-star in the drama The World That They Live In. But the love story between the two ran aground.
According to some viewers, the movie The World That They Live In / The World Inside is like telling a love movie between Hyun Bin and Song Hye Kyo because they seem to really enjoy the romantic scenes between the two. People. The highlight of the film is the romantic and sexy scenes performed by Hyun Bin and Song Hye Kyo.
Jung Jin Oh (Hyun Bin) is a successful director and Joo Joon Young (Song Hye Kyo) is a humble but lonely director. When they were in college, the two of them had an affair but ran out of it because they liked someone else.
They met again and worked in the same studio. Then they decided to reunite. Joon Young becomes more lively after getting back with Jin Oh. However, due to the intervention of Joon Young's mother, the two broke up again. When Jin Oh had to undergo surgery for eye complications, they were reunited.
Full House
Release year: 2004
Genre: Romance, Comedy, Drama
Produce: Kim Jong-hak Production
Director: Pyo Min-soo
Actors: Song Hye-kyo, Rain, Han Eun-jung, Kim Sung-soo
Full House is the second drama after Autumn Story / Autumn Heart that makes the Indonesian public familiar with Song Hye Kyo. This drama is very popular with the audience and hopefully Bi Rain and Song Hye Kyo will become a real couple. If in previous movies, Song Hye Kyo always played a melancholy character, in Happy House, she was cheerful and full of confidence.
The film tells the story of a screenwriter named Han Ji Eun (Song Hye Kyo), because of the actions of a close friend that has to lose everything, including her house. He himself went to China on the advice of a friend. On the plane, she meets actor Lee Young Jae (Rain/Bi) and for one reason or another, they end up staying at the same hostel.
When he got home, he found out that his house had been sold by a friend. The buyer of her house turned out to be Lee Young Jae, whom she met while on vacation in China. To get her home back, Ji Eun enters into a contract marriage with Young Jae, who is trying to make the woman he loves jealous. But over time they really need each other.
Full house is an adaptation of the manga of the same name. The success of this drama helped Rain and Song Hye Kyo win several awards, including Best Couple, Top Excellence Award, and Excellence Award.
All In
Release year: 2003
Genre: Action, Romance, Drama
Produce: Chorokbaem Media
Directed by: Yoo Chul-yong, Kang Shin-hyo
Actors: Lee Byung-hun, Song Hye-kyo, Ji Sung, Park Sol-mi, Heo Joon-ho
The movie All In opens with Song Hye Kyo falling in love with co-star Lee Byung Hun. The two used to be in a relationship but later broke up.
All In tells the story of a boy who is born orphaned and lives in a harsh environment with his father's friend who is a gambler. In Ha (Lee Byung Hun) then meets Soo Yeon (Song Hye Kyo) and falls in love with her. However, because he was accused of murder, he fled to Los Angeles and in Las Vegas he became acquainted with the world of professional gambling.
In Ha became a successful professional gambler and entered the hotel and casino business. While Soo Yeon was studying abroad in the US, she met a man and married him. When he returned to Korea, he was surprised to find that In Ha, whom he thought was dead, was actually still alive. The three end up together in a fierce feud.
Hotelier
Release year: 2001
Genre: Drama, Romance
Manufacture: –
Director: Jang Yong-woo
Actors: Bae Yong-joon, Song Yoon-ah, Kim Seung-woo, Song Hye-kyo
Have you ever watched The Beautiful Woman starring Richard Gere and Julia Roberts? The Hotelier TV series features characters similar to those from Pretty Woman. Hotelier tells the story of a businessman, Kim Bok Man (Han Jin Hee), who wants to take over the Seoul hotel of Director Choi (Jo Hyun). He asks for help from Frank Shin (Bae Young Joon) to buy goods.
Frank is a Korean lawyer who left the country as a child. He is an expert in the field of mergers and acquisitions. Returning to Korea, he falls in love with hotel employee Seo Jin Young (Song Yoon Ah). Meanwhile, the son of natural hotelier Choi Young Jae (Park Jung Chul) falls in love with Kim Bok Man's daughter, Kim Yoon Hee (Song Hye Kyo).
Yoon Hee herself fell in love with Han Tae Jun, a former hotel GM who was hired by Director Choi's wife. Tae Jun himself is busy managing the hotel sales process, keeping Yoon Hee and his friend Jin Young in love with Frank, who has a suspicious appearance. Tae Jun and Frank finally work together after Frank discovers that the girl Tae Jun is helping is his sister.
Autumn in My Heart/Autumn Tale
Release year: 2000
Genre: Romance, Romance
Produce: Korea Broadcasting System
Director: Yoon Seok-ho
Actors: Song Seung-heon, Song Hye-kyo, Won Bin, Han Na-na
This tear-jerking film is about a daughter who is intentionally swapped by her parents. Yoon Joon Suh (Song Seung Hun) and Yoon Eun Suh (Song Hye Kyo) they grew up together as siblings. But in fact they are not real brothers. Because it turns out Eun Suh has a different blood type from both her parents.
Eun Suh returns to her real family, and so does Yoo Shin Ae (Han Chae Young). Eun Suh's previous family later went to America and Eun Suh lived with her original family, who lived a normal life. After a long time, Joon Suh returns to Korea and meets Eun Suh again. The sad story of two people begins until death separates them.
Song Hye Kyo in addition to being known as one of the most beautiful actresses in Korea, so far, she is also known for her acting ability. This is evident in the awards he has won. Are you a fan of Song Hye Kyo or Song-Song Couple? Which Song Hye Kyo's movie do you like? Share your opinion below.
Salenhanh – Product review blog
Address: 115 Nguyen Van Qua, Tan Hung Thuan Ward, District 12, Ho Chi Minh City
Website:  https://salenhanh.com/en
Mail: Salenhanh.com@gmail.com
#salenhanh #Reviewsalenhanh