Scott Adkins is an actor born in Birmingham, United Kingdom, who is known for appearing in action films. His abilities are the result of learning martial arts from an early age, in fact he is currently mastering Kickboxing, Ninjutsu, Krav Maga, Karate, Wuchu, Capoeira and Muay Thai. No wonder why he is relied upon to appear in action movies?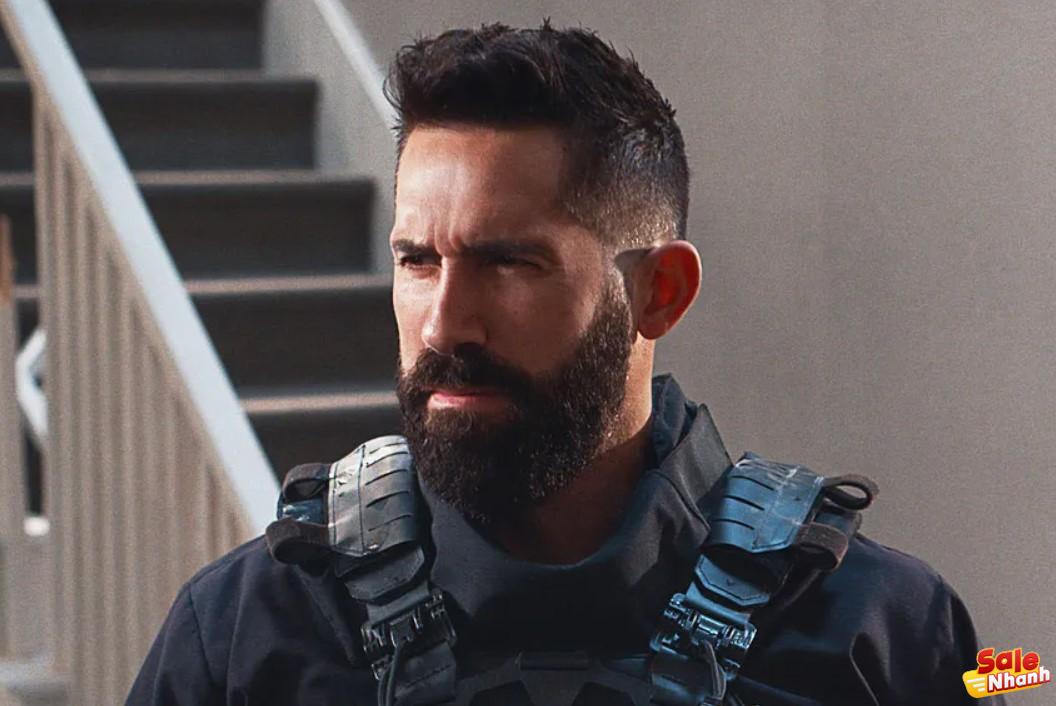 The process that Scott Adkins went through was certainly not easy, but it was one that kept his character growing. Although he is famous now, before that he was an amateur who failed again and again. But that failure did not make him give up. Want to see results? These are the 10 best movies from Scott Adkins, the world-class action actor. Check out the following review!
Savage Dogs [2017]
Release year : 2017

Genre: Action, Drama

Directed by: Jesse V. Johnson

Actors: Scott Adkins, Marko Zaror, JuJu Chan

Production company : Cho Man Ro Enterprises, Compound B, Blacklist Digital
Told in 1959, a city in Indochina has become the domain of mafia groups from Europe and Vietnam. A prison ruled by four dangerous guys. Martin Tilman, played by Adkins, is a former boxing champion who languishes in prison. This place has become a gambling hub for the rich and violent.
As Tilman is about to be released, the manager and corrupt members of the police try to prevent him from making money from Tilman's appearance. Therefore, they did everything to not let Tilman escape from prison and even hurt those closest to Tilman. Tilman is forced to watch the game as well as seek revenge.
Undisputed 2: Last Man Standing [2006]
Release year : 2006

Genre: Action, Crime, Drama

Directed by: Isaac Florentine

Actors: Michael Jai White, Scott Adkins, Ben Cross

Production company : Millennium Films, Nu Image Bulgaria
Iceman is serving a sentence for drug possession. In prisons, illegal scuffles are often held, followed by inmates. Yuri Boyka, played by Adkins, is a character known for being tough and lowly.
Gaga and Warden Markov convince Iceman to defeat Boyka so he gets a lighter sentence and quicker release. Although initially refused, Iceman eventually agreed after receiving brutal treatment from the guards.
He also trains with an ex-soldier and his roommate in prison. The fight between Iceman and Boyka was scheduled and attracted many people to watch and bet. Can Iceman defeat Boyka?
Ninja: Shadow of a Tear [2013]
Release year : 2013

Genre: Action, Horror

Directed by: Isaac Florentine

Others: Scott Adkins, Kane Kosugi, Mika Hiji

Production company : Millennium Films, Swingin 'Productions
Casey Bowman, played by Adkins, owns a dojo. Once, he went shopping and came across two thieves carrying knives. In the evening, he forgot to bring his wallet and when he got home, it turned out that two thieves had killed his pregnant wife.
Bowman then went to Thailand and studied self-defense, but his unstable mental state forced him to fight a lot. He then went to Myanmar and was accused of being a spy so he was wanted. When he returns to Thailand, he discovers the truth about his wife's murder case. What truth did he find? Find out in this movie, yes!
Avengers [2019]
Release year : 2019

Genre: Action, Crime, Horror

Directed by: Jesse V. Johnson

Actors: Scott Adkins, Craig Fairbrass, Thomas Turgoose

Production company : Compound B
Cain Burgess, played by Adkins, is a martial arts expert who is invited to a fight by his brother. Unfortunately, his brother and friends had to become victims. Cain asked Lincoln to help finance his business but was refused. Lincoln instead offered him a big-money job, attracting a woman.
Innocent Cain followed Lincoln's instructions and captured the target, but the target was killed by one hit. Cain was later convicted. While in prison, Cain is asked to compromise by the corrupt police, but he refuses. As a result, he spent a month in prison and had to use his self-defense skills to deal with corrupt jailers and police.
Close Range [2015]
Release year : 2015

Genre: Action, Crime, Horror

Directed by: Isaac Florentine

Actors: Scott Adkins, Nick Chinlund, Caitlin Keats

Production company: Bleiberg Entertainment, Compound B, Entropy
Colt Macready played by Adkins saves his niece, Hailey, who is kidnapped by the drug cartel led by Garcia. He took a flash drive and headed back to his home in Santa Cruz, Arizona.
A corrupt cop, Jasper, who works for Garcia is ordered to arrest Colt and his brother-in-law, Walt, for stealing Garcia's money.
Jasper mobilizes his men to capture Colt at his home. The ambush leaves Walt shot dead, while Colt, who had fled, is forced to turn around and try to save his two brothers.
As Jasper leaves and his men have lost, Colt is stopped by Garcia and his men. Will Colt be able to face them?
IP Man 4: The Finale [2019]
Release year : 2019

Genre: Action, Biography, Drama

Directed by: Wilson Yip

Actors: Donnie Yen, Scott Adkins, Danny Kwok-Kwan Chan

Production company: Golden Harvest Company, Bullet Films, Mandarin Motion Pictures
Ip Man comes to San Francisco to help Bruce, who is busy opening a Wing Chun school. Unfortunately, opening the school requires permission from an association headed by Wan. Because of disagreement, Ip chose to leave.
One day, Ip sees Wan's son, Yonah, being bullied by Becky. However, Becky told her father, Walters, that he was the victim. Walters then urged the government to expel the Chinese and the martial arts association but was refused by a top Navy official.
Instead, he orders Barton Geddes, played by Adkins, to learn martial arts with them. The plan is thwarted because Walters has ambitions to complete his evil plan.
Abduction [2019]
Release year : 2019

Genre: Action, Horror, Science Fiction

Directed by: Ernie Barbarash

Actors: Scott Adkins, Andy On, Truong Ngoc Anh

Production company : Ace Films, Red Sea Media
Quinn, played by Adkins, is a SWAT member who has just woken up and has trouble remembering what happened. He stepped out of the park trying to remember who he was and where he came from. Gradually he begins to regain his memory and discovers that his daughter has been kidnapped.
Conner, a former soldier working for a gangster is faced with trouble when his wife goes missing. After searching, he discovers that his wife has been kidnapped. With a common destiny, they work together to find out who kidnapped the people they care about. Their hunt is too intimate to ignore!
The Debt Collector [2018]
Release year : 2018

Genre: Action, Comedy

Directed by: Jesse V. Johnson

Actors: Scott Adkins, Louis Mandylor, Vladimir Kulich

Production company: Tarzana Productions, Cohesive Entertainment Group (CEG), Compound B
French, played by Adkins, has a martial arts practice that trains new fighters. Unfortunately, this effort is not enough to make money. He is forced to do another job, which is to work as a debt collector for Big Tommy, who has ties to gangsters in California.
France is supported by Sue to carry out the mission. They are willing to take dangerous jobs to survive. One day they had to keep an eye on a bar. There, they begin to question whether the work they are doing is right? This emotional action drama highlights the hardships of a debt collector 's life .
Eliminators [2016]
Release year : 2016

Genre: Action, Horror

Directed by: James Nunn

Actors: Scott Adkins, Stu Bennett, Daniel Caltagirone

Production company: Tea Shop Productions, Voltage Pictures, WWE Studios
Thomas McKenzie, played by Adkins, is a former US federal agent using a new identity, Martin Parker. He is forced to start a new life in London with his son, Carly.
Previously, he disguised himself as a criminal organization led by Cooper and fell in love with his son. The death of his son made Cooper angry and wanted to kill Thomas and then capture his nephew.
One night, three people visit the house of Thomas, who got Thomas shot to save Charly. When he woke up, Thomas was in the hospital in handcuffs and charged with murder. He must do everything to save his son.
The Gringo [2012]
Release year : 2012

Genre: Action, Drama

Directed by: Eduardo Rodriguez

Diễn đến : Scott Adkins, Petar Bachvarov, Zachary Baharov

Production company: After Dark Films, Autonomous Films, Bomar OOD
The Man, played by Adkins, is in trouble after an ambush kills his teammates. He crossed the border to Mexico with some money to get out of the habit and his destination was the beach. He went to El Fronteras to wait for the bus to the beach.
News of his arrival reached the bad guys in El Fronteras. He becomes the target of many types from gangsters to corrupt policemen, all behind his pocket containing $2,000,000. He must fight to survive the pursuit of criminals and leave the area as soon as possible.
If you like thrilling action movies, the 10 best Scott Adkins movies that have been reviewed above are worth your choice. Make sure you are old enough as these movies contain a lot of violence. Is there a Scott Adkins movie that you like best? Share your thoughts in the comments section!