This seasoned actress is not a new face in the Korean television industry. Na Young Hee was born on September 20, 1961, started her career in 1981, when she was 20 years old. At that time, he became one of the actors in the movie Children of Darkness.
During her artistic career, Na Young Hee has had several vacuums. But the acting world is still loved. He's back and starred in some of the popular TV series you might have seen.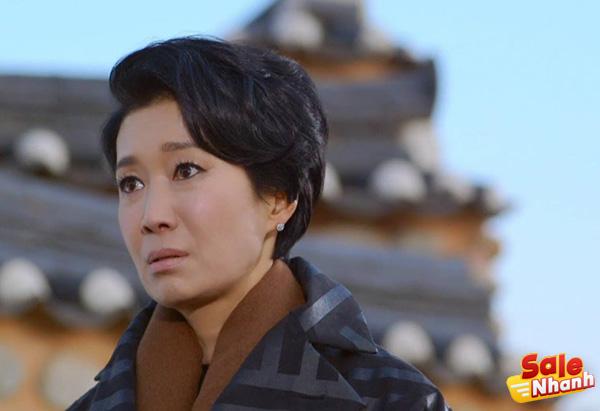 Na Young Hee is often cast as successful, rich women. However, many times he also received offers to play characters that are ordinary women. After that, what dramas did he act in? Check out the following recommendations, come on!
Gold Mask
Release year 2022
Genre Drama, Family, Romance
Director Eo Soo Sun
Cast Cha Ye Ryun Lee Hyun Jin Na Young Hee Lee Hwi Hyang Yeon Min Ji
Unlike most Korean dramas, Golden Mask, which airs on KBS, has 100 episodes. Airing from mid-2022 with a long episode, this drama is quite popular with Korean audiences.
The Golden Mask stars Cha Ye Ryun, Na Young Hee, and Lee Hwi Hyang. Not only with the presence of a cast of seasoned artists, this film is also very popular because it brings thrilling details, making people "crazy".
The story is about 3 women from different backgrounds and each with their own problems. Yoo Soo Yeon has a life like Cinderella. She married a man from a wealthy family. But her life is not easy because of her husband's family.
There is also Cha Hwa Young, a woman who aspires to be an upper-class woman. Then there's Go Mi Sook, a restaurateur with branches everywhere. The three of them are entangled in a tragedy caused by greed and lust.
One the Woman
Release year 2021
Genres Body Swap , Comedy , Drama , Investigation , Mystery , Romance
Director Choi Hyung Hun
Cast Lee Ha Nee Lee Sang Yoon Lee Won Keun Jin Seo Yun
This TV series is one of the TV series classified as underrated. Launching in 2021, One The Woman received a warm welcome when it started airing on the Netflix streaming app. Directed by Choi Hyeong Hun and written by Kim Yoon, One The Woman has entered the national charts.
Actress Na Young Hee also contributed to liven up the drama as a supporting actress. He plays Seo Young Won who is Kang Mi Na's mother-in-law. Not only Na Young Hee, the film also has the participation of Honey Lee, Kim Do Yeon and Lee Sang Yoon.
One The Women follows the life of a cunning prosecutor named Jo Yeon Joo. This behavior changed when he woke up from a coma after a bad car accident earlier. When he wakes up, he is mistaken for Kang Mi Na, a woman who looks like him.
Interestingly, Kang Mi Na herself has a very different background from Jo Yeon Joo. Kang Mi Na is the youngest daughter of a large company, Yumin Group.
The Beauty Inside
Release year 2015
Genre Comedy , Fantasy , Romance
Director Baek Jong Yeol
Cast Han Hyo Joo Kim Dae Myung Lee Hyun Woo Hong Da Mi Bae Sung Woo Yoo Yeon Seok Kim Joo Hyuk Do Ji Han Park Shin Hye Park Seo Joon Lee Bum Soo Ueno Juri ∙ Chun Woo Hee Lee Jae Joon Jo Dal Hwan Kim Min Jae Seo Kang Joon Kim Hee Won Lee Dong Wook Go Ah Sung
With an interesting premise, The Beauty Inside could be one of Na Young Hee's dramas that you must watch. This movie is adapted from a movie of the same name that was released in 2015.
Starring Seo Hyun Jin, Lee Min Ki, Lee Da Hee, and Ahn Jae Hyun, The Beauty Inside tells the story of Han Se Gye's unique life.
Han Se Gye is a famous actress. Unfortunately, he is heavily involved in negative affairs and rumors. He always mysteriously disappears.
Apparently, a strange phenomenon happened to Han Se Gye. She often suddenly transforms into the form of another person, such as another woman, man, child, old man.
One day, Han Se Gye meets Seo Do Jae, the young CEO of an aircraft company. Seo Do Jae also has his own unique features. He couldn't recognize people's faces, but he managed to make up for it. The only person he could remember was Han Se Gye.
About Time
Release year 2018
Genre Fantasy , Romance
Director Kim Hyung Sik
Cast Lee Sang Yoon Lee Sung Kyung
In addition, there is another drama played by Na Young Hee called 'About Time'. In this drama, Na Young Hee only plays a supporting role, namely Jin Ra Hee. In addition, this drama features Lee Sang Yoon and Lee Sung Kyung as the main characters.
About Time tells the story of musical actress Choi Michaela, who is endowed with special abilities. He was able to see a person's lifespan. At the same time, he meets Lee Sang Yoon, who has the ability to stop his life clock. The two then fell in love.
My Golden Life
Release year 2017
Genres Business , Comedy , Drama , Family , Mystery , Romance , Slice of Life , Workplace
Director Kim Hyung Seok
Cast Park Shi Hoo Shin Hye Sun Seo Eun Soo Lee Tae Hwan
This family drama is also highly recommended for those of you who like to watch Na Young Hee's dramas. My Golden Life was released in 2017 and aired on KBS with a duration of 50 episodes.
Also directed by famous director Kim Hyung Suk, the film gathers famous names such as Shin Hye Sun, Park Si Hoo.
My Golden Life is about the grandson of a corporation named Choi Eun Seok. This child has been missing for decades. During his disappearance, Choi Eun Seok was raised by Seo Tae Soo.
Eun Seok never knew his origin, until one day it was revealed that Eun Seok was the grandson of a corporation that went missing.
Legend of the Blue Sea
Release year 2016
Genre Comedy , Fantasy , Romance
Director Jin Hyuk, Park Seon Ho
Cast Jun Ji Hyun Lee Min Ho
Revealed to the public for the first time, this 2016 drama has made Drakor fans extremely excited.
How are you? Legend of the Blue Sea features two famous Korean stars in one frame, Lee Min Ho and Jun Ji Hyun. Na Young Hee plays Mo Yoo Ran, the mother of Heo Joon Jae.
Not only gathering top stars, the story of this film is also unique because it tells a fantasy story about a mermaid.
The story goes that a boy named Dam Ryeong almost drowned and was saved by a mermaid named Se Hwa. Since then, they became friends and grew up together.
Growing up, they fell in love with each other. Unfortunately, Dam Ryeong was betrothed to another woman. Se Hwa leaves the human world and forgets Dam Ryeong forever. Hundreds of years later, fate brings them together again in the form of reincarnation.
Glamorous Temptation
Release year 2013
Genre Drama , Family , Romance
Director Kim Hee Won , Kim Sang Hyub
Cast Choi Gang Hee Joo Sang Wook Cha Ye Ryun Jung Jin Young Kim Mi Kyung
Glamorous Temptation might be another Na Young Hee series that you definitely have to check out. The reason is, this drama features a rising young actor, Nam Joo Hyuk. In addition, this movie also stars Choi Gang Hee, Joo Sang Wook, Cha Ye Ryun, and Jung Jin Young.
The film tells about the bitter life of Shin Eun Soo. From childhood to adulthood, he always faced many different problems. This makes him a character of vengeance and courage. He even dared to approach his own friend's father to feed himself.
Those are some of the dramas that Na Young Hee has acted in. Early career has made Na Young Hee one of the most respected senior actresses. Do you think there will be another drama project from Na Young Hee? We will just wait!
Salenhanh – Product review blog
Address: 115 Nguyen Van Qua, Tan Hung Thuan Ward, District 12, Ho Chi Minh City
Website: https://salenhanh.com/en
Mail: Salenhanh.com@gmail.com
#salenhanh #Reviewsalenhanh