The busy beautiful actress mentioned for her cuteness was born in Germany before her family decided to move back to Korea when she was 10 years old. Moon Ga Young was born on July 10, 1996 and she has been debuting since 2006 as a child actress!
Working hard to make a career since she was in school, Moon Ga Young won the Best Young Actress award in 2010. Up to now, there have been 11 movies and 27 dramas featuring the super-worthy girl. love this.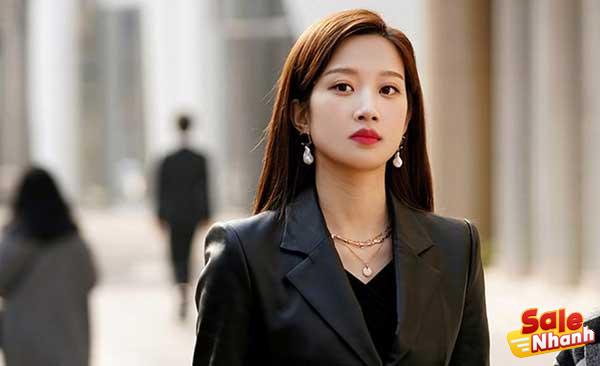 Moon Ga Young, who is currently under the umbrella of KeyEast, is busy filming the drama "True Beauty" (2020). Before getting more curious, here are 10 dramas starring Moon Ga Young.
Find Me in Your Memory
Release year : 2020
Genre: Romance, Fantasy, Romance
Produce : Chorokbaem Media
Director : Oh Hyun Jong, Lee Soo Hyun
Actors: Kim Dong Wook, Moon Ga Young, Kim Seul Gi, Jang Young Nam, Yoon Jong Hoon
Episodes : 32
The most recent drama starring Moon Ga Young tells the story of two people who carry their own emotional scars. The two are Lee Jung Hoon played by Kim Dong Wook and Yeo Ha Jin played by Moon Ga Young. Yeo Ha Jin is a model and actress enjoying the peak of her career, she decided to have a fake relationship aka contract relationship with Lee Jung Hoon.
Jung Hoon is a man who works as a rather controversial news presenter. Because, he often points out the mistakes of guest stars. Ha Jin and Jung Hoon have opposite personalities. Lee Jung Hoon with hyperthymesia can clearly remember every event in his life in detail.
On the other hand, Yeo Ha Jin has a hard time remembering everyday moments. Who would have thought that, from pretending to be dating, they would eventually develop real feelings. Then how is their relationship continued, huh?
Welcome to Waikiki 2
Release year : 2019
Genre: Comedy
Produce : C JeS Entertainment, Drama House & JTBC Content
Director : Lee Chang Min
Actors: Moon Ga Young, Lee Yi Kyung, Kim Seon Ho, Shin Hyun Soo, Ahn So Hee, Kim Ye Won
Episodes : 16
In this friendship-themed drama, Moon Ga Young plays Han Soo Yeon, a person with a unique and ridiculous personality. Soo Yeon is a girl who is loved by 3 men who have been friends for a long time. They are Lee Joon Ki, the owner of a guesthouse called Waikiki, who wants to revive the place after failing as an actor, going bankrupt, and annulling the marriage.
Then there's Cha Woo Sik, Lee Joon Ki's high school friend who dreams of becoming a musician. And finally Gook Gi Bong. He was also their high school friend. He has a dream of becoming a baseball player. Ever since Gook Gi Bong and Cha Woo Sik invested in Waikiki, the three men have lived under the same roof and have a crush on the same woman, Soo Yeon.
The Great Seducer (Tempted)
Release year: 2018
Genre: Romance, Romance
Produce : Bon Factory Worldwide
Director : Kangin
Actors: Moon Ga Young, Kim Min Jae, Park Soo Young (Joy Red Velvet), Yoo Do Hwan
Episodes : 32
Adapted from the French novel by Pierre Choderlos de Laclos called Les Liaisons Dangereuses, director Kang In hooked up Moon Ga Young as the actress taking on the character Choi Soo Ji. She is a charming and beautiful, but cunning woman. Her heart was filled with jealousy and self-buried pain.
In a nutshell, this movie reveals the love problems that occur between the children of a corporation. Choi Soo Ji is a friend of Kwon Shi Hyun, the heir to the JK group company in crisis and is forced to approach Eun Tae Hee. The characters Choi Soo Ji as well as Woo Do Hwan and Kim Min Jae are called the evil trio in the movie because they have the intention to take advantage of others.
EXO Next Door
Release year : 2015
Genre: Drama Serial
Producer: Oh! Boy Project, SM Entertainment, LINE
Director : Doo Hee Nam
Actor: EXO OT 10 member, Moon Ga Young
Episodes : 16
Once caused a stir in the K-pop scene when members of the famous boy group EXO were rumored to be filming a movie with the same woman. The answer is yes, the lucky actress who met the EXO members is Moon Ga Young.
The girl plays the role of Yeo Hae, whose personality is definitely inseparable from the EXO members. The story goes, Yeo Hae is a tough EXO-L (EXO fan). One day, there was an incident that forced the EXO members to leave the dorm and live separately in two groups. Coincidentally, one of the groups has moved into the house opposite Yeo Hae's residence!
As a kind neighbor, Yeo Hae was delivered cakes by her mother, as it is tradition there that new neighbors greet each other and bring food. Yeo Hae doesn't know that the house has her favorite idol. So, from the first meeting, he did embarrassing things, especially in front of Chanyeol, who turned out to be his childhood friend.
Mimi
Release year : 2014
Genre: Romance, Horror, Mystery
Produce : SM C&C, CJ E&M
Director : Song Chang Soo
Actors: Shim Chang Min, Moon Ga Young, Shin Hyun Bin, Jung Ji Soon, Yoon Da Kyung
Episodes : 4
The movie titled "Mimi" has its own history for Moon Ga Young. Because, thanks to this movie, he got the lead role for the first time. Of course he didn't play alone. In this drama, Moon Ga Young will be competing in acting with TVXQ member Shim Chang Min!
This drama tells the story of a webtoon writer named Han Min Woo. Although still a novice, Min Woo's work has received a lot of appreciation. But, instead of being cheerful or arrogant, this actually leaves the introverted writer feeling depressed. As a result, he loses his memory and becomes a cold-hearted character to others.
Min Woo tries to find his lost memories, because the memory of his high school days (when he was 18 years old) has disappeared. He wants to remember Mimi, his first love played by Moon Ga Young.
Live Up to Your Name
Release year : 2017
Genre: Drama, Medical, Historical, Fantasy, Comedy, Romance
Produce : Bon Factory
Director : Hong Jong Chan
Actors: Kim Nam Gil, Kim Ah Joong, Yun Ju Sang, Tae Hang Ho, Yoo Min Gyu, Moon Ga Young
Episodes : 16
After starring in another drama and becoming the main character, Moon Ga Young has returned with a cameo role in this tvN-aired drama. The drama tells the story of Heo Im, a doctor who can be found in Haeminseo during the day and can be found again at an official's house at night.
Heo Im is not only an ordinary doctor but also a doctor with extraordinary acupuncture skills. However, he suddenly disappears after falling into the river and enters the modern era, where he meets Choi Yeon Kyung, a doctor at Shinhae Hospital again. Meanwhile, Moon Ga Young plays Dongmakgae with the time setting of Heo Im's time in the past.
Mirror of The Witch
Release year : 2016
Genre: Romance, Comedy, Drama, Fantasy, Horror, History
Produce : JTBC
Director : Jo Hyun Tak
Actors: Yoon Shi Yoon, Kim Sae Ron, Lee Sung Jae, Yum Jung Ah, Kwak Si Yang, Moon Ga Young
Episodes : 20
Moon Ga Young once again has a supporting role in the film adaptation of the story from the book Dongul Bogam. He plays Sol Gae, who always appears with a headband on, because the drama genre itself is history.
So "Mirror of The Witch" tells the story of a daughter who was abandoned at birth. As if that wasn't enough, the princess was cursed by an evil witch. Due to the curse, he can only be saved by someone who turns out to be a young royal healer.
Jealousy Incarnate (Don't Dare to Dream)
Release year : 2016
Genre: Romance, Drama, Comedy
Produce : SBS
Directed by: Park Shin Woo
Actors: Gong Hyo Jin, Jo Jung Suk, Go Kyung Pyo, Lee Mi Sook, Park Ji Young, Moon Ga Young
Episodes : 16
The movie titled "Jealousy" also known as "Don't Dare to Dream" tells the story of a man named Lee Hwa Shin, who works as an announcer and journalist. Although still a rookie journalist, Lee Hwa Shin always tries to collect information so accurate that she is nicknamed 'the perfect person'.
Besides Lee Hwa Shin, there is a woman named Pyo Na Ri with an innocent personality. Because of her innocence, Pyo Na Ri has never once refused anyone who came to her for help. Later, Moon Ga Young also joined to play the role of Lee Ppal Gang, a supporting character that did not lose the color of the story.
The Merchant: Gaekju 2015
Release year : 2015
Genre: Drama, History
Produce : KBS
Director : Kim Jong Sun
Actors: Jang Hyuk, Lee Deok Hwa, Yu Oh Seong, Kim Min Jung, Han Chae Ah, Moon Ga Young
Episodes : 16
This drama set in the Joseon Dynasty tells the story of Chun Bong Sam living in poverty. He was just a merchant. Even so, he is not afraid to stand up to bullies, cheaters, and bad bargainers.
Chun Bong Sam's efforts gradually bear fruit and succeed. The story is adapted from the novel "Gaekju" by Kim Joo Young, very inspiring. In the drama whose story was posted on The Seoul Shinmun, Moon Ga Young plays a cameo named Wol Yi.
True Beauty
Release year : 2020
Genre: Drama, Comedy, Romance
Produce : tvN
Director : Kim Sang Hyub
Actors: Moon Ga Young, Cha Eun Woo, Park Yoo Na, Oh Eui Sik, Park Ho San, Hwang In Yeop
Episodes : 16
This drama is supposed to be broadcast in 2020 and its appearance has been highly anticipated and discussed by people from various countries, especially webtoon connoisseurs. The reason is that the movie Extraordinary You that this director made is an adaptation of the famous webtoon of the same name by Yaongyi. Webtoon has reached 4 million readers worldwide!
There was a debate between fans of "True Beauty" and fans of Korean idols and actors, because the fans wanted their idols to act in the drama. However, in the end, Moon Ga Young was assigned to play the main role of "True Beauty" named Im Joo Kyeong, a high school student who is always self-conscious about her appearance.
Therefore, Joo Kyeong often wears too much makeup. Without makeup, she transforms into an eccentric girl with glasses. But behind all that, Im Joo Kyeong was a cheerful person before meeting Han Seo Jun (played by Cha Eun Woo).
Moon Gayoung, a beautiful young actress, has acted in many dramas and most of them are in the romantic genre. He even got the role of a rather extraordinary Webtoon character. What do you think about Moon Gayoung's acting?
Salenhanh – Product review blog
Address: 115 Nguyen Van Qua, Tan Hung Thuan Ward, District 12, Ho Chi Minh City
Website:  https://salenhanh.com/en
Mail: Salenhanh.com@gmail.com
#salenhanh #Reviewsalenhanh