For viewers of the Netflix series, it must be too familiar with the silhouette of Millie Bobby Brown. This beautiful actress born in 2004 is indeed very famous after appearing in Stranger Things (2016).
Her role as Eleven, a character is really mysterious and very curious. Since appearing in this series, Millie Bobby Brown's career has skyrocketed.
Not only appearing in famous TV series, Millie Bobby Brown is also regularly cast in leading roles in a number of films. One of them is Enola Holmes (2020) which received very good reviews from film critics.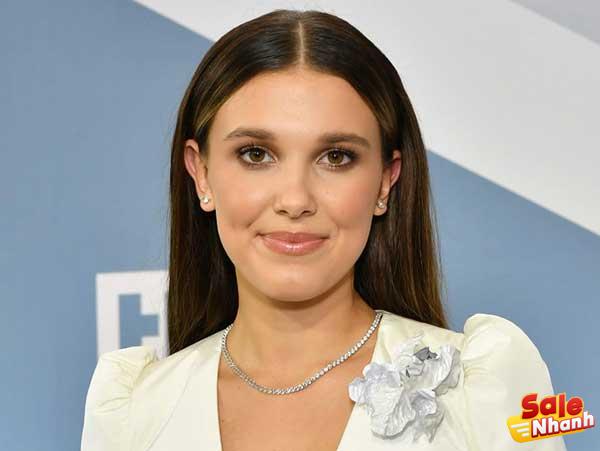 In addition, Millie Bobby Brown also won the Favorite Actress award at the Kids' Choice Awards 2021.
In fact, there are several other famous movies starring Millie Bobby Brown. What movies do you want to know? In order not to miss, you can read more details below.
Enola Holmes
Release year: 2020

Genre: Fiction, Youth, Mystery

Production: Legendary Pictures, PCMA Productions

Directed by: Harry Bradbeer

Actors: Millie Bobby Brown, Sam Claflin, Henry Cavill, Helena Bonham Carter
Enola Holmes (2020) can be said to be one of the best and most famous films starring Millie Bobby Brown.
This movie, adapted from a book by Nancy Springer, is really suitable for young people. Enola's adventure to find the truth about her mother's disappearance is not only interesting but also very curious, you know. Furthermore, Enola ends up having to deal with her two older brothers, Mycroft Holmes and Sherlock Holmes. Have you thought about it, what kind of mystery is Enola actually trying to solve that her two siblings don't even know about?
In the movie Harry Bradbeer, Millie Bobby Brown was given the opportunity to play the lead role. Her looks as Enola Holmes are truly phenomenal, her energy and acting look mature.
Not only that, Millie Bobby Brown also has to compete with big names like Sam Claflin, Henry Cavill to Helena Bonham Carter.
Fyi, it turns out that the role of Millie Bobby Brown in this film is not only the main character but she is also the main producer.
He teamed up with Legendary Pictures, screenwriter Jack Throne and director Harry Bradbeer to adapt Enola's story into a film.
The actress also revealed that this movie helps her grow up and be able to express herself more freely.
Enola Holmes 2
Release year: 2022

Genre: Mystery, Youth, Fantasy

Production: Legendary Pictures, PCMA Productions

Directed by: Harry Bradbeer

Actors: Millie Bobby Brown, Louis Partridge, Adeel Akhtar, Susie Wokoma, Sharon Duncan-Brewster, David Thewlis, Henry Cavill, Helena Bonham Carter
The first film was a huge success, Millie Bobby Brown and Harry Bradbeer will release a sequel to Enola Holmer (2022). Exactly in May 2021, the production team announced their plans for a sequel to Enola Holmes 2 (2022).
Additionally, Millie Bobby Brown and Henry Cavill have been confirmed as the main cast. Once again, Millie Bobby Brown plays two roles, that of producer and lead actor.
Returning to the Bradbeer collaboration, this film is supposed to bring in a more thrilling adventurer Enola Holmes.
Especially if you look at the book, there are five sets of books that tell the story of Enola Holmes as he overcomes various mysteries.
Netflix confirmed that the film has finished filming as of January 7, 2022. Netflix even provided a small clip of what will happen to Enola Holmer.
From some of the leaks circulating, it's likely that Netflix will only show the movie in September. This corresponds to the month the first movie was released, which is September 23, 2020.
Godzilla vs. Kong
Release year 2021

Genres Action, Fantasy, Science Fiction

Legendary Entertainment Producer, Warner Bros.

Director Adam Wingard

Cast Alexander Skarsgard Rebecca Hall Millie Bobby Brown Brian Tyree Henry Shun Oguri
Still collaborating with Legendary Pictures, this time Millie Bobby Brown will star in the movie Godzilla vs Kong (2021).
This film, incorporated into the MonsterVerse, tells of the fierce battle between the rulers of the land and the rulers of the sea. The aggressive behavior of these two giants is actually triggered by an invisible force residing in the core of the earth.
Godzilla vs Kong (2021) is an adaptation of a film by Toho, Edgar Wallace and Merian C. Cooper. In the film directed by Adam Wingard, Millie Bobby Brown plays a character named Madison Russell.
This girl is the daughter of the couple Mark and Emma Russell. This girl thinks that there is a conspiracy to make the two giants aggressive.
Madison Russell is considered a more mature and tough girl than before. This girl believes in Godzilla so much that the creature will not attack without reason.
That's why Madison Russell is determined to investigate this case along with Josh Valentine and Bernie Hayes. Until they finally find out more of the truth behind the fight between Godzilla and Kong.
Godzilla: King of the Monsters
Release year 2019

Genre Action , Adventure , Fantasy

Legendary Image Production

Director Michael Dougherty

Cast Kyle Chandler Vera Farmiga Millie Bobby Brown Bradley Whitford
Godzilla: King of the Monsters (2019) can be said to be the official debut film of Millie Bobby Brown. The reason is that he's finally actually acting and it's not just his voice that will appear in the movie.
Playing the character of Madison Russell, this 12-year-old girl really wants to know many things. Madison Russell loved Godzilla from an early age, she even witnessed the birth of another giant.
Unfortunately, this girl was kidnapped by a former British army colonel on a revenge mission.
From there, Madison's relationship with Emma's mother deteriorated, because her mother actually injured Godzilla.
To show good acting, Millie Bobby Brown admits she works out physically. Because Godzilla: King of the Monsters (2019) made him run up the hill. He trains his body to become strong when doing running scenes and many other action scenes.
Spheres: Songs of Spacetime
Release year: 2018

Genre: Short Film VR

Produce: Darren Aronofsky

Directed by: Eliza McNitt

Actors: Millie Bobby Brown, Jessica Chastain, Patti Smith

Unlike other movies, this time Millie Bobby Brown is cast as a voice actor in a movie. Spheres: Songs of Spacetime (2018) is a three-part virtual reality film directed by Eliza McNitt.
This film is the first VR film to be recognized by the Sundance Film Festival. In addition, this film will take the audience into a new universe and discover the "hidden songs" in it.
Millie Bobby Brown appears in a segment called Chorus of the Cosmos. The actress revealed that participating in this film was an extraordinary experience.
You can watch Spheres: Songs of Spacetime (2018) on the Rockefeller Center website. Quite picky in accepting film offers, Millie Bobby Brown really doesn't want to choose random roles.
However, it is commendable that despite being young, Millie Bobby Brown looks very enthusiastic about the profession.
She always tries to show her best, clearly Millie Bobby Brown is a perfectionist young actress.
Salenhanh – Product review blog

Address: 115 Nguyen Van Qua, Tan Hung Thuan Ward, District 12, Ho Chi Minh City

Website: 

https://salenhanh.com/en

Mail: Salenhanh.com@gmail.com

#salenhanh #Reviewsalenhanh