After successfully starring in the Jurassic World trilogy (2015-2022), Bryce Dallas Howard has become very popular and almost associated with the name of this great movie, however in reality there are many movies by Bryce Dallas Howard that you can watch.
Starting his career at a young age, Bryce first appeared in the play House & Garden in 2002. Since then, he has been noticed by directors and successfully starred in the film titled The Village ( 2004).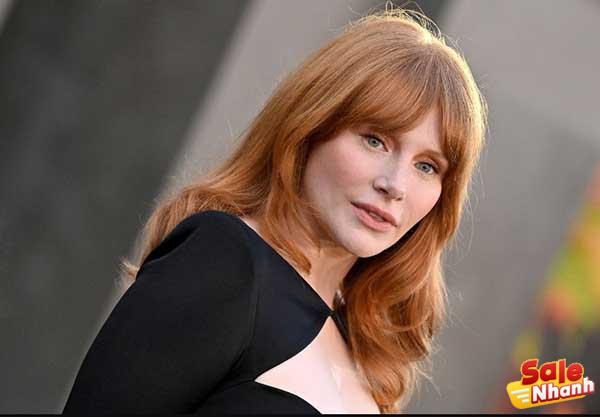 Bryce Dallas Howard's career continued to advance until she had the opportunity to act in the films Manderlay (2005) and Dogville (2003). Bryce Dallas Howard was then cast to replace Nicole Kidman in the previous two films.
Thanks to his very promising acting, Bryce Dallas Howard has also brought himself a number of prestigious awards, you know. So what other movies has Bryce Dallas Howard acted in? So don't miss it, you can find the 10 best movies ever starring Bryce Dallas Howard below.
Jurassic World Trilogy
Release year 2015
Genres Action , Adventure , Computer Animation , Fantasy , Science Fiction , Horror
Produced by Amblin Entertainment , Legendary Entertainment , Universal Pictures
Director Colin Trevorrow
Cast Chris Pratt Bryce Dallas Howard Ty Simpkins Judy Greer Irrfan Khan
Of course, the first Bryce Dallas Howard movie that we have to discuss is Jurassic World (2015-2022). Playing a character named Claire Dearing, this woman really likes and cares about many ancient animals. But her dream of bringing a decent life to these ancient animals always ends badly.
The reason is, there are some people trying to turn this ancient animal into a money-making business. As a result, Claire and Owen have to work hard to save these animals.
The latest version of Jurassic World is divided into three movies where the last one will introduce a special reunion. The cast of Jurassic Park (1993) will also appear in Jurassic World 3 (2022). Have you seen the movie yet?
The Help
Release year 2011
Genre Comedy, Drama, Romance
Production 1492 Pictures , DreamWorks Pictures , Harbinger Pictures , Image Nation , Reliance Film & Entertainment
Director Tate Taylor
Cast Emma Stone Viola Davis Bryce Dallas Howard Rolando Octavio Jessica Chastain
Adapting the story from Kathryn Stockett's novel, The Help (2011) is Bryce Dallas Howard's most recommended film. This film is not only humorous, but also strongly criticized for colorism or shadeism. This film tells the story of African-American women who were often discriminated against by the American elite in the 1960s.
In this film, Bryce Dallas Howard plays a character named Hilly Walters Holbrook. She is an upper-class woman who was once racist against her domestic helpers.
This woman fired her maid for using the guest bathroom and making her unable to work. Her bad deeds are recorded in a book that is the outpouring of her former assistants.
50/50
Release year: 2011
Genre: Comedy, Drama
Producer: Mandate Pictures, Point Gray
Director: Jonathan Levine
Actors: Joseph Gordon-Levitt, Seth Rogen, Anna Kendrick, Bryce Dallas Howard, Anjelica Huston
Directed by Jonathan Levine, 50/50 (2011) became one of the best films ever starring Bryce Dallas Howard.
The film tells the story of a man with cancer and the story is adapted from a true story. This film was not only a commercial success but also made Bryce Dallas Howard's career more and more recognized.
In this film, which also stars Joseph Gordon-Levitt, Seth Rogen, and Anna Kendrick, Bryce plays a character named Rachel.
Rachel is Adam Lener's lover, who remained faithful to her as she battled cancer. She never once spent time with her lover and always encouraged Adam Lener to keep fighting.
Pete's Dragon
Release year: 2016
Genre: Fantasy, Adventure
Produce : Walt Disney Studios Motion Pictures
Directed by: David Lowery
Actors: Bryce Dallas Howard, Oakes Fegley, Wes Bentley, Karl Urban, Oona Laurence, Robert Redford
Turning to the fantasy film produced by Disney, this time Bryce Dallas Howard played in a children's film called Pete's Dragon (2016). The story follows a feral orphan who befriends a dragon in the Pacific Northwest.
In this film, Bryce Dallas Howard plays a character named Grace Mecham, a ranger. She found Pete and tried to help this kid have a decent life like the other kids. Grace and her husband eventually adopted Pete as their son and lived happily together.
Rocketman
Release year: 2019
Genre: Biography, Musical, Drama
Production: New Republic Pictures, Marv Films, Rocket Pictures
Director: Dexter Fletcher
Actors: Taron Egerton, Jamie Bell, Richard Madden, Bryce Dallas Howard
Rocketman (2019) is a film about the life journey of music legend Elton John. This film directed by Dexter Fletcher received a standing ovation from many audiences. Right from its premiere at the 2019 Cannes Film Festival, this film has received a lot of praise.
Not only that, this film also brought me many awards from BAFTA, Golden Globe to Academy Award.
This time, Bryce Dallas Howard plays Elton John's biological mother, Sheila Dwight. Unlike most mothers in general, Sheila has never had the right amount of affection for her son.
Her love affair with another man led young Elton John to decide to leave his mother and perform in many local pubs.
The Twilight Saga: Eclipse
Release year 2010
Genre Action , Adventure , Drama , Fantasy , Romance , Horror
Production Imprint Entertainment , Maverick Films , Sunswept Entertainment , Temple Hill Entertainment
Director David Slade
Cast Kristen Stewart Robert Pattinson Taylor Lautner Peter Facinelli Elizabeth Reaser
Playing a vampire named Victoria, Bryce Dallas Howard made a charismatic appearance in The Twilight Saga: Eclipse (2010).
Her character looks very cold and calm. But she secretly formed her own army to avenge the Cullen family. Victoria's silhouette was mysterious. No one knows who she is and how she lived her life.
The Twilight Saga: Eclipse (2010) can be said to be the most famous and successful movie she has ever participated in.
Although only receiving supporting roles, Bryce Dallas Howard can always take the spotlight from the main cast. Bryce's version of Victoria feels a lot more sinister than it used to be and makes her very curious.
Spider-Man 3
Release year: 2007
Genre: Superhero
Production : Columbia Pictures, Marvel Entertainment, Laura Ziskin Productions
Director: Sam Raimi
Actors: Tobey Maguire, Kirsten Dunst, James Franco, Thomas Haden Church, Topher Grace, Bryce Dallas Howard, James Cromwell, Rosemary Harris, JK Simmons
Bryce Dallas Howard's appearance in Spider-Man 3 (2007) was a bit of a surprise. Because this character is a fictional character created by Stan Lee and Steve Ditko from Marvel Comics.
Also, the character is said to be in the third person between Spider-Man and Mary Jane Watson. So it's no surprise that some people enjoy her presence and some feel that the character is not a good fit for the film.
Despite the many pros and cons, Bryce Dallas Howard played his character Gwen Stacy very well. She performed many stunts quite dangerous, to the point that she did not realize that she was several months pregnant at the time.
Hereafter
Release year 2010
Genre Disaster , Drama , Science Fiction
Production Amblin Entertainment , Malpaso Productions , The Kennedy/Marshall Company
Director Clint Eastwood
Cast Matt Damon Marie Lelay Frankie McLaren Jay Mohr Bryce Dallas Howard
Moving on to director Bryce Dallas Howard's film, Hereafter (2010) is a fantasy thriller. This drama tells the story of three people whose lives are changed completely after they face death. Everyone suddenly has supernatural abilities, even seeing spirits to divination.
Acting opposite Matt Damon, Bryce Dallas Howard plays a character named Melani. She's just an ordinary woman trying to have a relationship with George Longegan. The story of the two is not easy. The reason is, there's a lot of nonsense around them.
Manderlay
Release year: 2005
Genre: Drama
Production: Zentropa Entertainments13 ApS, Canal+, SigmaIII Films Ltd., arte France Cinéma
Classics: Lars von Trier
Actors: Bryce Dallas Howard, Willem Dafoe, Danny Glover, Lauren Bacall, Jean-Marc Barr, Udo Kier
Manderlay (2005) can be said to be one of Bryce Dallas Howard's best-selling films during his career. The reason why this movie is not only popular because of its good plot, but also encountered many controversies from the director.
Lars von Trier is known to have been criticized for turning the filming location into a place where slavery was practiced.
The film itself is about Grace's struggle to free the people from slavery on the Manderlay Plantation.
The character Grace Margaret Mulligan played by Bryce Dallas Howard is excellent. She has tried to make society more self-sufficient, but her various proposals have disappointed her much.
A Dog's Way Home
Release year: 2019
Genre: Family, Adventure
Production: Columbia Pictures, Bona Film Group, Pariah
Directed by: Charles Martin Smith
Actors: Ashley Judd, Jonah Hauer-King, Edward James Olmos, Alexandra Shipp, Wes Studi, Bryce Dallas Howard
A Dog's Way Home (2019) is a kids fantasy movie that's really fun to watch with the family, you know.
True to its title, the film from director Charles Martin Smith tells the story of a dog named Bella's efforts to find his way home to his best friend. This dog traveled 400 miles just to meet his best friend, Lucas.
Although not as successful as other films she has participated in, A Dog's Way Home (2019) still ranked at number three at the US box office.
Although not acting, Bryce Dallas Howard had an important role in this film. She was cast as the voice actor for the pitbull character Bella to become the main character.
That's a list of the best movies that Bryce Dallas Howard has played in throughout his career. Most of the films made by famous directors are successful in raising their names.
Through these films, Bryce Dallas Howard even took home many awards at famous events. Which movie do you think best represents Bryce Dallas Howard's performance?
Salenhanh – Product review blog
Address: 115 Nguyen Van Qua, Tan Hung Thuan Ward, District 12, Ho Chi Minh City
Website: https://salenhanh.com/en
Mail: Salenhanh.com@gmail.com
#salenhanh #Reviewsalenhanh