Milla Jovovich is an actress, model and musician born in Ukraine and raised in America. Before entering the acting world, she first pursued the world of modeling at the age of 12. At the age of 13, she appeared in a TV series called Night Train to Kathmandu then debuted in a movie called Two Moon Junction.
Her career as an actress has nearly 30 years, so she has many films to play the main role. Many of her fans say her best performance was when she played Alice in the Resident Evil trilogy. Want to know something else? Let's summarize the 10 best films of Mila Jovovich after 30 years of career.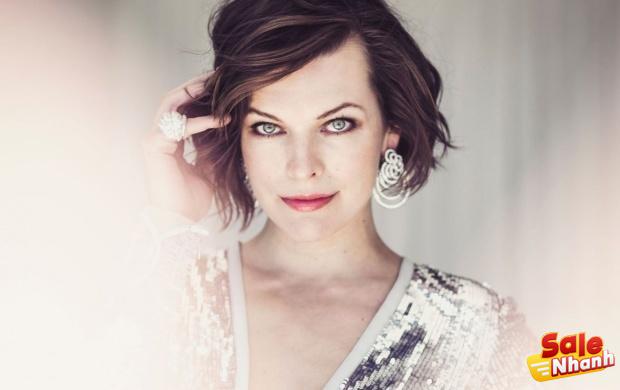 Movie Resident Evil [2002]
Release year : 2002

Genre: Action, Horror, Science Fiction

Directed by: Paul W.S. Anderson

Actors: Milla Jovovich, Michelle Rodriguez, Ryan McCluskey

Production company : Constantin Film, New Legacy, Davis-Films
Spence put the T-virus in the box. On his way out, he broke one of the boxes, infecting the entire Hive. Elsewhere, Alice, played by Jovovich, has just woken up and found her wedding photo. On his finger was a wedding ring and it was written by the Umbrella corporation.
Alice is captured by Matt, who claims to be a police officer. They are then led by an Umbrella team into The Hive. The military was actually tasked with disabling the computer system that created zombies and other strange creatures. Alice and Matt meet Rain and Kaplan, they fight the zombies together.
Movie The Fifth Element [1997]
Release year : 1997

Genre: Action, Adventure, Science Fiction

Directed by: Luc Besson

Actors: Bruce Willis, Milla Jovovich, Gary Oldman

Production company: Columbia Pictures, Gaumont, Pinewood Studios
There are four stones representing water, fire, wind and earth that a race of aliens named Mondoshaw guard on Earth to defeat evil characters every 5,000 years. In addition to the four stones, there is a fifth element that can unite the power of the four stones, and that element is in human form.
In the year 2263, the villain descends to Earth using Zorg to obtain the fifth element. Leelo, played by Milla, is the fifth element. Leelo runs away until he meets Korben Dallas, a former soldier who works as a taxi driver. They work together to stop Zorg's mission and save Earth.
Movie The Messenger: The Story of Joan of Arc [1999]
Release year: 1999

Genre: Adventure, Biography, Drama

Directed by: Luc Besson

Actors: Milla Jovovich, John Malkovich, Rab Affleck

Production company : Columbia Pictures, Gaumont, Okko Productions
In 1424 in Domremy, France, there lived a 13-year-old girl named Joan, played by Jovovich. He is a religious person and loves to spend time at church. He had a prophecy that there would be a disaster in France. He saw how his family died and to stop the prophecy, he wanted to tell the king of France.
In 1428, the king of France received a message from Joan. Joan requested special forces to fight the English invaders since 1377. The king did not immediately believe Joan, but Yolande of Aragon believed and judged that Joan was a messenger. He also convinced the king and Joan was eventually assigned to the special forces.
Film Ultraviolet [2006]
Release year : 2006

Genre: Action, Science Fiction

Directed by: Kurt Wimmer

Actors: Milla Jovovich, Cameron Bright, Nick Chinlund

Production company : Screen Gems, Ultravi Productions
In the year 2078, humans are genetically engineered to have extraordinary speed, strong stamina, and high intelligence. People who develop these symptoms will die within 12 years of being first infected. Archministry, a warrior medical group takes over the government and begins to destroy the infected.
Violet, played by Jovovich, has been infected for 10 years. He joined the rebel group to protect the infected. In the midst of his struggles, he meets a 9-year-old boy who has been marked for destruction because he has a genetic threat to humans and Violet must protect him.
Movie The Fourth Kind [2009]
Release year : 2009

Genre: Horror, Mystery, Science Fiction

Directed by: Olatunde Osunsanmi

Actors: Milla Jovovich, Elias Koteas, Will Patton

Production company: Universal Pictures, Gold Circle Films, Champara Pictures
Alaska is a small town that hides many mysteries. Over the past forty years, many people have been reported as missing. It is said that these people disappeared because they were abducted by aliens who wanted to understand and study humans physically and behaviorally before actually descending to earth.
The FBI is forced to step in to help the police investigate the missing person case, but they are at an impasse. Dr. Abigail Tyler, played by Jovovich, is tasked with investigating a case that does not involve extraterrestrials. Will the case be exposed? Conspiracy theorists will definitely enjoy this movie.
Movie A Perfect Getaway [2009]
Release year : 2009

Genre: Drama, Mystery, Horror

Directed by: David Twohy

Actors: Milla Jovovich, Steve Zahn, Timothy Olyphant

Production company : Rogue, Relativity Media, QED International
Cliff and Cydney, played by Jovovich, are a newlywed couple. They went to Hawaii for their honeymoon. After preparing everything, they set off to the finish line. Along the way, they meet Kale and Cleo, who want to go with them. After arguing, they decided not to help the two strangers.
Going to the beach, Cliff and Cydney meet Nick, who saved Cydney when she nearly tripped. Nick tells them that in the area they are visiting there are frequent murders. Nick separated due to different paths with Cliff and Cydney. Cliff and Cydney then reunite with Kale and Cleo, who take them on an adventure.
The Three Musketeers [2011]
Release year : 2011

Genre: Action, Adventure, Fantasy

Directed by: Paul W.S. Anderson

Actors: Logan Lerman, Matthew Macfadyen, Ray Stevenson

Production company: Summit Entertainment, Constantin Film, Impact Pictures
D'Artagnan, Aramis and Athos were royal guards who called themselves the Three Muskeeters. They are tasked with finding three keys to open a secret room in the palace. In their quest, they are assisted by a woman named Milady de Winter, played by Jovovich.
The Three Muskeeters found the key and opened a secret room that turned out to contain important files. Then they looked for a scroll with the design of the airship. After getting the paper, they were about to leave but were stopped by the soldiers assigned to them, killing them. Can they survive?
Movie No Good Deed [2002]
Release year : 2002

Genre: Action, Crime, Drama

Directed by: Bob Rafelson

Actors: Samuel L. Jackson, Milla Jovovich, Stellan Skarsgard

Production companies: ApolloMedia Distribution, Kismet Entertainment Group,
Jack Friar is a police detective tasked with finding a runaway teenager on Turk Street. While performing his duties, he accidentally meets a group of criminals who are robbing a bank. Attempting to rescue, Jack is taken hostage.
The group of criminals who robbed a bank had a leader named Erin, played by Jovovich. Erin has a partial eye on Jack. When they are alone, they talk and Erin reveals a different side of her. While another band of robbers has yet to arrive, Jack and Erin's close friendship grows and the fate of the stolen money turns to ashes.
Movie Survivor [2015]
Release year : 2015

Genre: Action, Crime, Horror

Directed by: James McTeigue

Actors: Milla Jovovich, Pierce Brosnan, Dylan McDermott

Production company : Millennium Films, Winkler Films
Kate Abbott, played by Jovovich, is an American diplomat working in London. He is tasked with investigating terrorist incidents in the UK. An investigation was launched, but Kate was instead accused of being the mastermind behind the bombing. His mission becomes even more difficult as he is also being hunted by the real culprit.
Kate had to race against time. At the same time, he also had to clear his name. Finally, Kate receives word that there will be a major attack on New Year's Eve in Time Square. In such a dire state, Kate tries to stop a terrorist attack.
Movie Stone [2010]
Release year : 2010

Genre: Drama, Horror

Directed by: John Curran

Actors: Edward Norton, Milla Jovovich, Robert De Niro

Production company: Millennium Films, Mimran Schur Pictures, Mimran Schur Pictures
Stone is a criminal with a not-so-great criminal record, but he's desperate to get out. The one who can get him out sooner is Jack Mabry, the warden where he is being held. Jack, who is retiring soon, does his job as he should, but Stone tries to capitalize on it.
Lucetta, played by Jovovich, is Stone's wife. She tries to approach Mabry to inquire about her husband's condition. Mabry does not reciprocate and she refuses Stone's pardon, even though Stone has acted well in her presence. Over time, Lucetta is able to paint Mabry's emotional side and the two develop a high-risk relationship.
Viewing the career path of someone who has worked for a long time is always the main attraction. Through the films reviewed above, it is possible to see the development of Mila Jovovich during her 30 years in the profession.