David Matthew Macfadyen, better known simply as Matthew Macfadyen , is an English actor. Her face has brought many titles on the big screen, the small screen and the theater. However, it seems everyone would agree that her appearance as Mr. Darcy in Joe Wright's Pride & Prejudice was a turning point in her career.
Matthew's name is also more and more known after starring in the black comedy Death at a Funeral directed by Frank Oz. Well, Matthew's work as an actor is immeasurable. Want to know what are the hottest movies of this 1974-born man? Check out Salenhanh.com's Matthew Macfadyen's order of best movies below.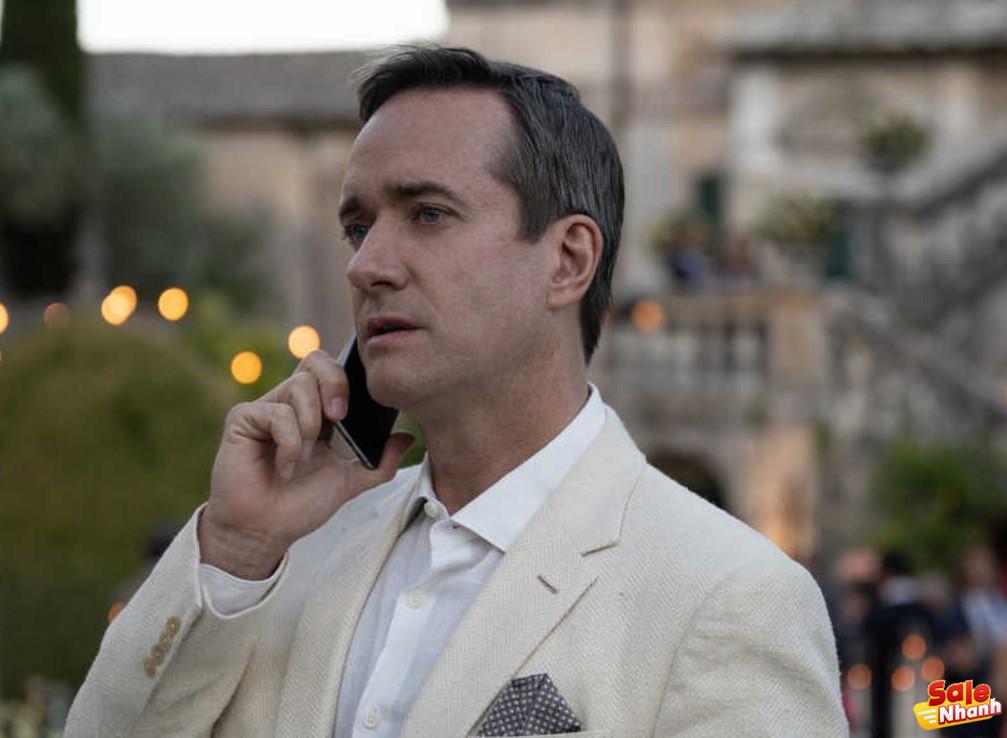 Pride & Prejudice
Release year: 2005

Genre: Romance, Drama

Production: StudioCanal, Working Title Film, Scion Film

Directed by: Joe Wright

Actors: Keira Knightley, Matthew Macfadyen, Brenda Blethyn, Donald Sutherland, Tom Hollander, Rosamund Pike, Jena Malone, Judi Dench
Based on the novel of the same name, Pride & Prejudice by Jane Austen, this film is set in the late 18th century. The main characters include Mr and Mrs Bennet and their daughters. In order of oldest, there are Jane, Elizabeth, Mary, Kitty and Lydia. The family lived in Longbourn, on their property in the English countryside.
Mrs. Bennett really wants to secure the future of her five daughters because she really hopes that they can all marry a man from a wealthy family. Luckily, not long after, a super-rich bachelor moved to Netherfield, near where the Bennets lived. That man's name was Charles Bingley.
Bingleys hosted a local community invite party. Charles meets Bennet's eldest aunt, Jane, and the two fall in love immediately. When her sister finds her soul mate, Elizabeth finds an 'enemy', Charles's friend Darcy, who is also rich (even richer than Charles).
Elizabeth begins to dislike Darcy (Matthew Macfadyen) because of his less sociable nature and the young girl also overhears Darcy badmouthing him. One day, Bennet was visited by Bennet's cousin, Mr. Collins. He is a proud priest.
Since the Bennets had no sons, the Collins would inherit Longbourn (the land and business belonged to the Bennets). Not wanting that to happen, as the Bennet family would have no additional income, Bennet's mother and father were forced to accept Collins's intention to marry one of his daughters.
Collins was about to propose to Jane, but instead Mrs. Bennett suggested her second child, Elizabeth, because her first child was related to Charles, who was much richer than Collins.
While Elizabeth has not been friends with anyone. What about the story of Darcy and Elizabeth? Will it even end before it begins?
The Assistant
Release year: 2019

Genre: Drama

Production: Symbolic Exchange, 3311 Productions, Level Forward, Cinereach, Forensic Film, Bellmer Pictures, JJ Homeward Productions

Directed by: Kitty Green

Actors: Julia Garner, Matthew Macfadyen, Makenzie Leigh, Kristine Froseth, Jon Orsini, Noah Robbins
The film focuses on the life of Jane, a junior assistant at a film production company in New York City. He's only been on the job for five weeks. Jane arrived at the office even before dawn and went straight to administrative work. Long working hours and demanding jobs make it very stressful.
As the days passed, Jane realized that her boss often had sex in his office with a lot of younger women. In fact, his boss helped 'facilitate' a culture of sexual harassment in the company. Jane has been through that too.
Whenever Jane did something her boss deemed wrong, her boss would verbally harass her over the phone while her two male assistant colleagues watched without comment.
The role of Matthew Macfadyen in The Assistant is Wilcock. He is the head of human resources in the office. He encourages Jane to share her problems, but then turns a blind eye to Jane's abusive statements.
Anna Karenina
Release year: 2012

Genre: Romance, Drama, History

Production: Working Title Film, StudioCanal

Directed by: Joe Wright

Actors: Keira Knightley, Jude Law, Aaron Johnson, Kelly Macdonald, Matthew Macfadyen, Domhnall Gleeson
Based on the book Anna Karenina by Leo Tolstoy, in this film, Matthew Macfadyen stars with Keira Knightley again. But, not a couple, but Anna Karerina's sister. His character is Prince Stepan "Stiva" Arkadyevich Oblonsky, a civil servant.
Set in the Russian Empire in 1874, there is a princess named Princess Darya, commonly known as "Dolly". It is reported that she expelled her unfaithful husband, Prince Stephan "Stiva" Oblonsky.
Stiva's younger sister, Anna Karenina, is a socialite living in Saint Petersburg with her elderly husband, Count Alexei Karenin, and son Seryozha. Anna goes to Moscow with the aim of convincing Dolly to forgive her husband.
The Nutcracker and the Four Realms
Release year: 2018

Genre: Children's Film, Drama

Production: Walt Disney Pictures, The Mark Gordon Company

Directed by: Lasse Hallström, Joe Johnston

Actors: Keira Knightley, Mackenzie Foy, Jayden Fowora-Knight, Eugenio Derbez, Matthew Macfadyen, Morgan Freeman
You may have heard or seen the fairy tale about the Nutcracker, perhaps from the Barbie movie. However, this is a very different story.
The Nutcracker and the Four Kingdoms follows Princess Clara Stahlbaum, a young girl who travels to the Four Kingdoms in search of gift keys from her late mother, Marie.
In Four Realms, Clara meets Captain Philip Hoffman, a chestnut salesman who helps her on her journey. In this film, Matthew Macfadyen plays Benjamin Stahlbaum, Clara's father. He became a widow after his wife, Marie, died. It's a fantasy movie that's fun to watch and also visually satisfying. Worth watching !
Death at a Funeral
Release year: 2007

Genre: Black Comedy

Produce: Sydney Kimmel Entertainment

Directed by: Frank Oz

Actors: Ewen Bremner, Peter Dinklage, Matthew Macfadyen, Keeley Hawes, Kris Marshall, Alan Tudyk
Death at a Fu Tang is one of the films that helped Matthew Macfadyen's name to be known more. The film belongs to this dark comedy genre with Matthew as the main character, namely Daniel.
Daniel (Matthew Macfadyen) and his wife Jane live with his parents in England, while his younger brother, Robert, is a famous novelist living in New York City. The story begins on the day of their father's funeral. Robert also went to England when he received news of his father's death.
Suddenly, an American man named Peter also attended the funeral and introduced himself to Daniel. However, because he was still talking to the other guests, Daniel invited Peter to talk later. There is a shocking incident at the funeral, after which Peter approaches the brothers Daniel and Robert again.
Peter said that he was their father's girlfriend. However, as his name was not mentioned in the will, Peter threatened to share his photo with their father if they were not given £15,000.
The brothers panicked and tied and gagged Peter. They also make Peter drink what they believe is Valium to calm him down.
Peter tried to free himself, but he fell and hit his head on the glass table. They thought Peter was dead. They were forced to dispose of the body as quickly as possible so that no one would notice.
Daniel and Robert put Peter's body in the coffin along with their father. The film was so successful that it was remade in 2010 with a different cast.
The Current War
Release year: 2017

Genre: Drama, History

Production: Bazelevs Company, Film Rites, Thunder Road Pictures, Four Floor Productions, Lantern Entertainment, The Weinstein Company

Directed by: Alfonso Gomez-Rejon

Actors: Benedict Cumberbatch, Michael Shannon, Nicholas Hoult, Katherine Waterston, Tom Holland, Tuppence Middleton, Matthew Macfadyen
In this war and history drama, Matthew Macfadyen plays JP Morgan. Current War is about the feud between some great inventors.
In 1880, Thomas Edison presented his electric light bulb to the public. He intends to distribute electricity to the American environment using direct current (DC) which is cheaper and cleaner than gas lamps.
However, its reach is limited and requires expensive cabling infrastructure. Accompanied by George Westinghouse, a successful businessman and inventor. He invited Thomas Edison to dinner while exchanging ideas.
However, the dinner did not bear fruit, Westinghouse was even despised by Edison. He is also determined to prove that alternating current (AC) is a better technology because it can operate over longer distances and at a much lower cost.
Edison and Westinghouse also competed to get cities across the United States to use their systems. Westinghouse also approached Nikola Tesla and invited him to work together, building a practical AC motor.
While Edison hooked up JP Morgan and merged Edison Electric into General Electric. Westinghouse and Edison both submitted proposals to light the 1893 World Colombian Exposition in Chicago.
The von Trapp Family: A Life of Music
Release year: 2015

Genre: Musical Movie

Production: Clasart Film- und Fernsehproduktion, Concorde Media, Tele München Gruppe, sterreichischer Rundfunk

Directed by: Ben Verbong

Actors: Rosemary Harris, Matthew Macfadyen, Eliza Bennett, Lauryn Canny, Yvonne Catterfeld
Are you a fan of musical movies? Try von Trapp Family: A Life of Music, Come on! As the title suggests, this film tells the story of the von Trapp family.
Agathe von Trapp is the daughter of Georg von Trapp (Matthew Macfadyen). The film is based on the life of Austrian singer, Trapp Family. In fact, this film is also based on a novel called Agathe von Trapp: Memories Before and After The Sound of Music written by Agathe von Trapp herself.
Lost in Karastan
Release year: 2014

Genre: Black Comedy

Production: Brandstorm Entertainment AG, Film and Music Entertainment, 20 Steps Production, Metrafilms

Directed by: Ben Hopkins

Actors: Matthew Macfadyen, MyAnna Buring, Noah Taylor, Ali Cook
If we used to see Matthew Macfadyen playing in films set in luxury and royalty, you can now see him in the embodiment of 'ordinary' people. Lost in Karastan is a black comedy film about British director Emil Forester (Matthew Macfadyen).
Emil was hired to direct the production in the Caucasus, Autonomous Republic of Karastan. The country is ruled by an eccentric, but tame, corrupt dictator. There, Emil went on one of the wildest journeys of his career.
The Three Musketeers
Release year: 2011

Genre: Action, Romance, Adventure

Production: Summit Entertainment, Impact Pictures, Constantin Film, NEF Productions, New Legacy Film

Directed by: Paul W.S. Anderson

Actors: Logan Lerman, Milla Jovovich, Matthew Macfadyen, Ray Stevenson, Luke Evans, Mads Mikkelsen
Set in Venice, there is a group known as the 'musketeers' consisting of Athos (Matthew Macfadyen), Porthos and Aramis. They teamed up with Milady de Winter to steal blueprints for an airplane built by Leonardo da Vinci.
However, they were betrayed by Milady. Instead, the woman interrupted the group of three men, and the stolen blueprints were sold to the Duke of Buckingham. A year later, d'Artagnan (Logan Lerman) leaves the village for Paris in the hopes of becoming a musketeer like his father.
However, he eventually found out that the group had disbanded. However, he still insisted on going to Paris. There, d'Artagnan met Athos, Porthos and Aramis privately.
In particular, their initial meeting was not sweet at all, d'Artagnan even (accidentally) alluded to three former Musketeers and eventually they each had their own 'schedule' against d'Artagnan. .
Enigma
Release year: 2001

Genre: Romance, War, Mystery, Comedy, Drama, Spy

Production: Jagged Films, Broadway Video

Directed by: Michael Apted

Actors: Dougray Scott, Kate Winslet, Jeremy Northam, Saffron Burrows, Tom Hollander, Matthew Macfadyen
This movie is based on the novel Enigma by Robert Harris. This movie is set in real events, but the story is still fictional, yes.
In March 1943, the cryptographic analysis team (British intelligence) realized that they could no longer read the German classified reports. That's because the Nazis dramatically improved their Enigma cipher engine, turning battle codes into giant puzzles that were hard to solve.
Well, maybe you can, but it will take years to discover. However, if left unchecked, of course the war will get worse. Thus, British intelligence was given only 4 days to crack the Nazi code to save the convoy.
The case was further complicated by a Nazi spy who had infiltrated British intelligence. In this film, Matthew Macfadyen plays Lieutenant Cave.
Those are the ten best feature films starring Matthew Macfadyen. It turns out that even though most of the films he's starred in are based on royalties and royalty, Matthew has also played a 'regular person', even with a very different genre from most of his films. .
As we said before, Matthew is very active and his work is immense. So you may disagree with this list, as there may be other Matthew's films that deserve to be called 'best'. Have a suggestion? Write in the comments column, yes!