Actor Ma Dong Seok has made his mark in the Korean film industry and is now preparing to move to Hollywood! In 2019, the popular star was cast in "The Eternals," an upcoming Marvel Studios film starring Hollywood A-listers like Angelina Jolie, Richard Madden, Salma Hayek, and Kit Harington .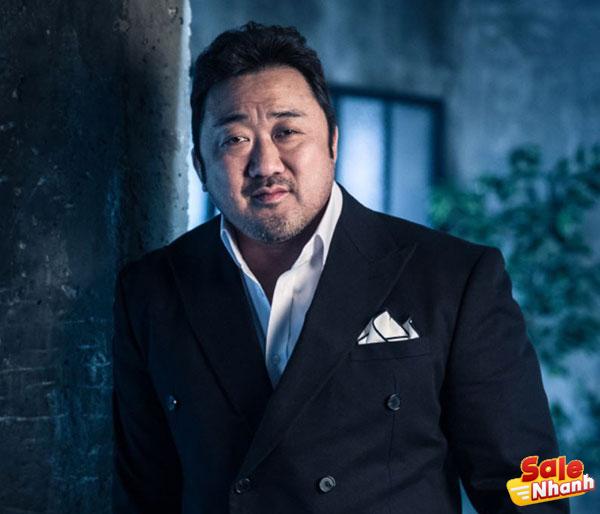 However, since the film won't hit theaters until November 2020, we know that fans want to get the talented actor to star in some of his most iconic roles. For those unfamiliar with the star, it's even more important to know one of the most beloved actors in Korea before seeing him on the big screen next November.
Therefore, we have compiled a list of some of our favorite Korean movies with Ma Dong Seok (who is also known as Don Lee). From action to comedy, Ma Dong Seok always brings his characters to life and captivates audiences in the process.
Let's take a look at the best Ma Dong Seok movies with Salenhap that you should watch this weekend!
1) The Chronicles Of Evil (2015)
After a promotion party with colleagues, on the way home, team captain Choi (Son Hyun Joo) accidentally causes a fatal accident. He decided to hide his guilt. What follows is a game of cat and mouse when an unknown person emerges from the shadows with the intention of ruining his life by making repeated threats about what he has done.
Mr. Ma plays a supporting role in this film, but his impact remains an important part of the film as he co-stars Son Hyun Joo (Tazza) and Park Seo Joon (The Divine Fury). Ma Dong Seok's role is also loved by many people.
2. Train to the Dead – Train to Busan (2016)
If you haven't seen this movie, you're one of the few Korean movie fans who hasn't experienced it because it's really a popular movie that even those who don't love Korean movies have to rave about! Starring Gong Yoo (Goblin), this movie is about a father who is escorting his daughter to Busan by train when a deadly virus breaks out that turns everyone into zombies. Ma Dong Seok plays a doting husband who will do anything to protect his pregnant wife when the train is about to be filled with zombies. Joining Gong Yoo and Choi Woo Sik (Parasite), the three set out to save their family and friends amid the bloody and violent terror of the day.
3. The Love Song – Derailed (2005)
The film tells the story of four teenagers who run away from home, with the same circumstances and fate, they live together to survive, despite everything having to live hard as teenagers without family love. , they do anything to make money. including stealing and deceiving people., one of the things they usually do is sell their stolen illegal goods like cell phones, one day they cheat and steal from someone who will leads them into big problems and threatens their safety.
Ma Dong Seok plays the difficult owner of a famous entertainment venue in financial crisis and he does whatever it takes to keep his business running despite having to hire children. juvenile, while Minho is a runaway teenager. , he survives and tries to save his lover no matter what he is, he has tough exterior but inside he is very gentle and he really cares about his friends .
4. Trial of the Dead: The Last 49 Days
Ma Dong Seok originally made a special appearance in the movie Along with the Gods: The Two Worlds. The appearance set everything up for the sequel that proved to be a blockbuster hit no less than the first. This creative and beautifully shot film follows three grim reapers as they guide a soul to the afterlife, overcoming trials and tribulations to help him on his quest for peace. Meanwhile, Ma plays the God of the House, a rebel outlaw who helps find the memories of the dead gods that were lost thousands of years ago.
5. Outlaws – The Outlaws
Released in 2017, this movie proved to be an instant hit! This crime action drama follows the true story of the war between a Korean gang and a Chinese gang. Two groups fight for control of Seoul's Garibong district, also known as Chinatown.
Actor Ma Dong Seok plays a local detective who is given ten days to take control of the situation and end the gang war. However, as the gangs fight, he soon learns how brutal and violent the Chinese gangs can be when they hope to take over the area.
6. Gloves re-export – Unstoppable
Although playing many characters that may look alike on paper, Ma Dong Seok never fails to make his roles unique and different in each of the films he is in. This 2018 crime drama is packed with action as it follows Dong Chul, a once legendary gangster who is now retired and tries to live a normal, crime-free life with his family. However, when another mob kidnaps his wife, he must go back to the skills he learned as a gangster to rescue her and take down the gang in the process. this.
7. The Gangster, The Cop, The Devil
A film that we reviewed recently on What The Kpop, this movie proves what a brilliant actor Mr. Ma Dong Seok has become over the years. The dark thriller follows a gangster and a policeman who, due to unforeseen circumstances, team up to track down a local serial killer that the police don't believe exists. When the two headbutt each other while working together, the humorous and romantic moments provide moments of relaxation to the action-packed action movie.
With one piece after another, this is the one that makes you guess old and young. (You can read our full review of this movie by clicking here). In fact, the film was so impressive, along with Ma's performance, that Sylvester Stallone's Studios bought the rights and will remake the film for American audiences. Unlike most American remakes that replace Asian actors with Hollywood stars, Ma Dong Seok will also return to his role in American films.
8. The Murderer (2013)
The Killer is one of the very successful movies where actor Ma Dong Seok plays the villain. The film revolves around serial murder cases that occur, after a girl is murdered, causing the neighbors to begin to suspect each other about the murderer.
The dramatic thriller, which attracts viewers with the tense atmosphere of the movie that I like very much, especially the role of Ma Dong Seok is also highly appreciated and received many compliments from viewers.
9. Hound movie – Bad Guys
A movie about notorious criminals who become defenders and enforcers of justice. The police chief asks Oh Goo – Tak (Kim Sang Joong) to form a team consisting of thugs with determination….catch other criminals to reduce the sentence for himself. With the promise that every criminal they catch will reduce prison time by 5 years. This is the policeman's way of taking poison and making the criminals to side with the righteous side to execute justice. The team is formed with 3 notorious criminals with pasts that everyone who hears must be terrified.
Ma Dong Seok in the movie "Bad Guys" will play the role of a boss of a large gang and is in prison, while he is still the boss of other prisoners. This will be a promising movie not to be missed by those who are fans of detective movies and Ma Dong Seok.
10. Love Trap – Deep Trap
Yet another horror film starring Ma Dong Seok revolves around the story of a married couple Jun Sik and Min Hee on their trip to an isolated island and decide to stay at the sisters' house. Sung Chul (Ma Dong Seok) but unaware that it is one of the decisions that make their trip full of dangers ahead.
While Sung Chul's sister seduced Jun Sik, Sung Chul went to do the murder with his wife Min Hee. So will the couple overcome this tribulation or will have to die at the hands of murderers? Take a look for more details.
11. Task Force 38 – 38 Task Force
Task Force 38 is a movie about a team of criminals who are reluctant to catch criminals because they are also scammers who are gathered by the police to use their own deceitful skills to catch criminals. tax evasion criminals. But the difficult thing for the police officers is that this group of people can escape at any time.
The film reflects the reality of society when the rich are gradually finding ways to avoid the expenses that they have to pay. The task of the task force is to find tycoons who evade taxes before the law.
12. Familyhood – Familyhood
The Escape Plan is a story about a girl Go Ju-yeon (Kim Hye-soo), an actress who always thinks that she has everything she wants such as a career, money, and a young boyfriend. proud age. However, that is also the reason why she encountered many difficulties and now that she has turned 40, everything has started to go downhill. She has begun to lose the things that she did not really appreciate before. Her career is also not what it used to be, but she thinks she still has a secret boyfriend 12 years younger than her. This person only thought of taking advantage of her popularity and deceiving her. When she found out about it, she was extremely miserable, looking around her, no one really cared about her. So she decided to have a child and become a single mother.
13. Villagers – The Villagers
The film revolves around the story of a gym teacher named Ki Cheol (Ma Dong Seok) because of some unexpected incidents that had to be transferred to teach in a rural area. Here he encounters Joo Rin (Kim Sae Ron), a girl who insists that a friend of hers has been kidnapped. Ki Cheol (Ma Dong Seok) decides to find that missing girl and then gradually discovers the shocking secret about the person behind everything, a person that no one expected. In addition, the film also exposes the evils of abuse and abuse of minors as well as wrongdoings caused by money blinding.
14. The Story of a Muscle Guy – Champion
Not only horror and investigative films, Ma Dong Seok also shows that his brother is very suitable for movies with a penchant for action mixed with fun and humor. In this drama, Ma Dong Seok plays an arm wrestler who dreams of winning the world championship. After returning to Korea, he met his sister and grandchildren again, from which his life changed completely in a more unique and interesting direction that he had never had before.
15. The Soul-Mate – The Soul-Mate
The Soul-Mate is an interesting film revolving around Jang-su, a judo instructor, and her daughter. Jang-su is a person who loves his daughter more than anyone but is always indifferent to all that surrounds him, he lives quite alone and selfishly never helps people in need. Once he realized he could see police officer Tae-jin, a man who died while on a mission to track down an illegal women trafficking ring. The only one who can see Tae-jin bring the case to light and help the poor women.
Salenhanh – Product review blog
Address: 115 Nguyen Van Qua, Tan Hung Thuan Ward, District 12, Ho Chi Minh City
Website: https://salenhanh.com/en
Mail: Salenhanh.com@gmail.com
#salenhanh #Reviewsalenhanh