The name Liu Yifei is currently a topic of discussion online after being offered to play the live action version of the character Hua Mulan. This Disney movie is scheduled to be released on March 25, 2020. However, due to the worldwide coronavirus pandemic, the production has been postponed.
The actress who grew up in New York City began her modeling and acting career in 2002 in China. Not long after, she was chosen to play the role of Vuong Ngu Yen in the TV series demigod and half-demon. A year later, 2003, she had her feature film debut with a role in the movie Love in May.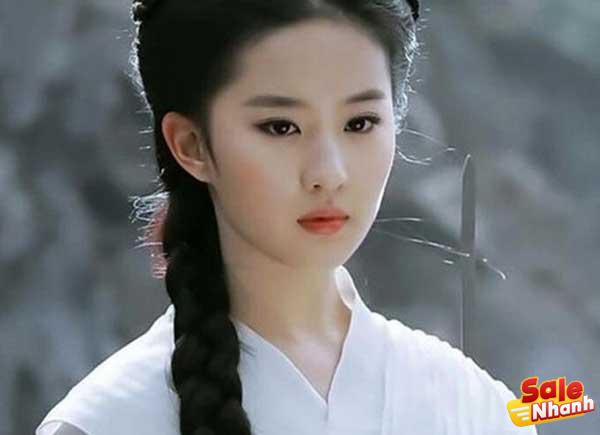 More or less now there are 20 feature films in which Liu Yifei plays the main role. She has also won four prestigious awards at the 24th Hong Kong Cinematographic Association Awards, the 5th Macau International Film Festival, the 16th China Film Media Awards and the Film Festival. 13th Guangzhou University Student.
This time, Salenhanh will give 10 recommendations for the movies that she has acted in. For you to know the quality of Liu Yifei's acting, just check out the review below.
The Forbidden Kingdom (2008)
Release year : 2008
Genre: Action, Adventure, Fantasy
Directed by: Rob Minkoff
Actors: Jackie Chan, Jet Li, Michael Angarano
Production company: Casey Silver Productions, China Film Co-Production Corporation,
The Forbidden Kingdom is Jackie Chan and Jet Li's first movie together. The film was a commercial success, grossing $128 million on a budget of just $55 million. This film also stars actor Michael Angarano and Liu Yifei as Golden Sparrow .
It is said that a teenager from Boston named Jason Tripitikas is now in a village in ancient China. He was holding a magic staff then was chased by a group of armored troops. Jason is later saved by a drunk named Lu Yan. After saving himself, the man then told Jason that the magic staff belonged to the Monkey King.
They were later attacked by the Lord's troops, but in time the Golden Sparrow led them to escape. The Golden Sparrow seems to be on a mission to kill a Lord who killed his parents.
The Chinese Widow (2017)
Release year : 2017
Genre: Historical, Romance, War
Director : Bille August
Actors: Yifei Liu, Emile Hirsch, Shaoqun Yu
Producer: Roc Pictures
Jack is a pilot of the US Air Force whose mission is to carry out bombings in the city of Tokyo. After completing the mission, the plane lost control and crashed in a province in China. The next day, he wakes up and is saved by a widow named Ying (Liu Yifei).
Ying then hid Jack in a cave near his village and tried to bandage his wound. However, the army from the Japanese empire sensed Jack's presence in the village and started trying to capture him.
Chinese Widow is a war drama film directed by Danish director Bille August. The film also stars Into the Wild actor, Emile Hirsch, who plays the character Jack.
Hanson and the Beast (2017)
Release year : 2017
Genre: Comedy, Fantasy, Romance
Director : Yang Xiao
Actors: Shaofeng Feng, Jingfei Guo, Guangjie Li
Production company : Beijing Culture, CKF Pictures, East Way Movie
A man named Yuan Shuai is in debt. In return, he tries to find a rich girlfriend through arranged dates. Later, he meets and falls in love with a fox named Bai Xianchu (Liu Yifei).
However, the head of the demon tribe Yun Zhonghe discovered this and immediately banned their relationship. Then he found Xianchu from the human world and brought him back to the demon world. On the other hand, Yuan is currently trying to bring home his girlfriend from another world.
The film itself offers a romantic comedy drama wrapped in a fantasy story. Hanson and the Beast starring Phung Thieu Phong, Liu Yifei, Ly Quan Kiet, Quach Tinh Phi, premiered on December 29, 2017.
Love of May (2004)
Release year : 2004
Genre: Romance
Director : Hsiao-Ming Hsu
Actors: Bo-lin Chen, Yifei Liu, Feng Tien
Producer: Arc Light Films
It is said that Ah Lei is the younger brother of a Mayday guitarist named Stone. In addition, he acts as the administrator of the Mayday fan base and is responsible for replying to all mail and emails from fans.
One day, he befriends a girl named Zhao Xuan (Liu Yifei) through a chat room. However, he lied to her and said that he was Ashin, the lead vocalist of the band Mayday.
Because he believed it, Zhao Xuan started sending him letters regularly. The two of them grow close and meet at a library. However, Ah Lei did not have the courage to face him because he lied.
Love In Disguise (2010)
Release year : 2010
Genre: Comedy, Romance
Director : Leehom Wang
Actors: Leehom Wang, Yifei Liu, Joan Chen
Production company: China Film Group Corporation (CFGC), Serenity Entertainment International
Camouflage Love is a romantic comedy film directed by artist and director Wang Leehom. In this film, Liu Yifei plays a music arts student named Song Xiao Qing, while her co-star Lee Hom Wang plays the celebrity Du Minghan.
It is said that Du Minghan has become the idol of Chinese women. After returning from a concert, the car he was driving accidentally hit a cyclist named Song Xiao Qing. After the incident, Minghan tried to find out who the beautiful girl really was.
Later, he finds out that Xiao Qing is studying at the Far Eastern Music Academy, a traditional music school in China. He disguised himself as a student there and started trying to approach the girl he liked.
White Vengeance (2011)
Release year : 2011
Genre: Action, Drama, History
Director : Daniel Lee
Actors: Shaofeng Feng, Leon Lai, Hanyu Zhang
Production company: Visualizer Film Productions, Starlight International Media
Bach Thien Revenge is a film about the decline of the Qin Dynasty by two rebel leaders, Luu Bang and Xiang Yu. The two promise to become brothers after successfully bringing down the Qin Empire.
However, a king named Hoai feels threatened by their existence. He was very ambitious to usurp power from the Qin Dynasty. King Hoai then pitted each other by ordering them both to capture Quan Trung. If either Liu Bang and Xiang Yu succeed, he will legally become the ruler of the Qin Empire.
This then caused a conflict between the two. Xiang Yu confidently asks his girlfriend, Yu Ji (Liu Yifei), to take shelter with Liu Bang temporarily. However, Liu Bang himself secretly likes Yu Ji.
Outcast (2014)
Release year : 2014
Genre: Action, Adventure, Drama
Directed by: Nick Powell
Actor: Nicolas Cage Hayden ChristensenAlexandre Bailly
Producer: Notorious Films, 22:22, Canal+
This film stars two Hollywood actors, Nicolas Cage and Hayden Christensen. The 1 hour 38 minute film is director James Dormer's big screen debut.
The autobiographical Outcast is about a king who has two teenage children named Lian (Liu Yifei) and Mei. They both have a greedy, cunning, and wealth-crazed uncle. One day, the uncle intends to kill Lian and Mei to take power from the king.
The uncle eventually managed to kill the king, but Lian and Mei were able to escape the threat. While on the run, the two are saved by a Crusader named Arken. Out of compassion after hearing the stories of the two girls he met, Arken helped the two of them claim the throne that should have been theirs.
The Four (2012)
Release year : 2012
Genre: Action, Crime, Fantasy
Directed by: Gordon Chan, Janet Chun
Actors: Chao Deng, Yifei Liu, Ronald Cheng
Production company : Beijing Enlight Pictures
Wuqing (Liu Yifei) is a charming young woman, but she cannot move her legs due to her disability. He also has to use a wheelchair. On the other hand, he has the ability to read the minds and hearts of others.
The power of mind became one of his main weapons. With that skill, he can control the wheelchair he uses so that he can go anywhere he wants. Armed with this power, he later joins the detective team directly under the Emperor's control.
There, Wuqing meets three wonderful people, each with their own strengths. They are the steel fist Tieshou, the god of death Zhuiming and Deng Chao, who can transform into wolves.
Once Upon a Time (2017)
Release year : 2017
Genre: Drama, Fantasy, Romance
Directed by: Anthony LaMolinara, Xiaoding Zhao
Actors: Yifei Liu, Yang Yang, Chun Li
Production company: Alibaba Pictures Group, Shanghai Ruyi Entertainment Co.
In this movie, Liu Yifei plays a goddess from heaven named Bai Qian. Once Upon a Time is made by directors Zhao Xiaoding and Anthony La Molinara by presenting a fantasy romantic drama story. The story in this film is based on the novel "Three Born, Three Worlds, Ten Peach Blossoms" by Tang Qi Gongzi.
Bai Qian is a beautiful and charming goddess who is traveling to the mortal world. As time passed, he met a person named Ye Hua and fell in love. Then they got married although it had to end tragically.
Then the two met again in the heavens, and now Ye Hua became a god and the crown prince of the black dragon. Even so, their memories of being together in the human world have been erased. Then, can they fall in love a second time?
The Third Way of Love (2015)
Release year : 2015
Genre: Drama, Romance
Director : John H. Lee
Actors: Yifei Liu, Seung-heon Song, Jia Meng
Producer: Huashi Media Investment Co.
The movie "Tuesday Love" also has the participation of handsome actor from Korea Song Seung Heon. In this movie, he plays a rich man named Lin Qi Zheng. Meanwhile, Liu Yifei plays herself as a trusted lawyer named Zhou Yu.
This film, directed by John H. Lee, is generally a romantic drama story. The romance story was then presented by Lin Qi Zheng, who fell in love with Zhou You. The two met for the first time on a plane, did not expect to know each other and liked each other.
However, their relationship was not smooth. There was a time when they had to go through such a large wall of obstacles. Lin Qi Zheng, who comes from a famous family, has to be arranged with another girl by the family. Will their love last? Don't forget to watch this one movie.
For those of you curious about it, just watch the movies recommended above. Don't forget to add it to your watchlist. Have fun watching!
Salenhanh – Product review blog
Address: 115 Nguyen Van Qua, Tan Hung Thuan Ward, District 12, Ho Chi Minh City
Website: https://salenhanh.com/en
Mail: Salenhanh.com@gmail.com
#salenhanh #Reviewsalenhanh