Laura Dern is a capable actress who gained recognition when she was awarded the Academy Award for Best Supporting Actor in the film Her Marriage Story.
Most people probably know her better for her role as a paleontologist named Ellie Sattler in the movie Jurassic Park. In fact, throughout her career in the world of cinema, she has acted in a lot of movies with gorgeous characters.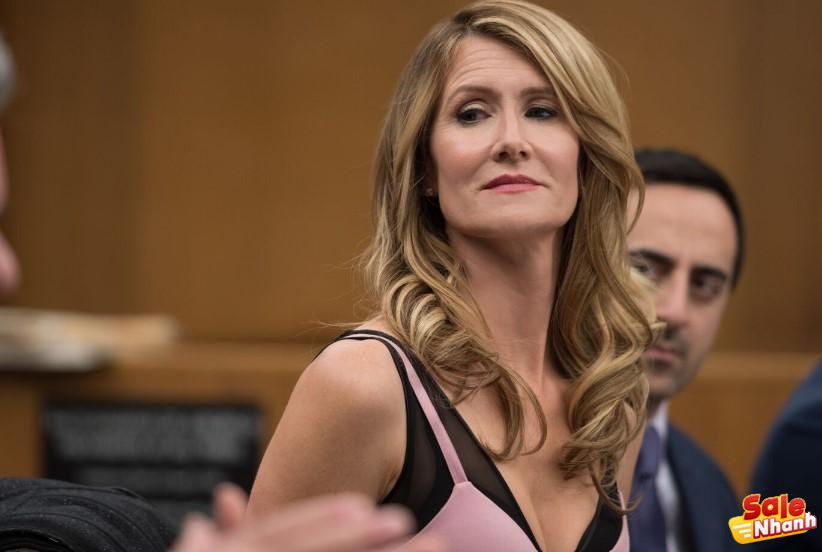 So, the following movies can be recommended for those of you who want to see Laura Dern's movies. This is the series!
Jurassic Park
Release year 1993
Genres Action , Adventure , Fantasy , Science Fiction , Horror
Produced by Amblin Entertainment , Universal Pictures
Director Steven Spielberg
Cast Sam Neill Laura Dern Jeff Goldblum Richard Attenborough Bob Peck
A billionaire named John Hammond (Richard Attenborough) plans to build an animal park filled with cloned dinosaurs.
Hammond also invites experts including Alant Grant (Sam Neill) a paleontologist, Ellie Sattler (Laura Dern) a paleontologist and a mathematician named Ian Malcolm (Jeff Goldblum).
Hammond invites them all so he can get a safety certification for the Dinosaur park he's building. Certification requested by investors following the incident where the dinosaur handler was killed by Velociraptor.
The experts' visit turns into a thrilling adventure after an employee at the captivity tries to steal a Dinosaur embryo. Staff turned off the electric fence allowing the Dinosaur to escape freely into the wild.
Marriage Story
Release year 2019
Genre Comedy, Drama, Family, Life, Romance
Golden Age Film Production
Director Noah Baumbach
Cast Scarlett Johansson Adam Driver Laura Dern Alan Alda
The Marriage Story follows the rift in the family of Charlie (Adam Driver) and Nicole (Scarlett Johansson). To save their marriage, both decided to seek marriage counseling.
Counselors advise them to write down the things they like about their partner and then read them aloud. However, the counseling session failed because Nicole did not dare to do it.
The two eventually decided to live separately and began the amicable divorce process. Nicole is accompanied by her lawyer, Nora Fanshaw (Laura Dern), while Charlie hopes their divorce doesn't go to trial.
In the end, their divorce still took place in court and was quite acrimonious.
Little Women
Release year : 2019
Genre: Drama, Romance
Production : Columbia Pictures, Pascal Pictures, New Regency Productions
Director : Greta Gerwig
Actors: Saoirse Ronan, Laura Dern, Emma Watson, Florence Pugh, Eliza Scanlen
Little Women is an adaptation of the novel of the same name by Louisa May Alcott. The film tells the story of 4 women in the March family.
The four women are Meg (Emma Watson), Jo (Saoirse Ronan), Amy (Florence Pugh) and Beth (Eliza Scanlan). They were raised by their mother, Marmee (Laura Dern) when their father was away because of war.
The story in this movie begins with Jo, who started her career as a writer. The novel he wrote was his own story with his three brothers.
The conflicts they face make them choose their own way of life. However, they still care about each other. When their sister Beth fell ill, the family was reunited.
October Sky
Release year: 1999
Genre: Biography, Drama, Family
Produce : Universal Pictures
Directed by: Joe Johnston
Actors: Jake Gyllenhaal, Chris Cooper, Laura Dern, Natalie Canerday, Chris Owen
October Sky is a movie about the dream of a boy Homer Hickam (Jake Gyllenhaal) to build rockets.
This dream is opposed by the father who wants his son to be a coal miner like himself. The dream seemed impossible for a child growing up in an area where most people worked as miners.
Homer was inspired to build rockets when he witnessed the launch of the Sputnik satellite in October. He also began experimenting with building rockets with his friends.
The father considers this activity a waste of time. In contrast to his teacher, Miss Rileys (Laura Dern), he instead supports Homer's efforts and forces him to enter a contest for a college scholarship award.
The Fault in Our Stars
Release year 2014
Genre Drama, Romance
Produced by Fox 2000 Pictures , Temple Hill Entertainment , TSG Entertainment
Director Josh Boone
Cast Shailene Woodley Ansel Elgort
The Fault in Our Stars is a film about the love story of two teenagers named Hazel (Shailene Woodley) and Augustus "Gus" Waters (Ansel Elgort).
Both are cancer survivors. Hazel's mother, Frannie (Laura Dern), worried that her child is suffering from depression, advises her to join a support group for people with cancer.
That was the first time Hazel met Gus. The meeting between the two brings them closer and they exchange novels. The novel given by Hazel makes Gus curious about the hanging ending.
They also contacted story writer Peter Van Houten (Willem Dafoe) to find out the beginning and end of the story. It's just that, to know the end of the story, they have to meet Peter in Amsterdam.
I am Sam
Release year : 2001
Genre: Drama
Production : New Line Cinema, The Bedford Falls Company, Avery Pix
Director : Jessie Nelson
Actors: Sean Penn, Michelle Pfeiffer, Dakota Fanning, Loretta Devine, Diane
I Am Sam is the touching story of a disabled father trying to gain custody of his child. Sam (Sean Penn) is the single parent of a daughter named Lucy (Dakota Fanning). Sam has mental retardation, so his mentality is like that of a seven-year-old child.
When Lucy was seven years old, the school became concerned about Sam raising Lucy and reported her to the authorities. Sam also lost custody of his son.
Then, Sam enlists the help of a lawyer named Rita (Michelle Pfeiffer) to regain custody of the children. In this film, Laura Dern plays Randy Carpenter, Lucy's adoptive parents.
Mask
Release year : 1985
Genre: Biography, Drama
Produce : Universal Pictures
Directed by: Peter Bogdanovich
Actors: Cher, Eric Stoltz, Sam Elliot, Laura Dern, Estelle Getty, Richard Dysart
Mask is a film based on the true story of a teenager named Roy Lee "Rocky" Dennis. He was a patient with a rare bone disorder.
Rocky (Eric Stoltz) grew up with his mother, Rusty Dennis (Cher), who led a quirky lifestyle. However, Rusty is very gentle and protective of Rocky.
Despite his flaws, Rocky grew up to be a warm and intelligent child. The principal even offered Rocky a job at a summer camp for the blind.
It was in this place that Rocky met Diana Adams (Laura Dern), with whom he fell in love. Unfortunately, this was not approved by Diana's parents.
The Tale
Release year : 2018
Genre: Biography, Drama, Mystery
Production : Gamechanger Films, Untitled Entertainment, A Luminous Mind Production
Directed by: Jennifer Fox
Actors: Laura Dern, Jason Ritter, Common, John Heard, Elizabeth Debicki
The Tale is a film about the director's personal experience when he was sexually abused as a child.
The story begins when Jennifer's mother (Laura Dern) finds an essay she wrote when she was 13 years old. The essay was titled "Relationship," a story she had hidden from her mother about an elderly lover.
When Jennifer reread the essay, she began to investigate what had happened to her as a child.
Jennifer's relationship began when she began taking riding lessons at the Camp with a riding instructor, Mrs. G (Elizabeth Debicki) and professional coach Bill Allens (Jason Ritter). Jennifer began to meet regularly with Bill, who began to provide sexual care for her.
When Jennifer's partner read the letter that Bill had written her, she said she had been raped. However, he felt it was not rape.
Oddly enough, he began to doubt his memory. Gradually, he began to realize that he had been the victim of years of abuse. He also learned that Mrs. G and Bill probably did this to other girls.
Wild
Release year : 2014
Genre: Adventure, Biography, Drama
Production : Bob Industries, Pacific Standard, Fox Searchlight Pictures
Director : Jean-Marc Vallee
Actors: Reese Witherspoon, Laura Dern, Michiel Huisman, Gaby Hoffmann, Thomas Sadoski
Wild is a film based on the memoir of Cheryl Strayed Wild: From Lost to Found on the Pacific Crest Trail. The film follows the journey of Cheryl (Reese Witherspoon) to recover from depression following the death of her mother.
Cheryl's mother, Bobbi (Laura Dern), dies of cancer. This caused him to fall into a very severe depression, so he did many bad things, such as taking heroin to die early.
He also decided to redeem himself by climbing the mountain. It is his attempt to heal the wounds of his mother's abandonment and also to find his true self.
Jurassic World: Dominion
Release year 2022
Genres Action , Adventure , Science Fiction
Amblin . Entertainment Production
Director Colin Trevorrow
Cast Chris Pratt Bryce Dallas Howard Sam Neill Laura Dern Jeff Goldblum
Jurassic World: Dominion is about the rescue made by Owen Grady (Chris Pratt) and Claire Deering (Bryce Dallas Howard) for the kidnapping of their adopted child, Maisie (Isabella Sermon).
In addition, this film also tells about the efforts of Ellie Sattler (Laura Dern), Dr. Alan (Sam Neill) and Ian Malcolm (Jeff Goldblum) on a corporate crime investigation mission. Both incidents appear to have been carried out by the same person, namely Lewis Dodgson (Campbell Scott). He is the CEO of the company Biosyn.
He commits his crimes by genetically modifying dinosaurs and other animals that can cause disaster. All must prevent Dodgson from carrying out his intentions.
So now you know what movies Laura Dern has been in. What movies have you watched? Share in the comments column, OK!
Salenhanh – Product review blog
Address: 115 Nguyen Van Qua, Tan Hung Thuan Ward, District 12, Ho Chi Minh City
Website: https://salenhanh.com/en
Mail: Salenhanh.com@gmail.com
#salenhanh #Reviewsalenhanh