Remembered for his role as a psychopath in one of his dramas, Kwon Yool has a long track record of acting. Started working in the field of drama since 2007, he has appeared in more than 20 dramas, both lead and supporting roles. Several popular TV series have him as the main character, such as Let's Eat Season 2 (2015).
Kwon Yool's achievements on the small screen can be proud of. In the drama Whisper (2017) aired on SBS, Kwon Yool even won the award for Best Actor in a Serial Drama. Are you more curious about the title of the drama he acted in? We have selected the ten best Kwon Yool dramas for you!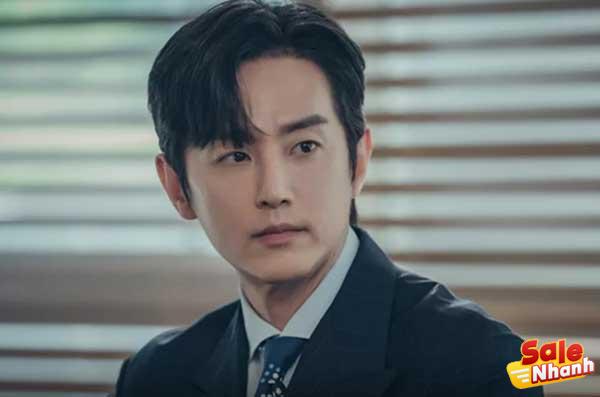 Dali and Cocky Prince
Dali and Cocky Prince (2021) is a movie by Kwon Yool in association with Park Gyu Young and Kim Min Jae. Here, you will see Kwon Yool as Jang Tae Jin, a wealthy businessman and Dali's first love.
Kim Dali at the center of this drama is a calm and intelligent young woman. She is the daughter of the owner of the most famous art gallery in Korea.
The pain of his father's death never seems to go away because Dali is always terrorized by bills owed again and again, one of which is that of Jin Moo Hak, the son of a business owner. successful restaurant. Jang Tae Jin then offered to help but Dali refused because he had hurt her in the past.
It was later found out that the two were engaged, but Tae Jin canceled it for a surprising reason.
Voice 2
Release year 2018

Genres Mystery , Psychological , Thriller

Director Lee SeungYoung

Cast Lee Ha Na Lee Jin Wook
Kwon Yool's drama Voice (2017) is one of the most popular horror crime dramas in Korea. So popular and in demand, this series was made for four seasons.
Kwon Yool himself appeared in a supporting role in the second season, a cameo in the third season, and a cameo in the fourth season. Through this drama, Kwon Yool will surprise you with his character.
Voice 2 (2018) continues the story of Golden Hour in dealing with real-time emergency incidents from phone calls received through emergency services.
One day, a mysterious serial killer named Dr. Fabre appeared. A voice analyst named Kwang Kwon Joo and a tough detective, Do Kang Woo, team up to catch the culprit.
Bring It On, Ghost
Release year 2016

Genres Comedy , Horror , Romance , Supernatural

Director Park Joon Hwa

Cast Ok Taecyeon Kim So Hyun Kwon Yool
Take it away, Ghost (2016) is Kwon Yool's film in the genre of horror, mystery, romantic comedy quite new. The film follows the life of a young man Park Bong Pal, who has the ability to see ghosts and uses this ability to make money.
Bong Pal is raising money so he can pay for his disqualification procedure.
While visiting a school, Bong Pal meets the spirit of a teenage girl who died 5 years ago. The soul named Kim Hyun Ji is confused because it will never go to the afterlife. He believes Bong Pal can help him figure it out. The two then work together and fall in love.
They do not realize that they are being followed by an evil spirit that caused Hyun Ji to die. Besides, the evil spirit turned out to be the character that made Bong Pal see ghosts. The evil that terrorizes Bong Pal and Hyun Ji's lives is played by Kwon Yool as Joo Hye Sung.
Hachi
Release year 2019

Genre Action , Drama , History , Historical , Politics , Royalties , Historical

Director Lee Yong Seok

Cast Jung Il Woo Go Ah Ra Kwon Yool Park Hoon Lee Kyung Young
During the Joseon Dynasty, four people from different backgrounds gathered to make Prince Lee Geum king. They also drastically reformed Saheonbu. The four are Lee Geum, Yeo Ji and Bak Mun Su played by Kwon Yool.
Bak Mun Su, one of four people who are passionate about seeking justice. His only goal is to protect the weak and the poor. Mun Su took the civil service exam to serve as a state official.
Later, he is appointed as investigator in Saheonbu as well as undercover investigator. Mun Su is described as a gentle and honest person.
The King: Eternal Monarch
Release year 2020

Genres Drama , Fantasy , History , Romance , Science Fiction

Director Baek Sang Hoon , Jung Ji Hyun , Yoo Je Won

Cast Lee Min Ho Kim Go Eun Woo Do Hwan Lee Jung Jin Kim Kyung Nam Jung Eun Chae
Lee Gon is the modern day Emperor of the Kingdom of Corea. He becomes the perfect leader for his people, but who knows that inside he has a wound inflicted after his father was killed right in front of his eyes.
The wound in his heart from the age of 8, carried it to adulthood. However, instead of showing filial piety, Lee Gon took more risks.
He tries to overcome the barrier to an alternate reality as the Republic of Korea becomes the surrogate force for the kingdom. When he broke through the fence, Lee Gon met detective Jung Tae Eul, whom he recognized from his identity card.
During a childhood turning point, Lee Gon recalls his identity card and has flashbacks of his father's murder. The role of Lee Gon's father is played by Kwon Yool.
Mental Coach Jegal
Release year 2022

Genre Drama , Psychological , Sports

Director Son Jung Hyun

Cast Jung Woo Lee Yoo Mi Kwon Yool Park Se Young
Kwon Yool's next film is in the sports drama genre, exploiting the psychology of athletes who have started to lose their form. Jegal Spirit Trainer (2022) tells the story of a former Taekwondo athlete who is no longer able to compete because of a scandal. Jegal Gil went through hard times before finally standing up again.
His revival, he uses to help athletes suffering a similar fate. He helps heal the psyche of retired athletes, it's an absurd world.
Kwon Yool plays Gu Tae Man, the head of the Sports Council's Center for Human Rights and a former Olympic Taekwondo gold medalist.
Let's Eat 2
Release year 2015

Genres Comedy , Crime , Drama , Food , Friendship , Romance , Horror , Workplace

Director Choi Kyu Shik , Park Joon Hwa

Cast Yoon Doo Joon Seo Hyun Jin Kwon Yool Kim Hee Won Hwang Seok Jung
Let's Eat 2 (2015) follows the adventures of Goon Dae Young as he moves into a new building and reunites with his old elementary school friend, Baek Soo Ji. Soo Ji is an independent woman who has lived alone for ten years. He also has a lot of knowledge about food, so the two easily become close.
Soo Ji works as a freelance writer. She secretly likes another neighbor, Lee Sang Woo, played by Kwon Yool. Sang Woo is a simple civil servant and his taste never changes. Soo Ji signs a contract with Dae Young while pursuing Sang Woo.
One More Happy Ending
Release year 2016

Genre Comedy, Romance

Director Kwon Sung Chang

Cast Jang Nara Jung Kyung Ho Yoo Da In Kwon Yool Yoo In Na Seo In Young
One More Happy Ending (2016) is Kwon Yool's film that will invite you to see the lives of women who were once famous for the first generation girl group called Angles.
Women in their 30s now lead very different lives; and ready to meet men they will fall in love with again.
In the past, Han Mi Mo, Baek Da Jung, Go Dong Mi, Hong Ae Ran, and Goo Seul Ah were successful as girl groups. However, due to internal problems, they had to disband. Each of them is now living their own life, consisting of different love stories. Kwon Yool as a bachelor doctor named Goo Hae Joon, who gets involved with them.
No, Thank You Season 1&2
Release year 2020

Genre Comedy, Drama, Romance

Director Lee Kwang Young

Cast Park Ha Sun Kwon Yool Moon Hee Kyung Kim Jong-Goo
Kwon Yool's drama No, Thank You Season 1&2 (2020-2021) is adapted from a webcomic titled Myeonuragi by author Soo Shin JI. For two seasons, Kwon was assigned the lead role named Goo Young. For two seasons, he also competed acting with Park Ha Sun as husband and wife.
In the first season, Goo Young and Sa Rin are newlyweds. Sa Rin tries to be a good bride but her husband and husband look down on her so Sa Rin begins to doubt her married life. In the second season, Sa Rin seems to have adapted. His life is going relatively smoothly until he gets caught up in an unexpected case.
Whisper
Release year 2017

Genre Drama , Politics , Romance

Director Lee Myung Woo

Cast Lee Bo Young Lee Sang Yoon Kim Kap Soo Park Se Young
Shin Young Joo is a charismatic and passionate policewoman with her mission. Having a family that is having financial difficulties, like it or not, he has to go through a lot of suffering in addition to paying off the family's debt.
He works with the excellent, virtuous, friendly, intelligent and willing judge Lee Dong Joon.
The two join forces to uncover corruption cases at Taebak, the largest law firm in Korea. The case turned out to be one of the biggest scandals ever.
There, they met one of the lawyers and managers of the group that handles mergers and acquisitions, Kang Jung Il. Jung IL played by Kwon Yool is known to be a cruel and cunning lawyer.
You can choose ten Kwon Yool dramas in this article according to your preferences. Want romantic comedies, dramas with heavy themes related to the law, to saeguk dramas always have a special side. They all present interesting stories to accompany your leisure time!
Salenhanh – Product review blog

Address: 115 Nguyen Van Qua, Tan Hung Thuan Ward, District 12, Ho Chi Minh City

Website: 

https://salenhanh.com/en

Mail: Salenhanh.com@gmail.com

#salenhanh #Reviewsalenhanh