Kim Tae Hoon, a graduate of Hanyang University, started his first acting career through theater and is the younger brother of Korean movie star Kim Tae Woo under the auspices of JYP Entertainment. (JYP Actors).
After graduating from university, Kim Tae Hoon joined the stage production in 1997. The actor acted in many dramas but mainly played supporting roles. But different from his role on the big screen.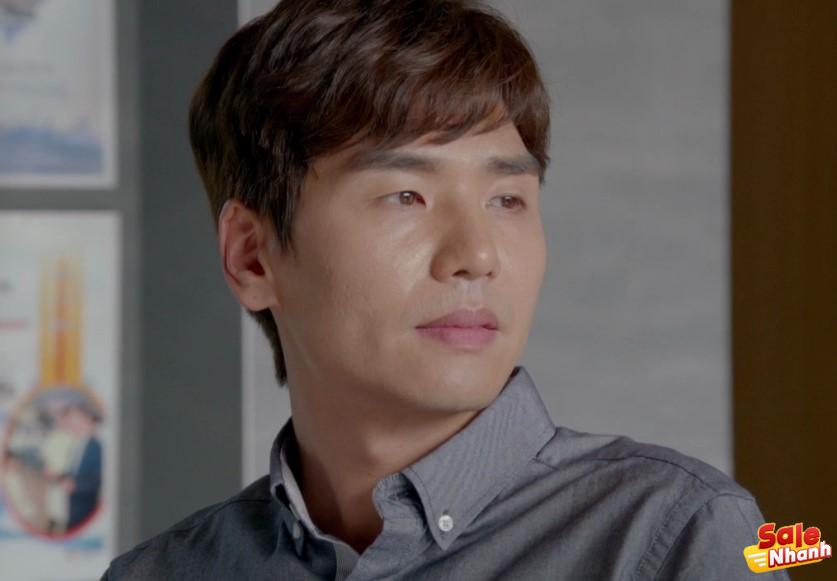 In movies, Kim Tae Hoon often plays the male lead, such as When Winter Screams (2013) or Good Person (2021). So here is another Kim Tae Hoon series.
My Wife Got Fat
Release year: 2020
Genre: Food, Life, Romance, Family
Manufacture: –
Director: Ryu Deok Hwan
Actors: Kim Tae Hoon, Jang Young Nam, Ahn Ji Ho, Kim Jun
My Wife Got Fat is part of a compilation of four short films. A movie in which Kim Tae Hoon starred is called My Wife Got Fat.
This family drama tells the story of a wife who constantly complains about her husband's constant weight gain.
According to him, he had reduced his portion size, sometimes he didn't even eat, but the weight kept increasing until he became obese.
From the husband's point of view, the reason for his wife's weight gain is not from eating at the same dinner table. This is because when he cooks he likes to taste food.
In addition, he is a person with the principle of throwing away, so whenever there is food that does not run out or just sits in one place, he eats it all.
Like most mothers, she also loves to eat her baby's leftovers without running out. While shopping, she also enjoys eating food samples.
The way her husband soothes his wife is quite unique. He did not brag much but ate with his wife. When his wife dieted and exercised, he followed suit.
Snow Paths
Release year: 2016
Genre: Romance, Drama
Produce: Inster Invent Stone
Directed by: Kim Hee Jung
Actors: Kim Tae-hoon, Park So-dam, Choi Moo-Seong
Snow Path tells the story of a person trying to heal his drinking habit.
To heal himself, Jeong Woo (Kim Tae Hoon) goes to a remote sanatorium in the mountains.
There, he meets a nun named Maria (Park So Dam). The nun is very concerned about Jeong Woo.
Besides Maria, there is a hunter (Choi Moo Sung) and a doctor (Kim Myung Hwan) in that place. Will Jeong Woo recover from his bad habit?
Glass Garden
Release year: 2017
Genre: Mystery, Drama
Produce: June Film
Director: Shin Suwon
Actors: Moon Geun Young, Seo Tae Hwa, Kim Tae Hoon, Park Ji Soo, Lim Jung Woon
This movie tells the story of a girl who withdraws from the outside world by hiding in the forest. There, he met a writer who was facing a problem of plagiarism.
A girl named Jae Yeon (Moon Geun Young) turns out to be a researcher and doctoral student.
The reason he was alone in the forest, in the glass garden to be exact, was because he had been hurt by his friends as well as his lover. There, she meets Ji Hoon (Kim Tae Hoon), a writer who is in trouble.
Ji Hoon was inspired by Jae Yeon and wrote the girl's story into a novel titled Glass Garden. The two are finally close. However, there is something quite mysterious in the glass garden.
Trick
Release year: 2016
Genre: Horror, Drama
Produce: Storm Pictures Korea
Director: Lee Chang Yeol
Actors: Kim Tae Hoon, Lee Jung Jin, Kang Ye Won
Trick tells the story of a famous PD who made a mistake while doing his job. The PD's name is Suk Jin (Lee Jung Jin). He tells a story about unhealthy food, but the content of the story is wrong.
Because of his mistake, he was fired from the PD position. After a few years, a CEO asked him to come back as a PD.
This time he was asked to present a documentary about married couple Kim Do Jun (Kim Tae Hoon) and Choi Young Ae (Kang Ye Won) who were seriously ill. If the film is successful, Suk Jin is promised to take the position of director.
When Winter Screams
Release year: 2013
Genre: Drama, Fantasy, Horror
Produce: KAFA FILMS
Director: Samuel Lee
Actors: Kim Tae Hoon, Ji Woo, Lee Yong Joo
The film is about a father named Yeon Soo (Kim Tae Hoon). He did not want his child to be disabled, so he asked his wife to have an abortion.
At the same time, he was also fired. The incident led him to find a motel to get out of the predicament he was in.
This guesthouse is quite extreme because it is located on a snow-covered mountain. When he got there, he met his old friend again.
There are also two mysterious men on the same floor. Meeting these people reminds Yeon Soo of her past.
Mysteriously, a girl named An Na (Ji Woo) appears and wants to find her father. All these events made Yeon Soo even more confused. What exactly happened at the motel?
Shotgun Love
Release year: 2011
Genre: Drama, Comedy, Romance
Produce: WE Pictures Seoul Sisters
Director: Rain Jung
Actors: Lim Chang Jung, Kim Gyu Ri, Kim Tae Hoon
Shotgun tells the story of a man trapped by a pregnant woman. Surprisingly the man was not confused or angry, he was very happy. It's because he really likes that woman.
Sang Yeol (Im Chang Jung) was trapped by So Yeon (Kim Gyu Ri) and taken to a motel. He's happy because he thinks he's spent the night with the woman he loves.
Actually, the father of the child that So Yeon is carrying in her belly is PD Park (Kim Tae Hoon). He asks So Yeon to have an abortion. Wanting to have children, So Yeon traps Sang Yeol to make him think he is pregnant with her.
An Ethics Lesson
Release year: 2013
Genre: Crime, Drama
Produce: TPS Company, Saram Entertainment
Director: Park Myung Rang
Actors: Lee Je Hoon, Kim Tae Hoon, Cho Jin Woong, Moon So Ri, Kwak Do Won
This movie tells the story of people who become connected because of a murder. They are a cop named Jung Hoon (Lee Je Hoon), a psychopath named Han Hyeon Soo (Kim Tae Hoon) and a professor named Soo Taek (Kwak Dong Won).
Another is Myung Rok (Cho Jin Woong), the uncle of a girl named Ji Na (Go Sung Hee), who becomes the victim of a murder.
The witness of the murder is Jung Hoon, the killer is Han Hyeon Soo and the accused is Soo Taek.
There is also one person trying to profit from the incident, which is Myung Rok. The three people involved in the murder are trying to save themselves.
If You Were Me 5
Release year: 2011
Genre: Drama
Produced by: Korea National Human Rights Commission
Director: Sin Dong Il
Actors: Kim Tae Hoon, Kim So Sook
The film consists of five segments and is directed by five different people. The stories in If You Were Me 5, namely "Q&A", "Her Story Playing", "Two Teeth", "Banana Shake" and "Nima".
Kim Tae Hoon acted in a segment called Her Story Playing. He plays In Kwon, a husband whose wife had a miscarriage.
When taking his wife to the hospital, he forgot the bag he was carrying. The bag was lost at the hospital and the hospital couldn't find it because the CCTV was broken. He and his wife later sued the hospital.
Good Person
Release year: 2021
Genre: Mystery, School
Produce: Korea Film Academy
Director: Jung Wook
Actors: Kim Tae Hoon, Lee Hyo Je, Kim Hyun Jung, Kim Jong Goo, Ko Kwan Jae
This movie tells the story of a teacher who tries to be fair. It is because of his attitude that many students like him. But his demeanor is tested when he is confronted by a student suspected of taking his wallet.
The teacher named Kyeong Seon (Kim Tae Hoon) tries not to corner his students. He tries to get his students to confess.
Kyeong Seon also got into trouble when his ex-wife gave him a child. Eventually the child had to be taken to the emergency room. But the surprising thing is that the accident that happened to his daughter was related to the student.
He tries to find out who lied about the incident that took his son to the hospital. However, he is also in trouble because Kyeong Seon is not really honest with his ex-wife.
Those are 9 films of Kim Tae Hoon, the actor who appeared in the hit drama Reply 1988. There are two recent films he has participated in but has not yet aired: Taste of Horror and Dream Palace.
His face is very familiar to drakor connoisseurs as he has acted in many Korean dramas, even though he is only a supporting actor. Have you ever watched a movie starring Kim Tae Hoon?
Salenhanh – Product review blog
Address: 115 Nguyen Van Qua, Tan Hung Thuan Ward, District 12, Ho Chi Minh City
Website: https://salenhanh.com/en
Mail: Salenhanh.com@gmail.com
#salenhanh #Reviewsalenhanh