Kim Hyo Jin kickstarted her journey in the art world as a model for a youth magazine. She made her debut as an artist in 1999, and her acting career took off after her successful lead role in the movie "Everyone Has Secrets" in 2004. Since then, she has appeared in numerous films, showcasing her versatility as an actress in various genres.
While Kim Hyo Jin is known for fearlessly taking on roles in adult-themed movies, she has recently been more active on the small screen, with her latest movie having aired in 2016. If you're curious about her work, we have some recommendations for you to explore!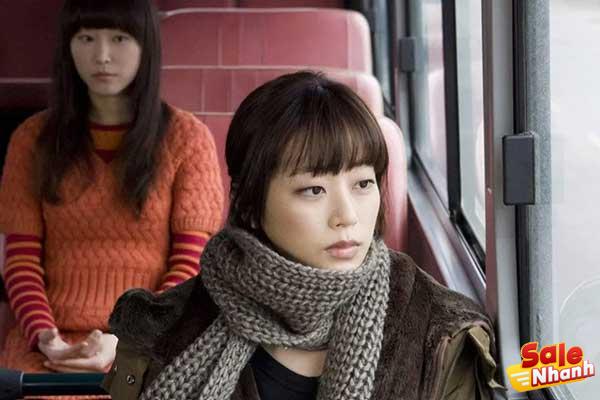 Will You Be There
Release year 2016
Genres Drama , Psychological , Romance , Science Fiction
Director Hong Ji Young
Cast Kim Yoon Seok Byun Yo Han Chae Seo Jin Kim Sung Ryung
The movie Will You Be There (2016) by Kim Hyo Jin is adapted from the French novel titled "Seras-tu is?" by Guillaume Musso. He installed Kim Yun Seok, Byun Yo Han, and Chae Seo Jin as the main characters and Kim Hyo Jin as a supporting role named Illeana.
Will You Be There (2016) tells the story of a surgeon named Soo Hyun, whose life is short due to a serious illness.
He has one wish, which is to meet his girlfriend who died 30 years ago. Soo Hyun then receives a mysterious pill from a mysterious old man.
The pill allows him to return to the past. Soo Hyun is determined to return to the past. When he got there, he met his old self again.
Adult Soo Hyun who knew that his lover would die because he tried to save her. Two Soo Hyun work together to change the past. Can they do it?
Barefoot Ki Bong
Release year 2006
Genres Comedy , Drama , Life , Sports
Director Kwon Soo Kyung
Cast Shin Hyun Joon Kim Soo Mi
Barefoot Ki Bong (2006) is a movie by Kim Hyo Jin starring Shin Hyun Joon, Kim Soo Mi and Tak Jae Hoon. Written and directed by Kwon Soo Kyung, this drama will warm your heart because of its story.
Gi Bong, a 40-year-old man, but his spirit is only that of a child. People around where he lives, often ignore Bong.
They call Barefoot Bong Gi-Bong because he likes to run. One day when Bong was training hard because he wanted to run a marathon. Unexpectedly, the villagers turned to support him. In this drama, Kim Hyo Jin plays the role of Jeong Won.
Genome Hazard
Release year 2014
Genres Drama , Mystery , Science Fiction , Horror
Director Kim Sung Soo
Cast Nishijima Hidetoshi Bando Takumi
Genome Hazard (2014) is based on the Japanese science fiction novel. This is a Korean-Japanese co-production directed by Kim Seong Su; and Kim Hyo Jin lined up to play the female lead.
Here he plays the role of Kang Ji Won. Genome Hazard (2014) revolves around the life of a man named Ishigami Taketo. He was shocked to learn that his wife had died in their home.
Ishigami then receives a strange phone call that makes him unable to trust his own memory. Ishigami begins to question who he is and believes he is a Japanese man. Aided by a Korean reporter, Ishigami tries to unravel the mystery of his whereabouts.
The Indecent Family
Release year 2013
Genre Adult , Comedy , Mature , Romance
Director Park Bo Sang
Cast Kim Hyo Jin Lee Mi Sook Chun Ho Jin Kim Seung Woo
Tummy, Horny Family or The Indecent Family (2013) is a movie by Kim Hyo Jin that is quite interesting because it tells the story of a family curious about the sex lives of other couples.
The Seo family looks like the perfect middle-class Korean family. Family members love each other, whether spouses or children.
However, who would have thought that everyone has a 'secret'. The father, an emeritus professor, is knocked down by his student. The mother tried to seduce the young photographer by agreeing to model for her.
Not to mention their children are also concerned about things they shouldn't be doing. Here, Kim Hyo Jin plays Yoon Jung, a student who has a crush on Professor Seo.
A Dream Comes True
Release year 2009
Genre Drama
Director Jang Yong Woo
Cast Kim Hyo Jin Cha Geon Cha In Pyo
Sang Hyeon is a comedian who works at a nightclub. One day, a man came to the club where he worked with a small child and a bag.
That night, Sang Hyeon witnesses a car accident that kills the man. In a dying state, he asked Sang Hyeon to bring the boy back to his wife.
Sang Hyeon then went to find the man's family while carrying a small child and a checked bag. Instead, the family asked Sang Hyeon to take the child to his mother who lives in Donghae. They pay Sang Hyeon well if you want to do it.
Unfortunately, that money was taken by loan sharks, so Sang Hyeon had no money left. The problem became even more complicated because the mother of the child could not be found. Sang Hyeon then meets Ha Na played by Kim Hyo Jin. She works as a cheesy dancer.
Marriage Blue
Release year 2013
Genre Comedy, Drama, Romance
Director Hong Ji Young
Cast Kim Hyo Jin Kim Kang Woo Lee Yun Hee Joo Ji Hoon Ok Taec Yeon Ma Dong Seok Guzal Tursunova Go Joon Hee Lee Hee Joon
"Marriage Blues – 2013" is Kim Hyo Jin's drama of the variety genre that tells the journey of eight people with different love stories who are preparing for their marriage.
Kim Hyo Jin plays Joo Young, the love interest of Tae Kyu, a former professional baseball player who now coaches a small soccer team.
Joo Young runs a fairly successful urology clinic. Both look very happy and are preparing for the wedding.
Unfortunately, their relationship is interrupted one day when Tae Kyu discovers the past of Joo Young, who turns out to be a widow. He felt both jealous and betrayed. Will their wedding plans be saved?
Everybody Has Secrets
Release year 2004
Genre Comedy, Romance
Director Jang Hyun Soo
Cast Kim Hyo Jin Lee Byung Hun Choi Ji Woo Chu Sang Mi
Kim Hyo Jin's next film is called Everyone Has a Secret (2004). In this movie, he collided with actor Lee Byung Hun. Playing the role of Han Mi Yeong, Hyo Jin is said to be captivated by the handsome looks of Lee Byung Hun, who plays a character named Soo Hyun.
Soo Hyun is really a very attractive and intelligent man so it is easy for anyone to like him. Among them are three sisters, Han Seon Yeong, Han Ji Yeong and Han Mi Yeong.
The married Ji Yeong is still enthusiastic about getting Soo Hyun, as are the liberal Mi Yeong and the innocent Sun Yeong. All three are so attracted to Soo Hyeon's charms and sweet words that they ignore the appropriate and the inappropriate.
The Legend of Evil Lake
Release year 2003
Genre Action, Drama, Fantasy, Romance
Director Lee Seung Moo
Cast Kim Hyo Jin Jung Joon Ho
Evil Fox Legend (2003) is a fantasy film set in the late Shilla dynasty. This drama tells the story of Queen Jinsung's trusted general named Biharang, who struggles to save the country from war and rebellion. The seemingly non-stop fighting made Biharang tired.
She wants to live a peaceful and mediocre life with her lover, Jawoonbi, played by Kim Hyo Jin. Instead of agreeing, Queen Jinsung was jealous and disapproved.
He then orders the assassins to finish off Jawoonbi. Jawoonbi then threw himself into the lake and left his necklace to Biharang.
Jawoonbi's body is then controlled by a spirit from the Auta Tribe who hates Shilla. Jawoonbi also transforms into a ghost with superpowers. Using his power, he was able to destroy the capital Shilla; and the revenge begins.
The Taste of Money
Release year 2012
Genres Crime , Drama , Horror
Director Im Sang Soo
Cast Kim Hyo Jin Kim Kang Woo Baek Yoon Shik Youn Yuh Jung
Kim Hyo Jin's film The Taste of Money (2012) is about the lives of privileged people in Korean society. In the drama, Kim Hyo Jin plays Yoon Na Mi, the daughter of a rich family.
Her father is CEO Yoon and her mother is Baek Geum Ok, the daughter of the richest man in Korea. Yoon married Geum Ok just because he was rich and when he got married, he was like a hired worker for his wife's family.
Because they're so rich, it's like their family has unlimited power, but Na Mi doesn't really enjoy those amenities. Yoon is later caught having an affair with his ten-year-serving worker, Young Jak.
Young Jak tries to report it to Geum Ok, but doesn't get the response it deserves. When Yoon left, Young Jak took over Yoon's role in the family. After that, he lost confidence and began to approach Na Mi and ignore the moral values ​​he should have upheld.
Life is Peachy
Life is Peachy (2011) is a film by Kim Hyo Jin directed by Kim Soo Hyeon, which tells the story of three women named Ji Woo, who carry and express feelings of love through language and body. women's bodies.
Kim Hyo Jin as Yoon Ji Woo; a girl planning a fake suicide with a beautiful pickpocket, Kang Ji Woo.
The two are stopped by Detective Min Young and fall in love like fate. Jung Ji Woo and Hee Jin tried to listen to their love story and started asking a lot of questions. Do they really love each other and tell the truth about their feelings?
The ten films of Kim Hyo Jin selected above are counted as old movies. However, do not doubt the quality of the story. The actress and model and the wife of actor Yoo Ji Tae, who plays the Professor in Money Heist Korea (2022), will surely give the best performance. Do you have any other movie recommendations from Kim Hyo Jin?
Salenhanh – Product review blog
Address: 115 Nguyen Van Qua, Tan Hung Thuan Ward, District 12, Ho Chi Minh City
Website: https://salenhanh.com/en
Mail: Salenhanh.com@gmail.com
#salenhanh #Reviewsalenhanh