Jung Kyung Ho is no longer a new name in the Korean entertainment industry. His name is on the cast list of several popular TV series and movies. Recently, Jung Kyung Ho is becoming the focus of public attention when starring in the medical-themed seasonal drama "Hospital Playlist".
In the drama, Jung Kyung Ho won the hearts of the audience with the role of tsundere doctor Kim Jun Wan. So, for those who are new to Jung Kyung Ho and want to know what dramas this handsome actor has acted in, Read on has compiled some of his best dramas. Curious? Stay tuned for the discussion below!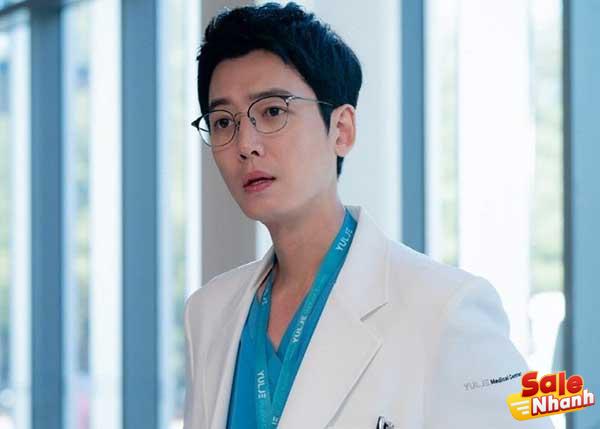 Hospital Playlist
Release year : 2020
Genre: Medical, Drama, Friendship, Romance, Comedy, Life
Network : tvN
Produce : Egg is Coming, CJ ENM
Director : Shin Won Ho
Actors: Jo Jung Suk, Yoo Yeon Seok, Jung Kyung Ho, Kim Dae Myung, Jeon Mi Do
Episodes : 12
In the film directed by Shin Won Ho, Jung Kyung Ho participates as one of the 5 central characters. The character he plays, Kim Jun Wan works as a cardiovascular surgeon.
Jun Wan is a typical doctor who is not strict in his words and always presents facts and data. Therefore, sometimes patients feel that Jun Wan is a doctor who is not gentle.
Jun Wan is also very aggressive towards the doctor under his guidance, even being given the name "Thanos". Even so, Jun Wan is a trustworthy doctor and really cares about his patients and doctors.
This "Hospital List" describes the story of 5 medical professors with different specialties who work at Yulje Medical Center. The five of them have actually been friends since they were in medical school in 1999. In the midst of their busy hospital lives, they also formed a band with Jun Wan, who took the position of guitarist.
To perform the band's session scene, Jung Kyung Ho and the other 4 members did not synchronize their hands but played the instruments themselves. Each of them even has their own personal trainer. They also regularly practice together to perfect the scene.
Hospital Playlist 2
Release year : 2021
Genre: Medical, Drama, Friendship, Romance, Comedy, Life
Network : tvN
Produce : Egg is Coming, CJ ENM
Director : Shin Won Ho
Actors: Jo Jung Suk, Yoo Yeon Seok, Jung Kyung Ho, Kim Dae Myung, Jeon Mi Do
Episodes : 12
After a year of waiting, finally, Hospital Playlist season 2 has officially welcomed the fans. The story developed by screenwriter Lee Woo Jung for "Hopital Playlist 2" still focuses on the five doctors along with their patients, colleagues, friends, and of course their families.
Shin PD in his interview said that the second season will show the development of each character and their relationship with other characters. In addition, they still keep the same touching story as the previous season, only the storyline shown will be deeper.
So for those who watched the first season, here you will witness the development of the story of Kim Jun Wan with his 4 friends and his patients with various backgrounds. . Don't forget, the dynamics of his relationship with CS resident Do Jae Hak and the continuation of the story with his secret lover, Lee Ik Sun aka Lee's younger brother Ik Jun.
Prison Playbook
Release year : 2017
Genre: Comedy, Drama, Comedy
Network : tvN
Produce : tvN
Director : Shin Won Ho
Actors: Park Hae Soo, Jung Kyung Ho
Episodes : 16
Before Hospital Playlist, Jung Kyung Ho also collaborated with director Shin Won Ho in the tvN drama called Prison Playbook. This drama series revolves around life behind bars, which of course involves the prisoners and their officers.
Here, Jung Kyung Ho becomes the main character along with actor Park Hae Soo. His character is Lee Joon Ho, a prison guard officer.
As a teenager, Joon Ho and his friend Jae Hyuk joined the baseball team at his school. Unfortunately, Joon Ho is unable to return to baseball due to an injury following a car accident.
In contrast to Joon Ho, Jae Hyuk has become the MVP of a baseball team and is highly appreciated by the public for his pitching skills. But one day, an unfortunate incident happened to him. Because he wants to save his sister who is a victim of sexual violence, Jae Hyuk becomes a suspect in an assault case.
As a result of this incident, two close friends Lee Jae Hyuk and Lee Joon Ho were reunited, Joon Ho as the warden and Jae Hyuk as the prisoner.
When the Devil Call Your Name
Release year : 2019
Genre: Music, Comedy, Drama, Fantasy, Psychological, Supernatural
Network : tvN
Produce : tvN, The Moon C&M
Director : Min Jin Gi
Actors: Jung Kyung Ho, Park Sung Woong, Lee Seol, Lee El
Episodes : 16
"When the Devil Calls Your Name" is a musical drama series inspired by the masterpiece "Faust" by the German writer, Johann Wolfgang von Goethe. Jung Kyung Ho plays Ha Rip, a famous musician who has created many extraordinary works. This popularity certainly makes Ha Rip surrounded by abundant wealth and dignity.
But apparently, his popularity is the result of him dealing with demons in the form of a top actor named Mo Tae Kang. His contract with this demon had been in place for 10 years and was nearing its limit.
After many years, Ha Rip realizes that the deal cost the life of a young musician named Lee Kyung. Ha Rib also tried very hard to save the lives of himself, Lee Kyung and those around him. In the process, Ha Rip also realized the value of life.
Life on Mars
Release year : 2018
Genre: Police Procedural, Criminal, Science Fiction
Network : OCN
Produce : MANUFACTURER
Director : Lee Jung Hyo
Actors: Jung Kyung Ho, Park Sung Woong, Go Ah Sung, Oh Dae Hwan, Noh Jong Hyun
Episodes : 16
Life on Mars is the first drama project Jung Kyung Ho collaborated with Park Sung Woong before reuniting in the drama "When the Devil Calls Your Name". The plot of the TV series "Life on Mars" is the result of an adaptation of the TV series of the same name broadcast by the BBC.
Here, Jung Kyung Ho plays the main character Han Tae Joo, a forensic expert and the leader of a crime investigation team. Tae Joo is a character who only believes in data and himself. Nor will he believe the testimony of others.
Once, Tae Joo had an accident while investigating a murder case. Strangely, when he woke up, Tae Joo mysteriously returned to 1988.
Later, he is assigned as a detective for a police station in a small town. To return to the present, Han Tae Joo tries her best to solve the serial murder case.
Missing Nine
Release year : 2017
Genre: Disaster, Suspense, Mystery, Comedy, Drama, Romance
Network : MBC
Produce : SM C&C
Director : Choi Byung Gil
Actors: Baek Jin Hee, Jung Kyung Ho
Episodes : 16 + 2 special episodes
In the survival-themed drama produced by SM, Jung Kyung Ho participates as the main character named Seo Joon Oh. He is the former leader of a famous music group. However, his career plummeted rapidly due to scandalous accusations that got him trapped.
One day, he took a flight to China to attend a concert organized by his management company, Legend Entertainment. Unfortunately, the plane he was on had an accident. Fortunately, Joon Oh became one of the survivors. However, they are stranded on a deserted island and their whereabouts go undetected.
After 4 months, Joon Oh's assistant – Ra Bong Hee – the only victim was found and returned to Seoul safely. Unfortunately, Bong Hee doesn't really remember what happened when she was stranded on the island.
One More Happy Ending
Release year : 2016
Genre: Romance, Comedy
Network : MBC
Produce : Chorokbaem Media
Director : Kwon Sung Chan
Actors: Jang Nara, Jung Kyung Ho, Kwon Yul, Yoo In Na, Yoo Da In
Episodes : 16
One More Happy Ending is a romantic comedy drama that depicts the lives of the members of the popular first generation idol group Angels of the 90s. Now, each of them are in their 30s and have different life.
Team leader, Han Mi Mo is currently engaged to a famous chef. One day, Mimo received information that the chef wanted to organize an event at the hotel. Mi Mo thinks her fiancé is about to propose to her, but instead, what she receives is a text message asking for a breakup.
The chef is actually about to propose to someone. However, the woman he wants to propose to is his other girlfriend, Seul Ah, a member of Angels who is still a celebrity. However, this disaster actually became the beginning of the meeting between Mi Mo and Song Soo Hyuk, the character played by Jung Kyung Ho.
Song Soo Hyuk is a gossip tabloid reporter who happens to follow Seul Ah. He is also a single parent with one child. The child's mother died shortly after birth. Unbeknownst to Mi Mo and Soo Hyuk, the two of them live in the same apartment building.
Endless Love
Release year : 2014
Genre: Historical, Romance, Psychological, Crime, Action
Network : SBS
Produce : StoryTV
Director : Lee Hyun Jik
Actors: Hwang Jung Eum, Ryu Soo Young, Jung Kyung Ho
Episodes : 37
"Endless Love" is a historical drama set in the 1970s-1990s, a time when Korea was experiencing both political and economic upheaval. Here, Jung Kyung Ho plays Han Gwang Cheol.
Since childhood, Gwang Cheol has nurtured feelings for Seo In Ae, his brother's friend and ex-girlfriend. He also vowed to always love In Ae until the end of his life.
Gwang Cheol grew up in a fishing family. He also has a much different personality than his brother. At school, he is known as a troublemaker who likes to fight. When he was growing up, he had a chance to go to Japan and meet a corporation. Thanks to his help, Gwang Cheol succeeded in building a construction project.
"Endless Love" revolves around the story of Seo In Ae, a girl who witnessed her biological mother being murdered as a child. Since that incident, In Ae is determined to sue her mother's death.
Besides her own efforts, In Ae also experienced many challenges in life, especially in her career. Seo In Ae is also entangled in a love triangle with the Gwang brothers.
Beating Again
Release year : 2015
Genre: Romance, Comedy, Drama
Network : JTBC
Producer: Kim Jong-hak Production, Doremi Entertainment
Director : Ji Young Soo
Actors: Jung Kyung Ho, Kim So Yeon, Yoon Hyun Min
Episodes : 16
If Jung Kyung Ho in Hospital Playlist is a doctor in charge of heart transplant surgery, his character in "Beating Again" is a heart transplant recipient. Kang Min Ho, the character he plays, is an investment banker at Gold Investment, one of the largest financial services companies.
In the past, Kang Min Ho had a cold and ruthless personality. This personality stems from the betrayal of the uncle who took over the company after Min Ho's father passed away. When Min Ho vowed to avenge him, Min Ho had a heart attack. Fortunately, Min Ho's life can still be saved thanks to a heart transplant.
After having a new heart, his personality changes 180 degrees. However, he is still determined to seek revenge. He also gradually understood the meaning of happiness in life after meeting Soon Jung. She is the daughter of a former secretary who betrayed her father and also the fiance of Dong Wook, a detective who donated his heart.
Smile, You
Release year : 2009
Genre: Comedy, Romance, Drama
Network : SBS
Production : Logo Film
Directed by: Lee Tae Gon
Actors: Lee Min Jung, Jung Kyung Ho
Episodes : 45
"Smile, You" is the first drama of Jung Kyung Ho and actress Lee Min Jung taking on the lead role. Jung Kyung Ho himself brings a character named Kang Hyun Soo. He has just returned to Korea after completing his studies in the US. Arriving home, Hyun Soo is surprised by Seo's family living at his grandfather's house, Kang Man Bok.
This Seo family is really a rich family. Unfortunately, their family went bankrupt. The youngest child of the Seo Jung In family was even abandoned by the groom on the wedding day after hearing that the Seo family went bankrupt. After that, the head of the family was detained by the police and their whereabouts were no longer theirs.
Since there was nowhere to stop, they had no choice but to stay at the house of their grandfather's former driver, Kang Man Bok. Man Bok's grandson, Hyun Soo, turns out to be Seo Jung Kyung's classmate and Hyun Soo has also had feelings for him for a long time. Contrary to his brother, Hyun Soo just doesn't like the maknae Seo Jung In.
That is the list of the best dramas starring actor Jung Kyung Ho. Regardless of the type of character or drama, Jung Kyung Ho always conveys his acting ability to the fullest and does not disappoint the audience. Not surprisingly, he became one of 200 artists selected in the global campaign "The Actor is Present" organized by KOFIC (Korea Film Council).
So out of the 10 movies above, which one have you seen? Are there any other dramas you're interested in that are on the watchlist? Come on, share your answer in the comment column!
Salenhanh – Product review blog
Address: 115 Nguyen Van Qua, Tan Hung Thuan Ward, District 12, HCMC
Mail: Salenhanh.com@gmail.com
#salenhanh #Reviewsalenhanh