With a height of 1m72, Jung Eugene or Jung Yoo Jin started to enter the entertainment industry as a model of YG Entertainment. However, the world of acting is actually not a new thing for this beauty born in 1989 because she once appeared in a movie called 301,302 (1995) in 1995.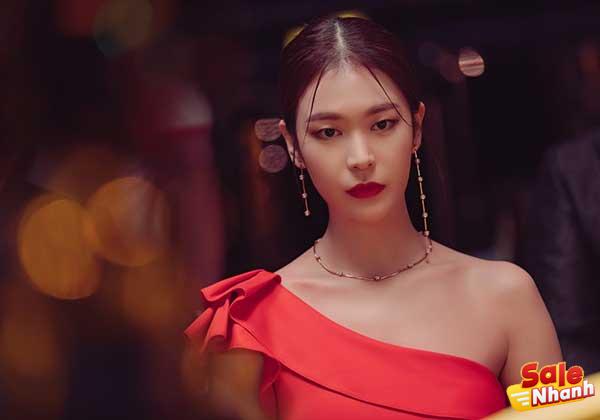 Unfortunately, since 1995, Jung noticed a gap in acting and started to work again about 20 years later, in 2015. Jung Eugene's first drama after a long hiatus Rest has achieved great success. From there, she starred in several television series. We have selected ten of Jung Eugene's best dramas for you!
Snowdrop
Release year 2021
Genre Drama, Romance
Director Jo Hyun Tak
Cast Jung Hae In Kim Ji Soo
Snowdrop (2021) was controversial during its broadcast. Starring many great actors, one of whom is Jung Eugene, this film has attracted protests from all over. Even so, they still devote themselves to the demands of the story.
Jung Eugene plays Jang Ha Na. He is a reactive, impulsive and very passionate ANSP agent (NIS). Ha Na is engaged to Gang Mu, the head of the ANSP anti-communist investigation department, but is abandoned six years ago when the two meet again on a dangerous mission involving South and North Korea.
Thirty But Seventeen
Release year 2018
Genre Comedy, Drama, Romance
Director Jo Soo Won
Cast Shin Hye Sun Yang Se Jong Ahn Hyo Seop Ye Ji Won
Jung Eugene's drama titled Thirty But Seventeen or Still 17 (2018) has him as a supporting actor named Kang Hee Soo. He is a talented stage designer who is friends with Gong Woo Jin; the main character of this play.
Woo Jin played by Yang Se Jong are both stage designers. However, she seems reluctant to communicate with others. It all started with a traumatic incident that he experienced when he was 17 years old. At that time Woo Jin fell in love with a girl named No Soo Mi.
On the same day they meet, Soo Mi gets into an accident. Woo Jin blames himself for the incident until he meets Woo Seo Ri, who has been in a coma for 13 years due to an accident when she was 17 years old.
W: Two Worlds
Release year 2016
Genres Comedy , Fantasy , Romance , Horror
Director Jung Dae Yoon
Cast Han Hyo Joo Lee Jong Suk
Jung Eugene's next movie titled W: Two Worlds (2016) won the honor with a pretty proud rating. This drama tells the story of a girl named Yeon Joo, the daughter of a webtoon author named Sung Moo.
Sung Moo's webtoon titled 'W' is very popular in Korea. The main character in the webtoon is known as Kang Chul. He is described as a shooting athlete who is believed to be involved in the murder of his family.
Yeon Joo herself was also frightened when she learned that her father had mysteriously disappeared. Yeon Joo was even more confused when she found herself in a webtoon. Jung Eugene plays Yoon So Hee. She was originally created as Kang Chul's partner, but changed because Kang Chul fell in love with Yeon Joo.
Romance is a Bonus Book
Release year 2019
Genres Adult , Age Gap , Business , Comedy , Drama , Friendship , Romance , Romance , Sismance , Slice of Life , Workplace , Youth
Director Lee Jung Hyo
Cast Lee Na Young Lee Jong Suk Jung Eugene Wi Ha Joon
Romance is a Bonus Book (2019) Jung Eugene reunites with Lee Jong Suk after participating in the drama "W: Two Worlds" (2016).
The drama tells the story of Cha Eun Ho, a successful writer and editor-in-chief at a book publishing house. As a child, he was saved from an accident by Kang Dan I.
Their relationship is very close and from Dan I, Eun Ho also enjoys the world of writing. Their friendship becomes strained when Dan I dates someone else.
Now, Kang Dan I is a single mother and a former advertising copywriter. The two meet again and re-establish intimacy. Jung Eugene as Song Hae Rin was heartbroken because of Eun Ho's unrequited love.
Remarriage and Desires
Release year 2022
Genre Drama
Director Kim Jung Min
Cast Kim Hee Sun Lee Hyun Wook Jung Eugene Park Hoon Cha Ji Yeon
In the movie Remarriage and Desires (2022) by Jung Eugene, the actress plays a super mischievous character named Jin Yoo Hee.
He works as a lawyer at a large company and has an affair with Seo Hye Seung's husband. The affair turned out to be just Yoo Hee's personal gain.
Seo Hye Seung's husband also committed suicide after feeling taken advantage of by him. Despite the divorce, Seo Hye Seung is still very distressed by the death of her ex-husband.
An immediate revenge plan arose when he discovered that Yoo Hee was looking for a mate through an elite dating agency. Hye Seung also followed the matchmaking company and became her love rival.
Catch the Ghost
Release year 2019
Genre Crime , Drama
Director Sin Yoon Seob
Cast Moon Geun Young Kim Sun Ho
You can't miss Catch The Ghost (2019) if you love Jung Eugene's looks. The story of this drama revolves around the journey of an investigator named Yoo Ryeong to search for his missing twin brother.
Yoo Ryeong suspects that his brother is the victim of a serial killer. Then, he gets help from Go Ji Seok. Go Ji Seok became famous for his achievements.
He gets a promotion and reunites with his ex, Ha Ma Ri, played by Jung Eugene. Ha Ma Ri herself actually knew about the loss report Yoo Ryeong had made, but she ignored it.
Something in the Rain
Release year 2018
Genre Drama, Romance
Director Ahn Panseok
Cast Son Ye Jin Jung Hae In
Something in The Rain (2018) became Jung Eugene's film, bringing him to senior actress Son Ye Jin. Here he also clashed with Jung Hae In. The drama tells the romantic story between Jin Ah and Joon Hee, a young man in his 30s who works as a video game developer.
Jin Ah and Joon Hee, who have known each other for a long time, begin to build a deep bond amid the struggle over the age difference that is considered taboo.
Joon Hee, who is in a relationship with Jin Ah, who is older than him, mustered up the courage to go public with their relationship. Here, Jung Eugene plays Kang Se Young, Jin Ah's co-worker who has a crush on Joon Hee.
Heard it Through the Grapevine
Release year 2015
Genre Comedy, Drama, Romance
Director Ahn Panseok
Cast Yoo Joon Sang Yoo Ho Jung Go Ah Sung Lee Joon
Heard It Through the Grapevine (2015) is Jung Eugene's television debut. Here, he took on the role of a supporting character named Jang Hyun Soo.
This film satirizes the lifestyle of the upper class in Korea, who derive extraordinary power from wealth and hereditary lineage. The story revolves around the lives of Han Jeong Ho and Choi Yeon Hee as a wealthy couple from a prestigious family.
Their reputation is ruined because the haughty son, Han In Sang, nourishes his girlfriend Seo Bum, who comes from a simple family. Seo Bum struggles with all the humiliation of his wife's family for the future of his unborn child.
Because It's the First Time
Release year 2015
Genre Life , Romance , Youth
Director Lee Jung Hyo
Cast Choi Min Ho Park So Dam Kim Min Jae Lee Yi Kyung Jung Eugene Cho Hye Jung
Because It's First Time or My First Time (2015) aired on OnStyle cable channel. Telling the story of six young people including three boys and three girls, this series has been rebooted by Netflix as My First First Love (2019). Mr First Time (2015) starring Minho, Park So Dam, Kim Min Jae, Jung Eugene, Lee Yi Kyung and Cho Hye Jung.
The show has aired 8 episodes with a duration of about 15 minutes/episode. The story revolves around the friendship of six young men who often gather on the roof of Tae O's house to make a hiding place. They all come from different backgrounds, but their friendship is always maintained.
Moorim School
Release year 2016
Genre Action, Drama, Romance, Supernatural
Director Lee Soyeon
Cast Lee Hyun Woo Hong Bin Seo Yea Ji Jung Eugene
Moorim School: Saga of the Brave (2016) is a drama by Jung Eugene that is quite unique as it tells the story of an academy called Moorim Academy, which is mysterious because it teaches its students loyalty. truth, faith, sacrifice and communication. The teachers and students at this academy come from different countries and have their own stories.
Jung Eugene plays Hwang Sun Ah, a fan of Yoon Shi Woo; The leader of an idol group is deaf.
Hwang Sun Ah suggested that Shi Woo go to the Moorim Institute and ask his father, Dean Hwang, to cure him. This unique film also stars Lee Hyun Woo, Lee Hong Bin, and Seo Yea Ji.
Salenhanh – Product review blog
Address: 115 Nguyen Van Qua, Tan Hung Thuan Ward, District 12, Ho Chi Minh City
Website: https://salenhanh.com/en
Mail: Salenhanh.com@gmail.com
#salenhanh #Reviewsalenhanh