Gianna Jun or Jun JI Hyun is a beautiful actress born on October 30, 1981 in Seoul, South Korea. His work in the entertainment industry was quite successful. Regularly receiving awards at prestigious events in Korea, he was named the highest-paid A-lister for each role.
His appearance in every drama and movie can really capture the attention of fans all over the world. This woman has dreamed of becoming a flight attendant since childhood, besides her stunning looks, she also has unquestionable acting skills. He played a wide variety of characters well.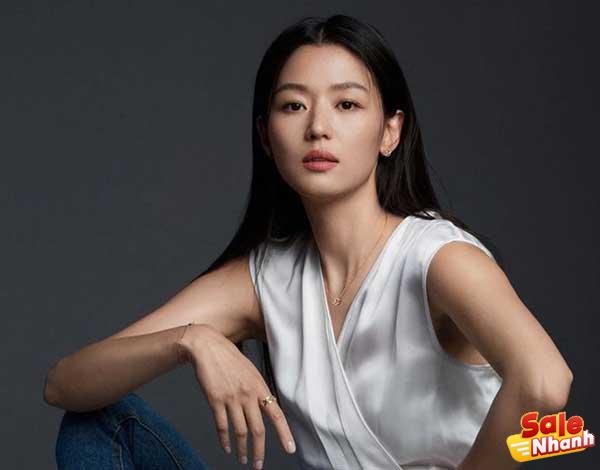 Well, for those of you who are curious. Next, Salenhanh.com has compiled Jun Ji Hyun's dramas and movies with an attractive plot that you must watch.
Il Mare
Release year : 2000
Genre: Fantasy, Drama, Romance
Production : Blue Cinema, Dream Venture Capital, Sidus Pictures, UniKorea Pictures
Director : Lee Hyun-seung
Actors: Jun Ji-hyun, Lee Jung-jae
The movie Il Mare was released in 2000. This movie tells the romance between two people living in different dimensions. Having a unique plot, this movie is really fun to follow. In addition to receiving a warm reception in Korea, the film that was remade into a Hollywood version titled Lake House was also the first film to make Jun Ji Hyun's name a top artist.
It is about the love journey of Eun-Joo (played by Ji Hyun) with a man named Han Sung-Hyun. Eun-Jo lives in 1999, has a multi-dimensional relationship with Han Sung-Hyun living in 1997 through a mailbox in the house named Il Mare.
Despite its generally unacceptable plot, this romantic fantasy film succeeded in attracting audiences and catapulting the film into a box office hit.
My Sassy Girl
Release year : 2001
Genre: Drama, Romantic Comedy
Produce : ShinCine Communications, IM Pictures
Director : Kwak Jae Yong
Actors: Jun Ji-hyun, Cha Tae-hyun
My Sassy Girl is a romantic comedy drama film released in 2001. The success of this film is quite extraordinary, besides being remade into many versions by many countries such as the US, Japan and China. difference. In Korea itself, this series was made into a drama version of saeguk, under the Joseon kingdom.
The character played by Jun Ji Hyun in the movie is really unique. His strange attitude and at the same time bringing laughter when he is with Gyeon Woo, played by actor Cha Tae Hyun, is truly iconic. Present a plot that can make the audience smile. This romantic comedy is a must see.
The Uninvited
Release year : 2003
Genre: Horror, Mystery, Drama
Produce : CJ Entertainment
Director : Lee Soo-yeon
Actors: Jun Ji-hyun, Park Shin-yang
In 2003, Jun Ji Hyun starred in the psychological thriller The Uninvited. This film features the reunion of Jun Ji Hyun and actor Park Shin Yang who played in the 1999 film White Valentine.
This movie, which has received a lot of attention from film watchers, is actually quite interesting, although in terms of earnings it is not very good. Ji Hyun herself plays Yun, a woman suffering from narcolepsy who suddenly loses consciousness.
Yun's encounter with Jung-Won (Park Shin Yang) at a psychiatric clinic leads them to mysterious events involving two children Jung-Won sees. What kind of mystery is going on in a thriller like this? You can get the answer after watching the movie.
The Thieves
Release year : 2012
Genre: Drama, Action, Comedy, Crime
Produce : ShowBox Mediaplex
Director : Choi Dong-hoon
Actors: Kim Yoon-seok, Lee Jung-jae, Kim Hye-soo , Jun Ji-hyun
The Thieves is a crime drama that has made quite a profit. In its home country, the film The Thieves entered the list of highest-grossing Korean films, beating The Host in terms of viewership with a total audience of 13,020.393 after 70 days of airing.
This movie tells the story of a group of professional robbers trying to steal a diamond called 'Tear of the Sun'. Ji Hyun herself plays Yenncall, a beautiful woman from a band of robbers. Wants to know what Ji Hyun and his team did while on their dangerous mission. This movie Ji Hyun must definitely put on the watch list.
My Love From the Star
Release year : 2014
Genre: Drama, Comedy, Romance, Fantasy, Fantasy
Produce : HB Entertainment
Director : Jang Tae-yoo
Actors: Jun Ji-hyun, Kim Soo-hyun , Park Hae-jin , Yoo In-na
Episodes : 21 episodes
Jun Ji Hyun's masterful role-playing ability deserves praise. It has been proven that thanks to her competent acting, this woman who is married to handsome businessman Choi Joon Hyuk has won several awards. The Stars themselves are one of the TV series that achieved great success in 2013.
This 21-episode SBS drama pairs Jun Ji Hyun with talented young actor Kim Soo Hyun. It tells the romance story of a 400-year-old alien and a popular artist named Cheon Song Yi, played by Ji Hyun. This romantic comedy film with many humorous scenes of the main character really succeeded in making the audience fall in love.
Assassination
Release year : 2015
Genre: Action, Drama, History
Produce : Caper Film
Director : Choi Dong-hoon
Actors: Jun Ji-hyun, Lee Jung-jae, Ha Jung-woo
Assassination is the second film by director Choi Dong-Hoon to attract much attention from Korean public after the previous success with the film The Thieves. Set during the Japanese colonial period in Korea. This historical fiction drama tells the story of the Korean independence movement starring the best assassins.
Jun Ji Hyun herself plays Ahn Ok-Yun, one of the best assassins tasked with eliminating the Japanese leaders and traitors in Korea. The character played by Ji Hyun in this movie is a bit different from the previous ones.
Legend of the Blue Sea
Release year : 2016
Genre: Fantasy, Romantic Comedy
Produce : Culture Depot, Studio Dragon
Directed by: Jin Hyuk, Park Seon-Ho
Actors: Jun Ji-hyun, Lee Min-ho
Episodes : 20 + 1 episode
K-drama lovers have been waiting for it all over the world. The movie starring top two actors Lee Minho and Jun Ji Hyun was finally released in 2017. It tells the romance story of a mermaid played by Jun Ji Hyun with a villain. rogue played by Lee Minho.
This Joseon-inspired drama, in addition to its unique plot, relies on the reputations of the two main actors. So it's no wonder that the movie Legend of the Blue Sea was quite successful in attracting the audience and achieving the highest ratings.
The Berlin File
Release year : 2013
Genre: Action, Drama
Produce : CJ Entertainment
Director : Ryoo Seung-wan
Actors: Ha Jung-woo , Han Suk-kyu, Ryoo Seung-bum, Jun Ji-hyun
Another of Jun Ji Hyun's plot-driven films is called The Berlin File. Ji Hyun in this movie plays the wife of a North Korean agent and translator at the North Korean embassy office named Ryun Jung Hee.
International crime involving several countries in Berlin created a long tail that ended up dragging in her husband Pyo Jung Sung and herself. Participating in the conspiracy of the North Korean government that views Ryun Jung Hee as a traitor. Can they handle the heavy, entangled problem? This movie released in 2013 is really fun to watch.
Snow Flower and The Secret Fan
Release year : 2011
Genre: History, Drama, Historical Fiction
Produce : IDG China Creative Media Limited, Big Feet
Director : Wayne Wang
Actors: Gianna Jun, Li Bingbing, Vivian Wu
This top star has actually accomplished quite a bit in both dramas and movies. Snow Flower and The Secret Fan released in 2011 is one of the successful films gathering Jun Ji Hyun and Li Bingbing, artists from China.
Inspired by the novel by Lisa See, this film tells the story of Lily and Sophia's friendship bound by Chinese tradition and culture. The story of the peaceful life of Lily and her best friend Sophia, whose life is full of hardships, makes this friendship drama so interesting. The film with Hugh Jackman as a cameo is indeed a pity not to be missed.
Daisy
Release year : 2006
Genre: Romance, Romance
Production : iFilm, Basic Pictures
Director : Andrew Lau
Actors: Jun Ji-hyun, Jung Woo-sung, Lee Sung-jae
The last film with a compelling plot called Deasy was released in 2006. The film is set in a country in Europe but no less exciting than Jun Ji Hyun's previous films. This crime drama that revolves around the love triangle between Hye Yeon (played by Ji Hyun) and a detective and assassin is actually quite interesting.
For those of you who like action movies with a bit of romance. The movie Deasy is the right movie to watch. In addition to showing thrilling action scenes, the unique love story in it is enough to make you stroke your chest. Whose heart do you think if Hyun could tie? Well, you can get the answer after watching the movie.
It is a drama and movie with a unique plot by Jun Ji Hyun. Which title or movie by Jun Ji Hyun do you like? Share your answer in the comment column, OK! Wait Read for other interesting movie information.
Salenhanh – Product review blog
Address: 115 Nguyen Van Qua, Tan Hung Thuan Ward, District 12, Ho Chi Minh City
Website:  https://salenhanh.com/en
Mail: Salenhanh.com@gmail.com
#salenhanh #Reviewsalenhanh