Who here hasn't left HospitalPlaylist yet? If you are one of them, you must be very familiar with the character of the doctor Lee Ikjun. So the character behind this hilarious doctor character is top actor Jo Jung Suk.
This handsome male Jo Jung Suk was born in 1980 as a musical actor. Years later, he just opened his wings by starting to enter the world of movies and TV series. Up to the present time, Jo Jung Suk is credited with starring in a number of dramas and many of them are famous movies with high ratings.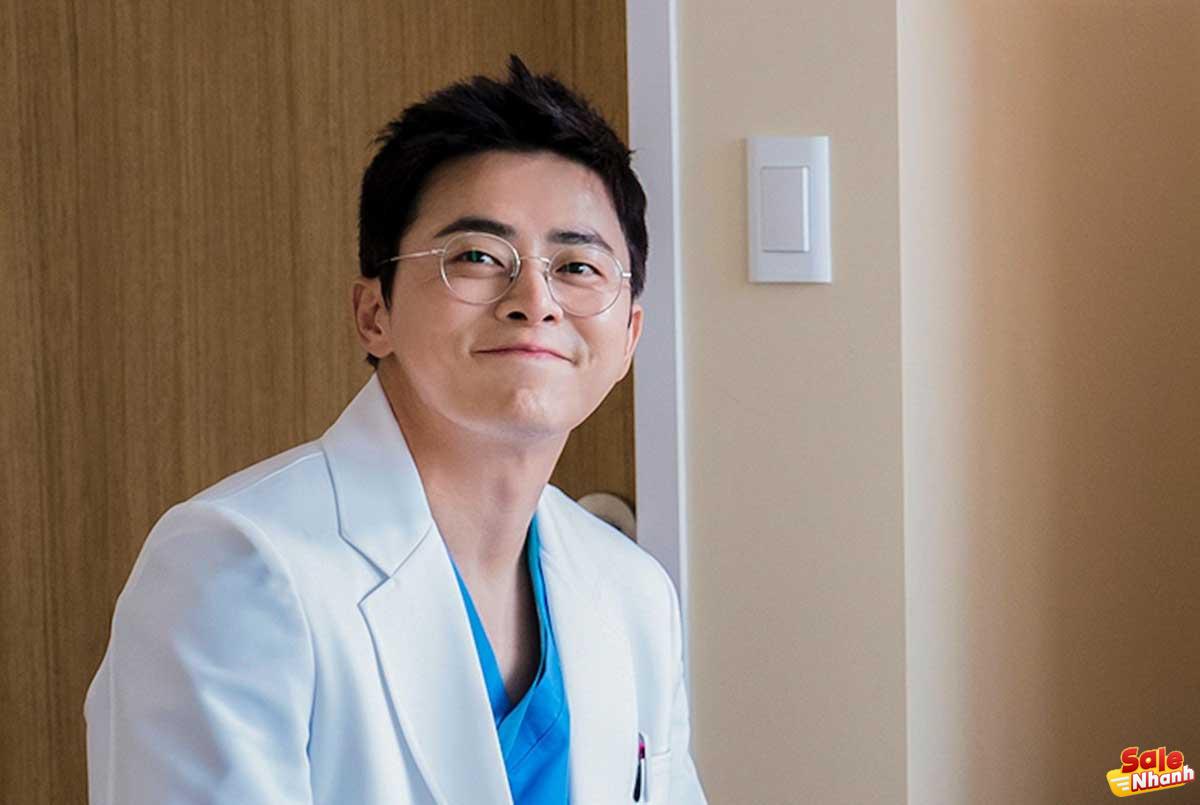 For those who are beginning to be captivated by Jo Jung Suk's acting as Lee Ik Jun and want to see how his acting skills play a role in the drama, here is a TV series that has starring Jo Jung Suk.
Hospital Playlist
Release year : 2020
Genre: Medical, Drama, Friendship, Romance, Comedy, Life
Network : tvN
Produce : Egg is Coming, CJ ENM
Director : Shin Won Ho
Actors: Jo Jung Suk, Yoo Yeon Seok, Jung Kyung Ho, Kim Dae Myung, Jeon Mi Do
Episodes : 12
The title of a TV series this must be familiar to you. In the collaboration between Shin PD and screenwriter Lee Woo Jung, Jo Jung Suk becomes one of the five main characters with a character named Lee Ik Jun, a general surgeon who specializes in hepatobiliary and pancreatic surgery.
Hopital Playlist's story revolves around the daily lives of 5 doctors with their patients and colleagues, as well as their personal lives outside the hospital. The five doctors have been friends for 20 years since they were in medical school. Now these five doctors work in the same hospital with different specialists.
Jo Jung Suk's participation here is not only successful in earning him awards as an actor. Jo Jung Suk also received many awards for his participation in the "Hospital Playlist" with the title song "Aloha".
Jealousy Incarnate
Release year : 2016
Genre: Friendship, Comedy, Romance, Family
Network : SBS
Produce : SM C&C
Directed by: Park Shin Woo
Actors: Jo Jung Suk, Gong Hyo Jin, Go Kyung Pyo
Episodes : 24
In the drama "Jealousy Incarnate", Jo Jung Suk once again took on the main role and co-starred with "comedy queen" Gong Hyo Jin. The character he plays is Lee Hwa Shin, a handsome news anchor with a talent for journalism and a high competitive spirit.
Meanwhile, Pyo Na Ri is a weather announcer with dreams of becoming a news announcer. For three years, Na Ri has feelings for Hwa Sin. However, her feelings begin to shake when she meets a man she thinks is perfect. And that man is Go Jung Won, a wealthy heiress who is Hwa Shin's best friend.
For playing the role of Hwa Shin wholeheartedly, Jo Jung Suk won the Best Award, Romantic Comedy, and Top 10 Star Award at the 2016 SBS Drama Awards.
You Are The Best! Lee Soon Shin
Release year : 2013
Genre: Comedy, Romance, Drama, Family
Network : KBS
Produce : Story
Director : Yoon Sung Shik
Actors: IU, Jo Jung Suk, Go Doo Shim, Lee Mi Sook
Episodes : 50
In this KBS family drama, Jo Jung Suk co-stars with IU and takes on the lead role as CEO Shin Joon Ho. This drama was quite successful at home and even got ratings above 30%. Not only that, Jo Jung Suk also won Best Actress and Best Couple with IU at the 2013 KBS Drama Awards.
You are the best! Lee Soon Shin Selfishly tells about Lee Soon Shin, the youngest child in the family who has difficulty finding a stable job. Despite this, he was a cheerful and brave child.
One day, Soon Shin meets Shin Joon Ho, a company executive who offers Soon Shin to join his company as an actress. After that meeting, changes not only occurred in Soo Shin's life, Joon Ho also became more understanding about the meaning of life and success.
Oh My Ghost
Release year : 2015
Genre: Food, Comedy, Romance, Supernatural, Sitcom
Network : tvN
Produce : Chorokbaem Media
Directed by: Yoo Je Won
Actors: Park Bo Young, Kim Seul Gi, Jo Jung Suk, Im Joo Hwan
Episodes : 16
Oh My Ghost tells the story of Na Bong Sun, a shy and self-deprecating girl. Her grandmother is a psychic, so since she was a child, she has often seen ghosts around her. One day, he was possessed by the spirit of a witch and the creature began to take control of his body, changing Bong Sun's personality.
Bong Sun, who works at a restaurant, has a crush on chef Kang Sun Woo. Unfortunately, the chef never glanced at him. However, ever since Bong Sun became a confident and daring woman, Sun Woo began to take an interest in her.
In this romantic comedy, Jo Jung Suk competes with Park Bo Yong and plays Kang Sun Woo. He's a confident head chef, popular with women, but still can't get over his first love.
Two Cops
Release year : 2017
Genre: Comedy, Romance, Supernatural, Detective
Network : MBC
Produce : People Story Company
Director : Oh Hyun Jong
Actors: Jo Jung Suk, Lee Hye Ri, Kim Seon Ho
Episodes : 32
In this MBC drama, Jo Jung Suk was assigned the main role named Cha Dong Tak. He is a detective who upholds justice and is feared by criminals because he does not know benevolence.
Once upon a time, the body of a detective was possessed by the spirit of a clever con man named Gong Soo Chang. Because of that incident, Dong Tak had to live with a criminal. However, they eventually decide to work together to solve a case and find a way to get Soo Chang's soul back into his own body.
Thanks to his performance in Two Cops, Jo Jung Suk won the Top Excellence Award and was even nominated for a Daesang at the 2017 MBC Drama Awards.
The Nokdo Flower
Release year : 2019
Genre: Friendship, History, Romance, Life, Drama, Family, War, Politics
Network : SBS
Produce : C-JeS Entertainment
Director : Shin Kyung Soo
Actors: Jo Jung Suk, Yoon Shi Yoon, Han Ye Ri
Episodes : 48
Nokdo Flower is Jo Jung Suk's first appearance in a huge series. This movie is set in the Donghak Peasant Revolution that took place in 1894-1895. Here, he plays the main character Baek Yi Kang, the eldest son of an illegitimate couple between a local government employee and a slave. Because of this position, he was looked down upon by everyone.
Contrary to Yi Kang's life, his half-sister, Baek Yi Hyun, is respected and highly educated as a biological child. These two half-brothers and destinies later took sides in the peasant uprising.
The role of Baek Yi Kang helped Jo Jung Suk receive the Top Excellence Actor in a Serial Drama and he was once again nominated in the Daesang category at the 2019 SBS Drama Awards.
The King 2 Hearts
Release year : 2012
Genre: Military, Comedy, Romance, Drama, Psychological, Political
Network : MBC
Produce : Kim Jong-hak Production
Directed by: Jeong Dae Yun, Lee Jae Gyoo
Actors: Ha Ji Won, Lee Seung Gi, Jo Jung Suk, Lee Yoon Ji, Yoon Je Moon
Episodes : 20
Set in modern times, where Korea is still ruled by a monarchy, The King 2 Hearts tells the story of Prince Jae Ha and North Korean Special Forces commander Kim Hang Ah. Jae Ha himself is a prince who is not serious and does not care about politics. Meanwhile, Kim Hang Ah is a soldier with extraordinary abilities who longs for a romance.
Once upon a time, Prince Jae Ha and Kim Hang Ah participated in a military competition organized by South Korea and North Korea. Prince Jae Ha joined because he was tricked by his brother being a king, while Kim Hang Ah was promised to find a mate.
During the production of this drama, Jo Jung Suk participated in the role of Eun Shi Kyung. He was part of the competition and was later promoted to the royal bodyguard. Despite playing the second main role, his role is enough to make the audience interested, so that the name Jo Jung Suk is known to drama fans.
What's Up?
Release year : 2011
Genre: Music, Romance, School
Network : MBN
Produce : Zero Plus
Director : Song Ji Won
Actors: Im Joo Hwan, Dae Sung, Im Ju Eun, Oh Man Suk, Kim Ji Won, Jang Hee Jin, Jo Jung Suk
Episodes : 20
What's up? is a musical genre drama whose story begins with Jang Jae Hun, a high school dropout with a hobby of wandering the streets and picking up drunks with two other close friends.
One day, he accidentally causes an accident. Afraid of being discovered, he pretended to be a worker carrying timber to the truck and then climbed into the vehicle to escape. The truck then took him to a concert venue. Impressed by the atmosphere of the concert venue, he decided to major in acting in college, but instead enrolled in the music department.
In his first drama, Jo Jong Suk played a character named Kim Byeong Gun. He is a student of Haneul Art Musical just like Jang Jae Hun. Kim Byeong Gun comes from a business family who chose to pursue a musical career even though he suffers from a fear of public appearances.
The Legend of the Blue Sea
Release year : 2016
Genre: Comedy, Romance, Drama, Fantasy
Network : SBS
Produce : Culture Depot, Studio Dragon
Director : Jin Hyeok
Actors: Lee Min Ho, Jun Ji Hyun
Episodes : 20
The Legend of the Blue Sea is about the reincarnation of Kim Ryeong, a noble from the Joseon era, along with a mermaid named Se Hwa whom he once helped. In modern times, Kim Ryeong becomes Heo Joon Jae, a notorious con man skilled in hypnosis.
While in Spain, he met Shim Cheong, whom he didn't know was a mermaid. Interested in the $6 million jade bracelet Shim Cheong is wearing, Joon Jae plans to trick her.
In the SBS drama starring Hallyu stars Lee Min Ho and Jun Ji Hyun, Jo Jong Suk was offered a cameo role. The character he plays is Yoo Jung Hoon, a mermaid who works as an 119th officer. He becomes Shim Cheong's mentor on how to survive on land as well as helping Shim Cheong find true love. mine.
Familiar Wife
Release year : 2018
Genre: Comedy, Romance, Life, Drama, Fantasy
Network : tvN
Produce : Chorokbaem Media
Director : Lee Sang Yeob
Actors: Ji Sung, Han Ji Min, Jang Seung Jo, Kang Han Na
Episodes : 16
Familiar Wife tells the story of a couple Cha Joo Hyuk and Seo Woo Jin who have been married for 5 years. Joo Hyuk is an ordinary banker while his wife is a masseuse. So far, Joo Hyuk feels that Woo Jin is not a good wife, while Woo Jin is stressed because he has to take care of children and work at the same time. As a result, the two often quarreled.
Once, Joo Hyuk helped a man on the subway and the mysterious man gave him two coins. The next day when Joo Hyuk wakes up, suddenly his life with his wife is gone and he is living a different life.
Familiar Wife screenwriter Yang Hee Sung also wrote the script for the drama Oh My Ghost. So Jo Jung Suk was invited as a guest to play the same character in Oh My Ghost, namely Kang Sun Woo, but here Sun Woo is Seo Woo Jin's first love.
It's a TV series starring actor Jo Jung Suk. Throughout his career as a drama actor, Jo Jung Suk has proven that he deserves to be called an actor with extraordinary talent. Every role in a TV series almost always brings him an award in a prestigious event.
So out of the 10 Jo Jung Suk movies above, which one do you want to see the most? Then, have you watched any TV series before? What is one of your hobbies? Leave a comment below, folks!
Salenhanh – Product review blog
Address: 115 Nguyen Van Qua, Tan Hung Thuan Ward, District 12, Ho Chi Minh City
Website:  https://salenhanh.com/en
Mail: Salenhanh.com@gmail.com
#salenhanh #Reviewsalenhanh