Jin Kyung appearance in the popular drama "Extraordinary Attorney Woo" (2022) is attracting attention for her cold personality. She succeeded in bringing to life the character of a mother who has the will to abandon her child for self-interest.
Jin Kyung's acting experience is quite long since he started in 2004. Since then, Jin Kyung has been active and productive. His face can appear in many dramas in a year.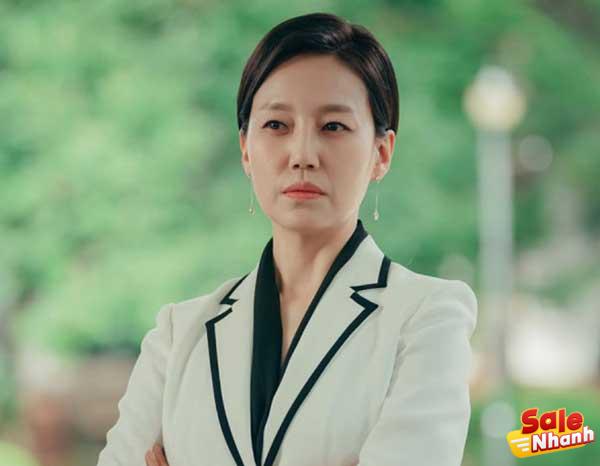 Some of the roles given to him were actually supporting characters, but these roles always stuck. Want to know which dramas have Jin Kyung in the cast? We have selected the top ten Jin Kyung dramas for you!
Extraordinary Attorney Woo
Release year 2022
Genre Drama
Director Yoo In Shik
Cast Park Eun Bin Kang Tae Oh
Extraordinary Lawyer Woo (2022) will be Jin Kyung's first drama in 2022. For starters, the result is very satisfying because EAW is so successful.
This Korean and international endemic drama tells the story of the perseverance of an autistic lawyer named Woo Young Woo, who lives and is raised only by his father.
Woo Young Woo is accepted to work at a law firm and is suspected by his colleagues. However, he can prove that he is a great lawyer.
Young Woo's success has clearly reached the ears of the opposing law firm headed by Tae Soo Mi, played by Jin Kyung. Later, it was discovered that Tae Soo Mi was Young Woo's biological mother who abandoned him.
Dr. Romantic Season 1&2
Release year 2016
Genre Medical , Psychological , Romance
Director Yoo In Shik
Cast Han Suk Kyu Yoo Yeon Seok Seo Hyun Jin
You can also enjoy Jin Kyung's appearance in the popular medical drama Dr. Romance 1 & 2 are about three years apart. Although it has been a long time since he continued to work on part 2, the role of Jin Kyung has never been replaced by another actress. His appearance as chief nurse Oh Myung Sim seems to have stuck.
Oh Myung Sim is described as a strong-willed head nurse who can resist Kim Sa Bu when others don't. Myung Sim is very strict but has a kind heart and cares about her patients.
The series is expected to continue into its third season and Jin Kyung is still given the role of Oh Myung Shim.
It's Okay That's Love
Release year 2014
Genres Comedy , Drama , Psychological , Romance
Director Kim Kyu Tae
Cast Jo In Sung Gong Hyo Jin
Jang Jae Yeol is a best-selling mystery novel writer and radio DJ. He had a bleak childhood due to a traumatic event in his life.
Young Jae Yol is attacked by his father and his mother accidentally kills his father. To protect his mother, Jae Yol falsely claimed that the culprit was his brother.
This guilt towards his brother led him to develop obsessive-compulsive disorder. Jae Yol then meets a psychiatrist named Ji Hae Soo. The two are not compatible because each has a personality. However, gradually the fight turns into love.
Jin Kyung's role in this drama is the same as Ji Hae Soo. Lee Young Jin is a psychiatrist and Hae Soo's direct supervisor at the hospital.
Young Jin has an unfinished relationship with her ex-husband Dong Min. This is because their family is broken not because of lack of love but because each person is focused on their career and has no children.
Pinocchio
Release year 2014
Genres Comedy , Crime , Drama , Family , Romance
Director Jo Soo Won
Cast Lee Jong Suk Park Shin Hye Kim Young Kwang Lee Yu Bi Jin Kyung
Jin Kyung's movie Pinocchio (2014) has achieved great success. In addition to the double-digit rating, he also received many awards.
Starring Park Shin Hye and Lee Jong Suk, this drama tells the story of the life of a girl named Choi In Ha who works as a reporter. In Ha is an idealist with Pinocchio syndrome.
The syndrome causes him to hiccup every time he lies down. In Ha meets Choi Dal Po at work. Dal Po is a young man with a traumatic past and trying to rebuild his life.
Jin Kyung herself plays In Ha's mother, who is more interested in her broadcasting career than in her family.
Oh My Venus
Release year 2015
Genre Comedy, Romance
Director Kim Hyung Seok , Lee Na Jung
Cast So Ji Sub Shin Min Ah Jung Gyu Woon Yoo In Young
Jin Kyung in the drama Oh My Venus (2015) plays Choi Hye Ran. She is the second wife of Kim Young Ho's father, played by So Ji Sub, after Young Ho's biological mother passed away.
Hye Ran has a son and wants her son to receive the same attention as Young Ho. Unfortunately, Hye Ran's wish cannot come true because they are not related by blood.
This drama installs So Ji Sub and Shin Min Ah as the main couple. He tells the story of the relationship between former personal trainer for Hollywood stars Kim Young Ho and Kang Joo Eun, a famous teenage girl who is beautiful but has weight problems.
Good Doctor
Release year 2013
Genre Drama, Romance
Director Ki Min Soo , Kim Jin Woo
Cast Joo Won Moon Chae Won Joo Sang Wook Kim Min Seo
Ji Kyung in the movie Good Doctor (2013) as Nam Joo-yeon. He is the head nurse at Sungwon University Hospital.
This movie is a remake of an American series called The Good Doctor. In the Korean version, you will meet Park Si On, an autistic resident who works at a hospital and is in charge of the intensive care of children.
Si On is a genius and brilliant, but his autism condition makes him often underestimated by colleagues or patients. Si On is often seen as a child who cannot be relied on. Among the few interested colleagues, Si On meets Cha Yoon Seo.
The Innocent Man
Release year 2012
Genre Drama , Family , Romance
Director Kim Jin Won , Lee Na Jung
Cast Moon Chae Won Song Joong Ki Park Shi Yeon
In 2012, Jin Kyung participated in a drama project with Song Joong Ki and Moon Chae Won. The film in question is titled Innocent Man/Nice Guy (2012).
Jin Kyung has a supporting role as Hyung Jung Hwa. He was Seo Eun Gi's assistant who took him away and took care of him for a year after the car accident.
In that accident, Eun Gi lost her memory and when she was with Jung Hwa, no one could find her. Seo Eun Gi, played by Moon Chae Won, is the daughter of a wealthy businessman who is about to inherit a fortune.
Eun Gi meets Kang Ma Ru, a young man with a dark past who is ready to take revenge on the woman he once loved so much.
Uncontrollably Fond
Release year 2016
Genre Comedy, Drama, Romance, Romance
Director Cha Young Hoon, Park Hyun Suk
Cast Kim Woo Bin Bae Suzy Im Joo Hwan Im Ju Eun
Shin Joon Young and Noh Eul are old classmates. The two met again when Joon Young was already a celebrity. Noh Eul herself is busy as a documentary producer. They met again when Noh Eul was assigned to make Joon Young's documentary.
Before agreeing to make a documentary about her, Joon Young treated Noh Eul very badly. Joon Young seems to have had feelings for Noh Eul for a long time and tries to reconnect after meeting again. In the drama, Jin Kyung plays Young Ok, Joon Young's mother.
Melancholia (2021)
Release year 2021
Genre Drama , Psychological , Romance
Director Kim Sang Hyub\
Cast Im Soo Jung Lee Do Hyun Jin Kyung Choi Dae Hoon
The educational-themed South Korean drama Melancholia (2021) introduces Jin Kyung as a terrible character. He plays Noh Jung Ah, the principal of Ahsung High School, who is willing to commit corrupt acts for personal gain. When one of the new teachers named Yoon Soo finds out about his bad deeds, he takes action.
Yoon Soo, a new Math teacher at Ahsung's school. He is critical enough to see things reeking of corruption in the place he teaches.
When teaching Math, he and a student named Seung Yoo have a close relationship. The closeness between teacher and student becomes Noh Jung Ah's weapon to lure Yoon Soo out of her sight.
Love in Contract
Release year 2022
Genre Business , Comedy , Romance
Director nam sung woo
Cast Park Min Young Oh Ryoong Kim Jae Young
Jin Kyung's movie Love Contract (2022) returns for him to play a nasty villain.
This time, Jin Kyung plays the role of Yoo Mi Ho. She is the one who raised Sang Eun after being adopted from the hospital. Mi Ho gets involved in illegal business by selling protected land. As a result, he had to languish in prison.
Sang Eun then spent some money so that Mi Ho could be released from prison. Their relationship does not go well because Sang Eun feels that she has a different life purpose than Mi Ho.
Sang Eun is a girl with experience as a single professional maid. He can be anything to a person, to command.
Jin Kyung is synonymous with deceitful roles, so even though he plays a supporting role, his face is very familiar.
In addition to being characters that audiences hate, in some cases, he also plays funny characters. The above ten dramas are the answer. Which have you watched so far?
Salenhanh – Product review blog
Address: 115 Nguyen Van Qua, Tan Hung Thuan Ward, District 12, Ho Chi Minh City
Website: https://salenhanh.com/en
Mail: Salenhanh.com@gmail.com
#salenhanh #Reviewsalenhanh