Jeff Goldblum is an American-born actor that you may know from the movie Jurassic Park. He is an actor who plays many roles, from small roles to leading roles in blockbuster movies. He has also starred in classic Hollywood films that are quite iconic.
Jeff is an actor who has played many different and unique types of characters. The movie Jurassic Park is probably the movie that made him widely known to the public.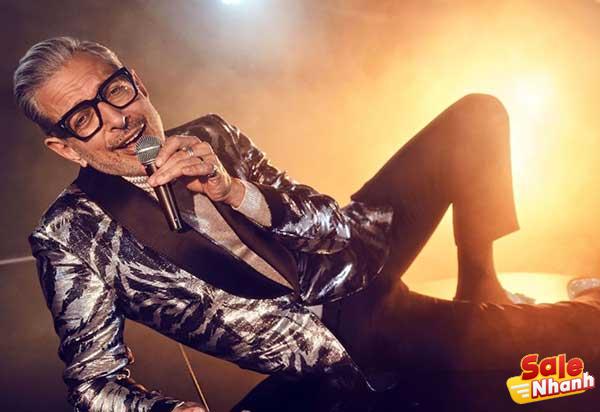 But he has also appeared in a number of other films that you might want to see. The following are suggestions from some of the famous films he has acted in.
Jurassic Park
Release year 1993
Genres Action , Adventure , Fantasy , Science Fiction , Horror
Produced by Amblin Entertainment , Universal Pictures
Director Steven Spielberg
Cast Sam Neill Laura Dern Jeff Goldblum Richard Attenborough Bob Peck
Jurassic Park is an adaptation of the novel of the same name by Michael Crichton. The film tells the story of billionaire John Hammond (Richard Attenborough) who plans to build a dinosaur zoo.
He managed to breed dinosaurs whose DNA was stored in blood sucked by mosquitoes.
Hammond invites paleontologist Alant Grant (Sam Neil) and mathematician Ian Malcom (Jeff Goldblum) to hear their thoughts on his project.
But trouble begins when the head of security, Nerdy (Wayne Knight), tries to steal dinosaur embryos. He steals by turning off the electric fence causing the dinosaurs to escape.
Thor: Ragnarok
Release year 2017
Genres Action , Adventure , Comedy , Fantasy , Science Fiction , Superhero , Horror
Marvel Studios Production
Director Taika Waititi
Cast Chris Hemsworth Tom Hiddleston Tessa Thompson Cate Blanchett Mark Ruffalo Jeff Goldblum Idris Elba
Thor: Ragnarok is a movie about the great war between Thor (Chris Hemsworth) and the eldest sister Hela (Cate Blanchett).
Hela is locked up by Odin (Anthony Hopkins) for plotting to overthrow his rule. After Odin's death, Hela was finally freed and declared himself heir to the throne of Asgard.
Thor is thrown from the ice onto the planet Skaar when he and Loki (Tom Hiddleston) are trying to avoid Hela.
The kidnapped Thor is confronted by the leader of the Skaar, the Grandmaster (Jeff Goldblum). The Grandmaster orders Thor to fight in a gladiatorial match if he wants to escape his planet. Thor must also fight if he wants to save Asgard.
Independence Day
Release year 1996
Genres Action , Adventure , Science Fiction
Production of entertainment centers
Director Roland Emmerich
Cast Will Smith Bill Pullman Jeff Goldblum Mary McDonnell
Independence Day is a film that tells the story when humans have to fight against an alien invasion. Aliens are trying to dominate the earth after the mother ship reaches Earth.
A scientist named David Levinson (Jeff Goldblum) manages to decode the signals they send. He knows that aliens are planning to destroy humanity.
Levinson eventually told the President of the United States, Thomas J Whitmore (Bill Pullman), about the alien plan.
The President also ordered Levinson to begin a mission to save the earth from an alien invasion. Levinson assigns a marine named Steven Hiller (Will Smith) to handle the presence of alien ships.
The Grand Budapest Hotel
Release year 2014
Genres Adventure , Comedy , Crime , Horror
Produce American Empirical Pictures , Indian Paintbrush , Scott Rudin Production , Studio Babelsberg , TSG Entertainment
Director Wes Anderson
Cast Ralph Fiennes Tony Revolori Saoirse Ronan Adrien Brody Willem Dafoe
The Grand Budapest Hotel is a film about the flashbacks of Zero Moustafa (Tony Revolori) when he was still a boy serving at this hotel.
He confronts his previous owner M. Gustave (Ralph Fiennes) in an attempt to clear his name. M. Gustave is accused of being involved in the mysterious death of his hotel client Madam D (Tilda Swinton).
In The Grand Budapest Hotel Jeff Goldblum plays Deputy Vilmos Kovacs. He is the lawyer managing the inheritance of Mrs. D.
After the death of Mrs. D., there was a dispute over the property of the deceased hotel owner. His family was furious to learn that a valuable painting had been left to M. Gustave.
The Fly
Release year : 1986
Genre: Drama, Horror, Science Fiction
Production : Brooks Films, SLM Production Group
Directed by: David Cronenberg
Actors: Jeff Goldblum, Geena Davis, John Getz, Joy Boushel, George Chuvalo, Leslie Carlson
The film is about a scientist named Seth Brundle (Jeff Goldblum) who is conducting an experiment on teleportation.
Seth meets Veronica Quaife (Geena Davis), a journalist at a fundraising event for her experiment. He then takes Veronica to the lab, where she conducts an experiment.
They finally started to get close to each other. Seth started experimenting using it himself.
Unbeknownst to him, a fly flew into his lab while he was experimenting with himself. The experiment turned out to be gradually turning his body and mind into a fly.
Invasion of The Body Snatchers
Release year : 1978
Genre: Horror, Science Fiction
Produce : Solofilm
Director : Philip Kaufman
Actors: Donald Sutherland, Brooke Adams, Jeff Goldblum, Leonard Nimoy, Veronica Cartwright
The movie Invasion of The Body Snatcher is about extraterrestrials who came to earth after the planet died. This creature came to earth in the form of a pink flower.
This flower is then brought to her home by Elizabeth Driscoll (Brooke Adams). Elizabeth begins to feel a change in her heartless lover.
He also starts talking to Matthew (Donald Sutherland) about the problem. Turns out the change happened to a lot of people.
Matthew and Elizabeth begin the investigation along with their friends Jack (Jeff Goldblum) and Nancy (Veronica Cartwright). Their investigation discovers that the mysterious flower has the ability to double as a person.
Le Week-End
Release year : 2013
Genre: Comedy, Drama, Romance
Production : Film4, Free Le Bureau, Range Films
Director : Roger Michelle
Actors: Lindsay Duncan, Jim Broadbent, Jeff Goldblum, Sophie-Charlotte Husson
Le Week-End is the love story of an elderly couple trying to rekindle the flame of their fading love.
Nick (Jim Broadbent) and Meg Burrows (Lindsay Duncan) enjoy their second honeymoon in Paris to celebrate their thirtieth wedding anniversary. Instead of romantic feelings, their vacation is filled with controversy.
While they are eating at a restaurant, the two meet an old friend of Nick's from college, Morgan (Jeff Goldblum).
Morgan is now a rich writer, very different from the two of them. Morgan invites them to a dinner party at his house. This opportunity turns out to bring hope to their marriage.
Deep Cover
Release year : 1992
Genre: Action, Crime, Thriller
Production : New Line Productions, Image Organization
Director : Bill Duke
Actors: Laurence Fishburne, Jeff Goldblum, Lira Angel, René Assa,
Deep Cover tells the story of a cop named Russell Stevens (Laurence Fishburne) who secretly becomes a drug dealer.
He goes on this mission to catch big drug dealers, namely David Jason (Jeff Goldblum). Stevens also infiltrated a drug trafficking ring in Los Angeles.
He was able to get into the drug trade so David could trust him. During his disguise, he also has to deal with corrupt policemen and his friends who try to take advantage of the mission he's on to get a promotion.
The Life Aquatic with Steve Zissou
Release year : 2004
Genre: Action, Adventure, Comedy
Production : Touchstone Pictures, Scott Rudin Productions, American Empirical Pictures
Director : Wes Anderson
Actors: Bill Murray, Owen Wilson, Cate Blanchett, Willem Dafoe, Jeff Goldblum
The Life Aquatic with Steve Zissou is an adventure comedy about the revenge of oceanographer Steve Zissou (Bill Murray).
He wants revenge on a jaguar shark that killed his teammate while making a documentary. He also recruited many people to become crew members on this expedition.
For this mission, Steve even steals a tracking device from his rival, also Alistair oceanographer Hennessey (Jeff Goldblum).
This expedition is an exciting and thrilling adventure. They meet a pirate who kidnapped his crew and are saved by someone who has become his rival.
The Lost World: Jurassic Park
Release year 1997
Genres Action , Adventure , Science Fiction
Produced by Amblin Entertainment , Universal Pictures
Director Steven Spielberg
Cast Jeff Goldblum Julianne Moore Pete Postlethwaite Arliss Howard Richard Attenborough
The Lost World: Jurassic Park is the sequel to the movie Jurassic Park. In this second sequel, Ian Malcolm (Jeff Goldblum) is sent to an island owned by John Hammond (Richard Attenborough).
This island is the billionaire's dinosaur cloning base. The island's facilities were abandoned after the storm, so the dinosaurs were released into the wild.
Malcom and the scientists were asked to document the dinosaurs in their natural habitat with the team InGen, Hammond's bioengineering company.
But it turns out Hammond has another mission for the InGen team. Their mission is really dangerous for the scientists who are asked by Hammond to come to the island to study.
Jurassic World Dominion
Release year 2022
Genres Action , Adventure , Science Fiction
Amblin . Entertainment Production
Director Colin Trevorrow
Cast Chris Pratt Bryce Dallas Howard Sam Neill Laura Dern Jeff Goldblum
Jurassic World Dominion is the final installment of the Jurassic World trilogy. This Jurassic Word movie tells the story of saving a baby dinosaur and stopping Evil's plot to rule the world using genetic engineering technology.
The act of evil was carried out by the CEO of the Biosyn Company, namely Lewis Dodgson (Campbell Scott). The story begins with the kidnapping of a girl named Maisie (Isabella Sermon) and a baby dinosaur named Beta by the Biosyns.
Owen (Chris Pratt) and Claire (Bryce Dallas Howard) who are babysitting Maisie try to save her. Maisie and Beta's rescue brings them to see Ellie (Laura Dern), Dr. Grant (Sam Neill) and Malcom (Jeff Goldblum) are also investigating Dodgson's illegal experiments.
The rescue they perform turns into a tense rescue as they still have to fight the dinosaurs.
Thor: Love and Thunder
Release year 2022
Genre Action , Adventure , Fantasy
Marvel Studios Production
Director Taika Waititi
Cast Chris Hemsworth Tessa Thompson Natalie Portman Christian Bale Chris Pratt
Thor: Love and Thunder follows the adventures of Thor (Chris Hemsworth) after retirement. He must act again because a god named Gorr sang, the God of Butcher (Christian Bale) wants to destroy the Gods.
To fight Gorr, Thor needs the help of his friends, including his ex-girlfriend, Jane Foster (Natalie Portman).
Thor's friends who will help him fight Gorr are Korg (Taika Waititi), Valkyrie (Tessa Thompson) and his former lover.
Jane Foster is now a superhero dressed as The Mighty Thor with her hammer Mjolnir. In this Thor movie, Jeff Goldblum will return as the Grandmaster.
Those are some of the movies that have the participation of Jeff Goldblum. Most people probably know him through the character Ian Malcolm in Jurassic Park.
However, he has also acted in other iconic Hollywood films which are very interesting. Jeff is a very talented actor and a very interesting character in each of his films.
Not only that, but he is also known to be an interesting person off camera. Interested in watching movies? Which movie is your favorite?
Salenhanh – Product review blog
Address: 115 Nguyen Van Qua, Tan Hung Thuan Ward, District 12, Ho Chi Minh City
Website: https://salenhanh.com
Mail: Salenhanh.com@gmail.com
#salenhanh #Reviewsalenhanh