Real name is Jang Hyun Deok, this handsome actor with stage name Jang Seung Jo was born in 1981 as a musical actor, later encroached on other roles. Actively acting in dramas since 2014, Jang started with small roles. Jang Seung Jo has the opportunity to play the main role after 2 years of going back and forth.
The first drama Jang Seung Jo took on the lead role was My Son-In Law's Woman (2016). After the success of family films, he is often given important roles.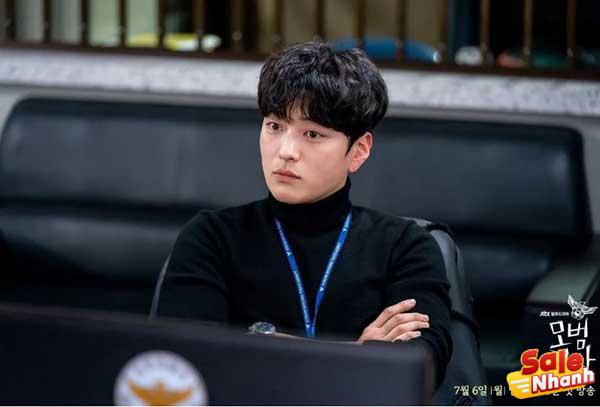 Many times the actor surnamed Jang also had the opportunity to compete in acting with experienced actors and actresses. So which is the movie worth watching by Jang Seung Jo?
Snowdrop
Release year 2021
Genre Drama, Romance
Director Jo Hyun Tak
Cast Jung Hae In Kim Ji Soo
1987 was an important year for Korea. History records the existence of democracy movements or protest movements with the aim of forcing the Korean dictatorship to make fair and democratic elections.
In the midst of such an emergency, Lee Gang Mu played by Jang Seung Jo tries to arrest Soo Ho out of a personal grudge.
Gang Mu is the leader of Team One in the Anti-Communist Investigation Department of the National Security Planning Agency (ANSP), who has a grudge against a North Korean agent named Soo Ho.
During his arrest, Gang Mu was taken hostage along with several female students. The relationship between Soo Ho and Gang Mu gradually changes after ANSP's betrayal.
The Good Detective
Release year 2020
Genres Action , Crime , Detective , Drama , Law , Police proceedings , Workplace
Director Jo Nam Kook
Cast Son Hyun Joo Jang Seung Jo Lee Elijah Oh Jung-See Ji Seung Hyun
Jang Seung Jo's movie The Good Detective (2020) is divided into two parts and he starred in two parts of this drama along with senior actor Song Hyun Joo.
As a drama about investigation and investigation, The Good Detective (2020) attempts to present a heroic plot from two detectives from different backgrounds.
Jang Seung Jo as Oh Ji Hyuk is an elite detective with 9 years of experience. He has to work with Kang Do Chang, who is more senior.
The two of them have a striking difference as Ji Hyuk uses more evidence and criminal psychoanalysis to uncover the case than Do Chang. Even so, they still have to be compact to perform their obligations.
Money Flower
Release year 2017
Genres Drama , Law , Psychological , Romance
Director Kim Hee Won
Cast Jang Hyuk Park Se Young Jang Seung Jo Lee Mi Sook
Jang Seung Jo's next movie is called Money Flower (2017). In short, this movie is about people who are under the illusion that they can control money, when in reality they are the ones who are controlled by money.
Jang Seung Jo plays Jang Boo Cheon, the first grandson of the owner of Cheong A Group. His mother and grandfather plan to marry Boo Cheon to Na Mo Hyun, the daughter of a teacher and young presidential candidate. Pretty.
In order for the plan to go smoothly, Kang Pil Joo, the legal expert of Cheong A's family, was asked to bypass the two. Boo Cheon and Mo Hyun fall in love without knowing the purpose behind their marriage.
Chocolate
Release year 2019
Genre Life , Medical , Psychological , Romance
Director Lee Hyun Min
Cast Yoon Kye Sang Ha Ji Won
Lee Kang and Moon Cha Young met when they were both children at a small restaurant in a seaside town. Lee Kang cooks and gives Cha Young some food. This memory made such an impression on him that it made him a chef.
Lee Kang himself is currently working as a surgeon. His demeanor was cold, but there was a hint of warmth in his heart. They are bound by a fate that revolves around a chocolate bar.
In the film starring Yoon Kye Sang and Ha Ji Won, Jang Seung Jo plays Lee Joon. She is Lee Kang's cousin, also a neuroscientist but aspires to become a potter.
Encounter
Release year 2018
Genres Adventure , Age Gap , Business , Psychological , Politics , Romance , Slice of Life , Workplace
Director Kwon Hyuk Chan , Park Shin Woo
Cast Song Hye Kyo Park Bo Gum Jang Seung Jo Ko Chang Seok Shin Jung Keun
Jang Seung Jo's movie Encounter (2018) brought him to Song Hye Kyo as an ex-husband.
Song Hye Kyo as Cha Soo Hyun is the daughter of a politician who must do everything her father says, including marrying the son of a wealthy family, Jung Woo Seok, played by Jang Seung Jo. shoulder.
His second marriage could not be saved because of infidelity. As a condition of divorce, the ex-mother-in-law asks Soo Hyun to attend important family events.
Jung Woo Seok still looked forward to Soo Hyun, but the woman was busier with her business. Until one day Soo Hyun meets a free-spirited young man who changes his life.
Familiar Wife
Release year 2018
Category Know Your Wife
Director Lee Sang Yeob
Cast Ji Sung Han Ji Min Kang Han Na Jang Seung Jo
Cha Joo Hyuk works at a bank and has been married to Seo Woo Jin for 5 years. One day, Joo Hyuk discovered a strange incident in his life.
From that incident, he made a decision that unexpectedly affected his life and those around him. The reason is, suddenly the life that he had with his wife and best friend, has just disappeared.
Joo Hyuk then lives a very different life than before. Joo Hyuk's old life was not happy. He has money problems and is often under pressure from his wife or superiors at work. Jang Seung Jo as Yoon Joong Hoo is Joo Hyuk's best friend, whose life changes after that strange incident.
The Package
Release year 2017
Genres Adventure , Comedy , Life , Romance
Director Jun Chang Geun , Kim Jin Won
Cast Jung Yong Hwa Lee Yun Hee
Yoon So So works as a tour guide in France, who travels with a group of tourists on a trip.
Each visitor he guides has a different life background. They are San Ma Roo, who joined the tour after being dumped by his girlfriend, then Kim Gyung Jae, who had a 7-year relationship with his girlfriend, Han So Ran. In addition to the two young men, there is also the stubborn Oh Gab Soo, Han Book Ja in need of a vacation after spending part of her life taking care of her husband, and a mysterious person who follows So So everywhere. Jang Seong Jo herself plays Bae Hyeong Goo, Yoon So So's ex-husband.
The Scholar Who Walks the Night
Jang Seung Jo's next film, The Scholar Who Walks the Night (2015) is a historical drama in which he plays the role of Crown Prince Sadong. The story begins when Jo Yang Sun, the daughter of a nobleman, loses everything when his father is considered a traitor.
Yang Sun disguised as a book seller. At that time he met a mysterious scholar named Kim Sung Yeol. Sung Yeol is a guardian vampire whose mission is to destroy other vampires who break the rules.
Sung Yeol then willingly pays Yang Sun to find a memo containing the secret on how to kill Gwi who destroyed his family and girlfriend.
Gwi is also the one who killed Crown Prince Sadong when he was trying to kill him to stop the leadership of the puppet king who was collaborating with Gwi.
My Son-In Law's Woman
Release year 2016
Genre Drama , Family , Romance , Romance
Director Ahn Gil Ho
Cast Seo Ha Joon Yang Jin Sung Park Soon Chun Jang Seung Jo
My Son-In Law's Woman (2016) is a drama by Jang Seung Jo that is broadcast every Monday to Friday on SBS. It is not surprising that the number of episodes is up to 120.
Here Jang Seung Jo plays the role of Choi Jae Yeong or Thyung. The story revolves around a married man named Hyun Tae remarried without his mother-in-law knowing.
The mother-in-law also did not know that the daughter-in-law Sophie was the biological daughter she had left at the orphanage.
Things get complicated when another man named Jason Choi falls in love with Sophie. Hyun Tae suspects that Jason hired a fraudster to take control of the company.
Teacher Oh Soon Nam
Release year 2017
Genre Drama , Romance , Youth
Director Choi Yeon Geol
Cast Park Shi Eun Jang Seung Jo Gu Bon Seung Han Soo Yeon
In Jang Seung Jo's drama "Teacher Oh Soon Nam" (2017), this handsome actor was offered the lead role named Cha Yoo Min. He is a child psychologist who graduated from a prestigious university.
This drama is about the life of a teacher named Oh Soon Man who devoted himself to a traditional Korean school aka Jeokhyeonjae. There he became a friend to his students.
Soo Man's life changes when he loses everything, including Jeokhyeonjae and his daughter, Joon Yeong. The woman begins to investigate behind her daughter's death. The investigation leaves him faced with a choice between revenge or maintaining the good values ​​he once lived.
Jang Seung Jo with his handsome appearance and acting appearance succeeded in stealing the hearts of the audience. Whether playing the role of Gang Mu, detective Oh Ji Hyuk or other roles, he has his own charm.
If you still don't believe it, you can prove it for yourself by starting the Jang Seung Jo drama marathon recommended above!
Salenhanh – Product review blog
Address: 115 Nguyen Van Qua, Tan Hung Thuan Ward, District 12, Ho Chi Minh City
Website: https://salenhanh.com/en
Mail: Salenhanh.com@gmail.com
#salenhanh #Reviewsalenhanh