Who doesn't know James Bond? This fictional character created by Ian Fleming is one of the famous spy figures in the world of cinema. A total of 24 films have been released with 6 actors who have played. That doesn't count with the other 2 movies other than the EON production sequence above.
It begins with a best-selling novel, then follows a story of glitzy, glitzy espionage, sophisticated gadgets, and beautiful women who work as assistants to agent 007, who better known as "Bond Girl".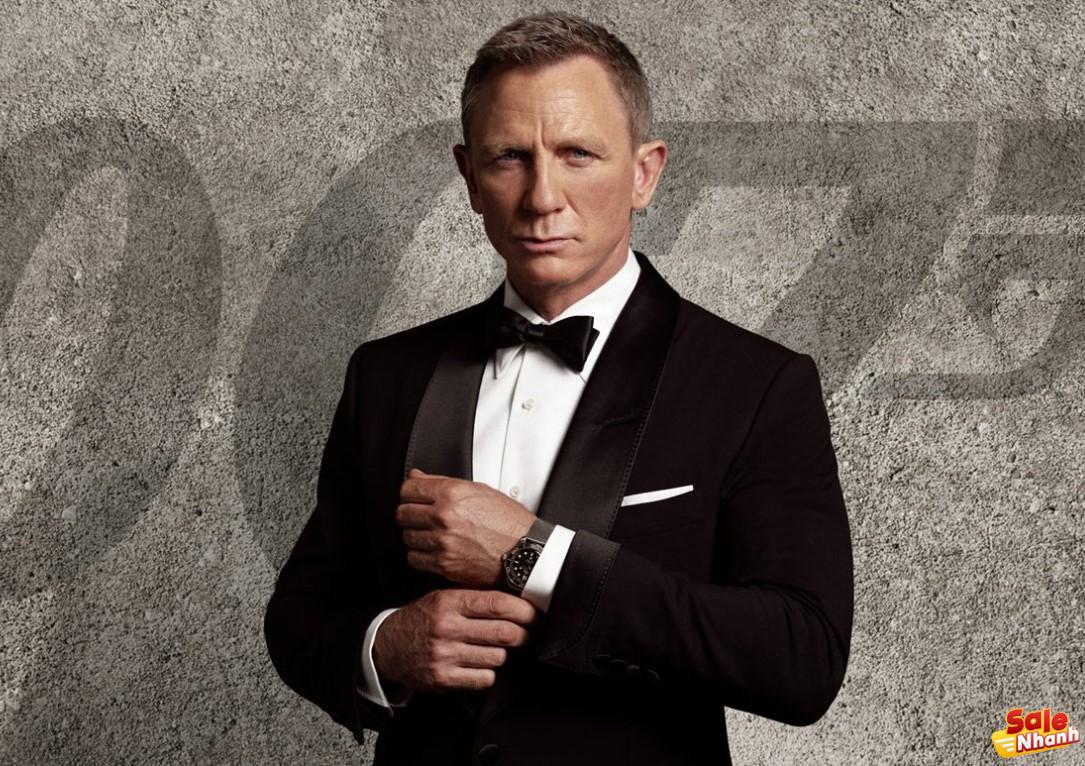 Coming at a time when British music was about to take over the world through the 1960s "British Invasion" with The Beatles and The Rolling Stones as pioneers, this film helped to liven it up. entertainment map from UK to all over the world, especially in the world of cinema.
In particular, in each edition, there are always good soundtrack songs performed by world-famous singers, bands and musicians, especially the British. Here, we have selected the 10 best James Bond films from 24 films of the EON series produced with a series of famous actors as agent 007.
Casino Royale [2006]
Release year : 2006

Genre: Action, Adventure, Horror

Directed by: Martin Campbell

Actors: Daniel Craig, Eva Green, Judi Dench

Production company: Columbia Pictures, Eon Productions, Casino Royale Productions
The same factors since the success of GoldenEye and then Tomorrow Never Dies [1997], The World Is Not Enough [1999] and Die Another Day [2002] have caused Pierce Brosnan's performance to decline despite the scenes. The action got better and better and these movies entered the box office.
The reboot attempt was preceded by casting Daniel Craig as the new Bond by lifting Bond's first novel, Casino Royale. The first impression that comes to mind is that Bond is rude, brave and reckless in his pursuit of his enemies, closely resembling Timothy Dalton's appearance.
But there's something different about Bond this time around. The psychological side is evident by the screenplay by Oscar-winning screenwriter Paul Haggis and the return of director Martin Campbell, who specializes in high-quality action sequences. The result is the best James Bond movie to date.
Goldfinger [1964]
Release year : 1964

Genre: Action, Adventure, Horror

Directed by: Guy Hamilton

Actors: Sean Connery, Gert Fröbe, Honor Blackman

Production company : Eon Productions
The change of director from Terence Young to Guy Hamilton brings about significant changes in this third James Bond film, although without losing the nuance of the previous two films.
In addition to injecting a bit of humor into some of the dialogue, the appearance of the opening credits scene with the appearance of scenes from the previous two films in a projector beam aimed at the human body will become a background. fundamental and other key element in every subsequent Bond film.
The car manufacturer Aston Martin that started out as a sponsor in this film is also equipped for the appearance of sophisticated gadgets to aid the success of James Bond's mission.
Skyfall [2012]
Release year : 2012

Genre: Action, Adventure, Horror

Directed by: Sam Mendes

Actors: Daniel Craig, Javier Bardem, Naomie Harris

Production company: Metro-Goldwyn-Mayer (MGM), Columbia Pictures, Danjaq
After his performance dropped in Quantum of Solace [2008], Daniel Craig came back for the better through Sam Mendes' Skyfall [2012].
The soundtrack song sung by Adele became a worldwide hit, enough to control the success of this film in its worldwide release. The success of this film also reached many different nominations at the BAFTA Awards and the Academy Awards to the Grammy Awards.
From Russia with Love [1963]
Release year : 1963

Genre: Action, Adventure, Horror

Directed by: Terence Young

Actors: Sean Connery, Robert Shaw, Lotte Lenya

Production company : Eon Productions
The second film, which follows the adventures of 007 agents, follows the success of the first film with an additional production budget that doubles compared to the previous film, which was shot in Eastern European countries, including Turkey and Italy.
John Barry appeared as a composer with the soundtrack song "From Russia with Love" performed by Matt Monro. Director Terence Young is still reprising his role as he directs Sean Connery to delve deeper into the pompous James Bond character, easily conquering women's hearts when he has to take down his enemies.
Dr. No [1962]
Release year: 1962

Genre: Action, Adventure, Horror

Directed by: Terence Young

Actors: Sean Connery, Ursula Andress, Bernard Lee

Production company : Eon Productions
Although not based on the first James Bond adventure novel, this story has been chosen as agent 007's debut film. Sean Connery is a rookie actor with a previous career as a supporting actor. in theatrical performances and a number of small films and television series. His James Bond image then became the standard for actors to play James Bond afterwards.
Another striking feature of this film is the presence of actress Ursula Andress in her very iconic swimsuit and the presence of Monty Norman's "James Bond Theme" instrument still used as a musical instrument. The soundtrack in every Bond movie, as well as the "Gun Barrel" scene is always the opening scene of every sequel.
GoldenEye [1995]
Release year: 1995

Genre: Action, Adventure, Horror

Directed by: Martin Campbell

Actors: Pierce Brosnan, Sean Bean, Izabella Scorupco

Production company : Eon Productions, United Artists
Roger Moore's performance as James Bond then dropped because the sequels seemed cheap. Moonraker [1979] is heavily nuanced in space, For Your Eyes Only [1981] has a slow tempo, Octopussy [1983] removes Bond's charm with a lighthearted script, and A View to a Kill [1985] is the series. his last film as Bonds.
Through The Living Daylights [1987], Timothy Dalton introduced a new Bond. Unfortunately, his lack of charisma makes Bond more of a killer than a pompous MI6 agent. License to Kill [1989] was his last film.
Pierce Brosnan is present as a new Bond through GoldenEye [1995], bringing a modern feel to this James Bond franchise. Brosnan has the charisma of Connery and the pomp that surpasses that of Roger Moore, so many consider him to be the best Bond to date.
Director Martin Campbell makes the action scenes stronger and more explosive with sophisticated but well-polished special effects.
The Spy Who Loved Me [1977]
Release year : 1977

Genre: Action, Adventure, Horror

Directed by: Lewis Gilbert

Actors: Roger Moore, Barbara Bach, Curd Jürgens

Production company : Eon Productions
Sean Connery returned as Bond in Diamonds Are Forever [1971], followed by Roger Moore's debut as the new Bond in Live and Let Die [1973]. This was followed by The Man with the Golden Gun [1974] which took place in Thailand and Hong Kong, and finally through The Spy Who Loved Me [1977], where Roger Moore was recognized as a Bond fit for his time.
In his hands, James Bond proved more pompous and humorous with many humorous details in his lines. Marvin Hamlisch's song, which replaces John Barry, was nominated for both an Academy Award and a Golden Globe Award.
Thunderball [1965]
Release year : 1965

Genre: Action, Adventure, Horror

Directed by: Terence Young

Actors: Sean Connery, Claudine Auger, Adolfo Celi

Production company : Eon Productions
Based on unsuccessful screenplays and novels by other producers, EON bought the rights to make it into a movie. Director Terence Young sat back in his chair and directed the film, which was set far away from Nassau for stunning views.
At the time, it was the highest-grossing film in the James Bond franchise that could hardly be matched for the next 12 years. In 1983, the film was remade by producer Kevin McClory with the title Never Say Never Again with the return of Sean Connery as agent 007.
You Only Live Twice [1967]
Release year : 1967

Genre: Action, Adventure, Horror

Directed by: Lewis Gilbert

Actors: Sean Connery, Akiko Wakabayashi, Mie Hama

Production company : Eon Productions
After the Caribbean, Europe and America, this time James Bond's adventure story comes to Japan. This was done by film producers to gain maximum revenue as James Bond was very popular in Japan at that time. The large set of volcanic sites was built in studio Pinewood, UK, while the external sites remained in Japan.
Although Sean Connery performed quite well, he seemed tired of playing the character and stated that this movie will be his last time playing agent 007.
One thing not to be forgotten, the screenplay of this film was written by Roald Dahl, a new writer at the time, who later became known as a great writer through his works, such as Charlie and the Chocolate Factory and James and the Giant Peach.
Specter [2015]
Release year: 2015

Genre: Drama, Action

Produce: Eon Productions

Directed by: Sam Mendes

Actors: Daniel Craig, Lea Seydoux, Monica Bellucic
James Bond (Daniel Craig) receives an autopsy from M16 leader M (Ralph Fennes) to prevent a planned bombing that will take place at an annual Mexican event commemorating the dead. But Bond's act of completing his mission ended up in a mess and, unfortunately, was the message that Bond received from M, not actually from the leader.
Outraged, M eventually suspended Bond for not taking any action. Rebelling, Bond travels to Italy and meets a widow named Lucia (Monica Bellucci), who turns out to be a criminal figure. Taking advantage of this opportunity, Bond receives important information about an organization called Specter that is ready to go to war with the M16.
Live and Let Die [1973]
Release year: 1973

Genre: Drama, Action

Produce: Eon Production

Directed by: Guy Hamilton

Actors: Roger Moore, Yaphet Kotto, Jane Seymour
Now, the mission of Bond (Roger Moore) is to investigate the most powerful heroin trafficking group on the Caribbean island named Dr. Kananga (Yaphet Kotto) for the murder of three British spies who were killed trying to find evidence of Dr. This Kananga. Helped by his old friend, Felix (David Hedison), the two begin their investigation into Dr. Kananga.
Short story, Dr. Kananga is not only a famous cartel but also a successful businessman in New York. The intention of Dr. Kananga is distributing free heroin and distributing it to each place of business to eliminate competitors there. After the opponent plummeted, Dr. Kanangan will support the capitalist by raising the price of heroin he sells to the sky.
For Your Eyes Only [1981]
Release year: 1981

Genre: Drama, Action

Produce: Eon Production

Directed by: John Glen

Actors: Roger Moore, Carole Bouquet, Topol
That wouldn't be Bond's name if he didn't tackle top global missions like he does in this movie. Reportedly, a defense system called ATAC was also sunk along with the St. George on the Linoa Sea. The ATAC system was also a target for the Soviet Union as the ATAC functioned to control attacks with Polarballistic missiles that could be fired from Polynesian war submarines.
His mission this time was not just to deal with a few Soviets. But Bond must also face many other enemies who are willing to risk their lives to get the ATAC that Bond protects from irresponsible hands. Can James Bond save and return the ATAC system to the authorities?
The Man With The Golden Gun [1974]
Release year: 1974

Genre: Action, Horror

Produce: Eon Production

Directed by: Guy Hamilton

Actors: Roger Moore, Christopher Lee, Britt Ekland
Francisco Scaramanga is an assassin who always uses the golden bullets he ordered in Hong Kong to kill his opponents. This move is increasingly considered wrong after Bond discovers another larger plan that Francisco is thinking and implementing. One crazy thing can do for so many victims.
Bond learns of Frans' plan to create a weapon of mass murder using the power of the sun. Bond hunts time to stop Frans' plan. It's not easy Frans isn't stupid and good at reacting to Bond's actions either. Try not to get killed and maybe stop Frans, what next? Watch movie!
On Her Majesty's Secret Service [1969]
Release year : 1969

Genre: Action, Adventure, Horror

Directed by: Peter R. Hunt

Actors: George Lazenby, Diana Rigg, Telly Savalas

Production company : Eon Productions
With Sean Connery retiring as James Bond, EON has cast George Lazenby as the new Bond. Also, the director of this film, Peter R. Hunt, is a debut director whose obsession is making clever Bond films with sharp lines. And the result is a fairly long Bond movie, well over two hours.
Although George Lazenby's performance was widely praised and suited to his role, he himself chose to give up the role of James Bond shortly before the film's release. This Bond movie is known for its stunning shot that shows the mountains of Switzerland covered in white snow.
The Living Daylights [1987]
Release year: 1987

Genre: Spy, Action

Produce: Eon Productions

Directed by: John Glen

Actors: Timothy Dalton, Maryam D'Abo, Joe Don Baker
New quest by James Bond (Timothy Dalton) received; specifically to help a Russian general join the KGB named Georgi Koskov. Koskov said that the KGB would destroy all MI6 members in the West. However, this turned out to be a diversion intended to confuse the information Bond had provided to the MI6 office.
Investigating corrections, Koskov traps Bond to ask him to help carry out his plan to send large quantities of opium powder to the Soviet Union. The money he receives will buy various weapons. Bond becomes aware of this and then asks for help to capture Koskov and thwart his plan.
Octopussy [1983]
Release year: 1983

Genre: Drama, Action

Produce: Eon Production

Directed by: John Glen

Actors: Roger Moore, Maud Adams, Louis Jordan
The death of one of the MI6 agents inside the British embassy raises many questions. Furthermore, the agent's corpse is holding a fake Fabaage egg. British people who know something is wrong with the case enlist Bond's help to figure out the answer to the case. Bond ends up working with some of his teams.
Bond's suspicions immediately fall on a mysterious circus owner known as Octopussy (Maud Adams). In addition to being a circus owner who likes to have many female performers, he is also a jewelry smuggler. One of the gems he's after is the gem found in the original Fabarage egg. Octopussy killed MI6 agent for gems?
Diamonds are Forever [1971]
Release year: 1971

Genre: Spy, Action

Produce: Eon Productions

Directed by: Guy Hamilton

Actors: Sean Connery, Jill St. John, Charles Gray
A major diamond smuggling case into Las Vegas took place in Amsterdam. Commanded by the leader of the crime boss Specter, Blofeld, the smuggled diamonds will be used as key ingredients to craft a space laser weapon to destroy the world. Not half-heartedly, a 50,000-carat diamond will be investigated by Bond.
Investigating how many diamonds is not an easy matter. Bond must deal with Blofeld's men too brutal. In this movie, you will witness the chase and shoot scenes in the style of James Bond. Can James Bond complete his mission this time? Can the space laser weapon be stopped by Bond? Come see the movie!
License to Kill [1989]
Release year: 1989

Genre: Action, Spy

Produce: Eon Production

Directed by: John Glen

Actors: Timothy Dalton, Carey Lowell, Robert Davi
This Bond adventure doesn't involve crazy scientists or rich people with terrible hobbies as before. This time Bond is faced with one of London's most feared drug cartels. This film also, unlike previous films dealing with British security, Bond is more focused on the mission of revenge.
Bond's disciplinary action resulted in the British chasing Bond to get caught and punished. Indeed, this film also minimizes Bond's pompous style with his rough actions with many women. Bond is shown to be very angry and really wants to kill his opponents, especially the leader of the drug cartel.
Quantum of Solace [2008]
Release year: 2008

Genre: Spy, Action

Produce: Eon Production

Directed by: Marc Foster

Actors: Daniel Craig, Olga Kurylenko, Mathieu Amalric
After being betrayed by Vesper, the woman he loves in Casino Royale, Bond finds another girl named Camille (Olga Kurylenko). Getting to know the girl, Bond discovers that Camille has a grudge against Dominic Greene (Mathieu Amalric); a leader of the group that Bond is also looking for.
In the end Camille and Bond work together to get Dominic at all costs. But Dominic always had his own escape route. While in pursuit, Camille and Bond also learn of Dominic's other plans. Master the natural resources in each country where he took refuge in the pursuit. Will Camille and Bond be able to catch Dominic?
Tomorrow Never Dies [1997]
Release year: 1997

Genre: Drama, Action

Produce: Eon Production

Directed by: Roger Spottiswoode

Actors: Pierce Brosnan, Michell Yeoh, Teri Hatcher
Back on a dangerous mission, now James Bond is tasked with stopping a man named Elliot Carver who works as one of the media powerhouses in playing China and Britain against together. Elliot is aided by a cyber-terrorist named Henry Gupta to incite war by abusing the GPS encoder to destabilize the government.
This caused the two countries to misunderstand and start a war within 48 hours if what Elliot and Henry did was not over. No kidding, the proposed war is the one that could cause World War 3. Aided by another agent, Wai Lin (Yang Ziqiong), Bond struggles to capture Elliot.
Specter [2015] is the 24th film in the James Bond film series produced by EON, believed to be Daniel Craig's final appearance as James Bond. Subsequent films will no longer be distributed by MGM, who terminated their contract with EON. But it seems that in 2020, Daniel Craig will return to the James Bond role he played in the James Bond movie: New Time For No Time.