Isabela Moner or Isabela Merced is widely known since she gained attention when playing the live action version of the character Dora. This beautiful girl born on July 10, 2001 has practically been rolling around in the acting world since she was a child. From 2013 to now, she has participated in at least 10 films, including two films with voice acting.
Isabela Moner's films have a wide range of genres, from family films to action films. This girl doesn't seem to want to be comfortable in just one genre. Want to know what titles Isabela, the human version of Dora, has acted in? Here is a review for you!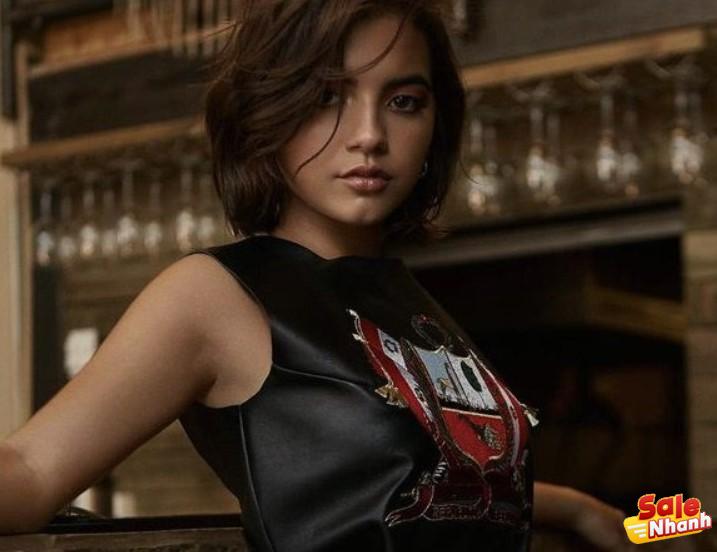 The House That Jack Built
Release date / year : 2013

Genre : Family, Relationship

Production : Walk Up Productions

Directed by: Henry Barrial

Actors: EJ Bonilla, Melissa Fumero, Leo Minaya, Lor De Liz Perez, Isabela Moner
Isabela Moner's film The House Jack Built is her debut. In the film directed by Henry Barrial, Isabela Moner plays the little girl Nadia. According to the story, Nadia is Jack Maldonado's younger sister. He is an ambitious young man. One day Jack moved his whole family into an apartment.
Parents, brother and wife, grandmother and two cousins ​​live under the same roof as Nadia and Jack. Until one day, a more complex problem targeted them. This problem is related to Jack's business which is starting to fall apart. Then how can they exist under the same roof and its problems?
Middle School: The Worst Years of My Life
Release Date / Year : October 7, 2016

Genre: Family Comedy, Teen

Production: Lionsgate, CBS Films, James Patterson Entertainment, Joinant Media

Directed by: Steve Carr

Actors: Griffin Gluck, Lauren Graham, Rob Riggle, Isabela Moner, Thomas Barbusca
With glasses, Isabela Moner's performance in Middle School: The Worst Years of My Life as Jeanne Galletta is really convincing. Jeanne is said to be a bright student and the president of a club called AV. The film tells the story of Rafe Khatchadorian (Griffin Gluck), a transfer student with a high imagination and passion for his artistic talents.
Trouble comes when the principal and most of the teachers at his new school are violent. The principal even destroyed his sketchbook. Rafe and his imaginary friend Leo, including Jeanne, plan to start a rebellion against the cruelty of the educators. Did the child do it?
Transformers: The Last Knight
Release date / year : June 18, 2017

Genre: Science Fiction

Producer: Hasbro, Di Bonaventura Pictures, Huahua Media, Meying Galaxy, The H Collective

Directed by: Michael Bay

Actors: Mark Wahlberg, Josh Duhamel, Stanley Tucci, Isabela Moner
Perhaps not many people know that the movie Transformers: The Last Knight also has the participation of Isabela Moner. In this movie, the beauty born in 2001 plays Izabella. Isabella is a girl who lost her family during the events of the Battle of Chicago.
The incident made the tomboy girl an orphan. He later lived under the ruins of the city with several Autobots, Sqweeks, and Canopy before meeting Cade. Curious to see the action? You should revisit this Michael Bay-directed movie soon!
The Nut Job 2: Nutty by Nature
Release date / year: August 11, 2017

Genre: Comedy Animation

Production : Open Road Films, ToonBox Entertainment, Gulfstream Pictures, Red Rover International, Shanghai Hoongman

Directed by: Cal Brunker

Voiced by: Will Arnett, Maya Rudolph, Bobby Cannavale, Isabela Moner
The sequel to Isabela Moner is quite interesting because here she is not directly involved in acting, but as a voice actress. In the movie titled The Nut Job 2: Nutty by Nature, Isabela voices one of the characters named Heather Muldoon. She is the spoiled daughter of Mayor Muldoon.
This animated film follows Mayor Muldoon's efforts to turn Liberty Park into an amusement park called Libertyland. The reason is because he thinks Liberty Park doesn't make money. Opposition also came from Surly Squirrel, a purple squirrel that was hated by other animals in Liberty Park. So who will win the contest?
Kingdom Hearts X Back Cover
Release date / year : January 12, 2017 (Japan), January 24, 2017 (UK)

Genre : Animation, Game

Produce : Square Enix

Directed by: Tetsuya Nomura, Tai Yasue

Voiced by: Max Mittelman, Kevin Quinn, Karissa Lee Staples, Matthew Mercer, Isabela Moner
After successfully voicing the character Heather Muldoon, Isabela Moner was once again trusted to voice the character Ava in the English version of The Kingdom Hearts X Back Cover. It is the tenth installment in the Kingdom Hearts series and the prelude to the Final Chapter of Kingdom Hearts HD.2.8.
The film, which is part of the game, tells the story of Sora and Riku, who are preparing for the arrival of a villain known as Master Xehanort. Kingdom Hearts X Back Cover is a movie based on Kindom Hearts X game. What does it all look like? This movie will spoil anyone who likes games and movies at the same time. Don't miss it!
Sicario: Day of the Soldado
Release date / year : June 11, 2018

Genre: Action, Crime

Production : Columbia Pictures, Black Label Media, Thunder Road Pictures

Directed by: Stefano Sollima

Actors: Benicio del Toro, Josh Brolin, Isabela Moner, Jeffrey Donovan
After being a voice actress, this time Isabela Moner has returned to acting. Unedited, Isabela Moner's next film is in the action, crime genre. In a movie called Sicario: day of the Soldado. Isabela plays the role of Isabel Reyes. She is the daughter of drug lord, Carlos Reyes.
To incite war between the major gangs, the Mexican Ministry of Defense represented by Graver recruited Alejandro Gillick. The manuscript has been edited. Gillick manages to kill one of the Matamoros gang's top lawyers, while Graver kidnaps the daughter of the Matamoros gang's rival, the gang led by Carlos Reyes. Two drug groups have successfully pitted against each other. So who will win in the end? Ministry of Defense or Cartel?
Instant Family
Release date / year: November 16, 2018

Genre: Comedy, Family, Teen

Production : Leverage Entertainment, Closest to The Hole Productions, Two Grown Men Productions

Directed by: Sean Anders

Actors: Mark Wahlberg, Rose Byrne, Isabela Moner, Iliza Shlesinger
You can see Isabela Moner's acting skills in her other films. This time, she tried to impress many audiences with the character Lizzy in the movie Instant Family (2018). Lizzy is the daughter of a drug addict, for that matter she was raised temporarily and left in an orphanage.
One day, Pete and Ellie, who have been childless for a long time, plan to adopt a child. The two are immediately impressed by the figure of Lizzy, a 15-year-old girl. Lizzy herself is the eldest of her two younger brothers. They are Juan and Lita, aged 10 and 6, respectively. Will Pete and Ellie take them all or just take Lizzy and leave the siblings?
Dora and the Lost City of Gold
Release date / year : August 9, 2019

Genre: Comedy, Adventure

Production : Paramount Players, Nickelodeon Movies, Walden Media, MRC, Burr! Production, Screen Queensland

Directed by: James Bobin

Actors: Isabela Moner, Eugenio Derbez, Michael Peña, Eva Longoria
Isabela Moner's next film is perhaps the most successful in making her name known to the public. How could it not be because here she plays one of the famous cartoon characters in the world, that is Dora. You must have seen this little girl in action with the map a few times already, right?
Playing Dora in the live action Dora and the Lost City of Gold, Isabela looks unique with her backpack, bangs, and short hair. The film follows the lives of Dora's parents, namely Cole and Elena, who love to explore the interior forests. They took their daughter, Dora, with them. When Dora turned 16, Cole and Elena wanted to send their daughter to town to go to school. Will Dora obey her parents' request?
Let It Snow
Release date / year : November 8, 2019

Genre: Romantic Comedy, Teen

Produce : Dylan Clark Productions

Directed by: Luke Snell

Actors: Isabela Moner, Shameik Moore, Kiernan Brennan Shipka, Odeya Rush
Fulfilling the role of Dora, in the next Isabela Moner film, this girl played the role of Julie Reyes. He is a smart kid and loves his parents very much, especially his mother. When Julie graduated from a prestigious university, she was torn between attending college or taking care of her terminally ill mother.
All those worries she shared with Stuart Bale, a pop star who accidentally met her on the train. Then they visit Julie's mother. While chatting and enjoying Christmas Eve while dancing, Julie's mother got a cough. Stuart then suggested the mother go for treatment. Will Julie accept Stuart's help? Watch the full Let it Snow movie on Netflix only!
Sweet Girl
Release date / year : 2021 (TBA)

Genre: Action, Horror

Produce : ASAP Entertainment

Directed by: Brian Andrew Mendoza

Actors: Jason Momoa, Isabela Moner, Manuel Garcia-Rulfo, Raza Jaffrey
The release date of Isabela Moner's next film, Sweet Girl, remains a secret. However, as planned, it will be released in 2021 on Netflix. One thing is for sure, in this new film, Isabela will compete with veteran actor Jason Momoa.
Broadly speaking, Sweet Girl is about a father and husband's efforts to avenge the death of their wife, while continuing to try to protect their only daughter. Isabela and Jason will play Cooper and Rachel, none other than father and son. Curious? Waiting for game day!
Several of Isabela Moner's films in which she starred include a variety of genres. He also did not hesitate to transform into the character through his voice. Seeing this, it is not impossible that she will become a competitor to other major actresses that already exist. So, which of his 10 movies would you like to see first? Dora or Transformers? Watch fun!