Beautiful artist Horikita Maki is a former Japanese actress and voice actress, born on October 6, 1988. She made her debut in 2003 and has acted in many dramas, movies, commercials, and TV shows. newspapers and even magazines. In childhood, she was famous for her tomboy style, enjoying playing basketball and baseball. Even when Horikita Maki was in middle school, she became the vice-captain of basketball.
The name Horikita Maki became more and more known when she appeared in the TV series Nobuta wo Produce and Hana Kimi. In August 2015, her agency announced that Horikita Maki was married to Koji Yamamoto following their relationship in May of the same year. Then on March 2, 2017, Horikita Maki officially announced her retirement from the entertainment industry and focused on being a housewife.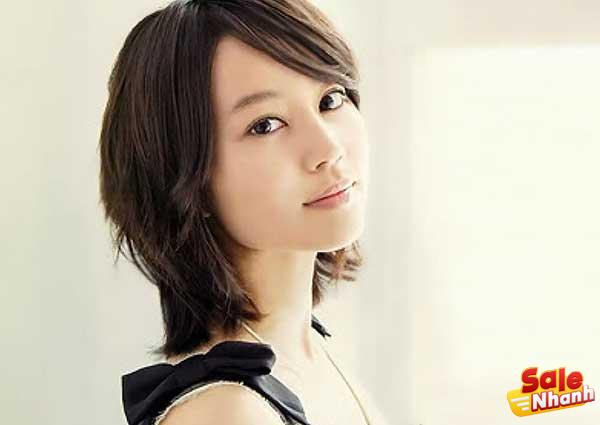 Although Horikita Maki no longer appears in the entertainment world, hereafter, we have compiled 10 Horikita Maki dramas that are interesting to watch again.
Nobuta wo Produce
Release year: 2005
Genre: Comedy, Romance, School, Drama
Directed by: Iwamoto Hitoshi, Sakuma Norika
Actors: Kamenashi Kazuya, Yamashita Tomohisa, Horikita Maki
Producer: Nippon TV (NTV)
Episodes: 10
This film tells a story describing the social life of Japanese teenagers at school. Once upon a time, there was a new schoolgirl named Nobuko Kotani (Horikita Maki). A girl with a gloomy temperament not long after transferring to school, she becomes the target of bullying by some of her classmates.
Seeing one of his classmates being bullied, one of the famous male students named Kusano Akira (Yamashita Tomohisa) and Kiritani Shuji (Kazuya Kamenashi) tried to protect Nobuko or others with the nicknames Nobuta. But the culprit didn't stop easily.
Once upon a time, Akira came up with an idea to change Nobuko's appearance. That's why she later became one of the most popular girls in school. So that the people who bullied Nobuko don't bother her anymore.
Kurosagi
Release year: 2007
Genre: Action, Suspense, Romance, Crime
Directed by: Yasuhari Ishii, Shunichi Hirano, Jun Muto
Actors: Yamashita Tomohisa, Horikita Maki, Ichikawa Yui
Production company: Tokyo Broadcasting System, Inc (TBS)
Episodes: 11
This film is adapted from the manga of the same name by Takeshi Natsuhara. Tells the story of a scammer who defrauds criminals and gives the proceeds of his tricks to the victims of the criminals and never uses the proceeds of his tricks for self. This scammer is called Kurosagi or the black scammer.
After the incident of losing his family due to the actions of a fraudster, Kurosaki (Yamashita Tomohisa) vows revenge and decides to become Kurosagi. However, his life changes when he meets Yoshikawa Tsurara (Horikita Maki), a law school student who believes in the law.
Hanazakari no Kimitachi e
Release year: 2007
Genre: Friendship, Comedy, Romance, School, Youth, Drama
Directed by: Matsuda Hidetomo, Tsuzuki Junichi, Sato Genta
Actors: Horikita Maki, Shun Oguri, Ikuta Toma
Producer: Fuji TV
Episodes: 12
This series is also known as Hana Kimi, there are also Korean and Chinese drama versions, remakes of Japanese TV series, and side stories. This movie is about Mizuki Ashiya (Horikita Maki), a girl who transfers to an all-boys high school aka Osaka High School.
Izumi Sano (Shun Oguri). Sano is a high jumper, however, Sano is forced to stop because of a cedar tree that he got caught in an accident. Mizuki, who wants Sano to compete again, is forced to disguise himself as a male student at that special school.
With her short hair, flat chest, and deep voice, Mizuki ends up becoming Sano's roommate at the school dormitory. However, Sano accidentally discovers that Mizuki is a girl. His classmate is Shuichi Nakatsu (Ikuta Toma), who doesn't know Mizuki is a girl, instead begins to like Mizuki.
Atashinchi no Danshi
Release year: 2009
Genre: Comedy, Family
Directed by: Matsuda Hidetomo Sato Genta
Cast: Horikita Maki, Kaname Jun, Okada Yoshinori, Osamu Mukai, Yamamoto Yusuke, Koji Seto, Okayama Tomoki
Producer: Fuji TV
Episodes: 11
Chisato Mineta (Horikita Maki) is a girl who becomes homeless after her mother dies and her father runs away leaving a large debt. One day, he meets an old man named Shinzo Okura (Masao Kusakari), a rich man, and offers to pay off his father's debt as long as he wants to marry him.
Chisato accepted the offer, but a month after the marriage, Shinzo died. After Shinzo's death, Chisato was forced to take care of Shinzo's six children, which turned out to be written in the contract he signed. Six children with different personalities and also with their own trauma had to be cared for by Chitose for three months.
Tokujo Kabachi!!
Release year: 2010
Genre: Comedy, Law
Directed by: Imai Natsuki, Han Choro, Kato Arata
Actors: Horikita Maki, Sakurai Sho
Production company: Tokyo Broadcasting System, Inc (TBS)
Episodes: 10
This film tells the story of the employees at a law firm. Tamura Katsuhiro (Sakurai Sho), helped by his mother, manages to get into the office of a law firm. He is a kind man who loves to help the weak and has a strong sense of justice. He believes that the law is not always fair and just.
He became an administrative expert with the aim of manipulating the law to protect the weak. On the other hand, Misuzu Sumiyoshi (Horikita Maki) is an expert in administrative documents and is very competent in drafting legal documents at law firms. Both Katsuhiro and Misuzu have always been at odds, but they gradually come to understand each other.
Umareru
Release year: 2011
Genre: Drama, Family, Medical
Directed by: Kaneko Fuminori, Yoshida Akio, Atsushi Muto
Actors: Horikita Maki, Ohkura Tadayoshi, Nakajima Kento, Haruka
Production company: Tokyo Broadcasting System, Inc (TBS)
Episodes: 10
The Hayashida family is a happy family consisting of father, mother, two sons and two daughters. One day, happiness changes when their father suddenly passes away.
Not long after their father died, his 51-year-old mother informed him that she was pregnant. This news causes various challenges, especially for her first child Minami Hayashida (Horikita Maki), the head of the family. Have tissues ready when you're going to watch this movie, because this movie is pretty heartbreaking.
Umechan Sensei
Release year: 2012
Genre: History, Life, Medical
Directed by: Kuwano Tomohiro, Kimura Takafumi, Ohara Taku, Katsuta Natsuko, Suzuki Wataru
Actor: Horikita Maki
Manufacturer: NHK
Episodes: 156
The film is set in the devastated Tokyo Kamata area, in 1945 right after the end of the war. Shimomura Umeko (Horikita Maki) is the youngest of three children whose father is a doctor at a university hospital.
Shimomura Matsuko (Mimura Rie) and her older sister Takeo Shimomura (Koide Keisuke) are exceptionally talented older sisters and brothers. However, Umeko was an insecure child. Until one day, an incident made him determined to become a doctor and devote himself to the local community.
Miss Pilot
Release year: 2013
Genre: Friendship, Life
Directed by: Moriwaki Tomonobu, Komine Hiroyuki, Sawada Kensaku
Actors: Horikita Maki, Saito Takumi
Producer: Fuji TV
Episodes: 11
Haru Tezuka (Horikita Maki) is an honest, intelligent woman who can't lie so she gets in trouble sometimes. Haru, who is having a hard time getting a job, one day receives an application for guidance from the airline company ANA (All Nippon Airways).
After that, Haru decided to try taking the test at the airline company by attending a presentation from ANA company. He saw many people aspiring to be pilots.
She continued to strive to become a female pilot, although she barely passed the very rigorous and difficult exam. Not to mention the fact that he had to meet strict teachers and many different people during his training to become a pilot.
Movie Masshiro
Release year: 2015
Genre: Medicine
Directed by: Imai Natsuki, Kato Arata, Tsuboi Toshio
Actor: Horikita Maki
Production company: Tokyo Broadcasting System, Inc (TBS)
Episodes: 10
Arimura Akari (Horikita Maki) is a 25-year-old woman who graduated from a nursing school in Funabashi, Chiba, Japan and worked as a nurse in a hospital. After four years as a nurse with a meager salary, her view of the job changed and she thought about quitting and getting married soon.
But then he has the opportunity to become a nurse in an elite hospital, where most of the patients are people working in the fields of politics, finance and entertainment. There Akari had a lot of trouble, not to mention the head nurse who was always strict with Akari.
Higanbana: Keishicho Sosa Nana ka
Release year: 2016
Genre: Drama, Supernatural, Detective, Investigation
Directed by: Otano Taro, Ogaki Kazuho, ​​Matsunaga Yoichi
Actors: Horikita Maki, Dan Rei, Kang Ji Young, Takanashi Rin, YOU, Daichi Mao,
Producer: Nippon TV (NTV)
Episodes: 10
This TV series is also known as Whisper from a Crime Scene. The story is about a person named Nagisa Kinomiya (Horikita Maki) who is a detective of the 7th Investigation Team. The team consists of female detectives who specialize in finding female criminals and helping female victims.
Nagisa has the special ability to hear other people's thoughts. In order not to hear other people's thoughts, he uses headphones. However, when working, he only uses his special ability.
With his special ability, he can hear the voices left behind at the crime scene, the voices of criminals as well as their victims.
Above are 10 movies that Horikita Maki has acted in that you can watch again if you miss Horikita Maki's acting. In addition to the TV series, there are also reviews of the films in which Horikita Maki has acted. And don't forget that you can also check out reviews of other Japanese dramas on this site.
Salenhanh – Product review blog
Address: 115 Nguyen Van Qua, Tan Hung Thuan Ward, District 12, Ho Chi Minh City
Website:  https://salenhanh.com/en
Mail: Salenhanh.com@gmail.com
#salenhanh #Reviewsalenhanh