In addition to Weak Hero Class (2022), Hong Kyung has actually starred in several dramas. Such as his appearance in the popular TV series While You Were Sleeping (2017).
At that time, Hong Kyung was only classified as a supporting actor who appeared in a few episodes. Although he has not been in the profession for a long time, Hong Kyung's acting talent has been recognized and won many awards.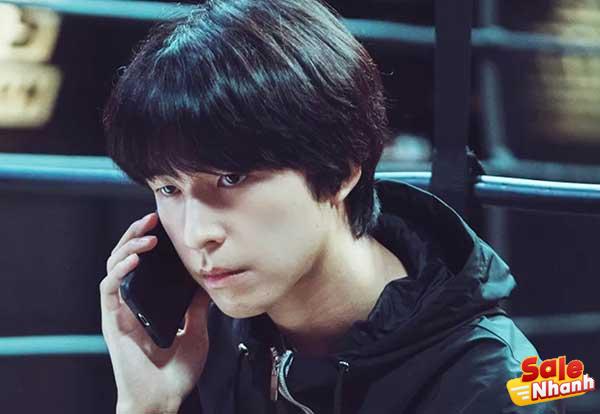 Speaking of the movie starring Hong Kyung, you should also check out the other dramas that Salenhanh.com recommends. Although most of Hong Kyung only plays supporting roles, her acting quality and drama are quite interesting for you to watch.
Weak Hero Class 1
Release year 2022
Genre Action , Drama , Youth
Director Yoo Soomin
Cast Park Ji Hoon Choi Hyun Wook Hong Kyung Kim Su Gyeom
Weak Hero Class 1 (2022) can be said to be the film that makes his career advance very quickly. In this film directed by Yoo Soo Min, Hong Kyung will play the role of Oh Beom Seok.
This guy is also quiet and cold like Yeon Si Eun, because in his alma mater he was also a victim of bullying, even though he comes from a chaebol family.
Ever since he entered and was in the same class as Yeon Si Eun and Ahn Soo Ho, his life has become more of a story. This guy with glasses can feel he has friends, no longer afraid of being bullied by his closest relatives.
However, because of a misunderstanding, Oh Beom Seok turned into the character causing trouble for his two best friends.
DP
Release year 2021
Genre Action , Comedy , Drama
Director Han Jun Hee
Cast Jung Hae In Koo Kyo Hwan
Switching to the original Netflix drama, Hong Kyung will also appear in an action drama called DP (2021). The film by director Han Jun Hee also stars Jung Hae In, Kim Sung Kyun, Koo Gyo Hwan, and Son Suk Ki as the main characters.
Hong Kyung himself is only cast in a supporting role, he will play a young soldier named Ryu Yi Kang.
This movie tells about the lives of soldiers who belong to a team called DP (Desert Pursuit). Taking on the task of catching deserters, An Jun Ho diligently followed Sergeant Park Beom Gu and Corporal Han Ho Yeol.
They really don't have much in common, some valuable lessons can be learned from these seniors.
School 2017
Release year 2017
Genre Comedy , Teen , Romance , Teen
Director Park Jin Seok , Song Min Yeop
Cast Kim Se Jeong Kim Jung Hyun Jang Dong Yoon Han Sun Hwa Han Joo Wan
School 2017 (2017) is an adaptation of the KBS series School that always attracts the attention of fans.
This youth drama will be directed by Park Jin Suk and Song Min Yeob, while the story will be written by Jung Chan Mi and Kim Seung Won. This drama will star Kim, Jung Hyun, Kim Se Jeong, Jang Dong Yoon to Han Sun Hwa and Han Joo Wan.
Hong Kyung himself is only cast as a supporting actor, he will play the role of Won Byung Goo. His character is an innocent boy, ignorant and very similar to the strawberry milk he likes. He is a friend of Tae Woon played by Kim Jung Hyun.
Their friendship always brings cheers, because the duo always looks funny and cute.
While You Were Sleeping
Release year 2017
Genres Comedy , Fantasy , Legal , Mystery , Romance , Supernatural
Director Oh Choong Hwan, Park Soo Jin
Cast Bae Suzy Lee Jong Suk Jung Hae In Lee Sang Yeob
Switching to the romance, fantasy genre, who doesn't know that Hong Kyung is one of the actors of the movie While You Were Sleeping (2017)?
The movie starring Lee Jong Suk and Bae Suzy is really popular, because this melodrama has captivated the audience. Cast as a supporting actor, Hong Kyung will play the role of Choi Wook Hyun.
He will return to play a soldier, except that Choi Wook Hyung chose to hide from the army. Using the rifle he obtained, he killed Jae Chan's father and detonated a grenade on the bus.
It turned out that the action he performed was a suicide, which also killed Hong Joo's father, moreover Choi Wook Hyung was Choi Dam Dong's younger brother.
Lovers of the Red Sky
Release year 2021
Genres Drama , Fantasy , History , Romance , Saeguk
Director Jang Tae Yoo
Cast Kim Yoo Jung Ahn Hyo Seop Gong Myung Kwak Shi Yang
Moving on to the historical genre, this time we will discuss Lovers of the Red Sky (2021). The drama is broadcast by SBS directed by Jang Tae Yoo and the story is adapted from the novel Hong Chun Gi by Jung Eun Gwol.
This drama will star Kim Yoo Jung, Ahn Hyo Seop, Gong Myung, and Kwak Si Yang as the main characters.
Hong Kyung herself was cast as a supporting actor named Choi Jung. Unlike the characters he has played before, this time Hong Kyung will transform into a painter.
Choi Jung is known as the most famous and trusted painter in Gohwawon. His main talent is painting portraits that can always amaze connoisseurs of his paintings.
My Lawyer, Mr. Jo 2: Crime and Punishment
Release year 2019
Genre Drama, Mystery
Director Han Sang Woo
Cast Park Shin Yang Ko Hyun Jung Lee Min Ji
Moving on to the legal drama, My Lawyer, Mr. You shouldn't miss Jo 2: Crime and Punishment (2019). The film, starring Park Shin Yang and Go Hyun Jung, is adapted from the popular webtoon manga by Hatzling or Kim Yang Soo. This drama is broadcast by KBS and directed by Han Sang Woo.
Hong Kyung himself is once again cast as one of the supporting actors, who will play the role of Baek Seung Hoon.
As for my Attorney, Mr. Jo 2: Crime and Punishment (2019) tells the story of a former prosecutor and lawyer who is currently unemployed because his license has been revoked. To regain his reputation, Jo Deul Ho also got into many mysterious troubles.
Jugglers
Release year 2017
Genre Comedy, Romance
Director Kim Jung Hyun
Cast Daniel Choi Baek Jin Hee Lee Won Geun Kang Hye Jung
Turning to romance and comedy, Hong Kyung was also cast in a supporting role in the TV series Jugglers (2017).
The drama starring Baek Jin Hee, Choi Daniel, Kang Hye Jung and Lee Won Keun has a simple but very interesting premise. Hong Kyung appeared briefly as Jwa Tae Yi, Yoon Yi's 21-year-old younger brother.
The Junglers (2017) is about the life of a very passive and submissive secretary named Yoon Yi. Unfortunately, this girl even encountered an arrogant boss and never cared about anyone.
But everything changes when love begins to come to them, what will be the love story of this boss and secretary?
Life on Mars
Release year 2018
Genre Action , Fantasy
Director Lee Jung Hyo
Cast Jung Kyoung Ho Park Sung Woong Ko Ah Sung
Adapted from a British drama series, Life on Mars (2018) is one of the Korean dramas that you should not miss.
Directed by Lee Jung Hyo, the film will star Jung Kyung Ho, Park Sung Woong, Go Ah Sung, Oh Dae Hwan, and Noh Jong Hyun. Hong Kyung herself also appeared as a guest in episodes 10 and 12 and played the role of Oh Young Soo or ET.
It begins when Han Tae Joo leads a criminal investigation tasked with solving serial murder cases. He had an accident and woke up in 1988.
Now Han Tae Joo instead becomes a detective in a small town and is once again faced with a serial murder case. What really happened to him and can he go back to the future?
Although not believed to be the main character. It turns out that Hong Kyung still shows herself as a promising future actor.
The different difficult characters he plays, Hong Kyung can always perform well. From some of the suggestions above, which TV series makes you anxious to watch?
Salenhanh – Product review blog
Address: 115 Nguyen Van Qua, Tan Hung Thuan Ward, District 12, Ho Chi Minh City
Website: https://salenhanh.com/en
Mail: Salenhanh.com@gmail.com
#salenhanh #Reviewsalenhanh