Surely you are no stranger to this beautiful actress born on November 5, 1982. Debuting as an advertisement star and video clip model since high school, Han Ji Min started to enter the world of acting and gained more and more recognition through her roles in popular dramas. All In and Lady Dae Jang Geum .
Her seriousness with the acting path then is increasingly shown through many television projects and films she participates in.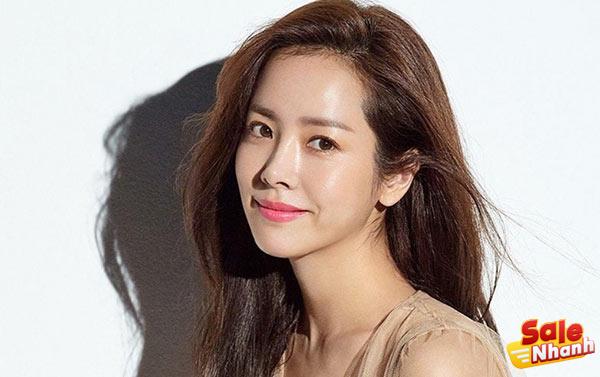 The proof is that Han Ji Min has won many awards at prestigious events. And one of Han Ji Min's films that received high praise and won many trophies was through the movie Miss Baek.
Turning to the field of dramas, Han Ji Min quite often participates in dramas with romantic themes. Even so, her acting ability certainly does not need to be doubted.
For those of you who are curious about the best dramas played by Han Ji Min, let's review Salenhanh with the list of the best movies of this talented actress!
Jewel In The Palace
Release year: September 2003
Genre: History, Romance
Produce: MBC
Directed by: Lee Byung Hoon
Starring: Lee Young Ae, Ji Jin Hee , Hong Ri Na, Han Ji Min
Episodes: 54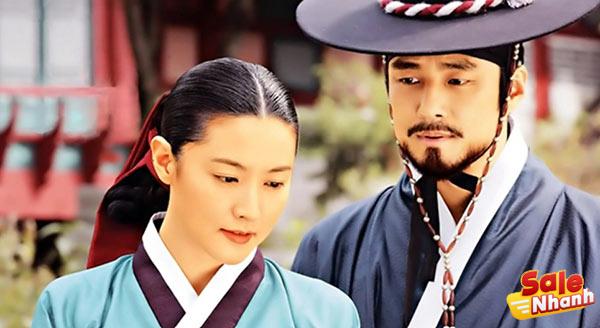 Jewel In The Palace (2003) became one of the highest-rated Korean dramas in history. The rate of evaluation achieved is 57.1%.
This drama is based on the true story of the first female royal healer in the Joseon Dynasty. Starring Lee Young Ae, Jewel In The Palace (2003) follows the life journey of an intelligent royal chef named Seo Jang Geum.
Jang Geum is an orphan who never gives up. In the midst of her limitations, she learned the secrets of Korean cuisine and medicine to cure the king's illness.
Here Han Ji Min plays Shin-bi, Jang Geum's kind and reliable friend. Along with Jang Geum, Shin-bi works as a healer for the royal family.
Our Blues
Release year 2022
Genre Drama, Romance
GTist Manufacturing Co Ltd
Director Kim Kyu Tae
Cast Lee Byung Hun Shin Min Ah Cha Seung Won Lee Jung Eun Uhm Jung Hwa Kim Woo Bin Han Ji Min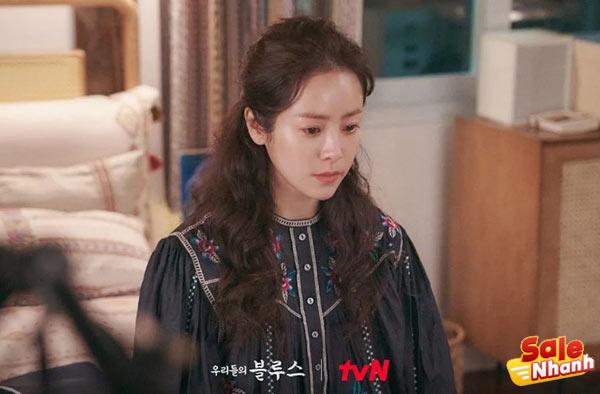 Our Blues (2022) comes with a fairly new story format. In the form of a junk bus, this film contains several segments about the traumatic life experiences of a group of residents on Jeju Island. The squad of the players is impossible because there are many big players who are famous veterans.
In this drama, Han Ji Min plays the role of Yeong Ok. She is a young girl who always looks cheerful as if she has no burden in life.
Yeong Ok makes haenyeo and sells fish. Who would have thought that behind her always smiling smile, Yeong Ok has a secret and is also her biggest insecurity.
One Spring Night
Release year: 2019
Genre: Romance, Drama
Produce: JS Pictures
Directed by: Ahn Pan-seok
Starring: Jung Hae-in, Han Ji-min, Kim Jun-han
Episodes: 32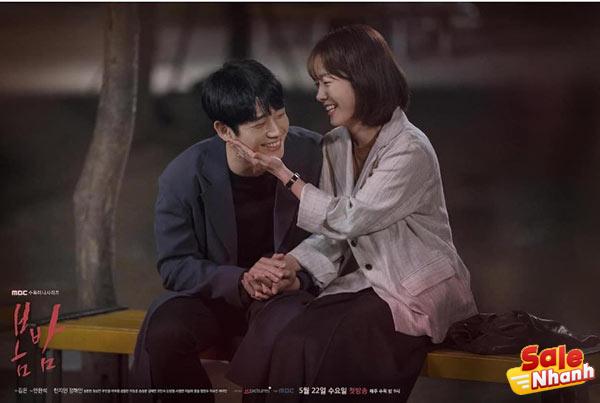 Once again paired with a much younger actor, this time Han Ji Min is trusted to compete in acting with a shining young star today, that is Jung Hae In. The six-year age difference doesn't necessarily make their chemistry seem as awkward as lovers.
One Spring Night tells the story of Lee Jong In (Han Ji Min) and Gi Seok (Kim Jun Han), a couple who have been in love for 4 years. As Gi Seok started to seriously intend to get married, on the other hand Jong In actually felt more and more insecure and wanted to end the relationship.
Lee Jong In also accidentally met Yoo Ji Ho (Jung Hae In), a handsome boy who works as a pharmacist. Yoo Ji Ho himself also has a past that made him feel inferior when he was abandoned by his ex and left an unmarried child.
Lee Jong In finally broke up with Gi Seok after getting to know Yoo Ji Ho. Gi Seok, who feels repulsed, continues to try to convince Jong In to come back.
So will Jong In come back with Gi Seok, or will he date the handsome pharmacist Ji Ho? Watch the movie until the end!
Rooftop Prince
Release year: 2012
Genre: History, Romance, Comedy, Fantasy
Produce: Seoul Broadcasting System
Directed by: Shin Yoon-sub
Starring: Park Yuchun, Han Ji-min, Jeong Yu-mi, Lee Tae-sung
Episodes: 20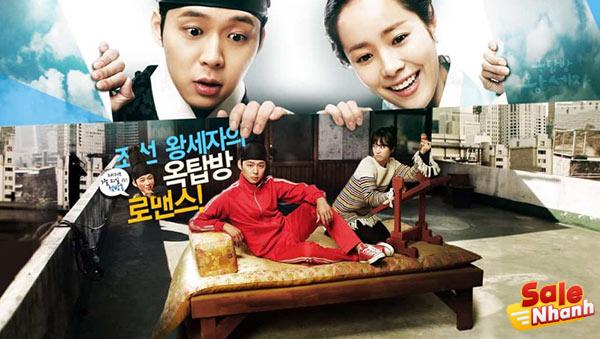 The older generation drama fans must be familiar with this drama. Quite popular in its time, Rooftop Prince is set in two eras, the Joseon Dynasty and the modern era.
The story begins when Crown Prince Lee Kak (Park Yoo Chun) wants to unravel the mystery behind the case of his wife's sudden death.
While carrying out the investigation, a strange thing happened when Lee Kak and his 3 bodyguards were then thrown into the future, exactly in the 21st century, and trapped in a house belonging to the family. about Park Ha (Han Ji Min) whose face is very similar to Prince Lee Kak's wife.
In the future, Lee Kak also has a reincarnated character with a similar face, that is Yong Tae-young, a rich young man, the grandson of a conglomerate owner of a household shopping company.
Lee Kak also impersonated Tae-young, who at the time was in a coma due to a murder plot masterminded by his cousin.
As time goes on, Lee Kak, who is still trying to investigate his wife's death, ends up getting stuck with his feelings for Park Ha, and the two begin to fall in love. You can find out the whole story after watching all the episodes, right!
The Light In Your Eyes
Release year 2019
Genre Comedy, Fantasy, Romance
Drama House Production JTBC
Director Kim Suk Yoon
Cast Kim Hye Ja Han Ji Min Nam Joo Hyuk Son Ho Jun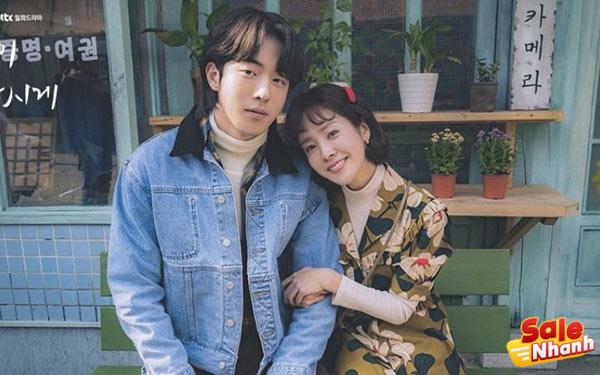 Kim Hye-ja (Han Ji Min), is a young woman who dreams of becoming an announcer but has yet to succeed. Kim Hye-ja also meets Joon Ha (Nam Joo Hyuk), a man with a similar fate and living an unlucky life.
Their relationship then became closer and fell in love. One day, Kim Hye-ja finds a magic clock that can turn back time to prevent unwanted events. He later used this watch to save his father from an accident.
After many attempts to return to the past, Kim Hye-ja finally saved her father from death. However, Hye-ja's actions also bring about consequences that she never imagined before.
To Hye-ja's surprise, when she wakes up, she has turned into a 70-year-old woman. No one believes what happened to him. How will Hye-ja fight for her next life? Of course it would be fun to follow along.
Apart from the story of Kim Hye-ja and Joon Ha, another interesting thing about this drama is the funny and goofy behavior of Kim Hye Ja's brother, Kim Young Soo and his two best friends, who very silly and funny person. Don't miss this drama, as it is not only full of emotion, fun, but also highly entertaining.
Familiar Wife
Release year 2018
Genre: Knowing Wife
Produce Chorokbaem Media , Studio Dragon
Director Lee Sang Yeob
Cast Ji Sung Han Ji Min Kang Han Na Jang Seung Jo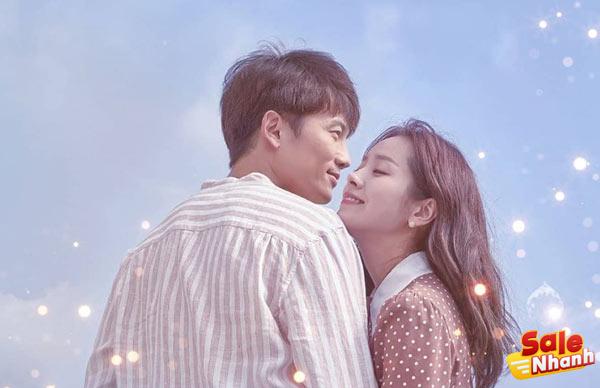 Tells about the conflicts in the family of Cha Joo Hyuk (Ji Sung) and Seo Woo Jin (Han Ji-min), a blessed wife with one child, but always having financial and time difficulties in keeping up. division of housework and child care.
The two of them often fought bitterly even over things that were actually understandable. Lack of communication and mutual concern for each other's egos, and triggered by economic problems make the situation even worse.
Until one day, by a miracle, Cha Joo Hyuk has a second chance to make his life back, and he wakes up to a much different situation when Seo Woo Jin is no longer his wife.
In his new life, Cha Joo Hyuk marries Hye Won, a beautiful and rich woman. Cha Joo Hyuk also got a good position in the company because of the influence of Hye Won's family.
Cha Joo Hyuk then meets Seo Woo Jin again as a new employee in his office where the young Woo Jin is very beautiful, active and attractive unlike Woo Jin when he was his wife. he.
As time passed, Cha Joo Hyuk began to realize his true feelings for Seo Woo Jin. Will Cha Joo Hyuk be able to return to his previous life with Seo Woo Jin?
A Year-End Medley: Extended Version
Release year: January 2022
Genre: Drama, Romance
Manufacturing: –
Directed by: Kwak Jae Young
Starring: Han Ji Min, Lee Dong Wook , Won Jin Ah, Kim Young Kwang
Episodes: 6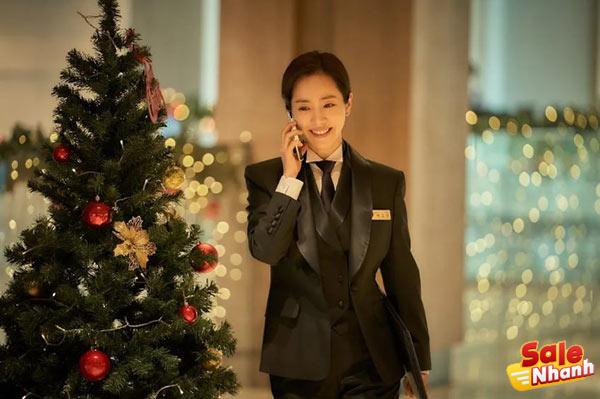 Han Ji Min's next best drama is the sequel to A Year-End Medley (2021). As an expanded version, this film presents a story that is longer than the six parts of the story in the film.
Broadly speaking, A Year-End Medley: Extended Version (2022) still presents the stories of guests who come to the Emross Hotel and all their emotions. In the movie version, Han Ji Min plays So Jin, a hotel manager.
He has secretly liked his best friend, Seung Hyo, for fifteen years. So Jin is sure that Seung Hyo feels the same way until she is taken aback by her best friend's wedding plans. However, at the end of the movie, a hotel guest seems to be interested in him.
Yi San
Release year: September 2007
Genre: History, Drama, Romance
Produce: Kim Jong Hak Production
Directed by: Lee Byung Hoon
Starring: Lee Seo Jin, Han Ji Min, Lee Jong Soo, Kyeon Mi Ri
Episodes: 77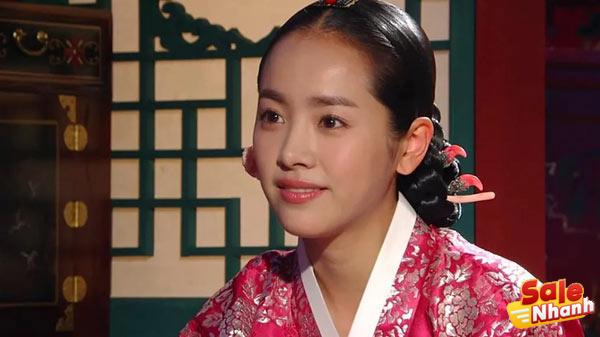 Successful with Jewel In The Palace (2003), Han Ji Min again appeared in the drama sageuk. This time she had the opportunity to play the female lead. Han Ji Min clashed with actor Lee Seo Jin.
Yi San (2007) tells the life of King Jeongjo or the 22nd king of Joseon, who is remembered for his kindness towards the sufferings of the people. Yi San falls in love with one of his childhood friends, as well as the daughter of a court artist. The girl's name is Seong Song Yeon.
The character played by Han Ji Min is an orphan who is very good at art. Song Yeon entered the palace environment when she was 11 years old. It was there that the two met and fell in love.
Cain and Abel
Release year: February 2009
Genre: Melodrama, Action
Production: Plan B Pictures, DIMA Entertainment
Directed by: Kim Hyung Shik
Actors: So Ji Sub , Shin Hyun Joon, Han Ji Min, Chae Jung An
Episodes: 20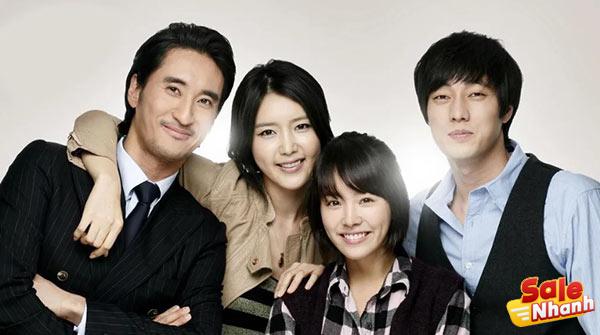 Lee Cho In is a talented young doctor. Cho In has an older brother named Lee Seon Woo who is also a great doctor. However, Seon Woo is often jealous of the care Cho In receives from their father.
Growing up, the two were always competing with each other. Trouble comes when they like the same girl named Kim Seo Yeon. Seo Yeon also liked Seon Woo at first, but the girl was disappointed because Seon Woo had been to America for a few years.
When Seon Woo returned to Korea, he was surprised to learn that Seo Yeon had been proposed by Cho In. It was later discovered that Cho In and Seon Woo were born to different mothers. Cho In is then sent to China and there he meets Young Ji Oh, played by Han Ji Min.
Padam Padam
Release year: 2011
Genre: Romance, Fantasy
Produce: MI Inc., Master Works Media
Directed by: Kim Kyu-tae
Actors: Jung Woo-sung, Han Ji-min, Kim Bum
Episodes: 20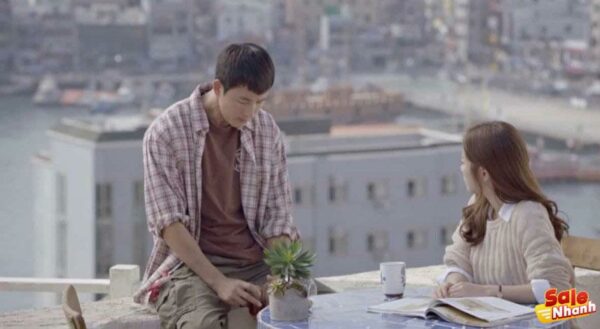 Padam Padam itself is not a Korean language, but a French language that means pounding. Tells the story of Yang Kang-chil, a man who spent 16 years in prison for a murder he never committed.
In prison, he has a friend and guardian angel in human form named Gook Soo, played by Kim Bum. After getting out of prison, Yang Kang-chil works as a carpenter and eventually meets Jang Ji-na (Han Ji Min), and the two fall in love.
Unfortunately, their love story had to be thwarted by Jang Ji-na's father's blessing, where alleged murder victim Yang Kang-chil was Jang Ji-na's father's younger brother. .
Not accepting that his sister's killer had a relationship with his daughter, Jang Ji-na's father did everything to separate the two.
Starting from threatening, beating, until finally Jang Ji-na's father prepared a gun to kill Kang-chil. How does the story end? Prepare tissues before the play.
Capital Scandal
Released year: June 2007
Genre: History, Romance, Comedy, Drama
Produce: JS Pictures
Directed by: Han Joon Seo
Starring: Kang Ji Hwan, Han Ji Min, Ryu Jin, Han Go Eun
Episodes: 16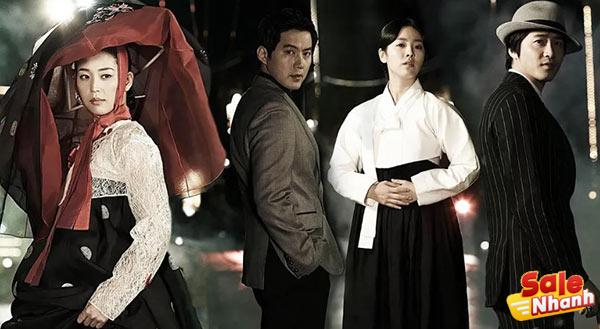 Sun Woo Wan claims he can get any woman within ten minutes. Fashionable, handsome and rich, Woo Wan is so confident.
Woo Wan bets with his friends to seduce Na Yeo Kyung, played by Han Ji Min. Yeo Kyung is also known as Jomaja or the last woman of Joseon.
Yeo Kyung is famously not interested in dating. He is both busy running a small bookstore and working as a teacher for poor children.
Yeo Kyung is sure that her country will no longer have Japan. That's when he'll start thinking about dating and getting married. Starting with a bet, Woo Wan really falls in love with Yeo Kyung and her soul mate.
Resurrection
Released year: June 2005
Genre: Melodrama, Romance, Horror
Manufacturing: –
Directed by: Park Chan Hong, Jeon Chang Geun
Starring: Uhm Tae Woong, Han Ji Min, So Yi Hyun , Kang Shin Il
Episodes: 24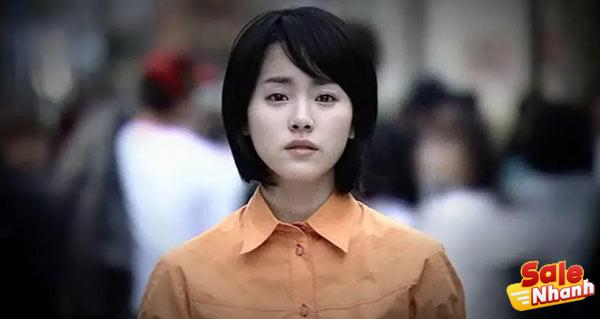 Detective Seo Ha Eun is investigating the suicide of a former gangster named Lim Dae Sik. In the process, Ha Eun discovers that Dae Sik killed detective Yoo Geun Ha twenty years ago.
Later, Ha Eun learns her real name is Yoo Kang Hyuk and that the person who was murdered Yoo Geun Ha is her father. Another surprise awaits Ha Eun when it turns out that she has a twin brother named Yoo Shin Hyuk.
While going to see his sister, Shin Hyuk is killed by someone. In the midst of despair, Ha Eun meets Seo Eun Ha. She is a girl suffering from a betrayal father. The two then reinforce each other before falling in love.
Hyde Jekyll, Me
Release year: 2015
Genre: Comedy, Drama, Romance
Produce: Frontier Works Comic , H E&M , KPJ
Directed by: Jo Young Kwang
Cast: Hyun Bin Han Ji Min Sung Joon Lee Hyeri Lee Seung Joon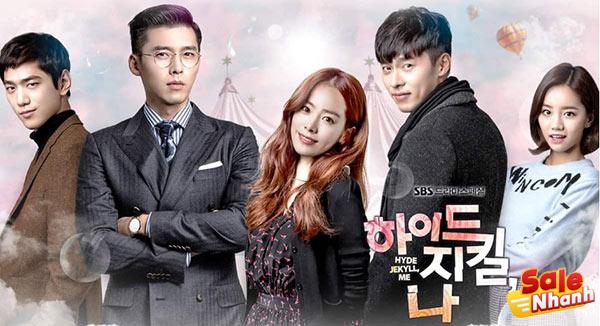 Confronted with Korea's top actor Hyun Bin, Han Ji-min plays the female lead named Jang Ha-na. She is a young girl whose circus team often appears at an amusement park owned by Geo Seo Jin (Hyun Bin).
Geo Seo Jin, the director and heir of an amusement park company, is a handsome, intelligent but cold man.
In particular, Geo Seo Jin has a dual personality, when his heart rate reaches 150 per minute, he turns into a warmer, friendlier and cuter person.
Geo Seo Jin intends to expel Jang Ha-na's circus team because it is not profitable. This conflict is what makes Seo-jin and Ha-na often meet and become closer. How will their story continue? Watch the movie now!
Well, that's the list of the best dramas played by actress Han Ji Min that you shouldn't miss. From the list above, which TV series have you watched?
If there is your favorite Han Ji Min drama that is not on the list above, you can share it in the comments section below.
Salenhanh – Product review blog
Address: 115 Nguyen Van Qua, Tan Hung Thuan Ward, District 12, Ho Chi Minh City
Website:  https://salenhanh.com
Mail: Salenhanh.com@gmail.com
#salenhanh #Reviewsalenhanh