Han Hyo Joo, this beautiful artist is actually quite famous through a number of dramas and movies that she has acted in. This beauty was born on February 22, 1987 in Cheongju, South Korea, possessing countless proud achievements in the Korean entertainment industry. Have a harmonious life with family. Han Hyo Joo is known to be a loving person.
Seeing her career journey, everyone will agree that Han Hyo Joo is a hard worker. In fact, this Cheongju-born actress has been living in Seoul since high school. Her father, an air force officer, did not approve of this, but in the end Han Hyo Joo was able to prove her resolve.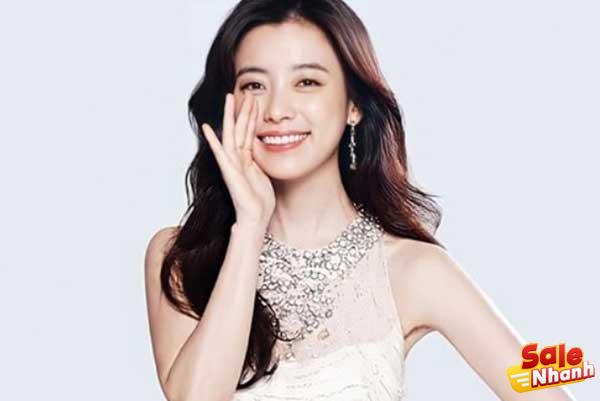 After graduating from high school, she attended Dongguk University and majored in Theater and Film. At the beginning of her acting career, she debuted through sitcoms and comedies.
Let's take a look at the best movies of Han Hyo Joo with Salenhanh.com
Masquerade
Release year : 2012
Genre: Drama, History
Director : Chang-min Choo
Actors: Byung-hun Lee, Seung-ryong Ryu, Hyo-joo Han
Production company : CJ Entertainment, Realies Pictures
If you like movies adapted from historical stories, put this movie on your must-see list. When will you see Han Hyo Joo as the action queen with Lee Byung Hun, the king of Gwanghae?
Furthermore, they will appear in royal style outfits. Lee Byung Hun has two roles, a king and Ha Sun, an acrobat
At first, when King Gwanghae asked the defense minister to find someone who looked like him to avoid death threats. Ha Sun was chosen to take the position of interim King. It turns out that Ha Sun's leadership style is more humane than Gwanghae's. Will Ha Sun really become king?
Always
Release year : 2011
Genre: Action, Drama, Romance
Director : Song Il-gon
Actors: Ji-seob So, Hyo-joo Han, Shin-il Kang
Production unit: HB Entertainment, Showbox/Mediaplex
Actually, this movie is quite emotional, but still mixed with light and fresh comedy. The film tells the story of Cheol Min, a former martial artist who becomes a valet to replace a retired old man.
The first day he guards the parking lot Jung Hwa played by Han Hyo Joo, a blind woman comes to give him a box of food. Jung Hwa was shocked because the security guard looked after another car.
Despite his suspicions, Cheol Min accepted the box of food and invited Jung Hwa to sit inside and wait for the rain to stop. Their closeness begins to intertwine until Cheol Min is ready to box again so Jung Hwa can get surgery. Will this story have a happy ending?
The Beauty Inside
Release year 2015
Genre Comedy , Fantasy , Romance
Director Baek Jong Yeol
Cast Han Hyo Joo Kim Dae Myung Lee Hyun Woo Hong Da Mi Bae Sung Woo Yoo Yeon Seok Kim Joo Hyuk Do Ji Han Park Shin Hye Park Seo Joon Lee Bum Soo Ueno Juri ∙ Chun Woo Hee Lee Jae Joon Jo Dal Hwan Kim Min Jae Seo Kang Joon Kim Hee Won Lee Dong Wook Go Ah Sung
How do you feel when you wake up, you wake up with a different body? That's what Woo Jin went through, every day he wakes up in a different body. He couldn't choose whose body he would wake up with, whether it was a child, an old man, a man or a woman.
Woo Jin has been going through this ever since he was cursed on his 18th birthday. His life became very difficult after that. This secret only his mother and best friends know.
One day, Woo Jin meets Yi Soo, the girl who has a great influence on his life. You might be excited to see their relationship if you watch this movie.
Cold Eyes
Release year : 2013
Genre: Action, Crime, Thriller
Directed by: Ui-seok Jo, Byung-seo Kim
Actors: Kyung-gu Sol, Woo-sung Jung, Hyo-joo Han
Producer: Zip Cinema
Yoon Joo, played by Han Hyo Joo, is a new agent in the special crime team. He joined Detective Hwang due to his extraordinary memory and tracking skills. They will be tasked with investigating a robbery masterminded by a criminal genius named James.
The robbery went well, even James wasn't at the scene. Amazingly, the robbery only lasted about 3 minutes. He gave orders while observing from afar.
Will detective Hwang and Yoon Joo successfully catch James? Was there another crime James committed after that? Watch the excitement in this movie, my friends.
Love 911
Release year 2012
Genre Medical , Psychological , Romance
Director Cha Bong Joo
Cast Go Soo Han Hyo Joo
In this drama, Han Hyo Joo plays Mi Soo, a young doctor. He was suspended for a mistake then brought in as a fire brigade doctor. There, she met Kang Il, a firefighter who lost his wife.
They must work together to save lives. The problem is, their personalities are so different that they often fight. It turns out proximity brings change for each of them. Will their love story continue? What if Mi So's suspension period is over?
Love, Lies
Release year : 2016
Genre: Drama, Romance
Director : Heung-sik Park
Actors: Hyo-joo Han, Yeon-Seok Yoo, Woo-hee Chun
Production company : Lotte Entertainment
This movie is set in the 1940s when Korea was still in the colonial period. Han Hyo Joo plays So Yool, a girl who dreams of becoming a singer. He lives at the training ground with Yeon Hee. They can be best friends because they share the same dream.
After graduation, both graduated with honors. Both are willing to fight for their dreams. In the midst of their struggle, there was one man who then made a big impact. Is their relationship in jeopardy? Like C'est Si Bon, this movie is also a musical drama.
Postman to Heaven
Released year: November 2009
Genre: Drama, Romance
Producer: CJ Entertainment (Distributor), Toho (Distributor)
Director: Lee Hyungmin
Actors: Kim Jae Joong, Han Hyo Hoo, Shin Goo, Kim Chang Wan
Jae Joon used to be the CEO of an IT company until suddenly became a postman. Jae Joon's job is to send letters written by grieving people to their loved ones in heaven.
One day, Jae Joon meets Hana. Hana is different because she actually writes hateful letters to the people she once loved, who are now gone.
He then asks Hana to think of a way to bring peace and happiness to those left behind. Unfortunately, when the two begin to have feelings for each other, they still can't be together; After all, a human and a postman from heaven can't be together.
C'est Si Bon
Release year : 2015
Genre: Drama, Romance
Director : Hyun-seok Kim
Actors: Yoon-seok Kim, Woo Jung, Hee-ae Kim
Producer: JFilm, Moov Pictures
In the late 1960s, C'est Si Bon was a relaxing place with a stage. It is where famous folk musicians perform. The place is coveted by all Korean musicians as it has produced many great musicians. Geun Tae was one of those people who really wanted to be able to hold a stage there.
Geun Tae and his two friends form a trio named after that place. Their persistence attracts the interest of a young socialite, Ja Young, played by Han Hyo Joo. Ja Young begins to penetrate deeper into their lives. Will the relationship also take a deeper turn?
Miracle: Devil Claus' Love and Magic
Release year: November 2014
Genre: Drama, Romance
Manufacturing: –
Director: Inudo Isshin
Actors: Aiba Masaki, Eikura Nana, Han Hyo Joo, Ikuta Toma
Han Hyo Joo plays the role of So Young in this drama. He works as a world famous lighting designer. So Young knows Hiraki, a young man who works at a bookstore. Hikari is a kind person, but because of her kindness she often shows sadness. Hikari really wants to be a manga writer.
That night Hikari was distributing a mysterious leaflet, Debikuro Communication, until one day he met his destiny. So Young and Hikari both met a person who gave them a miracle on Christmas Eve.
The Pirates: The Last Royal Treasure
Release year 2022
Genre Action , Adventure
Director Kim Jung Hoon
Cast Kang Ha Neul Han Hyo Joo Lee Kwang Soo Kwon Sang Woo Chae Soo Bin Oh Se Hun
In the drama, Han Hyo Joo plays Captain Hae Rang. He is the respected leader of the pirates. Hae Rang rescues a group of bandits drifting in the ocean. A group of robbers led by Muc Chi.
The two of them never got along because they both felt like leaders. However, the quest for the final treasure of the Goryeo Kingdom led the two to work together. Can captain Hae Rang and Mu Chi find the treasure they're looking for?
Golden Slumber
Release year 2018
Genre Action , Crime , Drama
Director Noh DongSeok
Cast Kang Dong Won Kim Eui Sung Han Hyo Joo Kim Sung Kyun Kim Dae Myung
The film is about Gun Woo, a delivery boy who actually lives an ordinary life. One day, he must be dragged into a top conspiracy until he is accused of murdering a presidential candidate. Han Hyo Joo plays the character Sun Young, an announcer who has a relationship with Gun Woo.
Gun knows nothing about power. He is just an honest and innocent man, this time he must do his best to seek justice. Will he be successful? This movie provides an interesting twist. You will get yourself excited throughout the movie until the climax at the end.
Illang: The Wolf Brigade
Release year : 2018
Genre: Action, Science Fiction
Director : Jee Woon Kim
Actors: Dong-Won Gang, Hyo-joo Han, Woo-sung Jung
Producer: Lewis Pictures
From the title, we can already guess this is an action movie. More than that because this action movie tells a story about the future. To be precise, Korea in 2029. At that time, the North and South agreed to unify the government. This decision increased friction between supporters and opponents.
A terrorist organization appeared, so the government prepared a special unit to fight them. Meanwhile, in the government, not everyone has a common voice. Han Hyo Joo plays Yoon Hee, the sister whose younger sister was killed in a riot.
My Boss My Teacher
Release year : 2006
Genre: Action, Comedy
Director : Dong-won Kim
Actors: Yun-Yeong Choe, Haha, Hyo-joo Han
Production company : Zenith Entertainment
What if a thug continued his education? That's what Do Shik, a thug asked to go back to school by his boss, does. These very contradictory worlds are told through fresh and light comedy. Especially when Do Shik is asked to teach at a school.
Do Shik has to deal with typical teenage problems, giving humor for humour, of course. Will Do Shik be able to perform his teaching duties well? Han Hyo Joo plays Yoo Mi Jung, a student from the same school who has a close relationship with Do Shik.
Han Hyo Joo has starred in films of various genres. Which one do you want to see first? If so, please share your opinion in the comment column! There, you can also add other unwritten information about Han Hyo Joo's movie. No need to be ashamed to share, friends.
Salenhanh – Product review blog
Address: 115 Nguyen Van Qua, Tan Hung Thuan Ward, District 12, Ho Chi Minh City
Website:  https://salenhanh.com
Mail: Salenhanh.com@gmail.com
#salenhanh #Reviewsalenhanh