Kim Ji Young, better known by her stage name Han Chae Young, is an actress of Korean descent. However, shortly after he was born, his family moved to the United States. He grew up in Chicago and went to school there.
However, Chae Young only became an actress after she visited Korea and was discovered by a talent scout. His first acting role was in the movie "The Record" (2000). The series has catapulted him to stardom in several other TV series and movies.
Her contributions in dramas and movies have helped Chae Young win many awards such as Best Couple Award with Jae Hee, her co-star in the 2005 KBS Drama Awards' Sassy Girl Chun Yang. .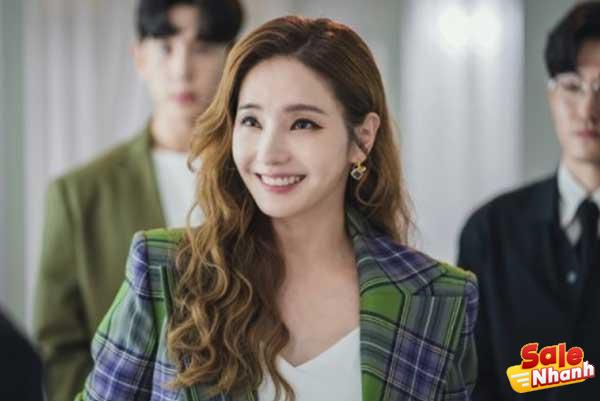 His most recent award was the MBC Entertainment Award in the category of Rookie of the Year Award for his contributions to the travel variety show "Wizard of Nowhere". You may know Chae Young through her dramas, but it turns out that she's also acted in a lot of movies.
Want to know which movies this actress is under the auspices of BH Entertainment and SM C&C? Salenhanh.com has collected 10 best movies plus their summaries.
The Star Next Door
Release year: 2017
Genre: Drama, Comedy
Manufacture: –
Directed by: Kim Seong Wook
Actors: Jin Ji Hee, Han Chae Young, Lim Seul Ong, Lim Hyung Joon, Solbi, Yoo Hae Jung, Jung In Gi, Yoo Yeon Mi, Jeong Do Won, Kim Ri Won, Go Myung Hwan, Ahn Ji Hwan
A top Hallyu star, Hye Mi (Han Chae Young), lives next door to a high school student, So Eun (Ji Hee Jin). Perhaps there is nothing strange about these two neighbors. However, there seems to be a big secret they are hiding. That is, the two of them are actually mother and daughter, but keep it a secret to keep Hye Mi's reputation in the public eye.
The Guest
Release year: 2016
Genre: Crime, Thriller
Manufacture: –
Director: Dae Wung Lim
Actors: Crystal Yuan Bingyan, Han Chae Young, Leon Lai, Tong Bing Yu, Geng Le, Na Yu, Chen Hailiang, Yanping Zhu, Da Bao Ge, Yu Na
Zheng Kai (Leon Lai), plans to marry his fiance, Lin-lin (Han Chae Young). However, his plan falls apart after he receives terror from a taxi driver. She gave her number when she ran out of money to pay for the taxi.
But, Zheng Kai never thought that the end of the matter would be like this because he became a suspect after Zheng Kai's boss was mysteriously killed. Not to mention the constant terror from the taxi driver that makes Zheng Kai's life complicated.
A Big Deal
Release year: 2011
Genre: Adventure, Comedy
Production: Beijing Radio and Television Media Co.,Ltd., Dadu Group, Le Vision Pictures, New Film Association
Director: Ma Lien Van
Actors: Qiao Ren Liang, Lan Cheng Long, Han Chae Young, Chapman To, Andy Hui, Huang Ling, Tong Yao, Ying Zhuang, Ye Daying, Xia Fan, Gong Xinliang, He Tiehong, Hu Shufang
Chae Young's popularity is not only in Korea. Because, Chae Young has acted in a number of films from other countries, such as this Chinese movie called A Big Deal.
About Zhang Ze (Lan Cheng Lung), Liu Yijun (Qiao Renliang) and Wang Yunpeng (Chapman To). They came to Dubai to find gold from the trade in cultural relics. Unfortunately, their dream of becoming rich is shattered.
Chae Young's role is the female lead Joo Yoon. She is a woman with a career who will then have a special relationship with one of three men.
Girlfriends
Release year: 2009
Genre: Romance, Comedy
Produce: Next Entertainment World, Mirovision
Director: Kang Suk Bum
Actors: Kang Hye Jung, Han Chae Young, Huh E Jae, Bae Soo Bin, Jo Eun Ji, Kim Hye Ok, Hong Gyo Jin, Jung In Hwa, Kim Joon Young, Shin Dae Seung, Hwang Hyun Seo, Kim Bo Min , Kim Yong Woon, Han Dae Ryong
Song Yi (Kang Hye Jung) is dating Jin Ho (Bae Soo Bin). Song Yi discovers that Jin Ho has two other girlfriends, Jin (Han Chae Young) and Bo Ra (Huh E Jae). Initially, Song Yi wanted to have Jin Ho for herself, but instead, she became friends with Jin and Bo Ra.
Good Morning President
Release year: 2007
Genre: Comedy, Politics
Manufacture: –
Director: Jangjin
Actors: Jang Dong Gun, Lee Soon Jae, Go Doo Shim, Han Chae Young, Im Ha Ryong, Lee Moon Soo, Park Hae Il, Lee Hae Yeong, Joo Jin Mo, Jung Gyu Soo, Jeon Yang Ja, Jang Young Nam , Park Jun SeJeon Gook Hwan
The first president, Kim Jeong Ho (Lee Soon Jae), unexpectedly wins the lottery during his last term. Hesitantly, he intends to donate this money to charity.
He is replaced by Cha Ji Wook (Jang Dong Gun), a single father who is faced with the choice of whether to donate one of his kidneys to someone who really needs it. Then, the next president is Han Gyeong Ja (Go Doo Shim), whose husband is caught up in a real estate corruption scandal, leaving him to choose between family and state duties.
Love Now
Release year: 2007
Genre: Romance, Drama
Manufacture: –
Director: Jung Yoon Soo
Actors: Uhm Jung Hwa, Lee Dong Gun, Park Young Woo, Han Chae Young, Choi Jae Won, Oh Ji Yeong, Kang Seong Pil
Yu Na (Uhm Jung Hwa) has a happy marriage with her husband, Min Jae (Park Yong Woo). Same goes for Young Jun (Lee Dong Gun) with his wife So Yeo (Han Chae Young). But, one day, Young Jun and Yu Na become entangled in a sweet romance. Meanwhile, Min Jae and So Yeo have gone too far in a love affair. What will happen to their marriage, huh?
Bet on My Disco
Release year: 2002
Genre: Comedy, Youth
Manufacture: –
Directed by: Kim Dong Won
Actors: Han Chae Young, Im Chang Jung, Yang Dong Geun, Lee Jung Jin, Oh Dal Soo, Joo Myung Chul, Kim In Moon, Lee Seon Joo, Woo Jung Kook, Lee Dae Keun, Lee Hye Young, Jung Eun Pyo , Ahn Suk Hwan
In this drama, Han Chae Young plays the female lead Bong Ja! This movie is about the friendship of three high school students who often fight. They are Hae Jeok (Lee Jung Jin), Bong Pal (Im Chang Jung) and Seong Gi (Yang Dong Geun).
One day, Hae Jeok happened to meet Bong Ja. Turns out, this girl is the sister of her silly friend Bong Pal. Due to financial problems, Bong Pal had to leave school and go to work. Bong Ja also helps by working in a beauty salon.
Unable to pay the debt, Bong Ja is detained by his boss Hwang Jae. He can be released as long as Hae Jeok enters the disco competition and wins as the 'King of the Disco'. He only had a week of training. The problem is, he doesn't know anything about dancing.
The Influence
Release year: 2010
Genre: Mystery, Fantasy
Production: Realist Pictures, Inc
Director: Lee Jae Kyu
Actors: Lee Byung Hun, Han Chae Young, Cho Jae Hyun, Jeon No Min, Lee Je Hoon, Park Byung Eun. Kim Tae Woo
Unlike the type of drama that Chae Young usually plays, this time he acted in mystery and fantasy! In the movie The Influence, Han Chae Young plays the role of J. Very mysterious, isn't it?
J (Han Chae Young) was trapped in a large water tank to stay with W (Lee Byung Hun). Once upon a time, a mysterious man gradually unravels the 100-year-old secrets of W and J. Who are J and W and what will happen to them next?
Wild Cards
Release year: 2003
Genre: Crime, Drama
Production: C&Film Co., Ltd., Yoojin E & C
Directed by: Kim Yoo Jin
Actors: Jung Jin Young, Yang Dong Geun, Han Chae Young, Gi Ju Bong, Kim Myeong Gook, Hwang Jun Yeong, Yu Ha Bok, Bang Guk Hyeon, Lee Dong Kyu, Seo Jae Kyeong, Kim Gi Se, Kim Chang Gyu , Lee Do Kyeong
This drama tells the story of Oh Young Dal (Jung Jin Young), a veteran detective with his rookie partner, Bang Jae Su (Yang Dong Geun). They are investigating a serial murder case of young women in Seoul.
For clues, they begin to approach the leader of the gang, Kim Min Ki (Seo Jae-Kyeong). He is a psychopath who always carries a metal ball and chain with him. However, it seems they had a hard time finding clues. In this movie called "Wild Card", Han Chae Young plays Kang Na Na.
The Record
Release year: 2000
Genre: Horror
Produce: Sam Woo Communications
Directed by: Kim Ki Hun, Kim Jong Seok
Actors: Kang Seong Min, Park Eun Hye, Ahn Jae Hwan, Jung Min, Bae Dal, Bae Jun Hyeong, Han Chae Young, Roh Ma Yu, Choi Yu Rim, Jang Tae Yun, Kim Seo Hyung, Lee Yeong Ho, Uhm Ji Thang
In this drama, Han Chae Young plays Eun Mi, a supporting role. This drama tells the story of a group of students who initially want to work with a schoolmate they often bully.
The bullying becomes so extreme that it ends in death. They also record the action, very cruel, right? One day, a mysterious man searches for them and leaves them horribly dead.
Those are 10 movies that have the participation of Han Chae Young. Have you seen all the movies? To be honest, I rarely watch movies because there are a lot of school historical dramas, hihi. What is one of your hobbies?
Salenhanh – Product review blog
Address: 115 Nguyen Van Qua, Tan Hung Thuan Ward, District 12, HCMC
Mail: Salenhanh.com@gmail.com
#salenhanh #Reviewsalenhanh